The GNCC series is heating up!
The GNCC series is heating up!
PHOTOS COURTESY KRISTA HOOPER
The GNCC off-road series is among the toughest series in the world and right now, it's heating up big time between KTM teammates Charlie Mullins and Kailub Russell. Mullins won four out of the first six races but Russell's struck back with three race wins in a row. There are four races left and Mullins leads by five points. One of these two riders will win the 2013 GNCC crown and Russell's hoping it's him after coming up short last year in a final round winner-take-all race. I caught up to Russell to get his take on how the season is going so far.
Me: You've won the last three races. You and (Charlie) Mullins are going at it. There's four races left. It's got to be a little pressure for you, huh?
Kailub Russel: It's definitely tough seeing as we've both teammates. It's pretty good for the team, I guess. But it's really frustrating for me because being on a team with another guy that's pretty much matching you race for race, it's really tough.
And you guys have a big lead on third, so chances are it's going to be one of you two guys winning the title. What's been the key for the last three races for you? What do you think has been the biggest difference to get this win streak going?
The biggest difference for me is we have three-hour races. They're long, and there's a lot that can happen in those three hours. Just minimizing mistakes and making sure you're in a good position on that last lap. It makes easy if you have a 20, 30 second lead going into the last lap. The last few races that's kind of what I've been able to do; just build a little bit of a nice lead and just minimize mistakes on those last couple laps. That's the biggest key in the GNCC.
Now, when Mullins was winning, were you making mistakes? Was that what was costing you races?
Yeah. There's a bunch of races this year that could have gone either way. Neither one of us are doing each other's favors. Actually the races that he won I was leading most of them, then I just would get kind of frustrated with the lappers and make some bad choices on the last couple laps. Like I said, once you're that late in the race it's kind of tough to make up 15, 20 seconds. That's the thing. It's a long race and you got to be patient and make sure the last few laps count.
You're on a 350. Talk about the decision on that. Why not a 450, or a two-stroke? Why the KTM 350?
For me I'm a smaller guy. I'm not the biggest. In off-road it's not a horsepower show, so you don't really need an extra 100 cc's to do well in off-road racing, in the type of off-road racing we do. It's a great bike. It's reliable. It makes good power and it handles a lot better than the 450 ever would for me, so that's why I choose it.
So you notice a difference then? You notice it being more nimble.
Yeah for sure. On the scale it's not much difference in weight, but the with the inertia of the smaller motor. It makes it a little bit nimbler on the front end. It's a little less taxing on the body, especially for three hours.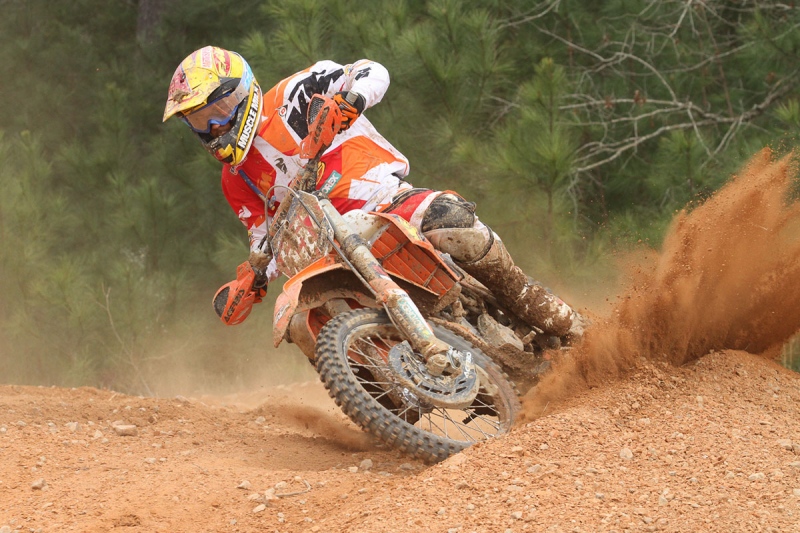 Russell's on the KTM 350 and loving it.
Did I hear that Mullins switched to a 350 too?
He goes back and forth. He does another series, the National Enduros, and he rides a 350. These last two races were kind of technical so he thought he would want to ride it but hasn't worked out for him.
Do you have a favorite track? Is it coming up? Have you already done it?
That's a good question. I kind of go into all of them with the same attitude. I'm there to do as good as I can. But if any more like I come to terms with off-road racing in general, you never know what you're going to get, especially weather-wise, track-wise, how the track's going to be. They're not the exact same layout every year. But my favorite kind of terrain is definitely the southern rounds. It hasn't really been my strong point this year. Everything I've won has been up north. So it's just your outlook on things I guess.
You won two XC2 championships and you won them pretty easily. You were placing well with the XC1 guys, even as a smaller guy. So there was some pressure on you. People talked about you as being the next great GNCC guy. How do you feel so far with the career and the way it's going in the big bike class?
For sure. The jump up to the XC1 class was a little more than I expected at first. I thought things would come a little easier. 2011 was my first year. I didn't have a great year but I didn't have a terrible year; it was just kind of mediocre results. I got a win and a few podiums. But in 2012 was a pretty big heartbreaker for me. I learned a lot in 2011 and I applied that to 2012 and I just came up a little bit short. I had one DNF that year and if I wouldn't have had that one bad race I would have been right there for the championship.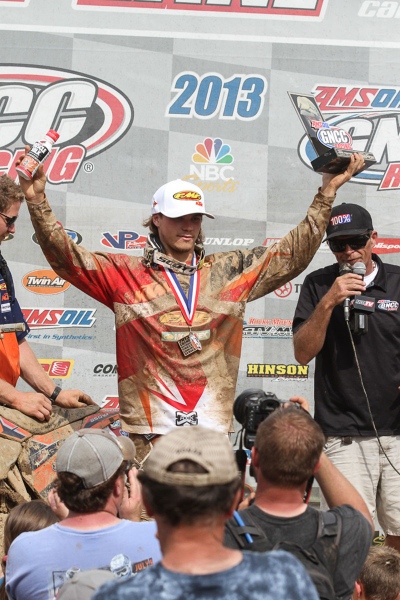 Russell's been on a roll lately.
Yeah, you and Whibley went into like a winner-take-all. It was exciting!
Yeah. But the start to my XC1 career is going really well, especially 2012 and present this year. I already have a DNF this year too and still right there in the thick of it with Charlie because he had a bad result as well. Overall summary, it's been good so far. I'm pretty young still so… I know off-road racing's not the most glamorous but I'm able to make a living doing what I enjoy. That's always a plus.
Do you do anything else besides that or do you just do the GNCCs? Do you have any plans to do anything? Would you like to do WORCS series? I guess that's kind of gone by the wayside a little bit, but Endurocross? Is there anything like that in your future?
I don't really know as of right now. It's pretty much just GNCCs. I'm trying to work my way into Endurocross. But with KTM it's kind of making that tough.
They (KTM) kind of tell you what to do, where to go and stuff?
Yeah, exactly. I'd love to eventually try to work my way into Endurocross but right now it's just mainly GNCCs.
I know your dad a little bit from the Nationals, just from working the series. Obviously he was a champion back then. How was that growing up? How much did he have to do with your career?
That's another really good question. Kind of when I was growing up, just starting to ride, he was kind of getting out of it and working more on the tracks and stuff with Big Dave (Coombs). He's a big influence in my career, him and my mom. I lived with him for a year. He kind of taught me some better values to life and kind of molded me to who I am today, personality-wise. Him and my mom both played a pretty big role in where I am today.
Yeah I guess the last time when he was winning, that was a long time ago. How old are you? You're pretty young.
I"m 23, so his last year I think was like '94.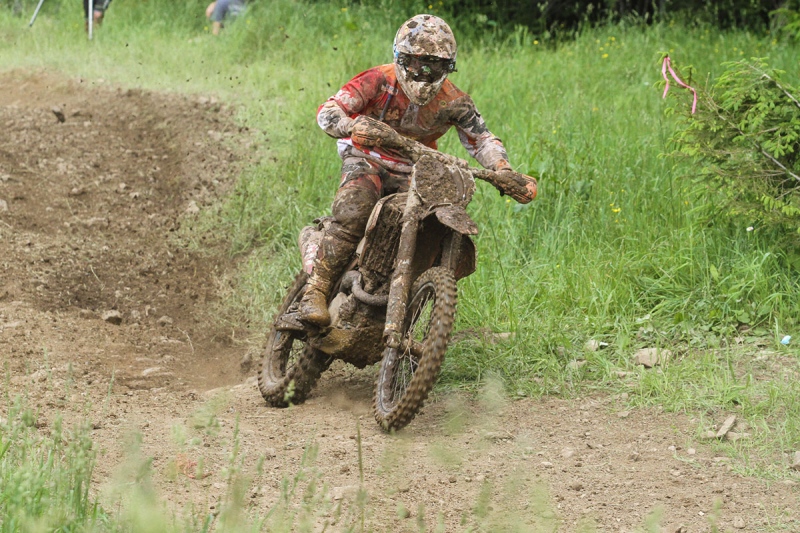 Ahh, GNCC Racing- where you're not quite sure which rider is which.
How much moto do you do? Is that something you do for practice?
I practice moto a little bit. Not quite as much as I have in the past. That has a lot to do with being smarter on the bike and everything, because all my setups are dialed into the woods. Now that I'm kind of getting a little bit older, three or four years ago I didn't really care about suspension as much. I didn't realize how big of a factor that played. But now I go to motocross on my 350 and I'm just thinking, man, I know I got so much more in more but my suspension's just not letting it happen. So it gets frustrating. But I bought a 125 and I go moto that thing quite a bit and have a good time on it. I've tried a few Nationals before, but like I said it's a suspension issue. It's kind of frustrating.
Do you get along with Mullins? Do you talk to him much? How hard is that? Or is it hard at all? You guys are basically the top two guys by far.
We get along pretty good. We're kind of similar; we're kind of laid back and quiet and don't have a lot to say about much. We're similar in that aspect. I think our relationships all right. We don't do much riding and training together as of recent. Like I mentioned before it's tough when you're teammates and you're both already right there close in points and we're both riding for the same thing. It does make it a little frustrating and a little taxing on the friendship. But we're both here to do a job and that kind of makes it tough to be friends at some times.
Would you say he's your biggest rival or was there another guy growing up or in the XC2 class or is there somebody now that you bang bars with?
Growing up, Charlie's four years older than me I believe. Growing up I never really raced with Charlie. He was always a little bit older. So he was always in a different age group or a different class. Growing up it was mostly Thad Duvall and Cory Buttrick was my main competition growing up. Thad had his rough patch there at the start of his career and he's kind of getting better all-around, and Corey's out with an injury. But right now Charlie and Whibley were my biggest rivals, but Whibley's had some health issues this year. Right now it's definitely Charlie.
I do some stuff for EKS Brand Goggles, so I know Josh Strang a little bit here and there. But he's a full privateer and his injury a couple years ago was bad.
I thought for sure Strang would be right in the mix with me, Charlie, and Paul. Unfortunately Paul had his injury. But especially after Florida, he got 3rd overall and he was a little ways behind me and Charlie but I was like, it's the first race of the year and everybody kind of just goes out there anyway. But his results after that have been kind of lackluster and really not the typical Strang when he previously was so good. It was kind of a shocker for me.
I've raced two GNCCs. They're really tough. I wish more moto guys had an appreciation for just how tough it is. You guys are pretty gnarly. What kind of stuff do you do for fitness? How do you keep in shape?
Basically I've kind of just come up with my own thing the last year. It's not really the norm, your daily grind. In the winter I do a lot more and build that base up, but during the week I like to just make sure I'm having fun because when I go to the races and ready to ride, that's always when I perform my best. I do a lot of road biking. Actually I do more mountain biking than road biking. I do a lot of weights and stuff because you really need to have that muscle endurance. I think that's a really big factor in GNCCs. It's so easy to get, if you're not hydrated and cramp up so the muscle endurance is one of the biggest factors.
You've been a KTM guy for a while; KTM is taking over. Obviously they've always been great Endurocross and GNCCs and WORCS races, and stuff like that. But now you've got Marvin and Kenny, Ryan Dungey of course. Talk about just riding for KTM and the momentum that you guys have and how awesome that is.
It's definitely the biggest teams in off-road pay more, so it's a huge honor. They only try to take the best. It feels pretty good and makes you feel like you're somebody when you're riding for the best team and they have the best stuff out there for off-road. They're making a big push in motocross which is awesome. They've got out several awesome new motocross bikes for those guys. It just shows they're a motorcycle company; they don't make anything else. That's their main focus and you can really see it. Especially when they spend the money they do trying to get the guys that are going to get the job done. It's just a great company to work for.