Desalle wins home round as Ferris gets first win!
Desalle wins home round as Ferris gets first win!
By Jonathan McCready
Photos by: YS and Ray Archer/KTM images
Clement Desalle won his first ever Belgian GP on to the delight of the home crowd. And to cap a great weekend for the Belgian he also prevented Cairoli from winning the title in Belgium!
Desalle and Cairoli set a hot pace in race one andDesalle was really putting the pressure on Cairoli on the last lap when he went down. Cairoli took the win but he knew Desalle was in no mood to settle for second this weekend.
In race two Desalle got the lead and Cairoli was the chaser. But Desalle was relentless and slowly but surely pulled out a six second gap which was enough to give him a hard earned and much deserved overall win.
Somthing has clicked with Desalle in the last three rounds and he is showing the speed and determination to win that he had a couple of years ago. It is great to see the Belgian back to his best form and if he can carry this form into 2014 he will be a strong challenger forCairoli.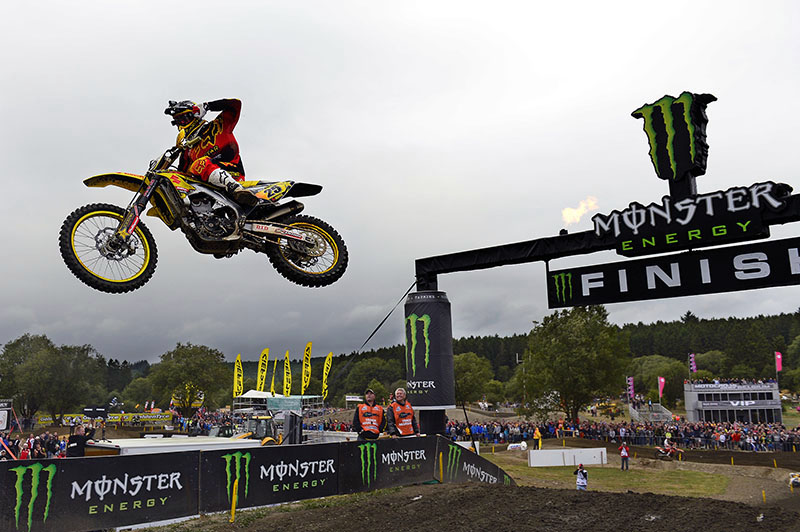 Desalle did not disappoint his homeland's fans.
Gautier Paulin happily returned to action after his concussion a couple of races ago and in race one it looked like he had never been away. Paulin did his best to flee the pack with Cairoli and Desalle but eventually settled for a safe third as risking another crash would not have been advisable. The lack of riding took its toll on Paulin in race two as after a couple of mistakes coming through the pack, Paulin wisely pulled out to avoid another accident. He should be stronger this weekend at Matterley Basin.
It was another good day for Honda as Evgeny Bobreyshev scored another podium. Fourth in race one was backed up by a fine third in race two as Bobby shows the form that everyone had expected from his at the start of the year. The biggest challenge Bobreyshevhas is not speed but staying uninjured.
Three Belgian's rounded out the top six with Kevin Strijbos, who wasn't picked for the Nations, ahead of Jeremy Van Horebeek and Ke De Dycker, who are.
In MX2 it was a brand new winner! Dean Ferris took an emotional victory to become only the fourth Aussie ever to win a MXGP (he joins Jeff Leisk, Chad Reed and Andrew McFarlane). Ferris did it in fine style by winning the qualifying race and both motos on Sunday. Ferris didn't run away with the races but he did control both from the front and looked comfortable under the pressure from the chasers in the closing laps of both races.
Jeffrey Herlings crashed out in the qualifying race and subsequently revealed he was out for the weekend and now the rest of the season after breaking his shoulder blade. It was a bitter blow for Herlings who was looking to win the last three remaining rounds of the GPs and go undefeated and then his class at the MXDN. Unfortunately that is all out the window now but Herlings can at least console himself with the fact that he had already wrapped the World title up one week previously.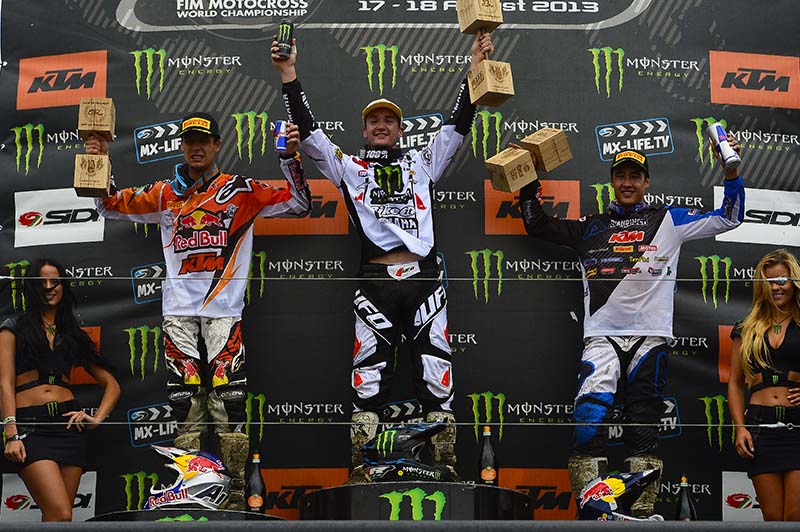 Herling's injury left some wiggle room on the MX2 podium.
The absence of Herlings gave all the MX2 riders extra impetus and the first few laps of moto one especially was just madness as everyone was pinned trying to get to the front.
In the end it was Jordi Tixier who was second overall behind Ferris but he battled vision all day after having to throw his goggles away. Tixier was in pain and frustrated at the end of the day and felt the GP could have been his without the vision issues so we will see what he has for the British GP this weekend.
Despite Herlings' absence Holland still had a man on the podium. Glenn Coldenhoff pushed Ferris in the final few laps but couldn't quite find a way through and had to be content with second. But it was enough to get the hard working Dutchman on the podium again.
Jose Butron and Romain Febvre rounded out the top five and Christophe Charlier made it three Frenchman in the top six with sixth overall but he would have been on the podium had he not crashed in race two. France arestill producing some top quality riders and another of their top prospects is Dylan Ferrandis who will ride for the CLS Pro Circuit team in 2014. Ferrandis was in the mix at the front in Belgium but a mechanical ruined his chance at the podium.
In seventh overall it was yet another Frenchman Maxime Desprey had his best ride of the year and lead for a good few laps in race one. He showed he has the speed but he is not quite ready to run the pace for 35 minutes. Still, it was a good showing for Desprey and his confidence will have soared.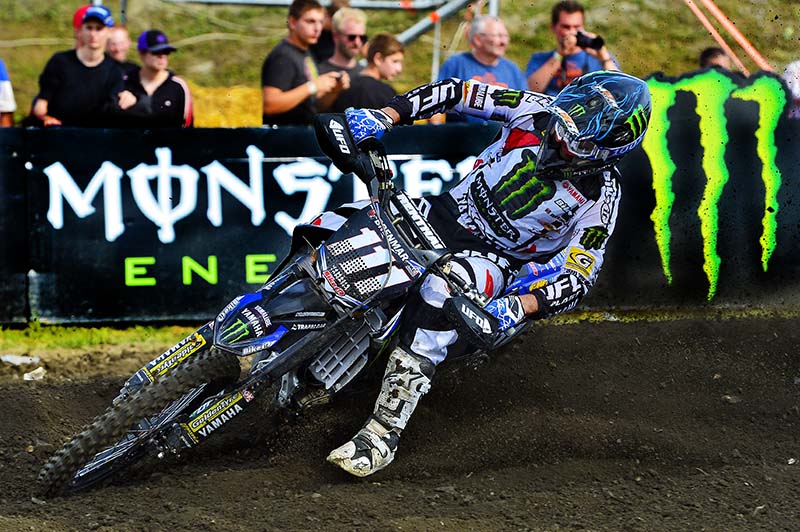 Ferris capitalize on Herlings vacancy in Belgium.
It is onto the Festival of motocross at the British GP this weekend and the British riders will want to up their game in front of a partisan home crowd. The four day action packed event will have amateur racing, Women's GP racing, MX3 as well as EMX 65, EMX 85, EMX 125 and EMX 250 racing all added to the regular MX1 and MX2 battles in what promises to be a superb event.
But the star of the show should be Antonio Cairoli who should wrap up seventh world title and become the second most successful GP rider ever!
MX1 Overall top ten: 1. Clement Desalle (BEL, Suzuki), 47 points; 2. Antonio Cairoli (ITA, KTM), 47 p.; 3. Evgeny Bobryshev (RUS, Honda), 38 p.; 4. KevinStrijbos (BEL, Suzuki), 32 p.; 5. Jeremy van Horebeek(BEL, Kawasaki), 32 p.; 6. Ken de Dycker (BEL, KTM), 28 p.; 7. Tommy Searle (GBR, Kawasaki), 27 p.; 8.Shaun Simpson (GBR, Yamaha), 24 p.; 9. DavidPhilippaerts (ITA, Honda), 23 p.; 10. Joel Roelants(BEL, Yamaha), 22 p.;
MX1 Championship top ten: 1. Antonio Cairoli (ITA, KTM), 690 points; 2. Clement Desalle (BEL, Suzuki), 600 p.; 3. Ken de Dycker (BEL, KTM), 542 p.; 4. GautierPaulin (FRA, Kawasaki), 485 p.; 5. Kevin Strijbos (BEL, Suzuki), 469 p.; 6. Tommy Searle (GBR, Kawasaki), 431 p.; 7. Jeremy van Horebeek (BEL, Kawasaki), 383 p.; 8.Maximilian Nagl (GER, Honda), 314 p.; 9. EvgenyBobryshev (RUS, Honda), 276 p.; 10. David Philippaerts(ITA, Honda), 268 p.
MX2 Overall top ten: 1. Dean Ferris (AUS, Yamaha), 50 points; 2. Jordi Tixier (FRA, KTM), 38 p.; 3. GlennColdenhoff (NED, KTM), 35 p.; 4. Jose Butron (ESP, KTM), 34 p.; 5. Romain Febvre (FRA, KTM), 34 p.; 6.Christophe Charlier (FRA, Yamaha), 34 p.; 7. MaximeDesprey (FRA, Yamaha), 28 p.; 8. Jake Nicholls (GBR, KTM), 25 p.; 9. Jason Clermont (FRA, Kawasaki), 20 p.; 10. Max Anstie (GBR, Suzuki), 20 p.
MX2 Championship top ten: 1. Jeffrey Herlings (NED, KTM), 692 points; 2. Jordi Tixier (FRA, KTM), 553 p.; 3.Jose Butron (ESP, KTM), 470 p.; 4. Christophe Charlier(FRA, Yamaha), 439 p.; 5. Glenn Coldenhoff (NED, KTM), 412 p.; 6. Dean Ferris (AUS, Yamaha), 409 p.; 7.Jake Nicholls (GBR, KTM), 370 p.; 8. Alessandro Lupino(ITA, Kawasaki), 306 p.; 9. Max Anstie (GBR, Suzuki), 302 p.; 10. Petar Petrov (BUL, Yamaha), 267 p.