It's mid-October and that could only mean one thing. No, not the baseball playoffs, it's Monster Energy Cup time in the world of moto-fans.
It's mid-October and that could only mean one thing. No, not the baseball playoffs, it's Monster Energy Cup time in the world of moto-fans.
Photos By: James Lissimore
It's a little hard to believe that we are only days away from the 3rd edition of the #MEC. Remember in 2011 when it kicked off, most of the pre-race excitement was centered around the "hybrid" moto/supercross track and the "run what you want" rules regarding bike preparation. Despite both of those "features" essentially falling on their faces, the race clearly had some strengths, not the least of which being the $1,000,000.00 payout for the racer who could trump all odds and sweep the 3 races. As fate would have it, that actually happened and it was (shocker¡) Monster Energy's Ryan Villopoto who claimed the glass case of dolla-dolla bills. Not the least bit surprising considering the dominating race-year he had just completed.
So the year-one track was pretty abysmal and nobody really did anything to test the waters of next-level bike setup but the Feld guys learned plenty from their mistakes and last year really hit on some excellent nuances. The sophomore effort for the Monster Cup was an absolute win from every perspective (except for maybe that sketchy start-convergence) and it therefore makes sense for this years Cup track and program to see little divergence from what was so good in 2012.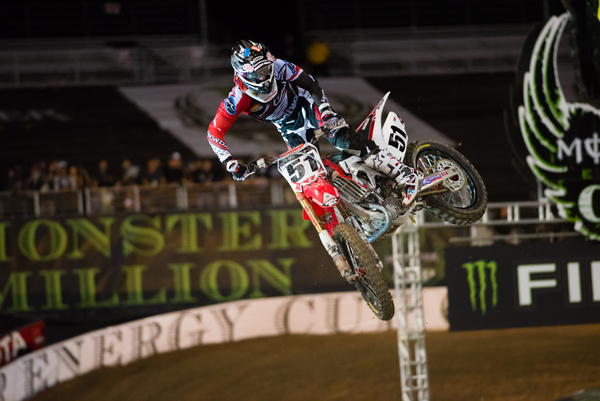 Bam Bam didn't win a cool mil last year but he did go 2-1-2 for the OA.
I notice this trend in many facets of moto as the years go by. It's a persistent joke in the inner-realm of PulpMX employee's that my product reviews are always positive, with little complaining. It has so much less to do with free product than it does with progression of product design over the years. In 2013 a manufacturer would have to be criminally inept to offer a product that wasn't pretty damn good. The Feld crew made a giant leap from the flaws in 2011 and got it spot-on in 2012. It only makes sense that 2013 would be a "grips and graphics" year. It ain't broke, so don't go rejiggering it and missing in a big way.
So what do we have? The same track as 2012 but mirrored. Some people cried foul over this, citing laziness or lack of creative track design. That's horsecrap. Last year's track was awesome. There is plenty of belly-aching to go around regarding lame tracks that don't work, so when a great track comes along, utilize it with subtle tweaks, like they have. Addressing the split-start-meeting, mirroring the layout, lengthening the triple and implementing a second high speed sweeper where passes are more intense; these are all tweaks which will wisely get another year out of a solid track design.
The two other elements which make the Monster Cup race unique are also back for '13. Three 10-lap mains and the Joker-Lane. Both of these features are on the top of my list for what make me really excited for this race. Splitting the races into three 10-lappers is awesome. It means a clean slate for every rider, 3 times. Instead of a single main where a poor start ruins a racers night, it's only 1/3 of the puzzle. It's simple math folks, three sprint-race-mains is a more exciting night than one where a single-main can often be decided by midway. How could they possibly make a night with three 10-lap mains even more intense, unpredictable and cerebral? The Joker Lane. There are some purists who claim the Joker-Lane is nothing but a gimmick. Nonsense, just because you used to walk uphill to school (both ways) in the winter, doesn't mean that's how it should always be for everyone. Here's the deal, EVERYONE has to take it one time. When and why someone takes it comes down to the same thing that determines every motocross and super cross race: race craft and fortune. Every lap of every race, racers are choosing lines. Their choice of line can be the determining factor between them ending up on their head or spraying champagne. Their choice of when to use the Joker-Lane is the same principal. Just because it's new doesn't mean it's gimmicky or turning racing into a show.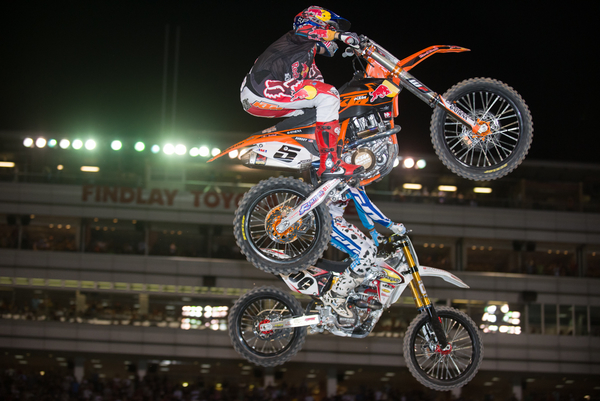 Who could forget Dungey hand-shifting last year?! Admit it, you did. You forgot.
I applaud Feld for implementing it for the MEC and cannot wait for the day it is thrown in at a round or two, or three, of the 17-race Supercross series. In the words of my favorite hardcore band ever (yup, Swiz) "Stagnation kills, it kills the spirit and destroys the mind… win or lose, I gotta try." Some people argue the tracks and series have indeed become stagnant, the MEC is certainly not. Lets hope steps are made to breath some new life into the indoor-incarnation of this sport we love.
It's going to be a great Saturday night!