From birth we are preached to that the sky is the limit and anything can be obtained with the right amount of work.
From birth we are preached to that the sky is the limit and anything can be obtained with the right amount of work.
By Isaac Scoggin
Photos By: James Lissimore
From birth we are preached to that the sky is the limit and anything can be obtained with the right amount of work. Most would agree that childhood is a time of limitless possibilities, which is ironic, because we are busy growing and discovering the all too many boundaries of life. Once a certain age is reacted dreams can no longer be verbalized and accepted by other grown ups without skepticism and often negativity. Thus the separation begins between the labels of "dreamers" and "realists". In Supercross, a sport that has been around for 40 years, evolution has taken shape in many areas and it has grown into what appears to be the post-golden years of it's existence. Popularity has grown but the big dreams of what Supercross can be are looked upon with skepticism, and those that produce ideas are "dreamers" simply prying to change what does not need changing. Many aspects of racing can be changed without altering the sport in a negative way. The "realists" are the ones we need to run the series, as they will be the best at maximizing potential of round to round experiences for fans. The "dreamers" are the driving force behind the progression of the sport, rider, fitness, gear, bikes, tracks, and even venues. The point of this is to show that Supercross is not post-golden years but actually still young enough where it is acceptable to dream. And while we may be past the age where they can be said out loud without receiving some negative pushback, we are not to the point where boundaries are completely laid out or known to us yet. The future looks bright for SX.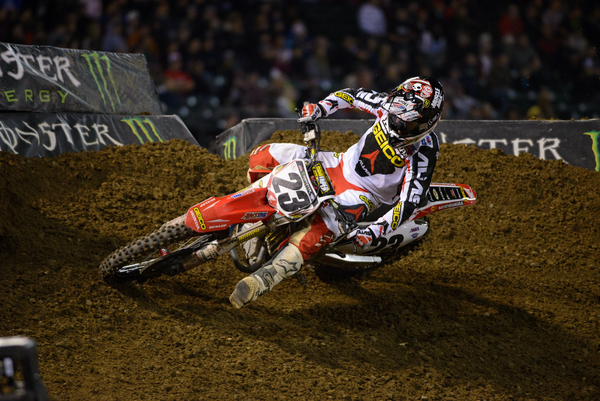 The Working-Mans Hero.
Speaking of futures and boundaries, the rookies are experiencing the growing pains associated with stepping up a class. Roczen has been a surprise in one area, and that is the one where he has held the red plate two separate instances. Yes, it is the beginning of the series and things have a tendency to get crazy, but don't let that take away from the strength of his rides. No matter who you are stepping up a class and program is a difficult task that takes pure dedication and resolve. He is facing new problems, new riders, on new machinery and answering questions that he has probably had himself, and doing it all with each ride. He has only struggled at one round so far and still minimized the mistakes. He is, so far, the most unrookie-like rider since Dungey in 2010. Whatever happens with him for the rest of the season he will find himself on a high-profile team next year, possibly by Villopoto or Dungey? KTM has to be excited with what can be done in the future with young talent. His boundaries are not set and he appears to be more aligned with the dreamer's philosophy, where it isn't about going as fast as the guy in front, it is going faster and doing things others cannot.
Wil Hahn is a true workingman's hero. He is rising through the ranks in the 450s through will and determination. He does not break through the boundaries set, at least not yet, but he is constantly pushing the limits to introduce himself into a category above his current ones. I do not believe anyone outside of Wil himself thought that he could ride well enough to be taken out by Barcia and still recover for an 8th against this field. The quad he was doing at Oakland before anyone else shows his commitment to finding the edge and pushing beyond it to take the next step towards winning. The sport is full of riders that will push the limits, but you have to have so many key elements put together correctly to minimize the risks as much as possible. Although, with the quad I don't think any risk can be minimized with a distance and perfection needed to continually do that. Hahn should be a surprise to many and his performance should give him another year on a great team as he attempts to shoot for the stars. He is in a great position because at one point all the greats were merely rookies trying to show they deserved to be there.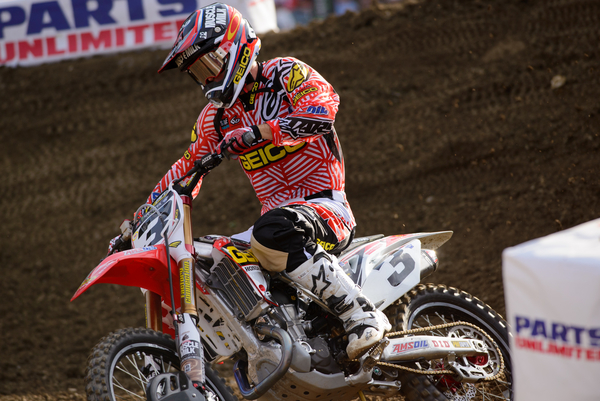 Tomac has been out but he's still aiming high.
This weekend we get to see the incredible "Tomac-attack". He is finally healed up and ready to return to his first full season in the 450 class. He was touted to be the front-runner of the rookies this SX season, but timing is everything. Will Tomac come out swinging for the moon or will he attempt to steady himself before he attacks? It just adds another dynamic story to the already littered field of talent and titles. He is not known for patience and we will see how his style works in the big bike class. He rides a little like Villopoto, as he over jumps obstacles and generally looks angry at his motorcycle at all times. With Tomac we don't know where the ceiling is because he has a talent that has become blurred with the work ethic and tenacity he has shown since day 1. It makes it very hard to decipher what he has done with progression of talent, or if he has been slightly holding back until his fitness and strength are able to handle what he has always been capable of doing. We know he will be a future star of the sport in the 450 class, it is really a matter of when will he arrive?
The tracks are beginning to incorporate slightly new obstacles into their designs, which riders are not always happy about, but fans love. The little single before the whoops slows their entry speed a little, but gives the fans something to watch as the riders try to adapt to the change. Who can figure it out quickest? SX is still young enough to change entire design elements of the track too. It may sound crazy but multiple over/under bridges would allow for a much greater diversity in track layout. What about the first several rows of seats that are not used due to safety reasons? Why not expand the track into certain areas that won't compromise safety or fan seating? I am sure people in Feld are working on this, but we need "dreamers" doing this job not the "realist". If you are going to make a mistake make it while dreaming big. Negative feedback will come no matter what, so find something worth shooting for and never look back until you get there. No matter how old Supercross gets the possibilities are limitless.