Some interviews with some guys that lived it
Some interviews with some guys that lived it
Chad Reed
What a story you're authoring here. You have the hardest job of all because you had pressure the entire 20 laps and you made a few mistakes, but that's a tough deal to hold it mentally strong for 20 laps.
Like you said, I made a few mistakes there but nothing too costly. The whoops were gnarly. Honestly all 20 laps I sent it in there pretty nervous. I had to. Kenny was strong in the whoops. I basically just sent it in there and kind of whatever happened I tried to react to it as quick as I could. So I think I was solid in them but I didn't really feel as awesome as what I normally do in the whoops all day. We just made a lot of super small changes to the bike for the main event. I was pretty nervous just because the changes we had, we haven't really made on this bike before. Honestly what we ended the off-season with is what we've been going racing with. We raced with a rear tire that I hadn't raced with on this bike before, we did some air pressure changes to the fork that we haven't done before. So kind of went into the main event really not knowing what I was going to get. And immediately as soon as I got out front the bike felt good and I just tired to be solid.
For you that's a big deal. You're a guy making a lot of changes during the day and to do something in the main event without knowing it, a little sketched out, but you hit it right.
Like you said, normally we can make some big changes. It wasn't abnormal for us to be changing clamps and linkages and shock settings and all that, and we haven't done any of that this year. So to just make small changes, and when I say changes like super, super small change. But this bike's pretty responsive so you never knew what it was going to do. You put faith in these guys. That's what you pay them for. They're the best in the pits. Like Stew, I watched the heat race on TV and Stew said it's not going to be about the fastest guy, it's going to be about the dude that rides smart and sets his bike up good. And that kind of gave me confidence because I felt that out of all the people around here I think that myself and the team are solid at setting up a good bike.
You've gone on the record your fitness wasn't the greatest last year. Look who at the end of 20 laps pulled away from RV. Everyone else was kind of making mistakes, maybe some of it due to fitness, and you and Kenny were right there at the end. And again, the entire 20 laps he's right there. The fitness is on point.
Yeah, my fitness is fine. We had a solid week this week. I only rode once because we got rained out in Florida. Luckily that day we kind of sent it pretty good. I didn't think that fitness… whenever I've been a challenge, fitness has never been an issue. Like you said, I admitted last year I was horrible and we wanted to change that this year.
I love this track. I thought it was the best one of the series. Now I'm sitting up in the press box eating but I thought it was cool.
It wasn't bad…
No quad for you either.
I never quadded. I didn't believe anybody quadded in the main ever. JT busted my balls all day and told me it was easy and this guy's doing it, that guy's doing it. But for whatever reason it just didn't feel like it was the line. The line that I took, I think it was double-triple-double, and I never really did that line all day. I was like triple-triple-single. So just the way the track turned out it didn't play out to be that way. For the most part I felt really good, solid on the track. Whoops were tough. Not a bad track. I have to agree that the track wasn't horrible but it was definitely not my favorite.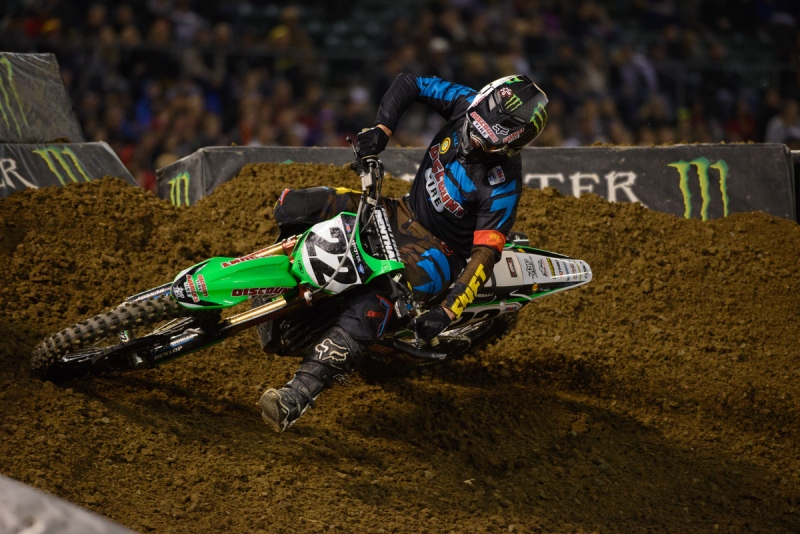 Reed got another win on Saturday which is pretty remarkable. Photo by Lissimore
You've got an incredible amount of people on social media and in the pits loving this what you're doing. You're the old guy out here and this has got to be special. We talked about your first win and here we are two races later and you got another win. This could be the start of a real cool story.
Yeah, it's a cool story, but for me I want the cool story ending. I want to win a title. That's why we're here. I want to grind away and try to take that red plate to Vegas and win this thing. RV's been super strong the last three years. So we'll try to find something that no one else has been able to do the last three years and try to take it to him. For us I think it's about winning races. When you look at anybody's championship year, even mine included, you've won multiple times. We've won two times and all we can try to do is a get a 3rd and try to get a back-to-back. I haven't had a back-to-back win since '09 so that would be nice. We're going to a stadium that I haven't done too bad over the years. We'll see what happens.
Conscious decision to get by RV right away? You're like, I can't even win, I got to go?
No, that was not the plan. Plan was to tuck in the draft and go with him. RV lays it down. He's got good creative lines.
Did he make a mistake or something?
No, I sent it pretty good in the whoops and he didn't get a good run. I just found myself in a position to pass and I took it and kind of just tried to ride my race and he wasn't coming back around. Kenny was the guy pushing. So a little bit surprised by that but no discredit. I think sometimes the tracks work for you, sometimes they don't. Last week he was a solid dude. He rode away from me. When we're on good tracks and tracks that suit him we just need to make the gap not like last week.
******
Jason Anderson
Not that good of a night for you. You and Mookie got into it a little bit. Looked like you guys talked about it after the main event. Considering you were on the ground at one point, I guess it's not too bad huh?
It was all right. It wasn't a very cool move but it happens. It's Supercross, it's racing and you're going to have contact out there. You got to make the best of the situation. I came back and salvaged a 5th or something and were tied. Going into San Diego, you just want to be in the points hunt because shit doesn't go your way all the time. That's where I'm at. I'm not too bummed and just go work on getting some starts.
Some people obviously thought that move you did to him on the corner before… I thought that was all right. Is that kind of what he told you why he got back at you because he was pissed at that pass?
Yeah, that's exactly what he said. But the way I see it, I was obviously coming up on him and I may have been faster than him or whatever. But in Supercross the track's so tight, you come in on guys and as long as they don't fall and I pull out of it I don't see it as a dirty move. You block pass, you do whatever. I knew he wasn't going to fall. So there may have been banging or whatever but I wanted to go by and get to the front. I don't think it was dirty at all. It was definitely aggressive, but he didn't fall. So I don't see where the other one was for. When he came in on me there was no plan of even staying up right.
But nice recovery. At one point you're looking up and there's 3 Troy Lee guys in front of you and Jake Canada and a bunch of guys. Were you happy with the second part of your race moving up?
Yeah, I guess so. I guess I salvaged or whatever but I feel like I needed another couple laps and I actually feel like I could have been… I was right behind Cooper and Hill. I just want to be back up there. It's what I've been doing this season. I just need to stay in the race and be in the battle. I should have been up there with Cole and Dean right at the beginning. I'll bring it back.
I don't know if you agree with me because you didn't have your best night, but I thought this was the best track of the series.
It was all right. The dirt really wasn't that great. I wish this track with Oakland dirt could have been pretty sick.
Thanks and see you next week.
And possibly East Coast!
*****
JImmy Albertson
First of all, nice semi win. That's good. You've gotten fortunate to get in a couple main events but here this one straight up earned it. Great ride on that. I thought you were good in the whoops.
I know, man. Whoops has been my bad part this year too. I hit them okay in the heat race and I pulled the holeshot in that semi and I told myself I wasn't going to get passed in the whoops and I just grabbed a handful going in. Luckily God gave me a good set of big legs and it just worked out. It was a good night. I can't complain. You've been giving me a lot of flack. I read the observations. I see that "Jimmy lucked out again." I like the truth. I agree; I got lucky a couple times this year. I won my LCQ here at A2 and to win the semi was a lot better. It's a huge step forward. A lot of fast guys in the semi. So that was good. And then the main event, I just totally bonked the main event at Oakland. I told myself I just wanted to race it hard the whole time. And I did. I would have been able to do the whole 20 lap main if it wasn't for Freise cleaning me out on the last lap and we both went down together and I'm trying to pry my bike off of his. And I finally get going and we both pick up at the same time and I just take off and I think it's Freise beside me but it's Reed actually.
And then I look over on the pit board and Roczen's mechanic got "take out Reed, $1,000." So I saw that and then I tried cleaning out Reed for the extra $1,000 and that didn't quite work out (laughs). But I really thought I was racing Freise. It's a crappy way to end the night but I'm so pumped on the improvement that I made. Congratulations to Chad Reed. That's pretty cool to see a guy his age and his maturity go out there and that's his 2nd win. He's right there in the championship. So good job to him. I hope he's not too bummed out, but I didn't have any idea.
I don't think it was terrible. It was borderline. Everybody knew you thought it was Freise. No one thought you're out to get those guys. Although some douchebags on Twitter already do, but that's okay. Also for your season, two out of your four mains, you made four out of five, two out of your four you've had some mechanicals. So it's tough to make up the points to get in the top 20 practice which also helps. But now tonight you had a good four-way battle with Moss, Wey, and Freise. So that's a step in the right direction.
It was. I was just kind of out there riding laps and trying to keep a good pace. There was never any kind of pushing in it, I just kind of felt like I needed to finish one out. And it bummed out because I wanted to get the 20 laps but I didn't, but that's just how it goes. But it's good for me and I'm stoked about it. Like you said, the first two mains I did I only got to complete I think four or five laps in each main before having to pull out with bike issues. So last weekend at Oakland was my first full main event and this is my second full one. It's getting better, so we'll see.
Do you feel like Freise's move was maybe out of line?
It is. The guy's on probation he should know, just don't freaking do it.
It's for 15th place.
It's 15th place is right. I can understand. He was behind me the whole entire race in that group. He apologized to me after the race but it's like, dude… I mean, I like Vince and I like him off the track. We hang out. My brother hangs out with his mechanic. But it's just kind of like what the fuck. That's basically what it is. But it's whatever. None of us got hurt. So it's good.
******
Kenny Roczen
You got 2nd but you still rode a great race. Pressured Chad the whole way. You got to be happy with the night. You pulled away from RV a little bit too. All in all a positive night.
Definitely. It was great racing. We kept it really close over the whole time and just really wanted to ride smart. The track was just in such bad shape I would say that you have to set up your pass a lot earlier. I just didn't want to do anything stupid. I actually wanted to push again where I did push in that last lap and wanted to make a pass right before the finish where that lapper got in-between us. He kind of screwed me up a little bit and that was it. But I'm super happy with that 2nd place, happy with my performance. It was actually a really long race but I felt great. I was in good shape and stuff, but it was definitely a really long race. Going to enjoy that tonight. Go back to work next week.
I talked to Albertson. He's the lapper. He said he was sorry. He thought it was Freise. But he almost jacked up Chad and then he got you, so he feels bad. And Chad made a few mistakes. You were able to close in. Did you see an opportunity before the last lap? I thought maybe you were going to get him after the triple over the step-up.
I actually was really close to him after the whoops once. He's always good in the whoops but I think that was one of my strongpoints too. We were riding really close the whole time but I was just not in that position and not close enough to really jump inside and try to make the pass.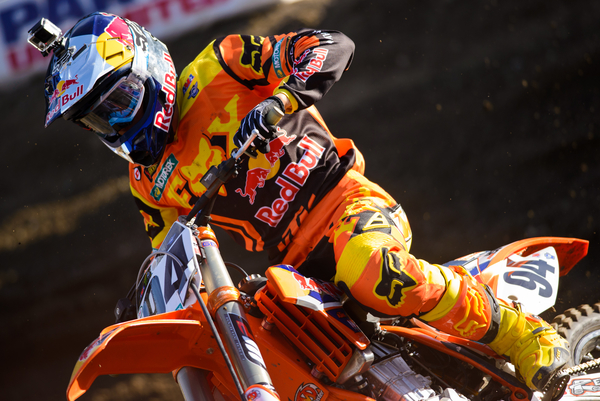 Roczen stalked Reed for 20 laps but settled for second. Lissimore photo
I thought Dungey's bike looks a little sketchy in the whoops at time. I think your bike and your style looks really good in the big whoops.
Thank you. We actually made some changes after that first practice because I struggled with it. I struggled with it last weekend too and finally got it set up a little better. I think it really worked out for me.
You're the second guy that's told me the dirt was really bad. So just broken up from being used so much?
Yeah, and we haven't gotten any rain so it was just really dry and hard. I knew it's going to be like that. Just the rocks are coming out really bad too. I did like the track better though than at Anaheim 2.