The series moves East to the purported "better dirt" and the combatants are left wanting more.
The series moves East to the purported "better dirt" and the combatants are left wanting more.
Photos By: THEE James Lissimore
Track
If tracks could be riders personified, Dallas was Bam Bam on his most belligerent day. That dirt looked about as inviting as Laguna Seca or Mid Ohio after an ice storm. I'm still on the fence if it was because the surface was just over-worked and compacted to near coal-miner densities or it just happened to be that the moisture was at a zero-sum game. A track can be too dry which makes it slick and also too wet which leads to a slippery surface, Dallas oddly enough looked like it fell in a nether-region. It wasn't super dry or overtly wet but what it was, was lacking in traction and forgiveness. James Stewart joked that he could consider putting road-race tires on his Yoshimura Suzuki but it was a legitimate reference.
Digression (Practice)
Beginning in practice-one — hold up a second… While watching practice-one yesterday I noticed Live Timing was indeed charting times. This is the first time the riders actually ride the track on race day, often referred to as "the first untimed practice". Clearly an inaccurate gloss. As I said, laps were being timed. Sure, they don't count as a qualification time but in a vacuum, calling it "the first untimed practice" is a misnomer. I railed on this in previous years but it's fallen on deaf ears. Much like my campaign to cite the SX racing classes as SX1 and SX2, apparently, I am the only person who seeks solutions for naming conventions which don't need readdressing in later years. "Practice 1, Practice 2 and Practice 3" are a simple and effective naming convention. To introduce the term "Qualifier" to this formula would just create further confusion to this "broader audience" we are eternally in search of drawing in. Heats, Semi's and LCQ's are "qualifiers". Perhaps if the "Practice" naming is hitting the mark, we just add a prefix and call them "Seeding Sessions"? I'm just spitballing for Feld here folks. Trying to tighten up the ship.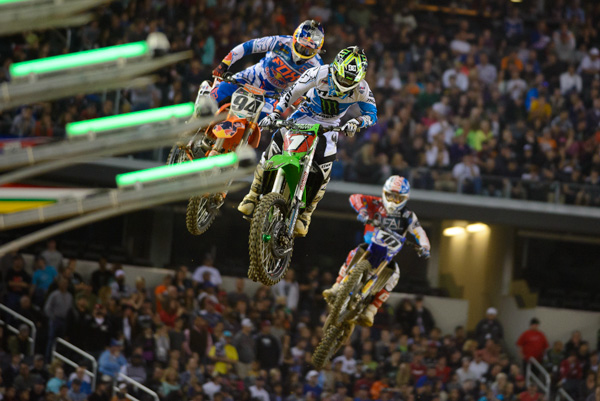 RV appears to be more an extension of his bike than anyone else on the track.
So back to my initial point, beginning in Practice-one riders were hitting the deck like doing it paid in Microsoft stock in 1983. I was honestly worried some of those casualties would not be returning to a vertical position before midnight. Nobody, well maybe RV once or twice, made the track look tamable during any of the practice sessions. RV has a way of putting together sections like a BMX racer does, even on a track like Dallas where even the most apparently gradual jump landings appeared jarring to most of the field. He "pump-jumps" through rhythms, soaking in the jolts whereas many deal with the jarring hit from point A to point B. It makes his suspension look a little more plush than most racers but I honestly believe much of it is his lean-strength working to compliment the suspension more than most.
450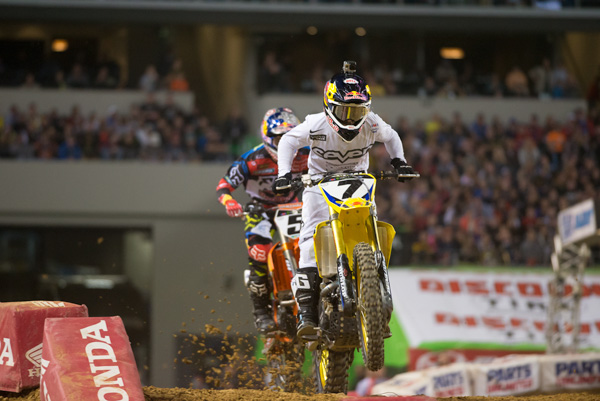 Against all odds, James Stewart excelled on the slippery and treacherous Dallas track.
A few weeks back I noted that even though it pained me greatly, I had to agree with Matthes that inexplicably, I felt there was something different about the way James Stewart was going about things in 2014. It's now possible to start to put a finger on just what it is. It's simple, he's subtracted those parts of his mental approach which proved to be ineffective or unreliable and is now left with a more mature approach, resulting in a better shot at longevity; albeit possibly trading more spectacular displays (but those displays often ended with him on his head, not his bike). Well the bottom-line is, he's gone back-to-back the last two-weeks and ironically, the momentum which belonged to his arch-nemesis Chad Reed only two weeks ago, is now in his control. Talk about a throwback. It's great to see James find his mojo again, the series is better for it.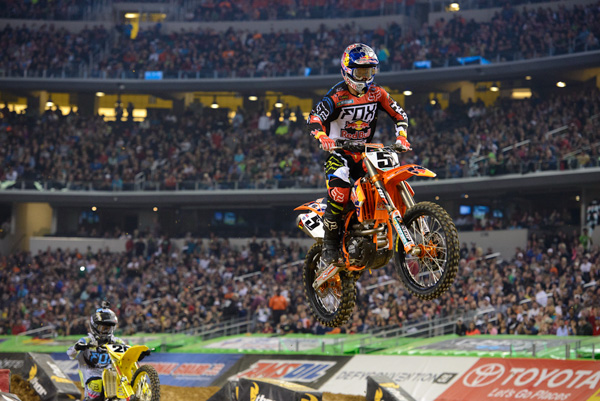 Dungey made a step back toward familiar-land in Dallas with a 2nd.
Just when all the talk surrounding Dungey is of his newfound aggression becoming a detriment to his perennial reliability, he grabs a good start and capitalizes, finishing second. Sure, the good start made "angry-Dungey" less necessary but I don't put a whole lotta stock in his newfound aggression being a negative. He'll get it figured out and be a better racer overall for it.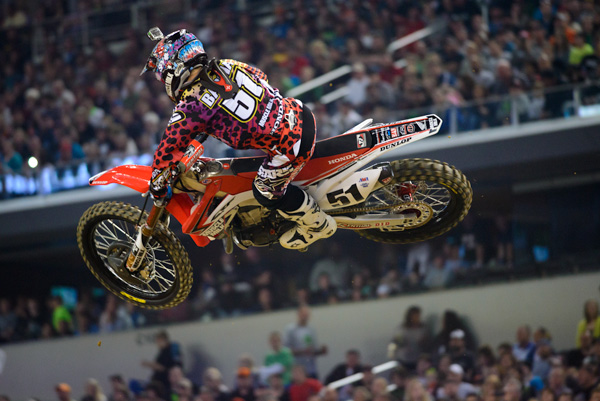 Justin Barcia continues to make ripples even when he is not getting along with his bike.
All this hoopla about Barcia scrubbing his rear-tire into Roczen's face… so what. This is the men's class and in my opinion Barcia can claim all day long that he was surprised Roczen was so close but I call BS. That was a passive aggressive reasoning for an intended message-sent. And boy was it ever received. This rivalry from the 250 class is like a jug of napalm in the middle of a match testing warehouse. Who doesn't love that?
Guess who finished 7th in Dallas? I'll help you out, Broc Tickle. He missed two rounds after getting beat up in that nasty crash at Anaheim 2 and he's still not 100% but he's doing what he always does. Giving it everything he has till the checkered flag flies. Transitioning from a guy who is very technically accurate and always keeps himself in control, to trying to get comfortable stepping over that edge of comfort has been hard for Broc but he's making progress in that regard. Like Dungey, Broc has found that the introductory steps to an alien approach to their race-craft has resulted in some growing pains. Also like Dungey, it's necessary for him to grow as a racer and be stronger in the end.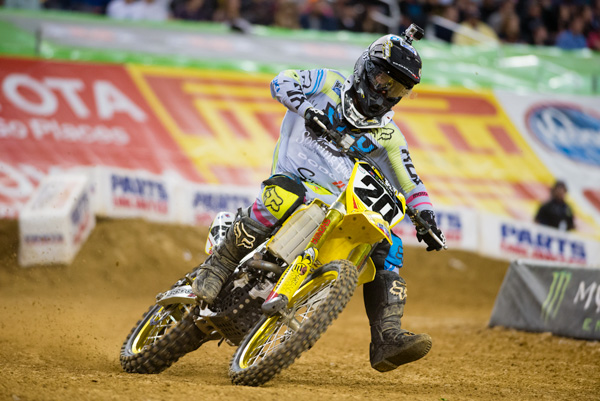 Broc is shaping up to be the "Real-Tree" of 2014.
Chad Reed gave it a bit of a go in practice but it just wasn't happening. His injuries kept him out of Dallas but he's going to make every effort to make it back to action before the series concludes. It's so unfortunate when a story like his this year ends in injury but his and Elli's will are inspiring still. With Chad out, at least there is JS7 still carrying the flag for the "older guys" in the winners circle. Both great for the series.
250
The 250 East series kicked-off and whereas many were claiming it to be the weaker coast in 2013, this year it would be hard to win that argument. Both coasts have serious talent and I'd say it's a wash. That doesn't mean JT would be happy to dole out National points to these series' now though.
I want to start with the things that caught me off-guard. First and foremost was Jace Owen not qualifying for the main. The kid has serious skill and is typically a great starter. Crashes have been his achilles but in his debut his start skills flew the coop and he was battling from way back in his heat and the LCQ. I'm calling Dallas an anomaly for Jace just due to the fact that almost every pass made all night was due to errors, not "sick moves bro". Yes, everyone had to deal with the same track but just wait, he will catch your attention soon enough.
The second biggest surprise, and bummer through no fault of his own was Matt Lemoine's short main event. Matt was on fire from the beginning of the day and although he's a veteran of the class, his passion coming into this series is at an all-time high. Believe that. A mechanical ended his night way too early but Matt has just enough of that Texas-stubbornness to not be affected. By the time the main had reached lap 12 he had already begun focusing on Atlanta.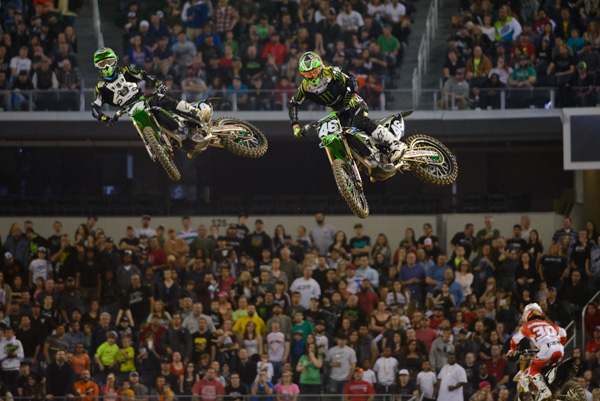 Blake Baggett made sure Adam worked hard, start to finish, for his first win.
There's nothing quite like Adam Cianciarulo winning his first SX race to make someone like me feel reeaaally old. I mean, I remember watching videos of Adam on a 60 go faster than I ever have in my life. Flash forward to Saturday night and in one of those rare cases of Amateur-phenom turned Pro, Adam cashed in on that hype. Some will argue that he made his debut halfway through the Nationals last year but that was an unfortunate situation top to bottom beginning with sickness, misdiagnosis and an uphill battle even after the delayed debut. It's crazy to listen to Adam's post-race interview on PulpMX when he says upon arrival to California around Christmas, that he was way off the pace and by far the slowest guy on the team! Shocking in two ways, firstly he's been on Aldon's program for a while and riding with RV for even longer. I'd have bet money his speed and endurance were not part of his program's shortcomings.
Secondly, for him to make so much progress in less than two-months is staggering. It goes to show that for all the riding and training these guys do in their own environments, there is no substitute for actual competition, even when that competition is midweek in SoCal with your teammates. Bragging rights and the mental game are a hell of a motivator.
If there is one thing that didn't surprise me about this first round of the East coast, it is that Adam won. He probably thinks that is foolish talk but I just have that much faith (and maybe just enough ignorance) in what I have seen of him from minibikes to his Pro Circuit 250F.
Although Martin Davalos clearly has the speed to win a main, time has shown again and again and again and again that betting against a Davalos win is more fruitful than for it. Martin is awesome. Awesome as a person and equally so as a racer. In all honesty, I will be shocked if that streak doesn't end during this series but at the same time I wouldn't be terribly shocked if it continued. It's freakish the way it has gone and continues to go for him.
I was honestly a bit shocked by Blake Baggett. He was stronger than I expected for longer than I expected. I'm yet to be convinced that his wrist isn't going to be a hinderance to his endurance. He was good for about 10 laps in Dallas but when he was good, he was vicious in his pursuit of Adam. For a guy who clearly has no love lost for his rookie teammate, he was about as considerate as you could be for a hemorrhoid from hell.
It will be very interesting to see how not only the East Series unfolds but how this battle between "teammates" progresses or regresses as the stakes increase toward Las Vegas.