Former factory rider David Vuillemin answers some questions from Indy SX
Former factory rider David Vuillemin answers some questions from Indy SX
Photos by James Lissimore
Hey DV, track at Indy looked like old school Seattle or Pontiac–everyone made mistakes and it was sketchy… how do you ride something like that properly and who's good at that stuff and why?
It sure looked like a typical East cost track from the '90's. In the last ten years, it seems like the track builders have been working on the tracks to have them smooth and ruts-free. It wasn't the case on Saturday. Your lines have to evolve during the night. Whatever lines worked on the first lap of the main might not be good in the second half of the race. I was surprised to see so many riders struggle by staying in the main line for too long. I've tweeted about it and I really think the top guys these days ride on too smooth tracks during the week, in Corona or on their personal tracks, and aren't used to those conditions. Back in the day, the factory tracks were worked on only a few times a year. These days, you have Marc Peters or whoever builds the tracks in California that services the factory tracks during the weekends while the riders are at the races. Riders show up on Monday or Tuesday on a smooth track. It's the same for the guys in Florida. All the top guys have a guy who works on their track all the time, they smooth them out, they water them and those guys ride on primo conditions tracks everyday. Then, when they show up on a track like Indy, they look a little lost.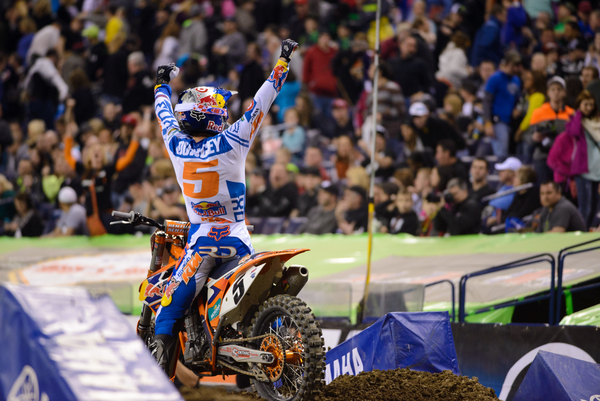 Ryan Dungey won his first race of the year in a nice ride at Indy.
You can't push that hard on a rutty track. You have to be smooth, find good lines and ride differently. For the whoops for example, blasting them might not be the best way to go with the ruts, you have to start jumping them. On short sets like last weekend, you could jump them in two hops. Riders kept skimming them and swapping. Mentally, it's difficult to change lines and change the way you ride during a race because you always wonder if those changes will work and too often the riders keep doing what they've been doing and sometimes it's not the way to go.
Villopoto increased his lead from 9 points to 23 with a great ride through the pack– thoughts on his ride and the percent chances he wins the title now?
RV only won two races this year but I really like his approach this season. He has made a few mistakes but he's been consistent. Even with a crash on the start, he managed to get 4th on a track where it was difficult to pass. He doesn't do anything stupid to win races, he scores big points every weekend and it's working out. He's the man to beat for sure and will be the favorite in Daytona this weekend. If he has an over 25 points lead after next round in Florida, it will be difficult to catch him. But with 7 races to go after Daytona, there will be a lot of points to be attributed…
Someone in the pits was telling me that Davalos rides "too loose" out there and with the track being what it was-it would bite him. Which it did. Do you agree with this and thoughts on AC?
Martin reminds me of Stewart a few years ago. The guy is super fast, maybe the fastest of the East coast guys but always seems to make a mistake at some point. In this sport, when your margin of safety is too small and you want to push too hard, often, it doesn't work out well. Plus, like James, Martin isn't cautious enough in some critical sections of the tracks, like slippery sections (they both lose the front a lot), whoops etc… What I've talked about in my first answer about changing lines is exactly what happened to Davalos when he crashed. You can see the plywood or the concrete when you ride. Riding on it is like ice. You gotta get off those lines. He kept riding on it and it bit him.
For example, Dungey is the kind of rider that is the opposite. Too often, his margin of safety is too big which costs him a few wins in his career. Basically, if you can be the fastest rider while racing at 90%, you can win any championship. I know Supecross isn't math but it's an image to give you an idea of the point I am trying to make. And, Adam is actually doing just that. I've talked about it in previous columns, AC is really impressing me with his maturity and his ability to overcome the challenges from his competitors and from the track. His quad, and yes that's called a quad, was pretty sick this weekend and he did it very smoothly. He only has a 5-point lead on Davalos with 6 races to go which isn't much. It's going to be fun to see who's going take the title home.
Eli Tomac went back to a more production bike this weekend and scored his best finish of the year, what is the deal with this? Forks and the shock are all more of what Hahn's running and he likes it better. You riders are weird.
Factory stuff doesn't automatically mean better. It's like what I'm reading about (Weston) Peick and people saying he'll do so much better on factory equipment. I'll take a great stock set up over a bad factory setup any day. There are so much stuff to choose from with factory parts and more stuff to change and get lost with. I've been through it a lot and it doesn't surprise me that Tomac feels better with something closer to production. It's not like Barcia's bike and set up has looked amazing this season. In 2000 in outdoors, I was struggling with my factory shock on the YZ250. It had a bigger shaft and it was way different from a stock shock. I didn't like it and didn't feel comfortable.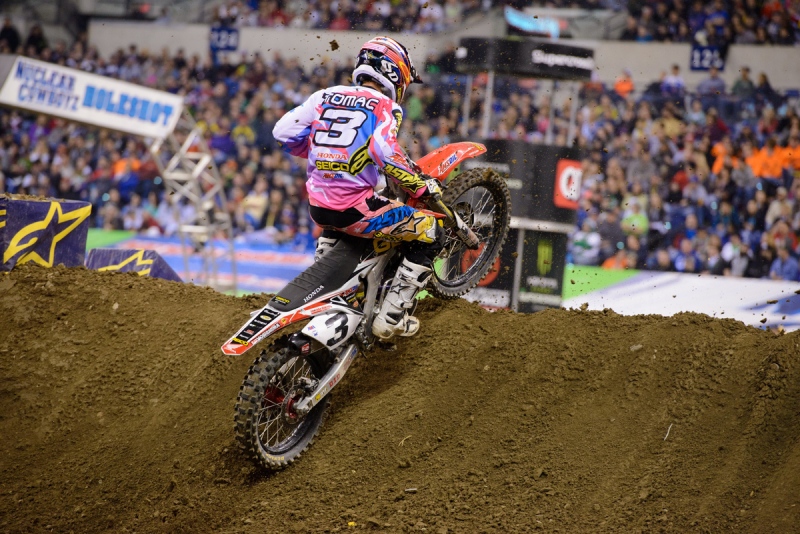 Tomac went back to more porduction based bike but we're betting he does not have a bone-stock shock like DV did as Washougal '00.
So before Washougal, my dad told me to ask the team to test a brand new stock shock, right off a stock bike with a steel spring for my weight. We did try it at Glen Helen on Thursday and it turned out to be better. So we decided to use it in Washougal without servicing it. The stock valving and stock oil was in it. I showed up at the race and went 1-2 and RC went 2-1…
The last two weeks Stew has been the fastest guy out there on the track and yet after he crashes he doesn't seem to be able to rip thru the pack like we think he should…or are "we" wrong about that?
In Atlanta, James lost the front bad in the first lap and got 11th. This weekend, something happened in the first lap and he was 21st. He came back to 7th when RV went ahead to finish 4th. It has happened a few times this year where James was way behind at the beginning of the races but you're right, he didn't really go thru the pack like he was doing in the past. Is that because he's more cautious going thru the pack and doesn't take that many chances or risks anymore?
Maybe but we used to see him blast thru the pack before but we haven't this year yet. I like the new James still fast, smoother, calmer but that might work against him when it comes to hang it out to go thru the pack. But, you never know if he had issues with the bike after his crashes the last two weekends. When he's far back, it also looks like he has tough time motivating himself and regroups mentally to move forward quick.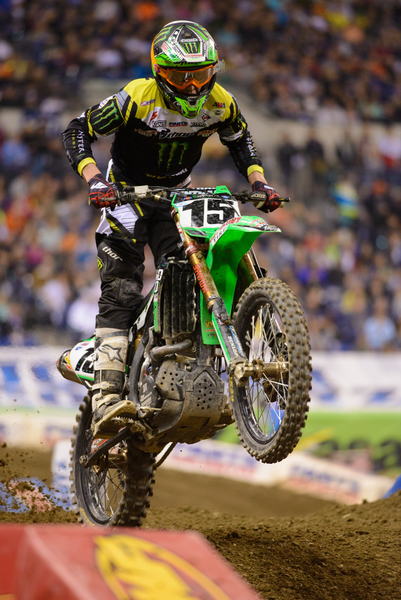 Dean Wilson crashed in his first 450SX main event but came back to tenth.
What about Wilson and Seely's debut…they were around the same speed but Wilson made a mistake in the main and Seely didn't. Which one of these guys has the higher potential for next year?
They pretty much had the same lap time in practice. Cole went ahead to finish 3rd in the main and Dean was 10th. It's tough to compare on one race. In the main, Cole was 7th on the first lap and Dean was 19th… It's a different ball game at that point. Plus, it was Dean's first ever 450 SX while Cole has experience in the class which isn't negligible. We will have to way and see on another weekend but Cole did great. Passed a few guys and took advantage of Alessi's crash to score his first ever podium finish. But, for this race inside the race of the 250 guys, we will have to wait a little longer
Silly season rumors are out there now with Roczen to RCH, Wilson to KTM, Barcia to JGR being some of the more believable ones–thoughts on these moves if they go that way?
Gotta love silly season rumors! I can see teams wanting to sign Roczen but what does he have to gain to switch? Red Bull and KTM love him, they have almost unlimited funds, he's doing great on the KTM, I wouldn't go anywhere but riders made weird decisions in the past. I know all about that to talk about it!
As far as JGR, they will need a second rider. I'm sure Brayton will stay put while Grant might be out. RCH will have to sign a top guy at one point after missing on Reed last year. Lot of riders will play musical chairs again in 2015 but, right now we are speculating and I'd rather enjoy the races, try to analyze the races the best I can and for the rumors, I'll let the factory keyboard champs have fun and speculate. I'll wait for the press releases…