As anyone who has ever thrown a leg over a bike can tell you: it is dangerous, and eventually the inevitable will happen.
As anyone who has ever thrown a leg over a bike can tell you: it is dangerous, and eventually the inevitable will happen.
Photos By: James Lissimore
Eventually, we have to all get back up and decide which step to take next, whether it is to the side of the track or the bike is very rarely a matter of free will. At the beginning of the season all the racers have a fresh perspective in which to see the championship, the races, and it is afforded them through training, hard work, dedication, and a group of loyal counterparts to infuse them with motivation and confidence. There have been multiple opportunities for these such riders to unseat the champ in the leadings up to Daytona. Now, the champ has spoken vehemently with a ride that may have just cracked the competition. You could have called many instances luck being on his side. When he crashed so did his closest competitors. If that is your path then it gains you no comfort. As I look at it after Daytona Villopoto held one end of the wishbone and all his comp the other. And just as the wishbone does, and just as the inevitable downside of racing consist of a single negative truth for us all…crack goes the bone.
At this point I think we know who left Daytona holding the longer piece of wishbone. Villopoto showed with great certainty why he is number 1 with a decimation of all those who at one time or another have given him severe problems. People say that it is because he is great at outdoor races but I disagree. I feel like as everyone else tried to go as fast as they could without getting out of control, like a normal race for any of them, Ryan was finally able to unleash himself. He was fast, precise, and did not look to be pushing his pace. He was merely able to ride the way he has wanted to all season. I do not believe for a second that he has been holding back that much at previous races. I think he has been overly cautious the first lap or two, which caused him to lose positions and time he was unable to make up. This does not mean he will win out, but he has established the pecking order once again. And as we have grown so accustomed to, he is at the top.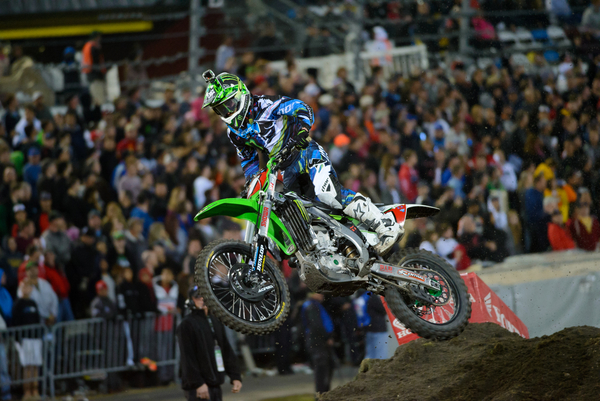 RV has bounced back from some serious injuries and regain his form.
The short end of the wishbone belongs to every rider who has threatened his reign of terror. Every single one has crashed out of a race or the series altogether. Now whether or not this is bad luck or self-made booby traps is up to individual inspection and interpretation. The fact remains that each threat has cracked under the pressure of being so good for so many races. That is what makes the champion better than the rest, the ability to push to the very last race without letting one mistake lead to another. It is almost more about reaction to situations then straight race for race. Roczen has only let one incident lead to another one time, but it was one time too many. Dungey has slowly moved back to his old ways of being cautiously consistent, which I feel will hurt his overall racecraft as his career leads on. He needs to be able to push if that is what it will take, but his early season experiences have tempered his attempt at a revelation. Stewart has strung together a triple crown of glorious mayhem in the main events to end his championship run. It was a self-imposed clean break of pressure and hope to deliver a title for the yellow squad. We all know what happened to Chad. Canard never had a chance nor did Millsaps. You could honestly say the same about Barcia and Tomac, as they continue to find the ground. Their overall poor results have to be the most shocking, in a negative way, among the entire 450 field. Their SX seasons have been all but a wash with one podium apiece thus far. One by one they have all cracked.
Looking at the slightly smaller picture with Adam and the gang of green goblins, that same separation that is evident in the 450s is not there yet. The top three are still in position to make a run for the championship. Baggett is coming of another great performance at Daytona, but that is really normal procedure for him at this point. It will really only be considered a turn-around if he can continue to execute starts and produce wins. He has done this before, where he is close but not up front all the time until Daytona comes. Davalos seems to be holding this season together with dirt, ducted take, and hope. He makes a lot of little mistakes, and you can tell he wants to win this championship so bad, but he finds the ground often. Adam is making it look somewhat easy out front, especially as a rookie. He is riding fast but has no reason to take risks because his main competitors are both making the mistakes first. It is a clear indication that Adam can make up for a lack of straight dominance by managing the championship like a seasoned veteran. It will come down to a mistake sooner or later. So the question of these three remains exiting Daytona…who will the first to falter?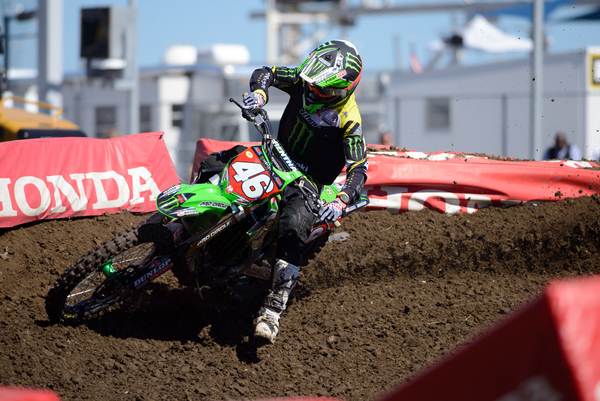 Adam Cianciarulo has had a dream-like debut to his pro SX career, bouncing back from a sickly outdoors.
The next group of riders are all enjoying a slow start to a season they thought would go much better. Bogle was coming off an injury that was severe and obviously took its toll on him. I feel like he has lacked in his outright speed from years past, but he is doing a good job of staying consistent. Unfortunately, He is consistently behind the green goblins of Mitch Payton's risen again powerhouse. The same can be said for his teammate Blake Wharton, except I am not sure what his excuse is. He was not injured and came in as a favorite to contend for wins and podiums, but has found neither. Wharton has always been a mixture of weird speed and consistency that is unusual and deceptive. We knew this one made the list…Jeremy Martin, the worst start to a season ever for a rider considered a contender. Other than being injured and not racing, this probably hurts about as much for him. His season was messed up from race one, but every weekend is an opportunity to put the past away. Right now he is the mystery of the season, and we will see how pressure to succeed and a lack of results weight on the sophomore.
The mistakes that make a season are all pilling up and we all know at the end only one rider can emerge at the top. You can call it luck, you can call it racecraft, or you can call it divine chaos. No matter what side you chose it will not change that sooner or later something will give, and each and every rider must face some adversity. Whether they can move towards the front of the pack or retire from the race is rarely a matter of free will. Just like anyone who has taken the chance to race or put it on the line for the simple satisfaction of enjoying the adrenaline rush of controlling a beast on wheels: eventually something causes you to lose control and in that moment crack goes your race, sometimes your season, or your hopeful career. The champ is showing everyone why he is the best at fighting over the wishbone, and why luck falls his way…crack goes the bone.