David Vuillemin has some thoughts about the Detroit SX
David Vuillemin has some thoughts about the Detroit SX
Q- No rider really liked the track this week-it was hard and slippery. JS7 looked to be cruising out there as he pulled away from RV. Thoughts on James pulling away from RV and winning easily?
I actually thought the track was really good. Yes, it was slippery but most of them are. I really liked the rhythm sections in Detroit where the jumps seemed taller and more narrow than usual. The rhythm with the two on-offs in it was pretty tricky. It was also technical in a sense to go fast thru it. It wasn't difficult to jump it but it was difficult to race that section. we've seen a lot of riders missing it or coming short. It's good to have something challenging on a SX track rather than have a super easier track where everyone does everything easily. As far as RV, I liked the way his bike handled and how his suspension worked. I am not sure if they made changes but his bike looked way better this weekend, especially in the whoops. His biggest problem was traction and grip on a slippery track where Stewart looked great with his bike set-up, tire set-up and throttle control. What JS does have on others is his smoothness and speed in corners. He keeps his momentum a lot, contrary to RV, and he doesn't have to grab a handful of throttle at the exit of the turn because his speed is so much faster than anyone else.
With a "regular" eye, it doesn't look super impressive but it's really efficient. I know you guys are gonna say I'm beating a dead horse but I really think RV's tire set-up was horrible in Detroit. The guy couldn't open the throttle anywhere and had to look for the "fluff" out of the main line to find some sort of traction. Also, his riding style isn't made for this kind of track but, still, you could see him struggling with traction so much. That's something I don't understand.
When the 4 strokes came out, it was awesome for slippery track, hence Doug Henry's win at Vegas SX in 97, but today it seems like it's a bigger problem than it ever was on a 250 two-stroke. The 2014 bike are better than 10 years ago, we have EFI now, "engineers" from all over the globe to work on bikes, the tire manufactures have over 10 years in 4 stroke experience and 30+ in SX but every weekend we see riders struggle so bad with their bikes and traction. I don't get it, really! Only JS looked normal. The rest looked uncomfortable. Can anyone figure this out?
Q- Andrew Short is underrated, one of only three riders to finish top ten each week and he had a great ride in Detroit. Two things–talk about Short in general and what you think of him and his move on Seely, what did you make of that?
I re-watched the race last night and don't recall anything bad between Seely and Short OR I might have missed it… In poker language, we would call Shorty a grinder! He's there every week. Not the most talented guy but he does his work and grinds it out until the finish line at every race. He's been improving this season and getting close to the top 3. It's something really difficult to do to step it up in the middle of the season. You gotta respect the guy. He might be a little too aggressive at times but he's got heart. Nice to see someone that was in a hole after his former team folding couple years ago and adapting to a new bike after racing a honda for so long… Coming from a factory honda to a privateer bike, at the time, isn't a easy thing to do. Glad to see him up there, his hard work and his dedication to the sport are paying off.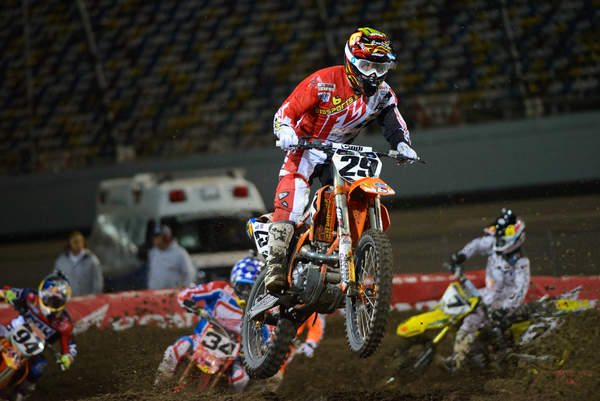 Short had his season best finish in Detroit. Lissimore photo
Q- Wilson once again was fast but he once again went backwards very fast after arm pump stuck, is this a disaster for him or can he recover from this? And what about arm pump? You ever get it that bad?
Arm pump could be coming from so many things… wasn't he fine on a 250 right? I thought he was training with one of the most badass trainer in the world? Reedy said it best on the TV coverage of the race this weekend. "The 450 is easy to ride but very difficult to race"… Bike is faster, heavier and if you ride it too much like a 250, you gonna get tired and not go anywhere on a 20 lap moto. It's tough to be competitive right away in this class, only a few did good right away.
Obviously, Dean has the speed. He showed it last weekend in practice but you can't teach experience… He didn't prepare himself to be a 450 rider. He jumped on a 450 in the middle of the season. He never raced a 450 before he started with Two-Two. He doesn't have base set ups for the bike. We can't really except too much from him. I think he's doing good but, like I said, the approach and the riding style of a 250 and 450 are more different than everyone thinks…
Q- Motoconcepts was not happy about Dean Wilson colliding with Alessi in the last turn and taking him out. What did you think of Wilson's move and what about the AMA not taking any action?
I saw the footage MCR posted on the VitalMX forum. There is always 2 sides of every story. Putting myself in MCR/Alessi's shoes I can see why they could be unhappy about Wilson blockpass or take out or whatever you want to call it. It's nowhere as bad as what Mike pulled on Tickle in Atlanta in my opinion but maybe not in MCR's eyes. Wilson was really late but it wasn't nearly as brutal as the Alessi/Tickle incident. Mike and Dean weren't very fast when it happened but it was aggressive in a sense of Wilson hitting Alessi at the exit of the turn. It wasn't a dangerous move where the riders could have gotten hurt. It was just a last turn pass in a main event for a position but it wasn't even for a top 10 spot though. It wasn't a super smart move by Wilson but I really don't think the action deserves a fine. If it did deserve a penalty or a fine, the AMA would have given a lot of them in Detroit, to Short on Seely, to Cunningham on Decotis and so on…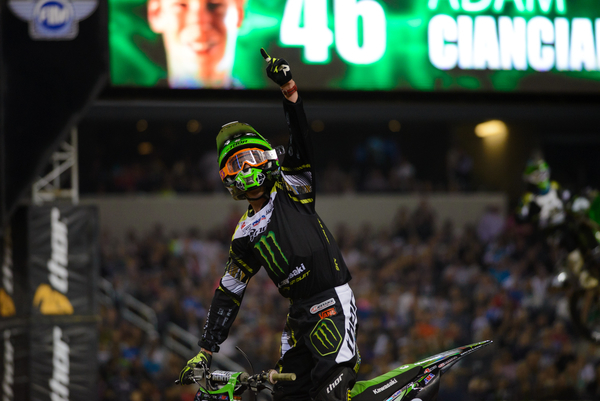 The Pro Circuit kid won again in Detroit. Lissimore photo
Q-Bogle had his best race of the year as he pressured the kid the whole way. Once again though, Cianciarulo was very strong and withstood the pressure the whole way. Baggett can't get a start, Davalos crashes, there's not really any weakness with AC though. Can Bogle beat him?
I'll repeat it again and again, I'm really impressed with Adam's maturity, his ability to adapt to every kind of tracks and competitors and his maturity as a spoke person for a lot of companies. He's the dream kid, fast, gets results, with a professional attitude, charismatic… We'll have to wait to see if he's a RC or a RV but he's on the right path. Bogle was right there most of the main in Detroit. The kid has been overshadowed by the PC sweeps and Adam but he's having a very good and consistent season for a kid that got pretty badly hurt not long ago. We all wanted him to almost try a little harder Saturday to give Adam a run for his money. I think he's building his confidence and when he'll realize he has nothing to lose anymore in the championship (he's already 1 race back in the points), he'll be even more of a threat
In the end, Davalos crashed twice in the main event and is now 17 points back in the title hunt but hey, he gets to ride 250's once again if he doesn't win the title- that's not so bad!
I guess we should be used by all that by now in his ninth season in the class? Martin is the exact same rider. Super fast, super nice kid but he always seems to endo or lose the front end! His endo in practice was kind of stupid. What was he thinking? Even before seeing the crash and when I saw how he approached the on/off section, I knew exactly what was gonna happen… His crash in the main was just physics and his fault. When you land off a triple in a slippery section sitting with your balls on the gas cap and your leg out, it never ends well… He's super fast, fun to watch and I'm sure he'll have a great ride for his 9th season in 2015… But like the French say, "chase the natural, it comes back at you running"…