The 7-Deuce-Deuce talks about Seattle and love
The 7-Deuce-Deuce talks about Seattle and love
Photos by James Lissimore
Love bro. yeah its getting real right now. Everyone knows what love is, from your family, to your wife, to your kids, to your truck, to your favorite food, and most important for me, I love my dirt bike. In my life the odds were not in the 7deucedeuces favor, but as you all know that never kept me down! When I grew up I was a super chubby little fat kid that had very little skill, and hated jumping. I was literally deathly afraid to catch air! I remember like it was yesterday the day I decided to be a professional supercross racer. I was in the L.A. Coliseum and I saw Jeremy McGrath win in a fashion I had never witnessed in my life! He was so smooth and fluent. When he won that race, he won with such grace and dominance that all I wanted to do is race dirt bikes and I have yet to think twice about it!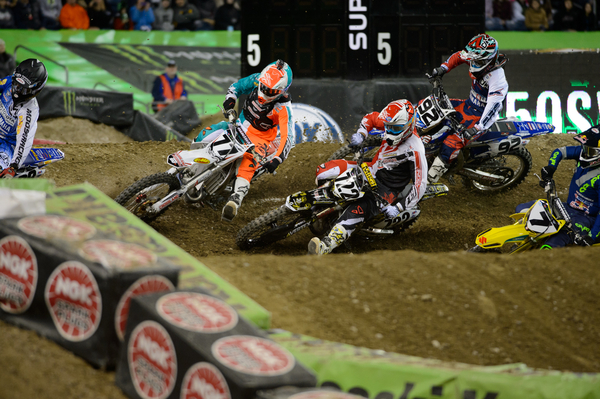 The 722 mixes it up in the first turn in Seattle.
I love this sport with all of my body and soul to the point where it is probably a fault of mine. There is no question in my mind about quitting. This is the rise of the 7deucedeuce hands down. I am not like most. I don't get good in spurts or in big chunks. I have always been on a steady upward curve. When I was younger I didn't ever have sick results in amateurs, I was a straight SQUIDZILLA! When I was 14, I got 22nd place in the LCQ of the 125 beginner class at the World Mini amateur nationals, and I didn't even crash. TWENTY-SECOND PLACE IN THE LCQ!!!! I am not the most talented kid in the group by all means but I sure as hell know how to get the job done! I have one focus in my life and that is to leave a mark in what I love. No matter what anyone says to me I will keep my head down and keep plugging away because I know I will make it. I think what really tells you who a person is deep down inside is how they react when they're in the roughest of times. When you see me struggle in life is when my truth strength arises from the depths. One of my best characteristics is being able to only care about the task at hand and not caring about other peoples opinion, bad, good, or the fact it might fail. I was a fat kid that was slow at 16, with a dream that when I told people what it was they looked at me like psssh ya right. Look at me now SUCKA-BIRD I am full on pro son!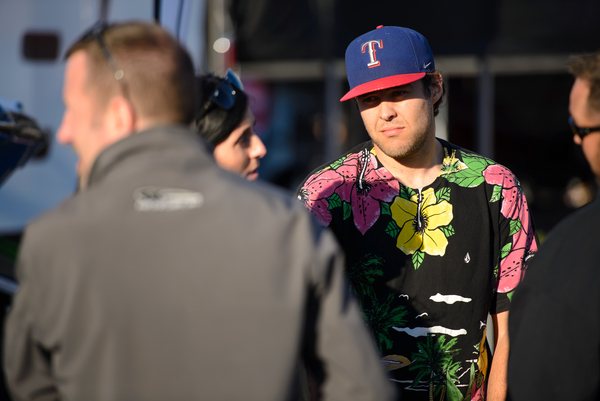 Enticknap has had a rough go of it recently but he's not ever going to stop trying.
The last few weeks of racing have been more than frustrating. My lap times say I am supposed to be in the main event but my results say no. In St. Louis I crashed off a dragon back in qualifying position, which was a complete fluke, I hadn't messed that up all day! The week later in Houston, I was blazing fast in the LCQ and someone ran into my rear wheel off the start. It locked it up completely and I was pretty much dead last. This last weekend in Seattle, I crashed in the Semi finishing up two spots from last after having to readjust my bike in the pits. Which in turn gave me 4th to last gate pick resulting in a not so great start in the LCQ, on top of me not making passes that I totally should of! The most frustrating part for me is not rising to my potential when it is clearly there for visible eyes to see.
This is where that love thing comes in. I love racing my dirt bike. I love my fans. I love the people I am surrounded with! I love what I get to do! However I do not enjoy not doing my best but sometimes you don't always get exactly what you want and how you want it to appear in your life. I know what I am doing is what I love. So all I can do is keep on keepin on and have faith. I am not stopping anytime soon and I will be in the main events week in and week out even if it's not next weekend or the week after that. #7deucedeuce doesn't quit and I always have faith in myself.
Till next week!!!! PEACE!!!