Putting it all back together has started
Putting it all back together has started
HERE'S Part one of the rebuild
HERE'S Part two of the rebuild
So we're trucking along here on the #project90 rebuild and we've got some big plans for it when it's done. I can't spill the beans yet but we're hoping to have some cool footage and a neat story once I finish this thing. Race Tech is re-doing and coating the suspension for me and I should get that back this week so we're getting there. I would be able to get a lot more done this week but I've got to wait for a part to get here as explained further down below.
I just kept staring at the motor on the bench and wondering where I was going to find the time to do it. Yeah, it's a two-stroke motor and it would be pretty easy but I couldn't find my motor block, I couldn't find my hot plate, I have no vice or solvent tank in my garage and this just in- I'm pretty busy with my real job. So with that in mind, I'm going to pay the great Tony Berluti to split the cases and see what the thing needs. I know, I know, I'm bailing out of doing the complete thing but if I didn't get him to do it who knows when this thing would get done. Good luck with the KIPS power-valve Berloot!
So here's the latest on #project90 as we start to see some real progress and I hope to have it all done (sans motor- don't judge me bro) in three weeks or so.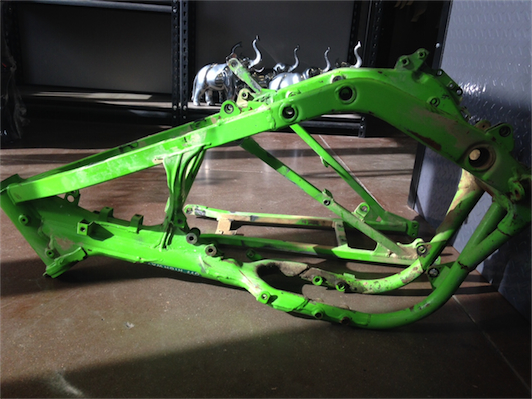 So the bike was stripped down in the last installment so then the next step was powder-coating. I went on-line and found a place by the house that did the frame and subframe for $240 so that wasn't so bad. I went and found the Kawasaki green paint code and when I went down there I told them that was what I wanted the color to be. The girl was like "Why don't you want it Kawasaki green?" so which I told her that I thought that was the code I gave her. She said no, that's close but it's not Kawasaki green. She showed me the two samples and yes indeed, the Kawasaki green was a perfect match the frame as opposed to my color code that was a bit brighter. Who knew?
The frame itself was in good shape, no cracks in it (rare for a 90's Kawasaki) and even those shock towers (that only lasted two years before Kawasaki realized they flexed and cracked and that the shock needed to be bolted to the actual frame) were in good shape.
I get a few people asking me if I was going to powder-coat it flo-green "like the factory bikes" and to that I say…"C'mon people, Kawasaki didn't go to flo-green until 1996 on the factory bikes and so a 1990 with flo-green paint would look ridiculous". And I know this because as a privateer Kawasaki mechanic in 1997 I had to try and get my frames flo-green so we looked factory.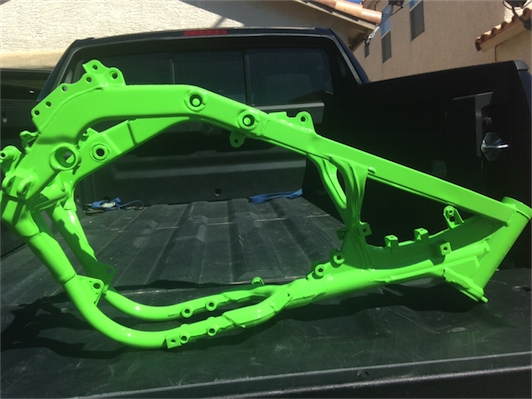 Here's the finished version and the place did a good job. Of course I had to tap all the holes to get rid of the sand in there as well as grind down the paint where the coil goes as well as inside where the footpegs slide in. And I'll probably have to grind down the pivot mount so everything fits and who knows what else.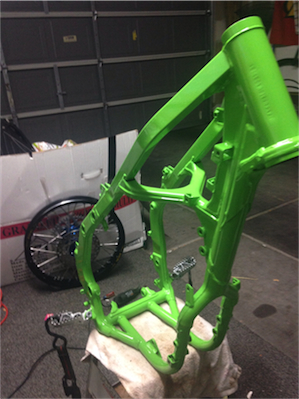 And so the build begins. I was struggling to put the foot-pegs on when I noticed that there was a little hole in the peg itself that lined up with the shape of the end of the spring. I was just trying to go old-school and cram both ends in there before it shot off into space. Yes, I took it apart and I should've remembered how they went but that was a long time ago bro. So anyways, ten minutes into putting on the pegs I saw the hole and then one minute later both pegs were on. Doh!
One thing that's weird is there is no washer on the bottom of the pin between the frame and the cotter-pin. I looked and looked for the washers and then went on Babbittsonline.com and saw that there were no washers there. That seems silly so I went to put some washers in there but there really isn't enough room between the cotter-pin hole and the frame. Weird right?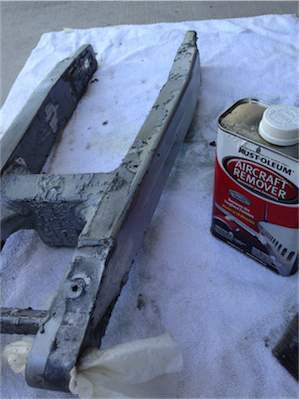 For some reason Kawasaki has always painted their swingarms (same with Yamaha) and the factory look was to take the paint off. I had to do this for a few years when I was a privateer mechanic for Ty Birdwell back in the late 90's. The factory guys got the swingarms without paint and didn't have to do this so yeah, because we want to look like the factory bikes we stripped the paint off but the factory guys didn't actually have to do shit. Anyways, whether I wanted to look factory or not, I had to do this on #project90 because the swingarm was beat down. The paint was missing in some places, it was scratched and the dude had a giant rip-off Dunlop stickers on there that were impossible to remove.
This was the biggest pain in the ass so far because it took multiple coats, lots of scraping, some creative uses of a razor blade, some scotch-brite and WD-40 and then even more scrubbing. But the aluminum look is, again, very factory.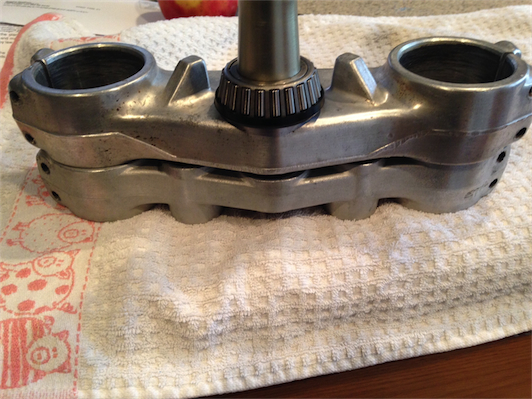 Cleaned up the clamps and with the help of Tony Berluti's press, I put a new bottom bearing on. I ordered new top and bottom bearings aftermarket and they look great. Same with the swingarm bearings and linkage bearings. Oh yeah, I also ordered an aftermarket bolt kit to replace all the ones that were beat down. All this stuff was ordered from BTOSports.com using the "pulpmx" code. We almost had a big issue when I took the linkage apart and the bottom shock bearing just fell out.
The "knuckle" part of the link where the shock bolts to had a big chunk missing out of it and it was big enough where the only thing holding it together was the bolt. So no big deal, I ordered a replacement one and waited for it (I was going to press all new bearings in) when I was informed that Kawasaki discontinued it. Crap! I didn't know what I was going to do- get it welded and smoothed out I suppose- but then I went on eBay and to my amazement there was a complete 1990 Kawasakl KX250 linkage for sale on there for $100. How lucky am I? Yeah it's in Great Britain but so what? That was pretty sweet right?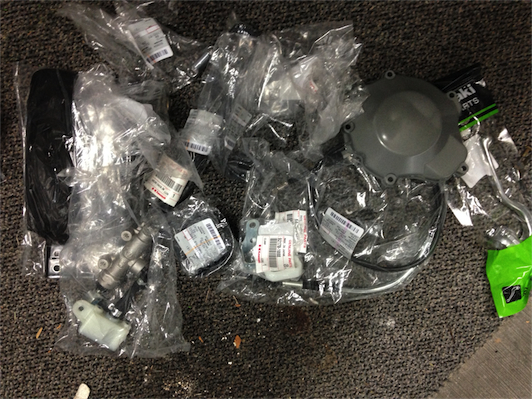 The folks at Babbitt's have been great with me in helping me out with this. Jordan down there has been really helpful in getting me what I need to get this thing going. I'm not going crazy with the new stuff, I'm putting in some elbow grease when needed but some things like cables, swingarm rubbers, chain rollers, levers, etc, etc are needed. I highly suggest you using Babbitt's if you need something.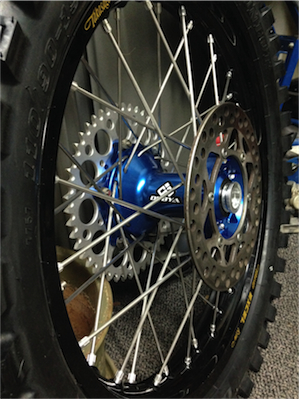 The stock wheels were hammered. So this was my biggest decision so far on this bike and truthfully I'm breaking my vow by doing this. The folks at DUBYA USA got me a wheel set for the bike and the Talon hubs were always going to be blue, there wasn't really any choice with that and I'm fine with Kawi blue. BUT the rim color, ahhhhhh, that's where I veered left on this restore by deciding to go with black.
I know, I know, I can hear you people now whining but I've always thought the black wheels with green was cool and I've already broken the "stock" look by going with the Talon hubs. Also Dunlop sent me some fresh rubber for the bike and thanks to those guys for that.
I could've gotten DUBYA to rebuild my wheels with silver rims and using stock hubs but I don't know, I wanted something a little cool. So here we are…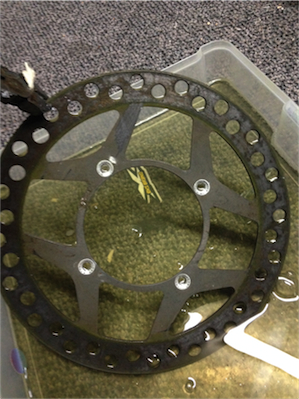 As of right now this is my biggest problem. The front disc was really badly rusted (methinks the front brake must not work but I haven't dove into the brakes as of yet) and it's discontinued from Kawasaki so there goes that option. So here's the disc after about five hours of soaking in this rust remover stuff. It's better than it was but still looks brutal. And I don't want to put on an aftermarket disc because I can't find one that retains the stock look. So I may have to just keep working and working and working on this thing to try and make it look like new.