Le Cobra strikes back with his thoughts on High Point
Le Cobra strikes back with his thoughts on High Point
Photos by Simon Cudby
Q- What did you think of High Point when you raced there?
David Vuillemin: I obviously raced there a lot and had some good rides. I only won three nationals in my career and two in a row came from High Point. (Thanks to the muddy conditions in the early 2000s!) I always liked that track because it's the most european layout of the series. It's a track where you have to be smart with line choices and where you don't have to pin it and close your eyes to go fast. There are always long ruts in the turns where you have to be smooth and always keep your momentum. It's really a track where you have to go slow to be fast even if I really dislike this saying. The rain on Friday made the track a little one lined on saturday and narrow but it's kindof always the case there anyways.
The start is definitely important there because it's difficult to get around someone that goes around the same speed as you but you can still find spots here and there. The best way to pass is to set up your move a few corners before and anticipate. You always have to think ahead on the High Point track to even be fast. If you take it turn by turn, you won't be able to be fast. With the off cambers and the track going often right-left-right-left, you have to enter your turns wide and exit tight to open your entrance in the next turn. If you race the turn and exit too wide, you mess up the following one by entering to tight in it. Then, it takes time to get back into your flow and good lines. As far as the weather, it was pretty perfect. Mid 70s with rain the day before, it doesn't get any better than that
Q- James Stewart had perhaps his best national in a long time with great starts and great rides to go 1-1…is this the start of something for JS7? So far the three motos he's won, he's gotten a top two start- is this the only way he can win?
James' ride was very impressive and looked very close to how he rode during his wins in Supercross. James' riding has evolved a lot in the last couple of years. We don't see the crazy and out of the ordinary stuff that no one else does anymore. We see smoothness, patience and efficiency which he was obviously lacking in the past when he would win by a mile or DNF. He's starting to look like an effortless JMB or a Pourcel when he was on top of his game. He doesn't look fast. He doesn't do crazy stuff like before but the stop watch/results talk for themselves. It's really cool to see the evolution of his riding. He still has glimpse of greatness and of "WTF was that" like in SX but in most of his wins in SX and last Saturday, it was pure efficiency. The last 3 motos will build his confidence up and I am pretty sure he can still battle for moto wins even if he starts behind the three other guys from the Big Four.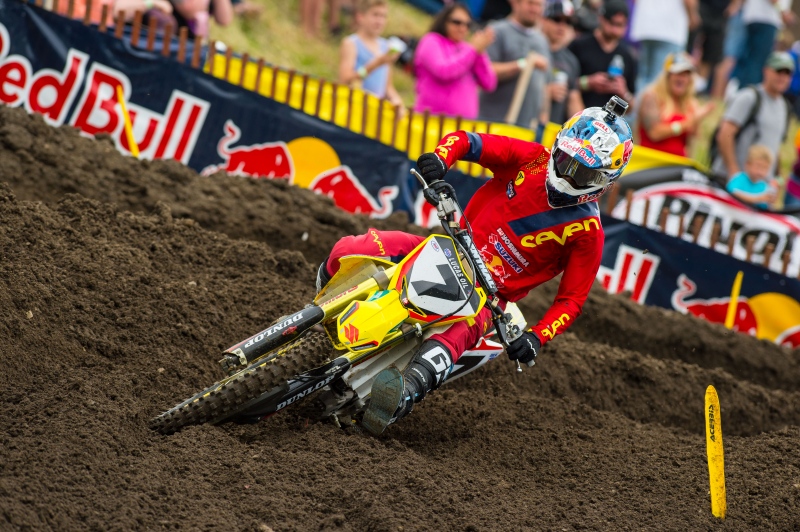 Vuillemin likes the style JS7 is winning with.
Q- Canard, Roczen and Dungey had some great racing in both motos- what did you see from each of them?
What I saw from those guys is their limits on a technical track. We saw a lot of mistakes from all three on Saturday. Mostly because trying to hard isn't efficient on that track. Like I said before, you have to focus on the track to be smooth and keep your momentum rather than pin it and mess up your flow. Roczen was flying at times but crashed in one moto. He was also trying too much to change his lines to figure out what was best instead of riding the fast line and pick his spots to pass. You can't pass everywhere there. If you start trying to pass someone everywhere, you get frustrated. But, I really think Roczen is doing very good and will be there the whole series. He's fit, fast and wants to win.
For Dungey, I like the fact he's getting out of his comfort zone and starting to ride more aggressive and less with a safety margin. But his bike is really not helping him! I feel bad for the guy. He has to fight with chassis and suspension way too much. His bike stands up in the turns, bounces everywhere and the more he tries-the less it works. I'd love to see the difference if he would ride Ken's engine and suspension set up. I don't know if their engine is way different but most of the time if your engine is more aggressive and powerful, it makes the handling of the bike more difficult. More compression/power/hit means more engine brake. Engine brake on a 4-stroke in the enemy of the rear shock. It makes the rear end of the bike very twitchy. I am speculating because I obviously don't know what types of set up those guys are using but I think there is something wrong with the Dunge's scooter! If I can see it from my couch and getting frustrated about it, I am sure the KTM crew sees it from the sidelines too. Whatever is on there isn't working. It's time to make some drastic changes to see if Ryan can get comfortable.
Q- Canard made a comment about not jumping onto that plateau because that's where he crashed years back and broke his wrist- do you understand this as a rider? Ever have anything like this happen to you?
When you have a big crash somewhere whenever you come back to that spot you think about it… You don't think Reed thinks about his Millville crash every time he jumps that table top? It's natural to think that way but you have to overcome the mental block and do whatever you have to do to go fast. That triple on the table top didn't look super sketchy especially when you see 250 guys do it. Trey has enough technique and experience to realize it wasn't a big deal to jump it especially when you see it was such a gain of time. But, you have to respect his decision and his apprehension about this obstacle.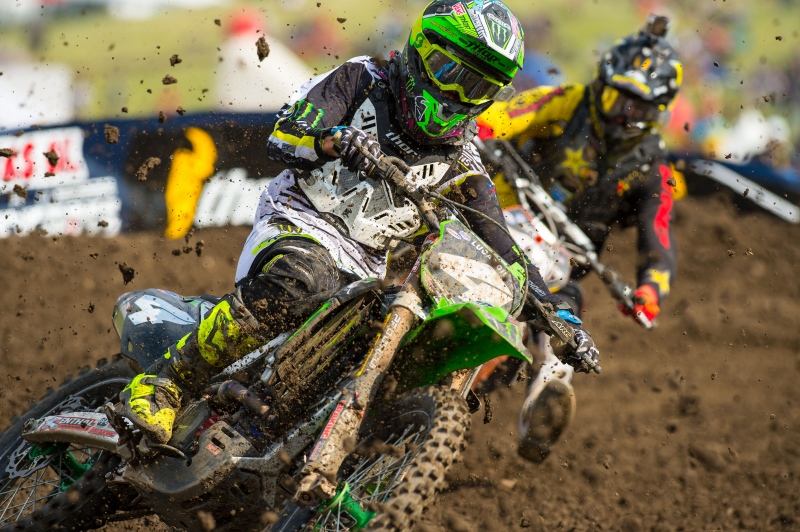 Blake Baggett is back! Or is he?
Q- Blake Baggett was great in going 1-1 but he's still a ways back in the 250MX points. What did you think of his race?
There isn't much to say about a guy going 1-1 and winning with a comfortable gap. Blake impressed me because he won on a track like High Point. It's not really a place his riding style would be good at. He's a rider that like to pin it on the outside and who needs space to show his full potential. That being said, he did a great and dominated the event. He is over 30 points behind Martin in the championship but we only had one third of the races so far. If he's trailing by 30+ after 4 races he can easily make up that gap in 8 races. The championship is far to be over. Mistakes and bad starts from Martin lately and 3 moto wins in the row for Baggett. The momentum is changing hands it seems like…
Q- Pourcel has had three straight good second moto finishes compared to three straight not so good first moto finishes…any particular reason for that?
That's a good point but the last 2 second motos (Lakewood and High Point), he got a great starts where the top guys, except Baggett, had mediocre starts and were stuck in the pack. I think it's more because he had less competition behind him, at least for the last 2 second motos, at the beginning of the races than anything else. He's slowly getting better but I stand on my opinion of the last 5 weeks. He needs to get in shape to race 35 minutes at his full potential. He's riding to save energy and to manage it from the start of the first motos. Unless he gets the holeshot and Marvin is second, you won't see him go all out right off the start. It surely looks like he doesn't want to get beat by the other frenchy. Like in Lakewood, he picked it up as soon as Marvin got to his rear wheel. A thing he doesn't do with any other guys.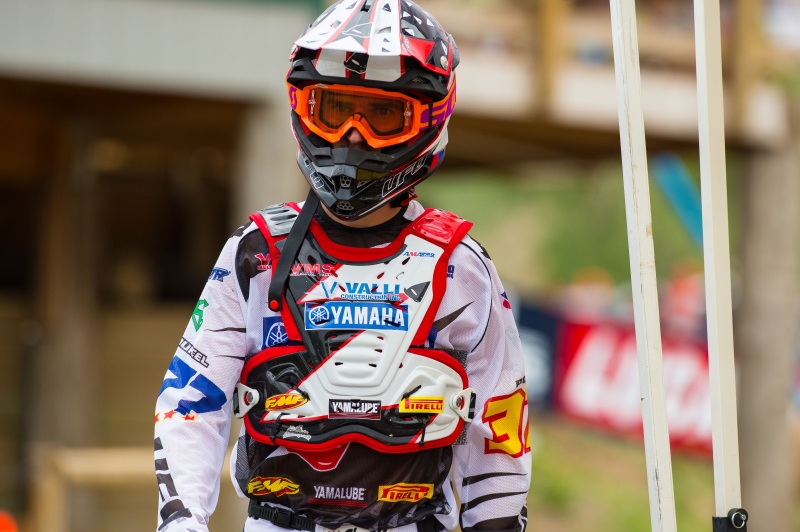 Pourcel's comeback has been pretty good so far with three podiums in a moto.
Q- What else caught your eye in 250MX or 450 MX class?
Nothing really out of the ordinary happened in High Point. It was a clear Stewart/Baggett domination but nothing else was a big surprise… We can talk about Reed's 2 holeshots and first top 5 in a moto of the season. Like I said last weekend, with the break coming, I believe Chad will be better at the next round. He needs some track and testing time to get back into speed and shape. Josh Grant had a consistent day with a 6-6. Peick scored another top 5 in moto 2 but nothing to make us jump out of our seats. It's gonna take a while and more work/effort from the 5th to 10th guys to actually come battle with the Big 4. The Big 4 is a couple levels better than anyone else right now.
In 250, Webb's 3rd place in the first moto was impressive. After a bad start, he worked his way all the way to 3rd by never giving up and charging all the way to the checkered flag. That was an inspiring ride from the kid. That's how you know a guy is doing his homework to give himself the best chances on race day. Anderson's second moto ride was good. He started right there but didn't have quite the pace at the beginning. When the fitness started to be a factor he caught up and passed Pourcel for second and kicked him off from an overall podium spot. But to catch our eyes, we are going to need more from the outsiders since all the favorites are pretty much where they should be… They all have a weekend off and eight more races to work on it.