Some of the people in the pits talk to me about what happened
Some of the people in the pits talk to me about what happened
Photos by Simon Cudby
Eli Tomac
You've got the Oakley Bomb mud things down. Again you were multi-seconds faster than everybody. You were right with that lead pack. You could have been probably anywhere from 1st to 4th had you been starting up there.
Yeah, I agree. Trey, he maybe had a little tick on us, but you never know. When a guy gets a holeshot and then leads the laps of both the motos, I've been in that position and you do get in a super awesome groove. You can just flow and you got clean air for the most part until you hit the lappers on like the 5th lap. It was really bad in the first one.
First moto you closed in and I said something about the battle getting started. You must have made a mistake or something because then they got away from you.
When I lost the big gap I took a little tip-over right before the mechanics, that's when they got way away. Then second moto it was basically the same guys, same position to start off. The only guy I got by was Kenny, and then Trey and Dungey just dropped the hammer there in the last half.
You like this place?
To be honest, no. I'm a huge mountain fan, like Utah, Colorado guy. I like the thin air and all the mountains but the track itself needs to be a little bit longer, needs some more turns. It's just too straight. It's short.
But they took some turns out and people like Zach Osborne told me they liked it better this year but you're saying no?
I say no because it shortens it and Osborne has no idea what he's talking about. That's why he's still on a 250.
No, it's true. Seven years in, still on 250s. And he's going to ride a Husky soon.
That's my opinion on the track.
Tomac finished third overall at Utah.
Ifs and buts whatever, you missed the first 4 races and we saw you could have won this title had you been healthy from the beginning. Does it matter? Do you think much about it? Do you care? You still had a terrific outdoor season. We saw that you're on that level. Is it one of those "ah, shit," or whatever?
Honestly I would have been there for the fight. I wanted to get at least another win and not just be the one hit wonder at Millville, but it was a good learning year I guess. I seriously never really stayed on a single setup either. But last year on my 250 when I started clicking off the wins I was on the same stuff all the way from Budds Creek. I never changed my suspension and on this bike I've been changing it almost every weekend and dink around at home. I don't like doing that.
It's hard to get comfy.
It is. It feels different at the racetrack compared to home so I need to figure some of that out next year I think to really get multiple wins.
Great job this year anyway. Thanks for doing this. Appreciate it. We'll see you at the Monster Cup.
Yeah, Monster Cup and also Latvia.
****
Chad Reed
Timmy Ferry said you got lucky in that crash, but a 250 pound motorcycle pile-drove you, so I'm not really sure what he meant.
I didn't feel so lucky. I haven't seen it on TV like he did obviously. I honestly don't know what happened. I felt like I was all guns go and next minute I was going upside-down and bikes were landing on me. So, a bit rough, but it's consistent with how the season's going.
I thought it was good comeback and you rode well today.
My pace felt good. First moto my start was terrible but I kind of made something happen in the first turn. I think I was maybe around top 10 somewhere. My pace at the beginning was just terrible and finally I rode in and found my lines and actually rode good and kind of come into the back of Shorty and Metty there at the end, but I just kind of ran out of laps. Today was the best I felt all year. It was just unfortunate that I crashed in the second one.
Good practice time too in the sloppy, crappy track so that's got to be good. Why'd you pull out second moto? It was only like 3 laps to go. I think you were 19th, not that it matters that much. What was the deal there?
I guess the subframe was all bent over and for whatever reason it was hitting on the wheel. The way I was hearing it, it actually sounded like it was coming from the front and just seemed like it was getting worse. Every time the suspension would compress on the face of a jump it felt like I was kind of losing momentum. Actually like I said, it sounded like it was coming from the front, so then I'm like, at this point I just want to cut my losses and be done with the season. I didn't need a front wheel to lock up on me or anything like that. So I just kind of played it safe and pulled her in. As I found out it was the subframe not the front wheel.
You lost 10th overall in the points which means now you got to maybe not pay for the roast beef dinner. But who cares, right? Good for Freddie Noren.
I didn't even know I was in the top 10, or out of the top 10. I haven't looked at my position all year. My good buddy JT bet against me today, so that was kind of lame.
He told me that he was picking you for a sleeper pick.
Honestly I felt like I was a top 5 guy today, but just didn't get it done. Kind of like the rest of the season. But it is what it is.
***
Chris Alldredge
You got to be pumped. Obviously everyone talked about RJ and he did well at Loretta's and maybe for as much as a Monster Pro Circuit can be under the radar, maybe you were. You got to be stoked with your finishes.
Yeah, I'm super excited. The race wasn't the greatest for me. Obviously a lot of people 2nd or 3rd overall would have been a great accomplishment. But figuring the year I had in the amateur ranks before that it was a little bit of a disappointment for me. I came into these pro rounds and I just came here to have fun, man. I've always wanted the shot. I didn't think I was going to get it for the longest time. I had a lot of injuries and the phone didn't ring very often. It was nice to just get the shot. I just tried to give it all I got. I need to show the team and try to show everybody that I'm going to give it all I've got every time, and sometimes that's a 5th place, sometimes that's a 13th place. Sometimes a 16th place like I did at Indiana. Just going to give it all I've got every time and see where I end up.
Did you do about as well as you thought you would? Worse than you thought you would? How did your finishes go to your expectations?
I'm going to be pretty boring right here: I had no expectations. I didn't come into going, okay, this is what I want. Obviously after getting 8th in that second moto at Unadilla, a goal, not an expectation but a goal was to try to be in that top 5, just in one moto. An overall would have been great too, but I'm not picky. Getting a 5th today here in Utah in that first moto, I definitely met that goal. So the goal from here is to take the off-season and do what I can with it, just try to become better. I'm a long ways off those lead guys and that's where I need to be in order to get championships.
Biggest difference from amateurs to pros that you find?
Everybody's mean.
Everybody's really fast and they can be dicks out on the track.
That was probably the biggest thing. The speed's faster, they do it for longer. Our spring speed in amateur motocross, we do it for two laps in the beginning. Their sprint speed, they do it the whole moto. So that's probably the biggest thing. And the fact that when you come up on somebody, they see you, they're like, oh you're not passing me. In the amateur ranks you get that in the top 5 but everyone after that's just kind of like, oh you know, I'm just kind of cruising at this point. But here, no matter if you're 15th or if you're in the lead, no one's cruising. They're all racing to try to better themselves. They all want a ride for next year or they want to keep their ride or they want to make a bigger paycheck.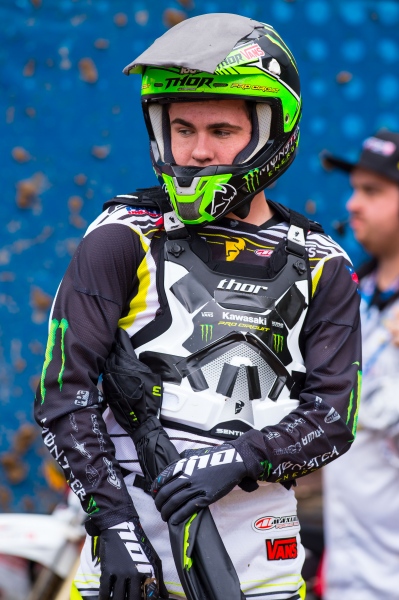 Alldredge impressed in his three races
I've been impressed with your fitness. What do you do for training? Who do you work with? All that kind of stuff. You've been coming on late in the motos. It's been good.
I've been working with Charles Dao for 8-9 years now. That was my guy. Travis Baker introduced me to him a long time ago and I'm going to stick with him. He knows what he's doing. He's good at what he does. Him and Eddie Casillas, they work in that building along with a whole bunch of Jiu-Jitsu people. There's an amazing staff over there at the Icon Sports Performance. We work hard. We also like to have fun. And we realize what the body can take and what it can't take, so we push it to its limits. But we try to keep under the radar too. We try to let the results talk the best they can and just do what we can out there.
I heard you were a longtime Fly rider so this is really going to be tearing Max up, right? To see you in the Thor stuff. Have you caught him crying?
I think he teared up today. I think after that 5th place he came over and said hi and he teared up today.
They're still kind of claiming you for Fly guys.
I was upset. They were my first ever sponsor I ever had. I went and killed it at Dodge one year on 50s. Bart Reynolds came up to me, he said "hey, I want to sign you for next year," and it just kept going. It was from 2003. We were going on 12 years or something like that. I didn't want to leave them, but at the same time they understood as much as I did this opportunity is something you don't want to give up. There will come a day maybe when I'm 450 that if I have the choice on gear I'm definitely probably going to pick Fly again.
****
Zach Osborne
You always run from the media each and every week, but we've pinned you down here now. Too bad you fell in the first moto.
I didn't.
Well, you lost a lot of spots in the times.
The first moto I got a really good start, like top 5. I was in 4th at one point I think. Just really struggled with the rhythm and the pace in the beginning, probably mostly due to lack of race time this season. Then in the end I came back, had some good times and started to catch my rhythm. Then the second moto I just got a really good jump and then just kind of got ate up. I don't really know what happened. I was back there maybe 15 and kind of came back to 9th. It was pretty mediocre.
You ate Savatgy's roost for 25 minutes, then you got him.
In the first moto, yeah. It was bad. It was kind of dumb to follow him that long and then two turns to go get him. It was a tough track today. I think the changes were way better.
Tomac said no they weren't.
He has no clue. He's just fast. Realistically I just think if it weren't for the rain it would have been terrible again. Like last year, I dreaded coming back here hard. But hopefully it rains again next year.
This is the end of your two-stint at GEICO. You're going to a new team. Talk about riding for these guys and all they've done for you. You definitely were fast but when you look back at your two years it's going to be like if only he could have stayed healthy.
'13 was a good year for me. I raced all the races even though I was hurt sort of in Supercross with a little bit of a shoulder impingement I guess you would say. And then outdoors was a solid season for me. I finished top 5 in the points, scored a career number. This year has just been a lot of just nagging things, like the broken collarbone at Anaheim 3 after a pretty strong start to the series and then Glen Helen, first round, missed almost the rest of the season.
Your whole Supercross season went out from under you when Deano accidentally took you out, and that was the beginning of the shitty year.
It seemed to be. That killed the momentum and then I got a 5th there and then an 8th the next weekend. It was just downhill from there. I came into '14 looking for big things and it wasn't to be. The guys have been super supportive of me and stuck behind me and I have to be thankful for that and thankful for the opportunity to be part of this team. Maybe I'll miss it.
Mike LaRocco's words to you were "see you later?"
Not quite. We had a heart-to-heart. Roc's a great dude and does a really good job of what he does and he'll be one of the dudes I'll miss the most. I feel like he's a great asset to the team.
***
Steve Lamson
Team manager of the year maybe here. Jeremy Martin with a title and Cooper Webb just missed the runner-up spot in the points. First of all, Jeremy Martin, what a season, man.
Yeah, definitely. Outdoors he just came in and killed it. Had a couple bad races in-between but nothing that bad. Especially after Supercross when he struggled in the beginning and kind of got him all sorted out on that and came in with a good ending to Supercross and then outdoors.
He did not qualify for the first two Supercrosses, a complete disaster, and no one would have thought he'd be standing with the number one plate in outdoors. How did you kind of work with him on that and turn it around?
To me, he changed things around. We kind of just tried to influence him, maybe trying to come out to California, do more testing, because he didn't have very much testing. He kind of wanted to stay in Florida and do all of his training and riding. So I think with him coming out, we had him stay all the way through Colorado in outdoors after that. I think that turned him around. Then we unleashed him to go back home. He's a big boy and they've got a good program there.
What's his number one strength do you think?
I think just endurance, he's a smart rider. I think his trainer Dylan Turner is really good with him, being his practice bike mechanic out in Florida and then working with him on his physical training and obviously riding on the track too. And just our whole deal here on the team. We've got a small crew but it's really legit.
New bike is really good, huh?
Yeah. Brad, our engine guy, crew chief, he does an awesome job. The bike for one, Yamaha, it's already good out of the box. Just a little bit of extra work and good to go.
Have you ridden it much?
No. I don't ride motorcycles any more.
You got a few wins though. Cooper Webb too, didn't get the runner-up position like he wanted but still won a race, consistently up there. Really flip a coin between those two guys, huh?
For sure. Jeremy had some better races and got a points lead on him. But otherwise Cooper rode a strong year and won a few motos and an overall so that's huge for him.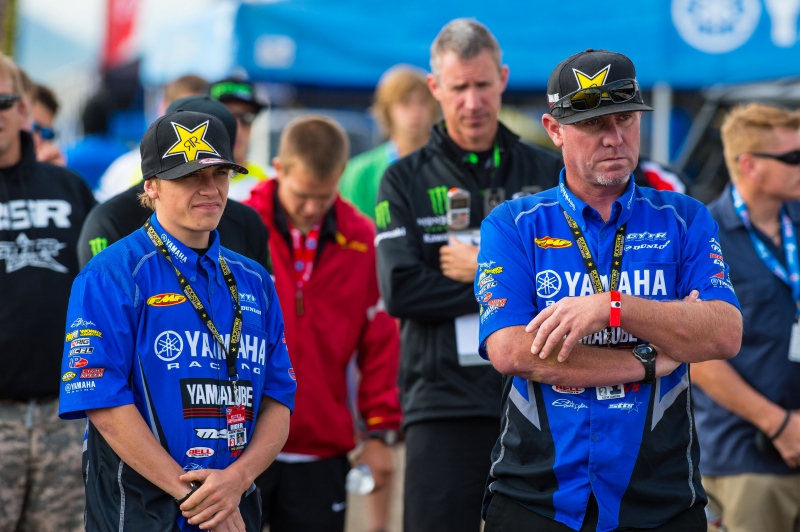 Lamson (right) deserves some credit for how well the Star guys did this year.
Seemed like Cooper's starts were up and down where Jeremy's starts were always pretty consistent.
Yeah, struggled a little bit and he'll be the first to tell you that he struggled. Worked on them getting out of the gate and then he gets out good but then doesn't pull through on it. Seems like today he figured it out and came out good on both motos.
Early on in the year we saw some, I don't want to say dirty but it was very aggressive racing between the two guys. They're not enemies but I don't think they're bros either. How do you as a manager sort of deal with that? You've been in that position with Honda days and things like that. You've been there. How do you deal with that?
You got to leave it up to them two. They're competitors. They're going to want to beat each other. They don't hate each other. Cooper had a pretty good and funny story. He goes, "put it this way, I won't be going out to dinner with him." They're not that bad, but when they get on the track, I get nervous when they're together.
I can tell you at Lakewood it looked like one of them was going down.
Oh yeah. Unadilla they kind of got together. But they're both competitors shooting for the championship and they want to win.
Great job. I'm happy for you. Your first year on the team as a manager. You guys have a won a title and Star itself has been up and down and you really showed something this year, so great job to you and everybody.
Thanks very much.