One of the beauties of writing for PulpMX, I can subtitle my column with cult classic movie quotes with only a modicum of relevance and not get flack for it.
One of the beauties of writing for PulpMX, I can subtitle my column with cult classic movie quotes with only a modicum of relevance and not get flack for it.
Photos By: Simon Cudby
If there is a single person who is reading this and confused on the subtitle on this weeks column, I pity you. After reading the rest of Swizcorner, not before, your next task is to Red Box, Netflix, iTunes, Blockbuster or Family Video yourself a copy of Point Break. Like watching "Rudy" or playing high school football, it's a right of passage on your way to becoming a man.
Last year the Utah track had it's debut and in the words of one Jason Thomas, it resembled "Chernobyl" during the absolutely amazing sandstorm during the second 250 moto. Not exactly an awesome condition while bouncing your 40 horsepower race-steed off the rev limiter in traffic (luckily there were no Camels navigating this common desert condition). Even with this sandstorm perplexing racers, the above average Miller Motorsports Park as a race-host, had people pulling for it to be better in 2014. And it was. The Miller Motorsports Park complex is clearly very motivated to make this race a success. They listen to the promoter and racers, make improvements and God-willing, the weather will cooperate and let them witness the best case scenario fruits of their labor. Mother Nature appeared to follow the series from Indiana to Utah and it looked like the last round would be a quagmire just like Indiana. Shockingly, a sloppy qualifying session which saw the consolation races eliminated, actually turned into a few dusty sections by the second moto's. The race action got better as they day went on but it's a little scary knowing how much rain fell the night before and it dried out as much and as fast as it did, in one race day. I'm going to give them the benefit of the the doubt and just assume they are highly proficient with their water routing channels to get the track dried out efficiently. All in all, Utah was better than last year and still thought of in a positive light going into it as the penultimate round for 2015 as opposed to the finale which will now be Indiana.
450
Wow, what a season in the Great Outdoors! We had more than a few of our standard assumptions lit afire and go up in smoke, and in their place were put some truly impressive changes of the guard. The most glaring of these changes was the series Ryan Dungey had. Ryan didn't suffer a single DNF in the 2014 Nationals and with Ryan Villopoto out, you'd look a little silly to not put money on him sealing this title. He banks on his consistency on the podium to win titles over someone like RV who banks on his ability to pin it harder, longer. Truth be told, even if Dungey's three races where he failed to podium were replaced with 3rd-place points, he'd still fall 2-pts short of Ken Roczen for the title. Ryan Dungey was "out-consistency-d" by his German teammate in this series; and in his rookie effort. I think back to the stat that flashed across the screen at the mid-way point of the series showing Roczen's tendency to finish detrimentally lower in the 2nd half of the series than the first half. We all saw it and all of our eyebrows raised a bit as the points began closing. As the next few rounds came and went, the points got tighter and that "2nd half" stat proved true. Ken buckled down and powered through, doing his best to ignore the stat all the while being suffocated by it, but in Indiana, he tapped into his GP roots and showed how ze German can go in ze sloppy stuff. He looked as at home in that environment as a Bodhi did in a killer tube (Point Break reference for the ladies reading…). With Dungey's troubles in Indiana, the heated 450 points battle got put on ice and Roczen was in great position to put a burning feeling in Eli Tomac's stomach. He did just that by winning the 450MX title. Ken's made the transition to American life and racing so well that only Chad Reed is more beloved in the States, albeit without those early years of bitterness.
Ken Roczen absolutely deserved to win this title and I don't mean that the way someone might say "so and so deserves a good ride". No, I mean he worked his ass off, made sacrifices and dug deep to earn it, and earn it he did.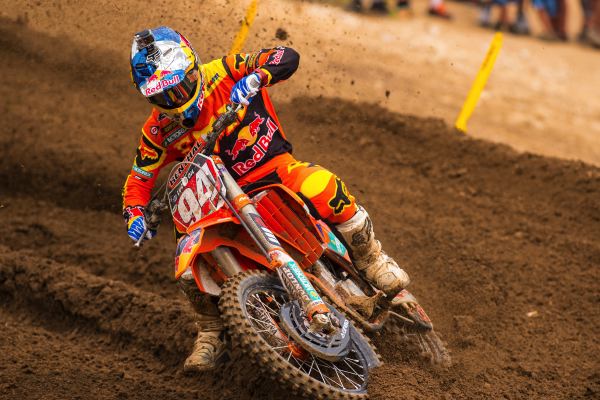 Many wonder why Kenny would want to leave KTM where he has been so strong. I'm sure he's ridden a Yellow bike and felt at least as good. He's no dummy.
Eli Came into the series four-rounds late and he came in with a ferocity that all late-arrivals attempt, but few cash in on. You know the cliche', "racing into race pace". These guys don't come into a series at their peak, they work their way up to it and after four-rounds they are typically better than they were at round-one; and round-four was Eli's first but he came in like a bullet. He went 3-3 in his opening round and throughout the rest of the series, last years 250MX Champ did his best to show he was better than his German counterpart, both in their rookie 450 MX efforts. Even removing Roczen's first four-rounds worth of points, he was better than Eli but Eli really did an amazing job of disproving the old adage that you can't enter a series late and remain at the front through the end of the series. Eli had a rough start to the 2014 race year and he was beat down a few times along the way but when he debuted in the outdoors, he made sure to finish consistently and strong. Eli has that rabid dog race mentality and an effective method of learning from and minimizing mistakes he's made in the past. If he can stay out of those situations that bit him early in 2014 (yes, usually involving other racers), he'll be difficult to bet against in 2015.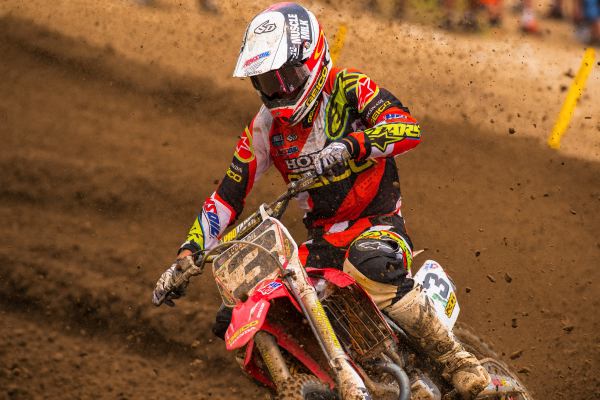 Eli has confidence, that's clear. 2014 just got kicked off in a bad way but he ended strong.
I said a few times early in this series that I expected Trey Canard to lead the points at some point during the series, clearly I was right but my premonition-clock needs another winding. Trey battled and fought for the last 4 out of 5 moto wins in the series. We've always known Trey to be fast as fast can be, the question has been his health and injuries. I'm really hoping he is finally able to cash-in all his karma checks he has saved up and go on a run toward some titles. Few riders have paid the physical prices he has over such a lengthy stretch of time and remained focused on returning not only as a threat but better than he was when last healthy. Like Bodhi himself says, "Fear causes hesitation and hesitation will cause your worst fears to come true". Deep and true, Trey puts aside his fear and refuses to hesitate when he senses an opportunity. He's got the textbook perfect style like a Ryan Dungey but with the tenacity and aggression of an RV. If Trey can stay healthy in 2015, it will be an incredible story of triumph over years of tragedy. Good on Honda too for not only sticking with Trey through his difficult times but listening to him and finally throwing in the towel on those damn air forks that he clearly wasn't as comfortable on. Maybe they are the future but at the pinnacle of the sport where 1% of difference is detrimental, give the rider what they want because that gained confidence is immeasurable and equals results.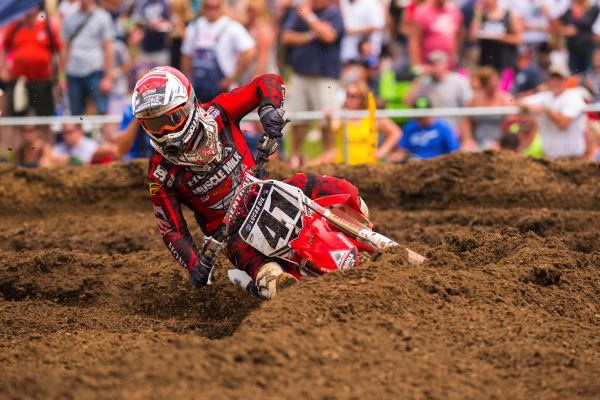 Trey came on a little later than I expected but I feel justified in my expectations for him before the series.
250
Jeremy Martin came in like a Mouse and went out like a Whale. It took a good half of the season for the media, industry and fans alike to accept that Jeremy Martin was indeed the real deal. Week after week we'd look at the line up in the class and ask, "is Jeremy Martin REALLY better than all these guys?" Even though he had been proving it week to week, we continued to question it. About four-rounds later than we should have, we began believing he was what the results pointed to. He's not flashy or exciting to watch, he simply bulldogs his way around the track, never gets tired and secures wins. This kid has earned the title "Favorite" going in to 2015 without argument.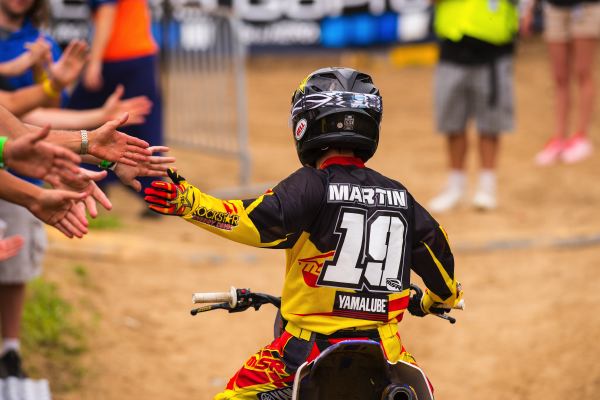 The most common view for the 250 class in 2014. Subtract 18 for 2015.
Just to give you an idea of the inconsistency in the 250MX class this year, Blake Baggett finished runner-up in the series even though he scored zero points in two moto's during the series! Blake had to kind of relearn how to hold onto his bars with his wrist injury but even after he did that, he had some bike issues cost him points multiple times in 2015. It's a rarity for the Pro Circuit machines but with the Geico and now Yamaha team's really figuring things out, all the 250 teams are having to increase performance to keep their machines at the front. It's never been a worse time to race a 250 as a privateer. Risk/reward is high and the purses are still low.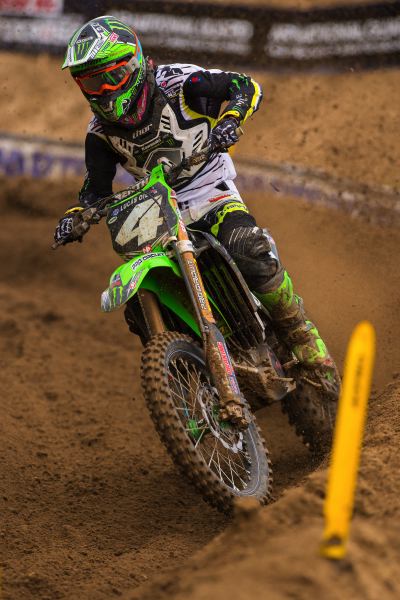 Baggett's season was pretty quiet for the former champ. It'll be interesting to see where he is in 2015 after leaving PC.
Cooper Webb proved a few things this outdoor season, the most clear to me is that piss and vinegar will lose to focus and consistency, all other things being equal. Cooper is decidedly more exciting to watch than his teammate but it's the record books we're after here people, not lap to lap antics and Cooper will be focusing on his starts and endurance in the off season. Your 450 series Champ has crafted a great mix of exciting-to-watch race craft and consistency. It's a crowd and sponsor pleaser, the best type of race craft that all racers would love to demonstrate.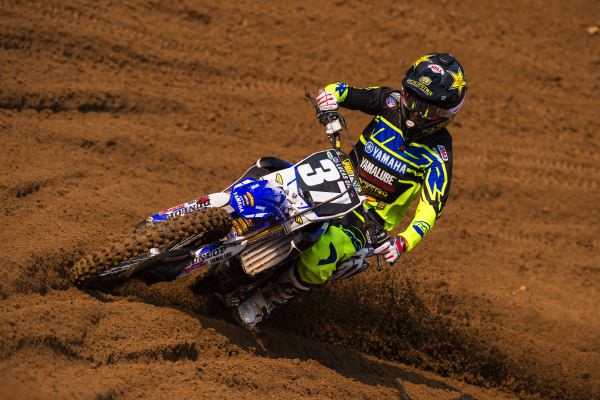 Cooper Webb has shown he's got the speed this series, just needs to work on consistency and starts.
So we're laminating the final points standings on the 2014 MX National's and headed for a short break before the MXdN. I would call this the beginning of the off-season but we all know, there's no such thing in this sport if you want to win or at least give yourself a shot at winning.
Go Team USA!