Come together…right now.
Come together…right now.
My guys at Babbitt's Kawasaki have been helping me out the whole time with great service and awesome prices on the parts. You should go THERE if you need something.
HERE'S part one of the story, HERE'S part two of the story and PART THREE right here…
You may have noticed the lack of #project90 stories on the site and that's because, well, there wasn't much happening. As any listeners of the Pulpmx Show know I ran into some snags with the machine in the fact that for a month and a half, I had no cylinder!
Let's rewind here a bit—I took a look at my super busy travel schedule, the fact I had no solvent tank, the fact I would have had to build yet another motor block, the lack of bench space, a vice nor a hot plate in my garage and decided that I would rather just farm the motor out to be done rather than go through it myself. Not to mention I don't even know where my case splitters are.
So I gave it to my buddy Tony Berluti who knows a thing or two about working on motors and focused on the chassis. When Tony split the motor he said the bottom end was pretty good but the nikasil on the cylinder was pretty shot and all the pits in the head didn't look too great either. Oh and the exhaust flap and side valves in the KIPS power-valve system were badly worn.
I ordered a complete KIPS power valve set on eBay for $60.00 and Berluti was able to take some of that kit, brand new side valves and my existing power valve parts and make it work. I got a cylinder head that was a bit better than mine also on eBay and I also paid for nikasil plating for my cylinder on eBay with someone who looked to be pretty reputable.
I realize now thanks to you people that there were some industry standard companies that could've handled this for me but I didn't think about that then. But yeah, looking back on it I should've went this way and not the eBay guy.
I sent my existing cylinder to somewhere in Illinois to get re-plated and it took a little while to get done as the guy called me to explain that he thought he had a '90 all ready to go to ship out once he got mine but it was actually an '89 and wouldn't work. Problem number 1. But not a huge deal and it would be an extra 10 days or so while he sent mine off to get re-plated.
So 14 days later I get my cylinder back, open it up and it right away it feels real heavy. I take a look inside and my state of the art (for 1990) nikasil cylinder sleeve is gone and replaced with a steel bore! Steel bores were the norm for 30 years until nikasil came into vogue sometime in the mid-80's and although it's not the end of the world to have one, I didn't pay for that and wasn't very pumped. Problem number two.
I call the guy, he's apologetic and explains that he can't find my original cylinder (so who knows what I got back with the steel bore?) and doesn't know what to do besides refund my money 100% and let me keep the steel bore. After thinking about it for a day, talking to Berluti about it I call the guy back and say "Nah, I want my nikasil 1990 Kawasaki KX250 cylinder" and he's a bit flustered to say the least.
The guy was cool, he said he'd been in business for 30 years and had never lost a cylinder and he really had to figure things out here. Add in another week or so and I got an email saying he had gotten my steel bore cylinder back and he found my original cylinder. It seems that is was now in Texas. The good news was he found it, the bad news was it was going to take a bit longer. What can I do at this point? I was all in with this cowboy right?
July 2nd was when I paid for the swap out and September 5th was when I finally got my old cylinder back with the proper nikasil sleeve. So 52 days after the ten days when I was supposed to get my order was when the proper transaction was completed. Yes it sucked but the guy was apologetic and cool as he could be the whole time and sometimes, shit happens. I wasn't pumped and I think he could tell that.
But my man Berluti got the top end done, I got the motor back and slapped it in a couple of nights ago. And now, it's closer than ever to being a completed #project90
We've got some things planned with Racer X once she's all done.
Stay tuned right here for more updates but for now, here are a few other things that I've acquired for the bike.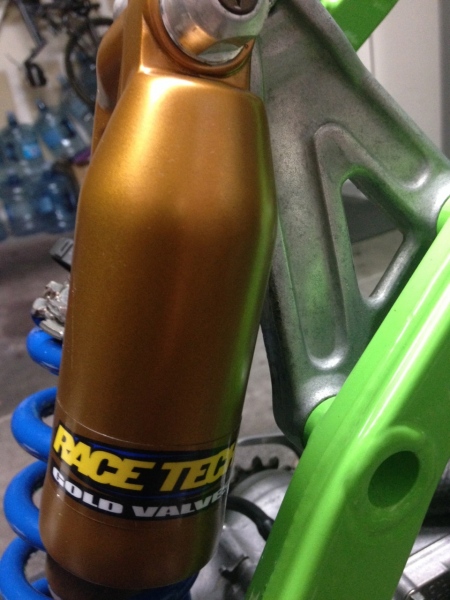 The guys down at Race Tech have taken the suspension and re-built it with new seals, bushings and also gave me some of the dark gold coating that only the works suspension has got. It doesn't add any performance but holy shit does it look cool.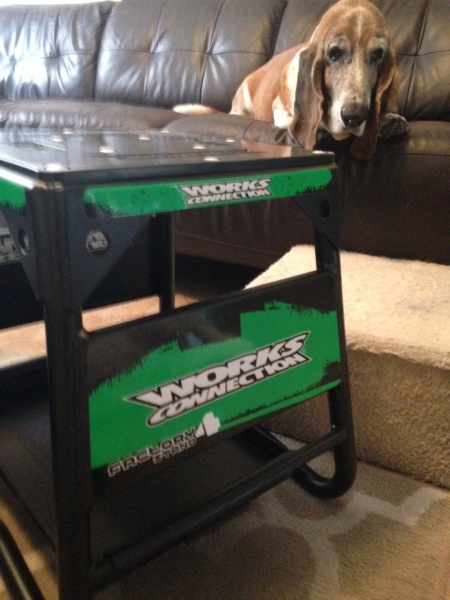 My guys at Works Connection got me a stand for the new machine as we're going to end up doing a photo and video shoot here in a bit. Hogan is not amused and knowing him, he's actually probably scared of the stand suddenly attacking him.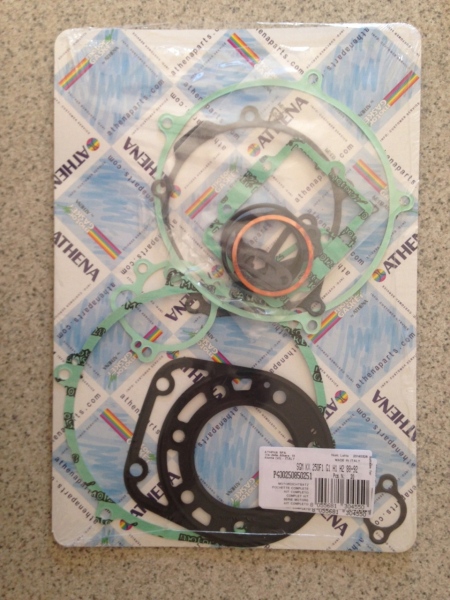 Dan at Athena hooked me up with a complete gasket kit for the motor. Who knew they still made these for a bike that old? Good job Athena!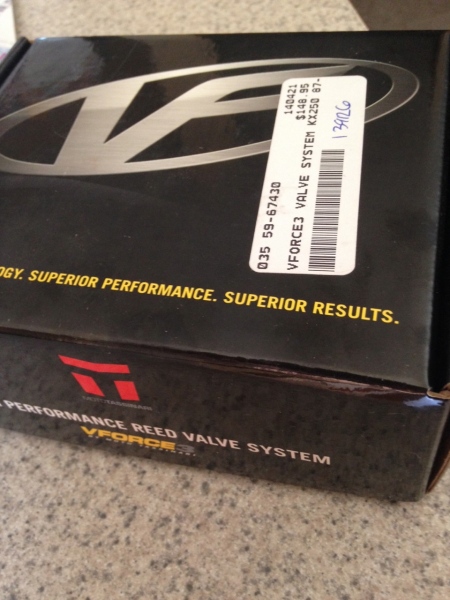 Every single bike I've ever worked with as a mechanic has benefitted from putting in a V-Force reed block. These things really work for the two-strokes so I found one on eBay and ordered it up. Berluti cleaned the intake up a bit on my cylinder (the casting was terrible) but otherwise it's a stock motor. I do have a PC pipe and silencer and now a V-Force.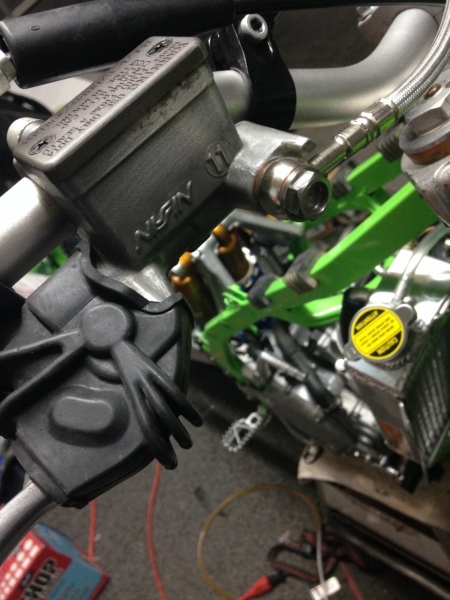 The brakes were really hammered on the bike and I ordered new brake lines a new rear master cylinder and a rebuild kit for the front one because they were a bit pricey. And then when i was rummaging around for some Ti for the bike I found this brand new Yamaha master cylinder sitting there from my days on the blue crew. Bingo-Bango the front brake line mounting was the same and I was in business! I'm having a bit of a problem with the front brake being spongy no matter how much fluid I put through it so I need to do some investigating on whether it's due to this newer m/c or if I just need to put some work into it. Hopefully I figure it out and don't have to go back to the beat-down stock one.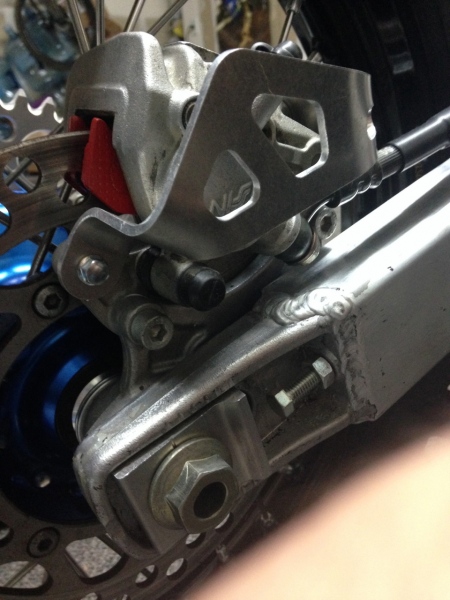 This might be the coolest part on the bike as Works Connection had this sweet aluminum rear caliper guard and allowed me to ditch the yellowing stock plastic guard. This is the exact same part that Factory Kawasaki ran back in the day!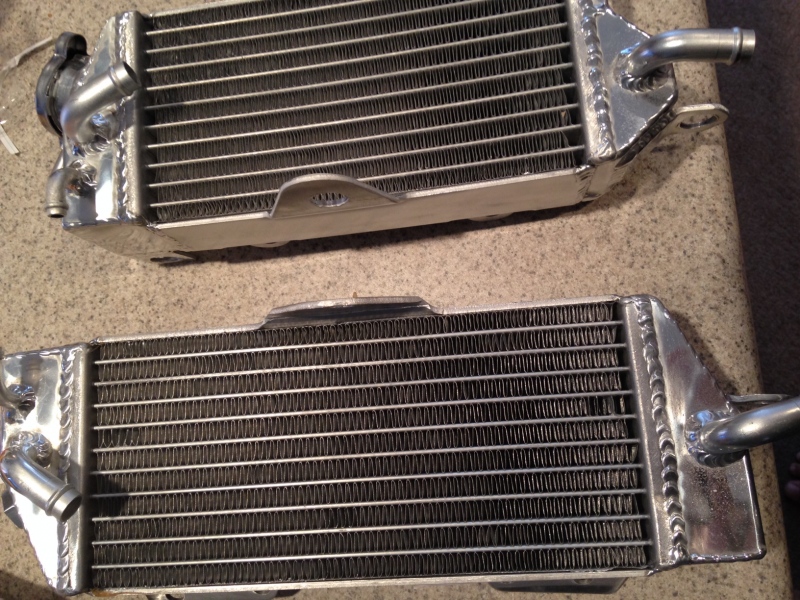 My existing radiators were pretty beat up but they would've worked. New ones were expensive and I think weren't even available to buy but I came across these made-in-China rads that were cheap AND came with silicone hoses. I was VERY dubious to say the least but the feedback and the reviews of this company on the internet were positive. Two rads, set of hoses for $150 bucks? Yes please!
They actually fit up pretty good, I had to do a bit of grinding to clear the frame on the right hand side and the bolts alignment isn't perfect but it works. The bleed valve on the left hand side is kind of kooky and weird looking so I'll see about trying to get a new bolt for that.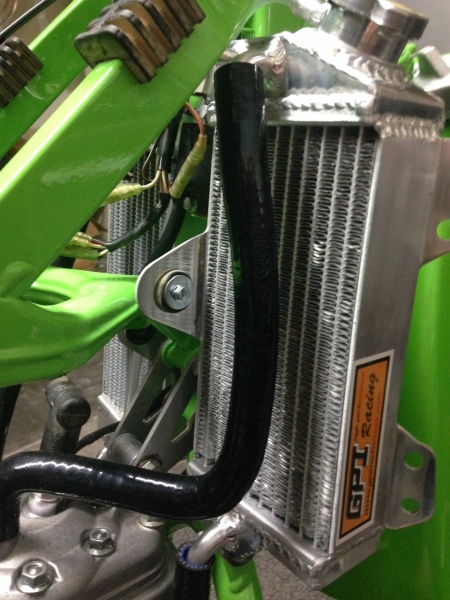 Side view of the rads with the silicone hoses. I could've went blue or white but chose to keep the stock black look going.