Former factory rider David Vuillemin weighs in on the new homes for some riders
Former factory rider David Vuillemin weighs in on the new homes for some riders
What's your take on Roczen to RCH Suzuki?
Kenny to RCH was no secret to anyone in our little industry as we've known about it for a while. It's pretty interesting to see a champion switch teams. The move wasn't a secret but there might be things we actually don't know. We know (Roger) DeCoster had some harsh comments about Ken. We also know Ken wasn't very happy with his bike behind the scenes. But, to switch teams is a big move. Did KTM want to get rid of him? Did they decide not to match the RCH offer? Did they low ball Kenny to make him leave on his own? Was RCH's offer too good to turn down? Lot of questions that we will never know the answers… As far as KR on the Zook, he'll be fine. He knows them real well and kids his age,with his talent/skills, can adapt very fast to a new bike. HE will be the center of the attention there which is a plus compared to KTM who will have 4 riders in 2015. KTM (and Ken) also know, with RV gone and Stewart's inability to be a championship contender, that the championships will be decided between Dungey and Roczen for a while… Having only one of them will bring less drama under the tent. It might be win/win for both parties actually.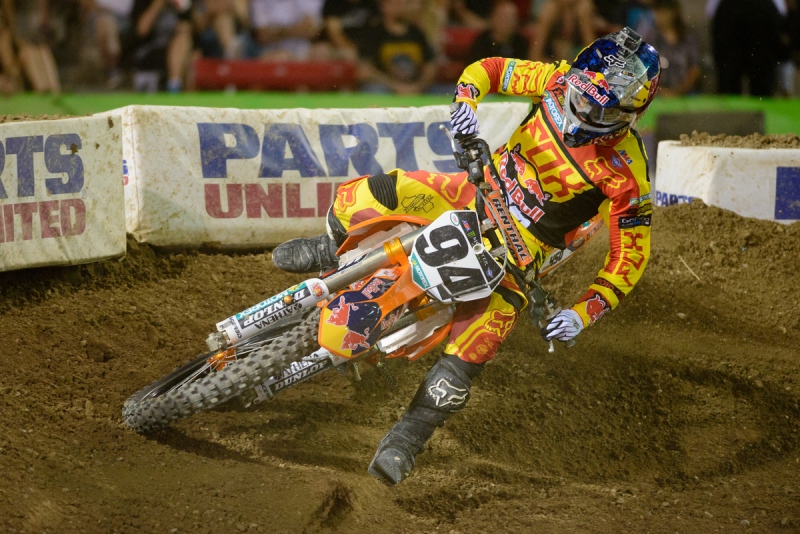 The biggest move of the off season sees Kenny Roczen jump from KTM to RCH Suzuki. Lissimore photo
Cole Seely to Honda?
Seely belongs to the rider profile that Honda seem to like over the years, clean cut and drama-free. He has done really well in the 450Sx class when he's filled in here or there but I don't know if he can be a threat in this class all season long. He's going to have a great bike and a great team behind him but to me, it looks like Honda filled a number 2 rider at a good price…not necessarily a rider that can win. To improve in Supercross and be a regular top 3 guy, Cole will have to improve as a motocross rider. SX has evolved a lot in the last several years. In the McGrath days, if you would jump everything every lap and skim the whoops for at least 10 laps, you were on the podium. In the RC years, you had to do the same for 20 laps. In the RV years, you have to race a SX round like you do a MX National because the tracks became "duller" and easier. When Cole will realize he has to gain a few seconds a lap at places like Glen Helen or in Comp Edge, he will get better results in SX.
Justin Brayton to BTOSports KTM?
Brayton is going back in time! He went from KTM to JGR to Honda to JGR to KTM… to me Justin has the same problem as Seely but maybe even more. He has to improve his raw speed in MX to be even better in SX. He surprised us in Phoenix in 2014 where he had the best shot of his career to win a SX Main Event. Can he go back to that level of January 2014 in 2015 on a KTM? That's a good question and I am not sure. I rate BTO a "Level 3" team compared to JGR that I would rate "Level 2. "Level 1" being the full factory efforts. The higher the team level, the more difficult it is to perform it seems like. I actually did better in a level 3 team at MDK than I did at Factory Suzuki so it's possible and I wish him well. I like Brayton and I've been saying for years he has the potential of racing with the big 4-5 names of the series
Justin Hill to Red Bull KTM?
We've seen some great rides from Justin this season that went under the radar. he made 4 podiums in SX this season out of 9 races. He won the San Diego SX and I think we haven't seen the best of him yet. Seems like a hard working and motivated kid. Switching teams might be what he needs to be a title contender. Bunch of guys are moving up and the 250 class always brings surprises but he's definitely a favorite. The KTMs proved themselves to be a great bike in SX now and I don't see why he shouldn't be up there in 2015. In my opinion, it's a great signing for KTM to go along with Musquin in that class.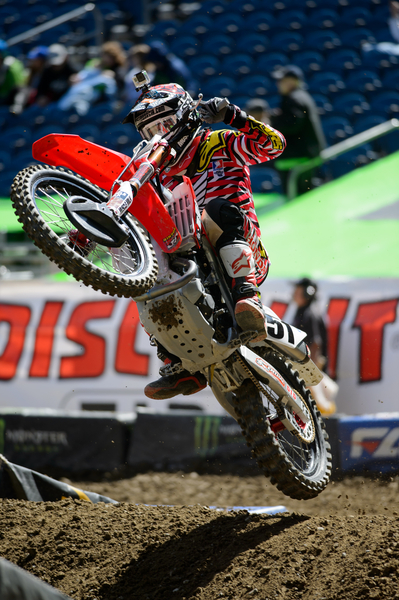 Justin Barcia's getting off the Honda and onto a JGR Yamaha. Lissimore photo
Justin Barcia to JGR Yamaha?
With 4 podiums in 2014 and no wins, Justin has to step it up in 2015. He's won races in the past and was supposed to be the next guy to beat RV, RD and JS. He didn't happen because, in my opinion, he didn't adapt and change his riding style for the 450. A factory 450 Honda can't be ridden like a 1999 KX 125. Justin has to realize that. Sometimes (or often), it's not because you pin it everywhere that you are efficient. Riders that are successful in the class ride smooth. KR, RD and even JS these days ride very smoothly. RV is still the exception. I see Barcia hired Johnny O'Mara as a coach and I really hope he will not make Justin do 200 miles bike rides and will help him to change his riding style to be more efficient on a 450. If he doesn't, I don't see him beating RD, KR, TC nor a Reed at 100%.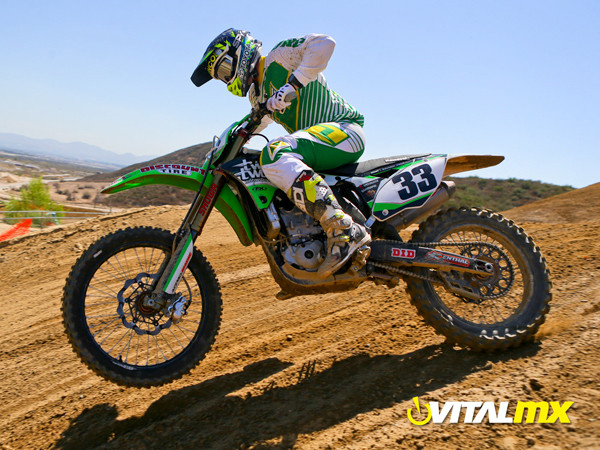 Josh Grant is already on the Team Two-Two Kawasaki. Photo courtesy of Vital MX
Josh Grant to CR22?
That's maybe the most surprising signing of the off season. I didn't really see that coming. Obviously JG has an enormous potential but hasn't used it in a while. His ride in Glen Helen in the first moto was very impressive though. Grant might have been pretty cheap to sign for a team like TwoTwo Motorsports that doesn't have unlimited funding. It's also good for CR to have a training partner/teammate. With Chad's experience and his success, Josh Grant could be a spoiler this season if he can stay away from crashes and injuries. He can do so by being more prepared with a small amount of pressure by being #2 in the team and also because no one really expect him to come out swinging. It could be the year of the rebirth of the phoenix for Josh.