Interesting interview by Roczen on the Pulpmx Show so we got it typed out for your reading pleasure
Interesting interview by Roczen on the Pulpmx Show so we got it typed out for your reading pleasure
Pulpmx Show: Big news, finally made official, switching to RCH Suzuki. Talk about the decision a little bit. Obviously you're an incredible rider, you won the 450 motocross title. You probably could have wrote a blank check almost anywhere or stayed where you were at. Why RCH? How'd that happen?
Kenny Roczen: I've been thinking about it for quite a bit of time, but I renewed my contract in 2012 with KTM but there was nothing wrong with it. Even back then I struggled a little bit with the bike but I loved the team, I loved the people around and I was like, why not? I've been doing good but there was just a mental thing where I didn't have any faith anymore in the bike. It kind of just got to me and I think after four years, and I've said it before, I think we've done awesome, we got the championship this year… I still love the team. I still go over there and mess with everybody. Everybody on the team is super awesome.
But I think for me it was just time to have a change. After four years I think I wanted to be on RCH because the image of the team is super cool. Obviously the whole team with Carey and Ricky and me, I think we can do some damage. I chose that team because I like their style and I think I fit in very well.
Your familiarity with Suzukis, you were on them your whole life, that probably had something to do with it too, right?
Exactly. I've had very good experience and good memories on Suzuki. I've always loved being on that bike in the previous years. That obviously helped a lot too, but another thing was obviously my relationship with Red Bull is super big and very important to me. I can keep Red Bull there. Everything just fell in place very well and that made my decision a little bit easier.
Some people are like, well, RCH wrote the biggest check but that wasn't true.
No, it wasn't. Everybody knows that if there is a brand out there that has money or has more than any other brand out there, it's probably KTM. This was a decision that I wanted. They had matched everything but I told myself, look, I'm going to listen to my gut right now and I'm going to do what I think is best and get some new motivation. Then I made my decision. It had absolutely nothing to do with money.
Reading your Racer X interview, you mentioned something with the KTM about comfort and you lacked some comfort in the bike. Can you elaborate without trying to hurt yourself? Was it more of the front-end comfort feeling? Where at on the bike did you feel like you could use more comfort?
I would say it started in probably 2012. We had a lot of problems with having the suspension be harsh the front end, but in the rear it's very dead. It doesn't move very free. So we had been trying to put in work on that. The air fork has its very own characteristic meaning the initial part, it doesn't really move but when you ride it works. There was a lot of friction in the fork tubes. Trying to work on that and we got it a lot better on the KTM, but still for me in my head it was mentally, I made my decision and I was basically done with KTM and that's what it was. But also I think switching from KTM to any other bike, it's the biggest change. Obviously taking the only bike with a steel frame, which the steel frame is soft, it flexes a lot, and then having suspension be somewhat dead, it flexes very weird. I would say especially in outdoors, I think that's where you will probably notice the biggest difference. I always kind of had that feeling going into turns that it bent weird. You know what I mean by snaking? It would go left, right a little bit. So I had to run my suspension pretty soft. And that honestly is not always ideal with how big the bumps get and stuff.
The softer your suspension is the more moving you have and obviously the harder it is to ride fast. It's harder on your body. If your suspension's more stiff it stays more stiff or more up, but then it got harsh and I didn't like. So the thing is about the Suzuki it has a lot of comfort, especially in the rear. You can already notice by taking it off the stand. The initial part of the shock is very free and very plush. So that helps me out a lot especially on harder tracks and high-speed stuff, it helps me out a lot.
It says something too if you already had it in your mind going into the motocross series and you still won and hauled ass in outdoors, that's a huge thing to overcome.
And that was kind of tough, to be honest. I wasn't 100% happy and honestly my mental was almost like I just want to get this championship or these races done as quickly as possible. But I'd really have to calm myself down and kind of remind myself, we've got something to win here so let's put our mind on that instead of already being past the races. You don't want to do that.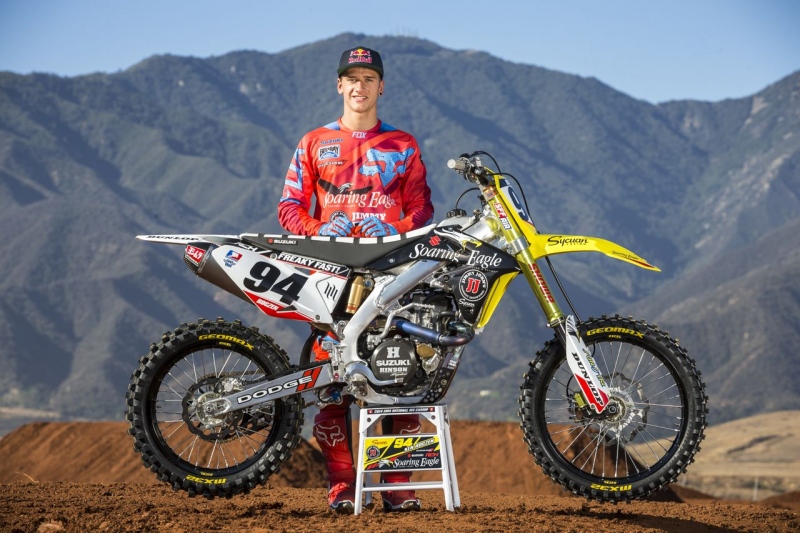 Kenny Rocz is making the switch from KTM to the Soaring Eagle/Jimmy John's RCH Factory Suzuki for 2015. RCH photo
Your Indiana ride, Dungey's catching you, you're not doing as well as you did in the first half of the season. Come to mud in Indiana-that was impressive because that was pressure on you and it's mud racing, anything can happen. You answered the bell. That was a really terrific ride.
I knew I had to make something happen. Obviously the points lead went further down and further down. It's true; the pressure was basically on me, even though I was a few points ahead. But everybody expected me after the first half of the season, everybody was like "Roczen's got this easy." And then seeing the points lead going down, but I think that's what makes in my eyes a good rider. You have to learn how to deal with those kind of things and you have to answer when it's critical.
People say always that Europeans or Germans have to be good in mud, but yes I grew up riding in the mud and it's always muddy, but I haven't ridden mud until this point. I haven't ridden mud in just as long as I've been in the US. So that made it a lot different. Plus the 450 handles so different in the mud. It's pretty crazy. I would have never thought that. Having the bike be so heavy and so much power and torque, it pulls the bike down like crazy. If there's heavy mud it's pretty insane. I went on the track and I was like, I got this no problem. Then I noticed how the bike handled and I was like holy crap.
This was your first full season and in the middle part of the year you kind of had, I don't want to say lackluster, but not to where everyone thought you were going to be. You were winning and then it kind of flamed out a little bit. Was that just from fatigue from the whole year or what was that?
It is very hard to keep that intensity over the whole time. Obviously Ryan, what is it, his 5th or 6th year? Next year I know what to expect. I can tell myself to peak whenever I want to peak and I know it's the right time. I can coast to some point and then peak when I need to and kind of bring it back down. In outdoors I was just like, let's go now, from the beginning on. In my eyes it only lasts for that long. And then the thing was we'd do a lot of training but in the end it doesn't matter.
It doesn't matter if you have a good first half of the season or a good second half of the season; you kind of got to give and take a little bit. So no matter what happened in the end – I didn't win Utah – but in the end I did what I had to do and I won the championship. It just takes a lot of work.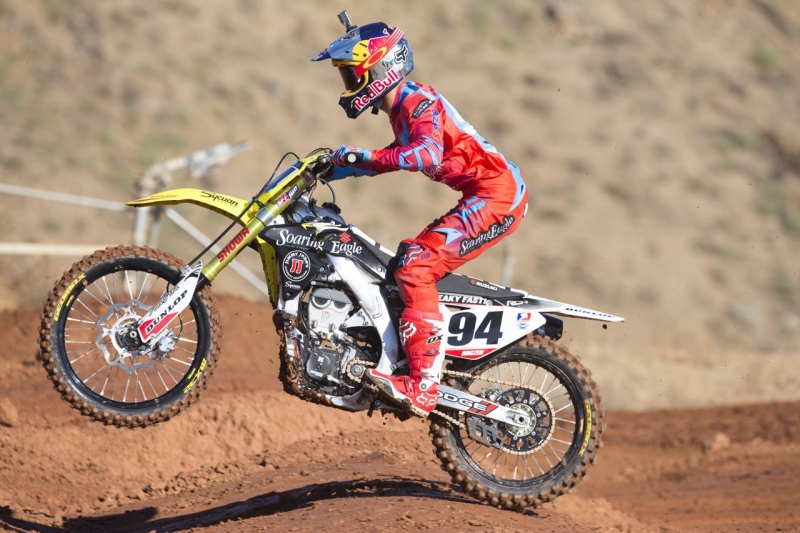 Roczen's looking to add the 450SX title to his 450MX one he earned this year. RCH Photo
As a former mechanic I love the fact that you're bringing Kelly Lumgair with you, that's kind of cool. Keeping the team together.
I've been telling him the whole time, if you're down and you believe in me and you trust me, I will take you wherever I go, even in the future. Who knows what's going to happen, but I told him if you want me and if you're cool with it I will always on my new deals, whatever, I will always include you in that. Especially switching to a new team, and Kelly has been with KTM for a very long time, and so was I, after I think I started with him in '10 and '12 and '13 and '14, we have been together for quite a time.
I think in the beginning he doesn't really notice but I think after a few years he noticed or any mechanic knows his rider better than anyone else. It's good for him we're together. If I would have had a brand new mechanic, it takes the comfort away a little bit at first. But he already knows what I like. For example, I like my rear brake really high and he knows those kind of things.
I'm curious about your gear choice. Do you ever plan on switching it up or are you just happy with Fox?
I am super stoked on Fox. I think everybody in the industry agrees it's the raddest gear brand in the industry. With any sponsor, if you have been with them for a long period of time, in my eyes if you're happy there's no need to switch.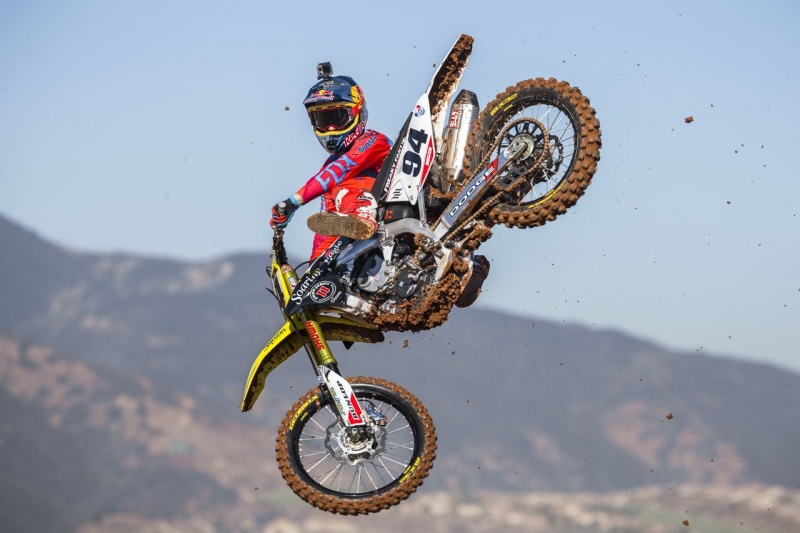 Kenny's back on the brand that he grew up riding on and RCH couldn't be any happier. RCH photo
So we won't see you until A1 on the RCH Suzuki?
Yeah, exactly. Bummer, I wish I could race but honestly I don't have to rush anything right now. Obviously Monster Cup is in two weeks and I've been taking so much time off. Basically I hopped on the bike and started testing right away so I couldn't really ever have a setting on for weeks so I can get really confident on it and ride the limit and the edge. So I'm not at that point yet, which actually is a good thing. It gives me a little bit more time to get everything dialed and then just put hours on it. Focus on my training, focus on getting a little bit more serious, and just putting in laps. I'll be solid by A1 for sure.
Where is the training going to take place? Most of the training is going to take place in Florida and then at what point do you come out to California?
Yes, for sure. I'm actually going back to Florida on Saturday to start training again and then at one point in a couple weeks or a few weeks it's going to be a little bit on the harder side training-wise, but I'm not going to be back out to California basically until I would say end of December, maybe before Christmas, it depends. I'm going to be here by myself basically I think. Maybe some of my family are coming over. Wherever I want to go I'm going to go.
RV is going to the GPs, that's been announced. What's one piece of advice you would give him?
I like RV I just hope he doesn't, since it's a lot less races, you have to go in with the mentality that, and it's just as much him, you have to train just as hard. Tony, after so many years he knows all the tracks, he's got it dialed. He's that person, he's just so confident and he knows when to take a step back. I know there are a couple of tracks out there that he doesn't really like. Every year it seems like there's a little bit of a struggle in there, so he knows when to take it a tiny notch back and then back it up. My dad say track is track, but no matter if we come over here or if the Americans come over to Germany there is just something that's totally different. That's just how it is. I don't know why. It's going to be interesting. He's definitely going to be up there but he definitely has to give it his all. Whatever happens is going to happen. It's a difficult decision because he basically has nothing to win but everything to lose. He's won every single championship over here, so there's got to be pressure on him but he's confident.
I talked to him the other day and I think he's nuts. But it'll be exciting. I'm going to watch all of them.
I haven't watched any of the GPs this year, even last year or the years before to be honest, but it's going to be interesting to look at the results again and definitely something to look for.