It seems like forever since Broc Tickle broke his back in Toronto and here he lets us know what is going on now.
It seems like forever since Broc Tickle broke his back in Toronto and here he lets us know what is going on now.
PulpMX – How are you feeling on the bike?
Broc – The last day I rode I felt really good. I felt like I was up to pace and I felt like I could run the speed for 20, 25 minutes which I thought was really good. But that was two weeks ago. I haven't rode a bike in two weeks. I'm waiting to get my deal done for next year. That's the only thing I'm waiting on right now.
Do you still have the bike and you just can't ride it? Or did you actually have to give it back?
No, basically I gave it back because I felt like I was to the level where I needed something. I was just riding a stock '14 and they actually hooked me up with '15 forks. I started feeling pretty comfortable on that because it was obviously the air setup. I think the '14 stock suspension forks doesn't really work for a pro level rider. But I think for an average level rider the '14 forks are all right. But the stock '14 forks for a professional rider, I don't' think it's really meant to work well. They got me '15 forks and that's as soon as I started feeling comfortable, right when they put those on. Basically I was to the point where I was ready to start doing motos and whatnot and I felt like I needed more.
They didn't really want to give me anything better until we figured things out. So still at the moment waiting to get something done, which I think it should be soon. I'm looking forward to that. I think it was good though that I got two weeks of riding in pretty much, two and a half weeks. Obviously I've been on the couch for 5 months, 6 months.
You kind of question if you can still ride a dirt bike, which is a stupid question for somebody like myself or anybody else that does what I do, but it just obviously goes through your head. As soon as I knew I was okay that was a relief. Now that I've done that I'm ready to get back on the bike and start testing for Supercross and I'll work my way into just slowly getting into Supercross. I feel like within a couple weeks I'll be pretty solid. Main thing I'll focus on when I start riding is just go out there and do as many laps as I can in a day and just have fun.
November 1st, that's when I need to be on your game.
Would you consider that your ultimatum date? November 1st something's going to be done, regardless of where it is? That's when you want to be ready?
I'm hoping this week. Obviously after Monster Cup I should hopefully know 100% what I'm doing and just get started, like I said, until the end of the month. And then hopefully I'm good to go and start November 1st. Then I'll be wide open until January pretty much.
I feel like I have enough time to still do it and that's why I'm not stressing too much. And honestly I feel like cardio-wise, I feel like I'm the strongest I've been on the bicycle. Which that doesn't mean crap in motocross but I feel like bicycle-wise and the cardio side of things I feel like I'm better than what I was. That's the positive. That's what I've been doing the last two weeks is getting stronger there and doing that and lightly doing sprint stuff because I didn't want to do too much right away just because I did notice after the first week of strength training my back was tight and I felt like I needed to go see Dr. G. more and more. I feel like if I slowly work myself into doing that and then slowly work myself into Supercross everything will be smooth sailing to Anaheim. That's all I'm focused on right at the moment is getting ready for that.
I'm motivated.
I feel like if I would have already won championships, been on the podium in the 450s, there could have been a possibility that I might have just "let's find something else to do," but I feel like I have undone business and I need to get out there. I have some stuff that I want to accomplish before I'm done. My goal is to get out there and basically when I got hurt, take off from those last five races before that and hopefully start the season that well at Anaheim and build throughout the rest of the year.
For those two weeks that you did get to ride, say the last few days that you were riding before you had to give up that bike, did you notice any hesitancy in your attack level?
What's crazy is the first day I was like, come on, basically I was just getting myself prepare probably like anybody else would have, just take it easy, it's your first day back. You have a long time to get ready, just take it easy. And before you know it I'm jumping everything on the second lap, even though it was at Elsinore. There's not huge jumps there but right away second lap I jumped everything. It hasn't really came into my head other than if I got like a little bit sketchy in a corner or whatnot, but still I feel like I'm actually more precise which is good. I think once I start Supercross it'll be good. Just go to the Suzuki track hopefully and get everything dialed in and it'll be a track that I've already rode and then go onto the public tracks and whatnot after that. That's the plan for right now.
Your back was feeling good though the last time that you rode? There's not any hitches or any little nerve pain?
No, honesty my back hasn't bothered me one bit riding, not even a little bit. I over-jumped a jump probably one of the times that I rode and I was kind of bracing myself for it just because I thought about it and it didn't event bother me one bit. That honestly surprised me. I feel like getting the hardware out was obviously a positive for me in the long run. I want to be around until I'm 30, 31, 32 maybe, run as long as I can. I feel like I have the potential to have a long career. That's the way I kind of visualized my career being, so I don't want to let that go. That's kind of what I'm focused on, is to try to get back on my feet like I was before I got hurt and hopefully start off Anaheim right there where I was.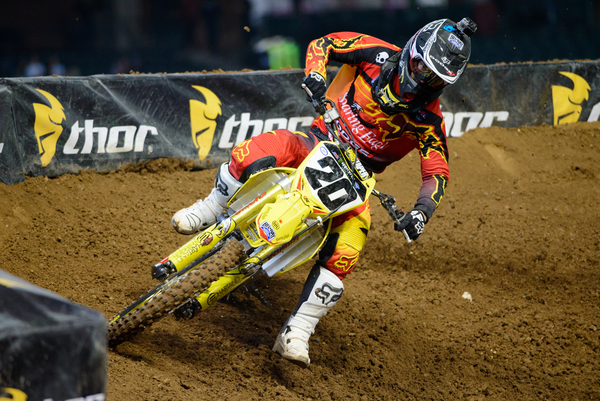 Broc was looking better than ever before his injury and he feels like he can be right there again.
Was the hardware removal a suggestion by your doctor or was he kind of ambivalent about it but you knew that you wanted it out?
He was like, if you're going to sit at a desk and do this or do that, I would just recommend leaving it. He said, you could leave it in, there'd be no problems. But you're saying you want to race until you're 31, 32, you need to get it taken out basically.
It's going to happen at some point, right?
Yeah, exactly. He was just like, if you're planning on racing, what's another 6-8 weeks taking off time for an extra 4 or 5 years.
It seems like people like Roczen became the RCH poster boy overnight. Was that weird at all in the first few days? The last time you were riding you were the poster boy for RCH and then you got hurt and it was awesome the way they stood behind you and still supported you and gave you a bike to ride and stuff when you did come back. But was that weird the first few days when it was just all Roczen all over the place and you were still in the peripheral of the RCH program?
Not really just because he did just win the outdoor title. Even though I'm competitive and don't really like that too much, any one of us isn't going to like that too much, but you got to accept the fact that he just got done winning the outdoor championship. I'm hoping everything works out to where I'm there and he wants me on the team. I know he does because he's actually been hanging out with me quite a bit while he was in California, just started riding the bike and stuff. He has actually been around a lot. He and I get along really well. I feel like it would be a good motivation for me. It would kind of light a fire under me a little bit just because obviously I'm competitive and being on Lites teams, my main goal is to be the top guy on the team. Even though he's won Supercrosses in the 450 class and got on the podium and won the outdoor championship, I'm going to try my best to still put up a fight to be the top guy on the team.
It sounds like you're committed to making this RCH relationship continue. You're going to give them every effort to make that happen.
For sure. The last two years with them, I've had two good years with them. Then this year the changes they made by hiring Kaipo and Sergio, which is the suspension guy. Sergio overlooks a lot of the whole bike, the chassis, the way everything works together. So him and Kaipo work really well together and I feel like that upped the program for me. I feel like that's why my results got better in Supercross this year. With that being said, I think the whole program there, I'm pumped with and I don't want change at the moment; I want to just move back where I was. It would just be an easier transition. That's the goal right now to just get back there and do what I can in the off-season. I'm sweating to ride at the moment. It's been two weeks and I'm amped up and ready to go.
What are you going to do when you come back and your main man Berluti's gone?
I'm kind of bummed about that but him and Feeney have been obviously the best mechanics I've had. Nothing against anybody else who's worked for me, but Berluti's enthusiasm and competitiveness was awesome. Anaheim 1 I got 8th and it was just a relief to me that I finished decent and he came back in and was just, "what the fuck was that? What are you doing? You could have had 7th!" And that's what I like. It's awesome. It was good to have that. And then when my confidence started getting up and I started clicking the races off from Dallas – I think I went Dallas 6th, Atlanta 6th, Indianapolis 5th, and then I went to Daytona and got 4th, and then Detroit 6th – there were five races in a row where I just clicked off and had it. He was amped. And he had my back 100% the whole time.
If it works out with RCH I'll get Richard which I know he's awesome. He has a good personality and him and Berluti go along really well. He has that upbeat personality and I'm kind of mellow so it kind of evens us out. That's kind of how Berluti was. I feel like that's the kind of mechanic I'll need, just somebody who's upbeat and really positive and all about your rider. That's what it's about when you're a mechanic is being all about your guy and that's it.
Are you planning at being at the Monster Cup this weekend?
Yeah, I'm going to head over there and just hang out and whatnot. It'll just be fun to watch and see everybody on their new bikes if they're going to be there. It's actually been pretty cool watching. Obviously it wasn't that cool watching all the outdoors but I feel like I've learned a lot just watching the other guys ride. I feel like that helped me when I first got back on the bike. I felt like I was paying attention to stuff I've never paid attention to. The main thing I focused on when I got back riding was just carrying momentum and be off the brakes. That's kind of what Roczen, Dungey, and the guys winning outdoors were doing. I felt like I was thinking about that the whole time I was riding the last two weeks.
When you're in it as much as all you guys are, definitely when you're forced to take a step back and have a broader perspective, that probably gives you a whole fresh view that you hadn't even considered for a long time and gives you an opportunity to really look at it from a different angle.
Yeah, exactly. Obviously in outdoors there's Dungey and Roczen basically fighting for the championship and I feel like both of those guys do a lot of stuff obviously really well. I think Roczen being around me, if we can get this thing done and ready for next year, I think it's just going to help me because he looks effortless. He's almost like Pourcel when I was in the Lites class. All I did literally when I was on Star Racing was obviously watch Pourcel because it was so effortless. There were other guys that were just as fast but Pourcel was putting out half the effort, at least it looked like it. Roczen's kind of the same way. I feel like I studied Pourcel whenever I was on Star and I feel like it helped me, and I feel like if I get everything together with Roczen being on the same team as me is only gonna help me in the long run.