So exactly how is Villopoto going to do in the Grand Prix's next year?
So exactly how is Villopoto going to do in the Grand Prix's next year?
Hammerhead Designs was launched with the intent to provide new and better parts and innovative accessories for motocross bikes. One of our goals has been to design entirely new and unique products with improved ergonomics and the shift lever was the first part that we felt could be dramatically improved by providing a feature that would allow for the shifter to be repositioned to perfectly suit the riders size, shape, and preference.
Photos by James Lissimore
JT: Ok, so we all know that RV is going to race in Europe next year. That's old news at this point. From now until then, though, we are going to have some great bench racing discussions. The main question is this: Can RV go across the pond and dethrone King Cairoli?
Matthes: I just don't know. I don't have red, white and blue goggles on when I look at this match up like so many American moto fans. I've been over to GP's and MXDN's and have seen Antonio Cairoli and his speed, fitness and tenacity. He obviously doesn't have eight World Titles by accident–the guy is the real deal. I would HOPE that most (notice I didn't say all) American moto fans would know this.
And I know we live in an age where everyone has to have an opinion about something right away and not let anything breathe but I'm so split on whether RV can go out and win a world title, it's not even funny. I have that much respect for AC222. I will say this, I think Ryan Villopoto is the fastest motocross rider in the world if it's a neutral track with nice weather. But that's not how the GP's are going to be. There are two or three deep sand tracks. And I mean DEEP sand. There's always mud races here and there and on top of that, Antonio has raced these tracks year in and year out and knows settings, lines, etc.
Villopoto's going to have to deal with all these things and in my mind, it's still a 50% chance he wins this thing. And then there's a 50% chance Cairoli wins this. I know that JT you think AC looked as human as ever this past year and I agree with you to a degree. There were races where Paulin straight up won as well as Desalle who's strong year in and year out. But when it counts, when he needs to, Cairoli rises up and wins. That's what he does. So, yeah, I'm not sure if RV wins next year or not. Flip a coin…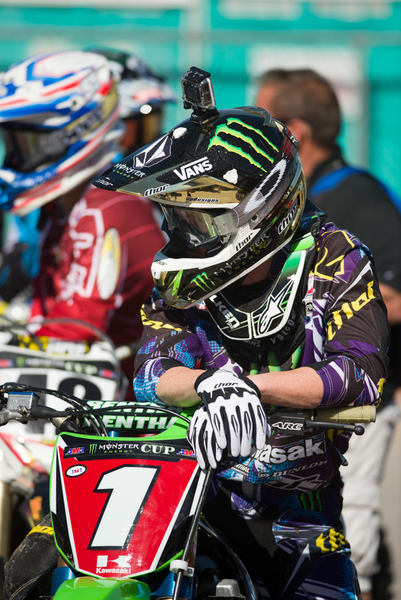 RV's taking his number one plate and his talent to Europe next year.
JT: I think this will come down to one big factor. Which RV do we see? Is it the less efficient, pre-Aldon version of Ryan or is it the super lean, post-Aldon variety? That is what this hinges on in my view. When Villopoto is firing on all cylinders, he is easily the best motocross rider on Earth. I have no hesitation in saying that. I have seen him lay waste to America's best in ways that I didn't think possible. His 2013 outdoor season was full of rides where he was simply toying with legends of this sport.
Aldon and Ryan both have already said that they will work together in 2015 which bodes well for his chances. The question remains, though, if Ryan will have the same focus and preparation with Aldon being 5000 miles away. It is much easier to slack off when your trainer can't get in your face and make you do the work. Ryan HAS to keep the same intensity and work ethic that he has shown if he wants to be the same Ryan. Going into a totally different series on a new team with different culture, food and weather won't leave any room for error.
Furthermore, to think that these MXGP riders won't come in more prepared than ever before would be a mistake. Never has the reigning champion left America for Europe in search of a world title. This is their big chance to prove themselves to the American public. There will be more focus than ever before on both the riders and the series at large and no one is absent of that fact. If Cairoli could go win his 9thworld title, beating America's best, it would be the crown jewel on an already legendary career. For Desalle, he could finally dethrone Cairoli and take down RV as well. He showed the speed to do it last year and with more consistency, this could be his year. Of course, we can't discount Gautier Paulin after an absolutely dominating win last month in Latvia. He is making a big move to Honda and they will be pushing hard to regain their place in the hierarchy. The title will come from one of those four riders, I would almost guarantee that. Van Horebeek is the wild card but I just see those four as the favorites. May the best man win.
Matthes: You brought this point up on the Pulp Show and I don't understand where this is even a point. I have 0.05 doubt that RV will be RV. AKA the bad ass training fool who's aggressiveness and desire to win is at a 100 out of 100. I guess I could be wrong but if he's going over there to race, he'll be ready. Maybe you're right and he will sort of mail this in (after all, if he hadn't had a third year of a contract that he was sort of forced to honor, he would be retired right now) but I just don't see it.
JT: I hope you're right. I just get worried about him being on his own schedule for the first time in four years. He won't have Aldon there everyday to force him through the times when he doesn't want to be there. I have seen this part first hand and it is vital to keeping up the consistency day in and day out.
The weather will be nasty, wet and cold but the work will still be necessary. That's a big change from the very inviting Florida and SoCal weather during the same timeframe. If his motivation is not 100% there, it will be very easy to take days off. That's not to say that he won't train, I know that he will. I am just unsure that it will be on the same scale that we have seen. He has even mentioned on your show that the pace of life and riding/training is different there, which leads me to believe he isn't planning on the heroic level of training effort he has shown in the past.
I hope he is wise enough to realize that he will remember this last season forever. He is making history with this move and everyone will be watching. He only has one season left for the rest of his life. I hope he approaches this with the same tenacity we have come to know and love. He doesn't owe anything to the fans or to us. He has given us years of spectacular racing. He does, however, owe it to himself to leave it all on the table. He will regret it if he doesn't.
Matthes: Bottom line is I'm waffling. Go RV!