It's finally over Johnny
It's finally over Johnny
Photos by Matt Francis
For the first installment click HERE
For the second one click HERE
Third one HERE
And finally, the fourth one is HERE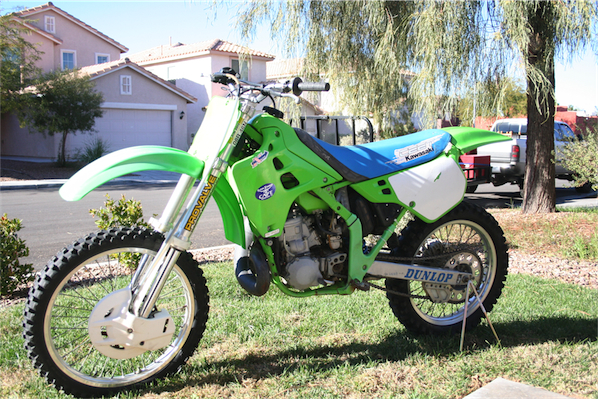 Project 90 Before…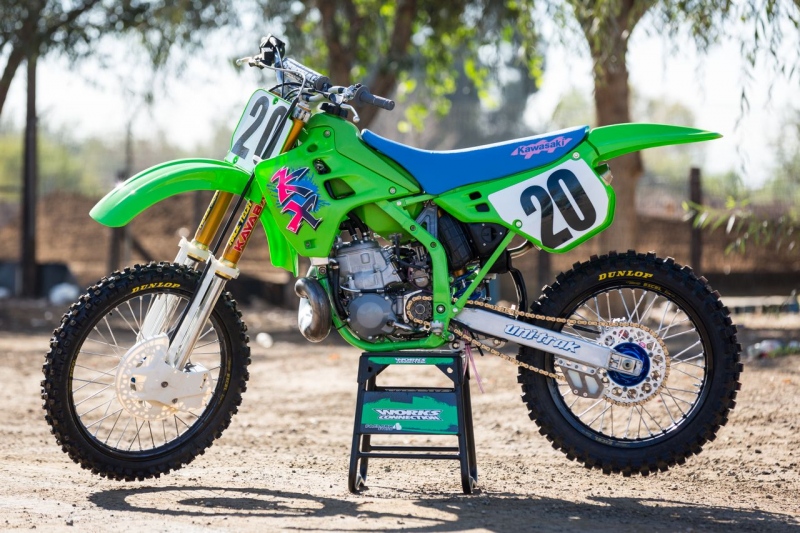 Project 90 After!
Swizcore traced some 100% numbers out of an old photo of Chicken and Tech One Designs made me some replica ones for the bike. You had to go with Chicken's number right? I have a brand-new Acerbis front disc guard also that's not on in this photo. #factorybro
Well it's done. Well, it's actually been done for a while but #project90 had to wait for the reveal because Racer X Magazine wanted to have it out in their Garage In-Stock feature in the mag and then release the video we did a while back at Milestone with Nick Wey and Jeff Matiasevich.
It's been fun putting the whole thing together and truthfully, I can't think of a moment when I was thinking it sucked or whatever. Getting out in the garage, putting some music on and spinning some t-handles again was cool. And once I collected everything, the bike came together pretty fast. You may recall that last article I talked about finding and putting on an old Yamaha front master cylinder. Well I just couldn't get it to be as firm as I would've liked so I rebuilt the stock m/c and put it on there. And presto, it was very strong and worked great.
Bringing the bike out to Milestone for Chicken and Wey to ride it was a bit nerve-racking. I just hoped it held together and everything worked. I did ride it up and down my street, dragged the brakes a bit, tried to jet it as close as I can being up in Vegas (it ended up being too rich down at sea level and I was forced to drop the needle all the way to the top. I need to order the next series of leaner needles to have it proper) and brought it down. And if anyone reading this has built a bike up with a freshly painted frame and all that, you know that all the mounts need to be checked after a short time of riding. Not to mention that the new Dubya Wheels would definitely need checking. With the jetting not great and him probably forgetting that you have to give a two-stroke a bit of gas when you start it, Chicken had a bit of a hard time firing the bike up which made Wey laugh uncontrollably (it started for me before he got there on the third kick). Once I got it fired up, he was pumped to get it out there.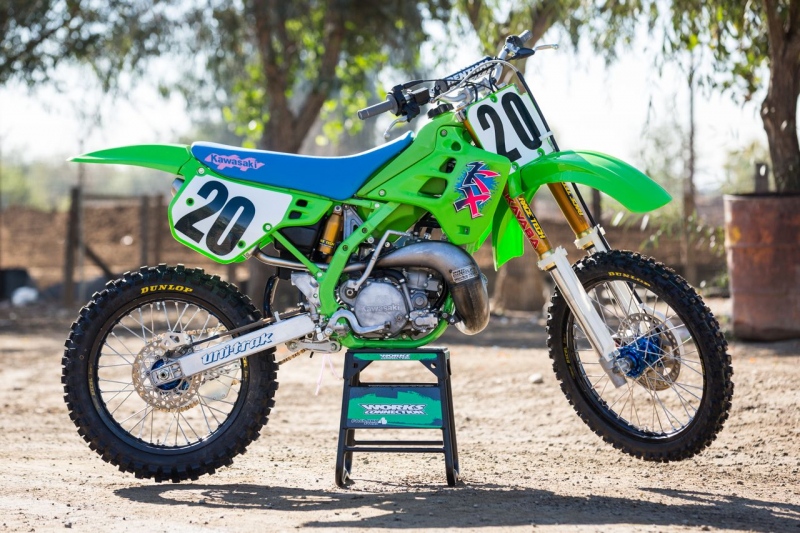 I got some flack from people for going with the blue Talon hubs and black DID rims on Project 90 but I wanted to combine a restore with some newer mods. The folks at Dubya hooked up the wheels like no other and I think if I had to do it again I would go with silver rims but the blue hubs are the bomb. I'm still happy with the overall look of the bike. The wheels and Race Tech coatings on the suspension make it look factory I think.
So as Chicken continued to moto down for 20 min the very first time on the bike, I started thinking that stuff may be a bit loose out there. Which made me more nervous. After all Matty Fran was there filming and we had a few people who were just fans of Pulp and happened to be at the track watching this all unfold. He pulled it with a big smile on his face (he was not scared to pin it) and I went to work checking things over. Big Nasty, Wey's wrench, was there with me and helping me out. The only real problem we had (other than a lost radiator shroud bolt- my bad!) was the front brake line outer housing slipped in the clamp and started hanging below the disc. It was my fault for not putting the clamp on the backside of the mount. I had put the clamp on each side of the mount. I guess I was out of practice.
Anyways as THE VIDEO shows, Wey and Chicken had a blast riding the bike and it was fun for all. I enjoyed this process and am thinking about diving into another bike if a guy in Alaska actually ever makes it happen. As far as #project90, I've tried to get Pookie to let me bring it in the house but no go from there. So now I'll probably get out there and ride it for myself at some point. I'm pumped on how this came out and although I never owned a 1990 KX 250 back in the day, I can say that I do now!
Thanks to Babbitt's Kawasaki for the deals on the OEM parts, Works Connection for the stand and rear caliper guard, Pro Circuit for the deal on the pipe and silencer, Dubya for the deal on the wheels, Athena for the gaskets, Race Tech for the suspension work, GUTS for the seat foam and for Andy for putting the cover on, Berluti for the help with the motor, Renthal for the deals on the bars and sprockets, Sudco for the brand new carb, Dunlop for the, duh, tires, BTOSports.com for all the aftermarket stuff like plastic, brake pads, etc, etc.
Thanks to you guys for reading this series as well. Hope you enjoyed it.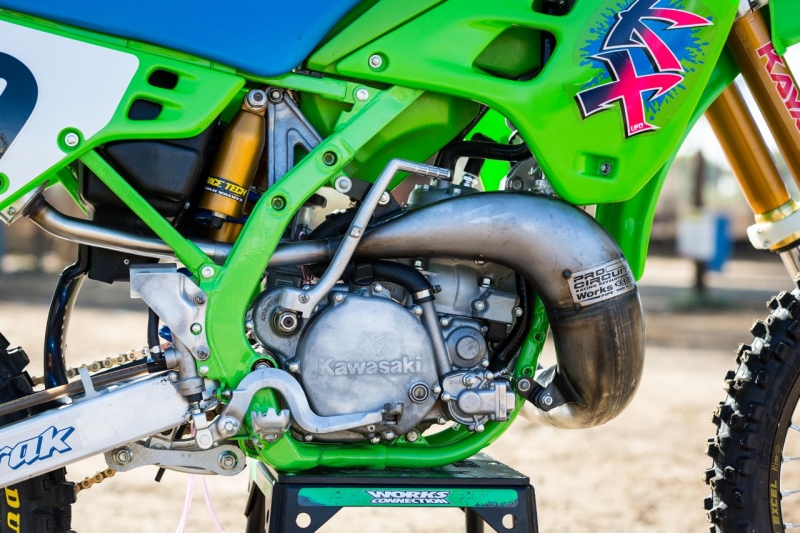 Clutch covers were discontinued and aftermarket ones really didn't do much for me. The one that came with it was hammered and this is an eBay one I found and tried to clean the corrosion off the best I could. Thanks to Pro Circuit for the pipe and silencer- they told me it was the last pipe they had in stock for this bike.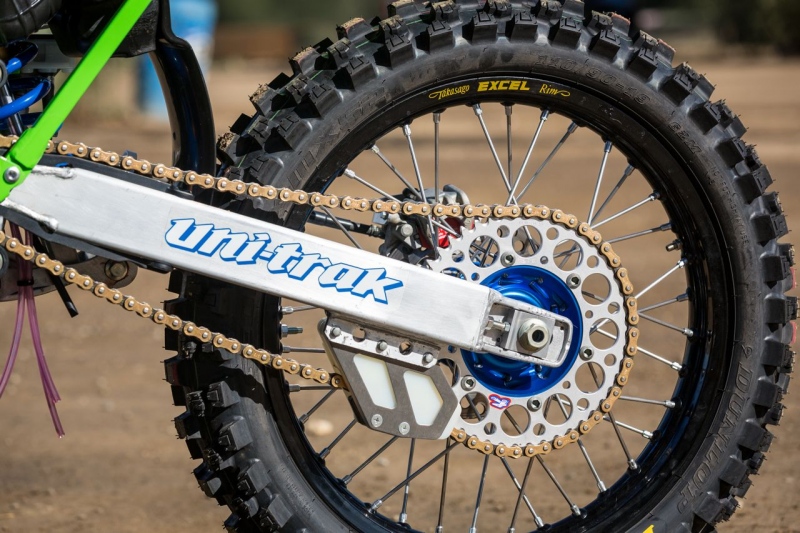 All new bearings in the swingarm, new chain guides, axles, blocks and the sweet Uni-Trak sticker I found online somewhere.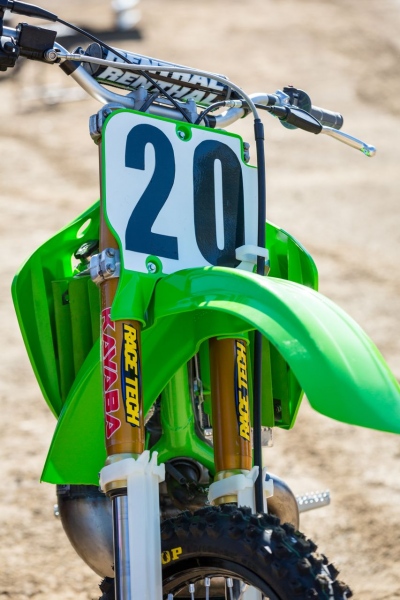 Kaz at KYB brought me some old school pink Kayaba stickers for the forks and I'm super stoked on the coatings that Race Tech did not too mention the total rebuild on the forks and shock.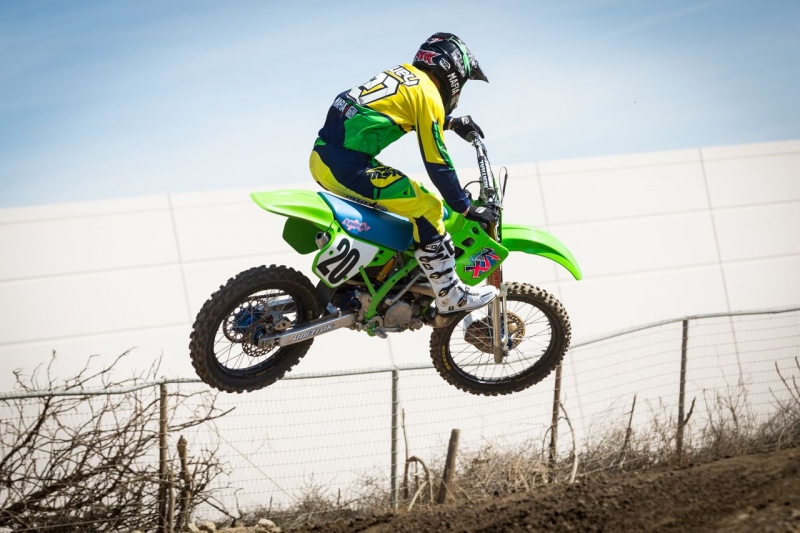 Chicken got on the bike and pretty much started motoing down on it. Wey got on it and took it to the Vet track for ten minutes to make sure nothing fell off. This is Nick being Nick. After he was assured it wasn't going to lock up on him in the air he took it to the main track and started doing some big jumps. I got Race Tech to spring and valve it for a 200lb B rider and after we adjusted some sag, both guys never touched a clicker.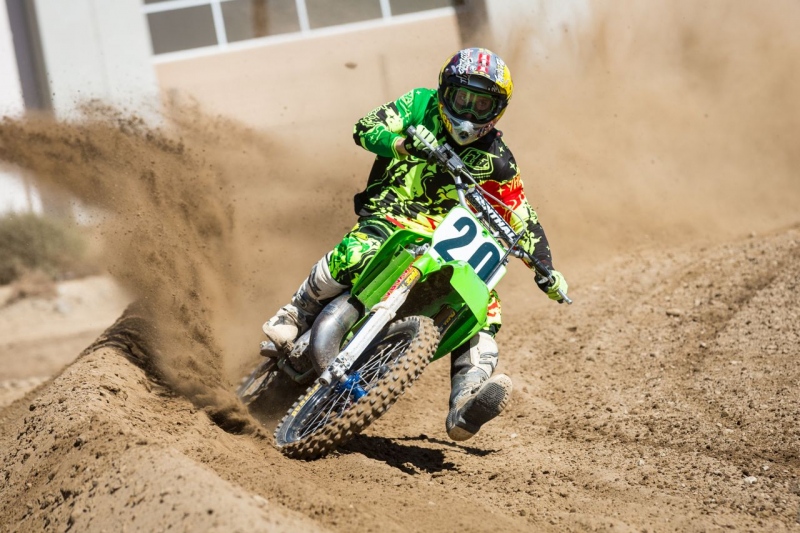 Chicken loved it. Seriously. He REALLY loved it. It was awesome. Of course he still didn't think the bike was a '90 when he saw it in the morning but after 15 minutes of showing him on the internet that it was, he seemed somewhat ok with it.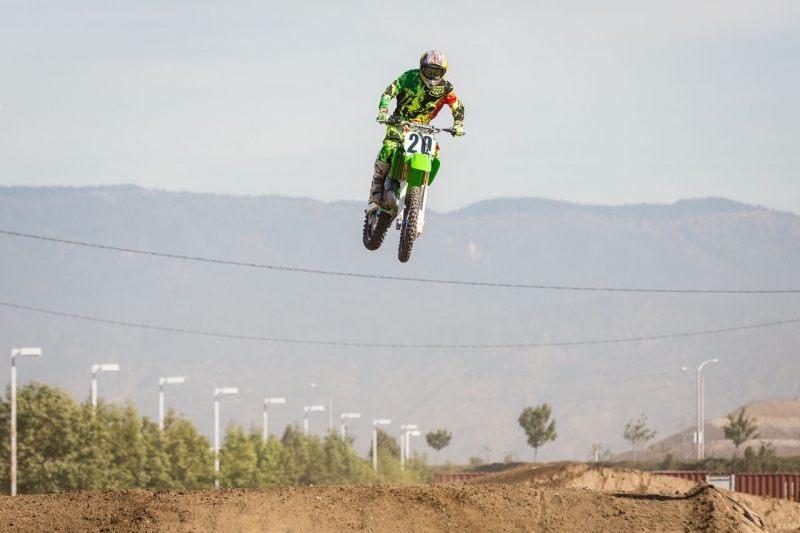 The Chicken airs it out at Milestone. I tried to convince Wey to hit the SX track but he was not having it.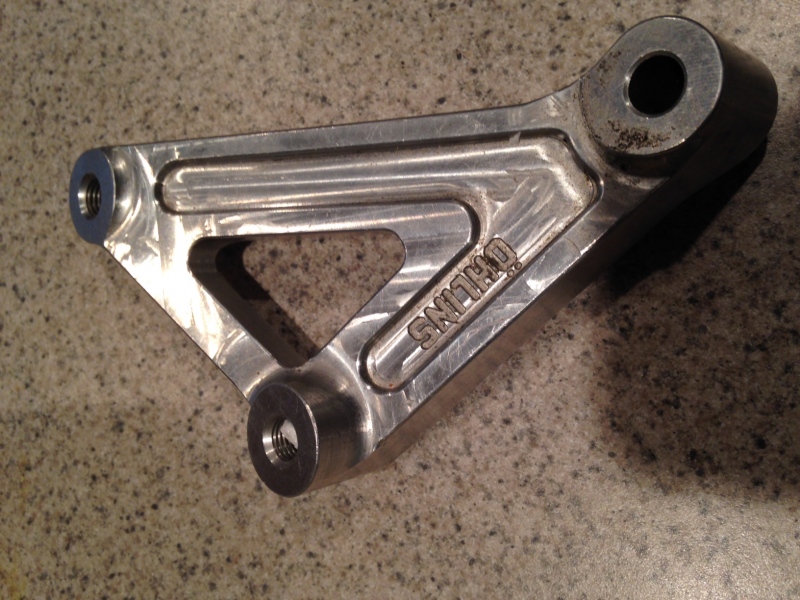 The improvements keep coming! Clark Jones at Noleen sent me one of these super trick Ohlins billet shock mounts that they made back in '90. Problem is the bike takes two…still it's way cool and I can't wait to put one side on.