Former factory Yamaha racer David Vuillemin weighs in on Anaheim 1
Former factory Yamaha racer David Vuillemin weighs in on Anaheim 1
Photos by James Lissimore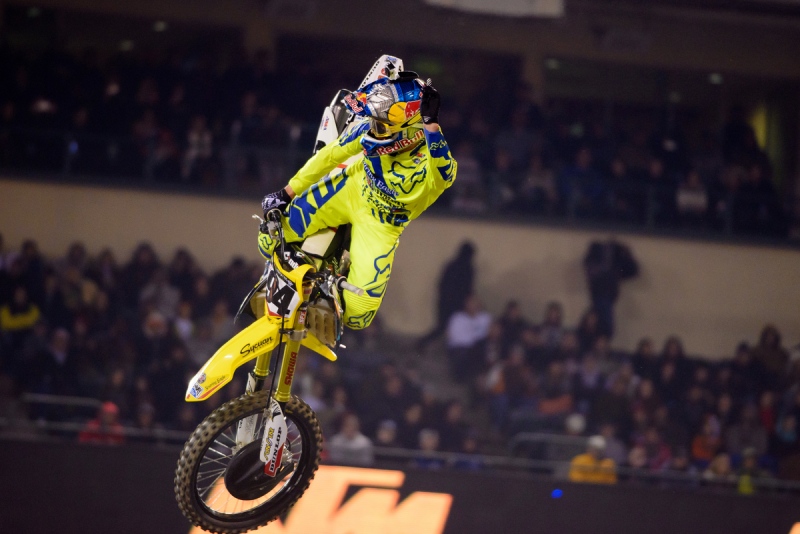 Kenny Roczen was the big winner at the Big A.
Who surprised you ?
In 250's, the way Nelson dominated in the same way Roczen did in 450's was a surprise to me. He checked out early after getting the holeshot. I was thinking he would've been top 5 just like he was in timed practice. He rode great, mistake free and made it look easy out there. Aaron Plessinger was also a surprise. 9th in practice 1.3 seconds off the fastest time set by his teammate Cooper Webb. Plessinger got a horrible start in the main and was only 14th on the first lap. He rode great and got pretty close-a few seconds away from Justin Hill-with a few laps to go.
In 450's, the second place finish from Jason Anderson surprised me too. I didn't know what to expect from him for his first race of his first full time 450 season. I didn't and don't think his bike is one of the best of the pack but he managed to perform and got second. He was a little off in practice speed-wise compared to the big 3 of Tomac, Roczen & Canard, but those 3 guys are flying! Jason improved all night long though. Andrew Short was also a surprise with a heat win and a top 5. Shorty fought hard to win the heat race and to contain Roczen. It's cool to see someone we didn't except mixing it up with the guys that are supposed to be in front. It shows everyone that a 32 year old on a satellite team without scrubbing every jump can actually be in the top 5. I'm pumped for him
Who disappointed you?
That list could get pretty long… I'll pick 3 guys from each class. In 250's, obviously Malcolm Stewart. I am not too sure what happened to him since I didn't re-watch the race on TV but I was expecting him to be in the top 3. I was disappointed in Justin Hill as well. I thought whatever Nelson did in the main, Justin was going to do it also. He started 5th, finished 4th and never looked up to his potential (he did win the heat in a nice ride) or close to what we've seen from him in the past. It shouldn't be too hard from him to improve though. The 3rd guy is Webb, even if he rode very well despite a bad start and crash(es), but as a favorite and a guy that ended up runner up in the Nationals in 2014, you can't show up in Anaheim and get 7th. His bike is good. He's a great rider. When it's time for the gate to drop for the main, as a favorite and Yamaha's #1 guy, you gotta start in front and stay on your wheels.
In 450, whatever I said about Webb works for Tomac too but he was worse. What happened to him? He lost it in the main, he endoed by himself before the finish and 2-3 laps later he highsided 30 feet farther down the track. He was 6th in the first lap and had time to finish second in my opinion. Roczen was too far ahead but take your second and go onto round two. Instead, he scored 1 point. Tomac will have to win the next 8 races, if Roczen gets 2nd in those 8, in order to just tie him in the championship so you can see the work he has in front of him. Talk about shooting yourself in the foot.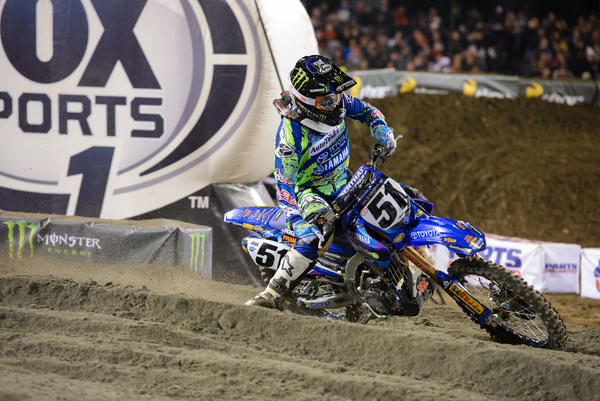 Justin Barcia makes DV's list and not in a good way.
My 2nd pick goes to Barcia. I think I am going to give up talking about Justin. You look at him you think he's 3 seconds faster than anyone but in fact he's 1.5 seconds slower. At one point, riders like this will have to stop hiring trainers to make them pro cyclists and find someone who can teach them how to ride a 450 4-stroke. It's his 3rd season in 450's and he rides a big bike like Mike Brown used to ride his PC KX125.
3rd pick is a tie between Ryan Dungey and Davi Millsaps. Davi for scoring only 2 points and Dungey for being Dungey- which is a little transparent. Seems like he doesn't learn and doesn't change. It's like I watched the same guy this last Saturday that I've watched for the last 60 supercross races he raced. He looks uncomfortable on the bike, just like last year. I don't think his straight high bars and low levers help him the corners. His elbows are super high and the tips of his fingers super low. Watching him ride, it looks like it's a guy that does a lot of motos during the week/off season but doesn't really work on his technique/riding position and speed. To tell you the truth, a physical trainer will make you fitter, no question about that, but they don't know anything how to improve a rider's technique, feet position, corner speed/technique and have to clue about bike settings while watching their riders go in circles around a SX track.
We thought the track was average- what did you think?
The track wasn't very interesting to say the least. Nothing was really challenging, from the slowest 250 guy to the fastest 450 guy, everyone was doing the same thing on that track. I've called it in my track preview on this site a while ago. We are going to have to wait a few weeks before we'll see a good track. In the other hand, it's smart to start with a mellower track so the crazy excited riders don't end mummified in a close by hospital.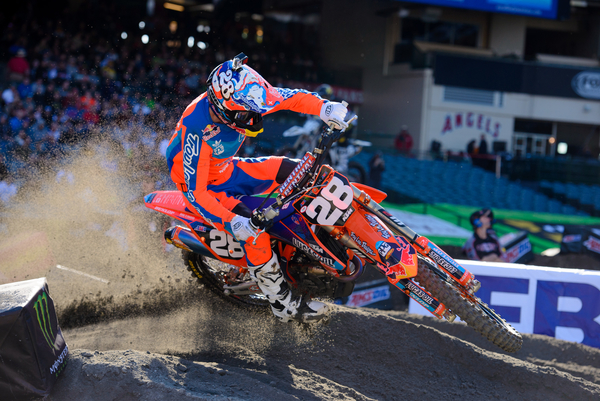 Hooray for Jessy Nelson for winning his first race for the TLD KTM team.
Who looks to have stepped up their game from what you expected?
I think I covered it in the first question… Nelson, Anderson, Short, Plessinger… I also think Roczen stepped his game. He's way more comfortable, more efficient and not as spectacular which is a good thing in the long run. In this sport, you want to be fast and efficient. You don't have to scrub every single jump like I saw Osborne do in practice to go fast. Roczen's ride on Saturday, was a clinic. He's going to be tough to beat.
What were the best looking bikes/gear?
The team and the gear company that pay the most. I am not the one to ask for this thing. If the bike can win and the gear check is around the mid 6 digits, everything looks great! To answer to your question, I like blue so I liked the Star Racing bike/gear combo. Too many "carnival" gears for my taste these days. I liked the clean look of the Fox and Axo gear of the '90's. It seems that most of the designers these days, come up with gear designs after a weekend partying in Ibiza.