Le Cobra is back with his answers to the pressing questions from Phoenix.
Le Cobra is back with his answers to the pressing questions from Phoenix.
Photos By: James Lissimore
Tomac fixed himself and won his first career race after a great battle with Roczen–are we in for a battle of these two for the rest of the year?
?They are obviously the 2 best guys but we already knew that before the gate dropped in Anaheim. We are going to see a lot of yellow, red, 94 and 3 for the weeks to come. Don't forget Canard though; Trey has the speed to get in the mix. The rest of the guys will have to step it up quickly if they don't want to miss the train. In those first 3 races, I don't see any other guys capable of winning a race other than those 3 guys.
The battle between Roczen and Tomac, what did you see? Where was one guy better than the other and why was Tomac able to pull away?
?After Roczen's walk in the park at Anaheim 1 it was surprising to see him powerless against Tomac in Phoenix. Is it because he already has a 20+ point lead or is it because he had nothing for him? I think he had nothing for him really. The way he rode by riding defensive and aggressive towards Eli showed me he tired to keep him behind him for as long as he could because he knew if he got into the lead, he couldn't do anything. It's pretty much what happened. This kind of ride from Tomac will be a huge confidence booster even with a 21 point deficit in the Championship. Eli has nothing to lose after the debacle of A1. Tomac has to beat Ken every race now if he wants to have a chance to win this title. One sure thing is that this Championship will be very interesting if Eli starts making ground on Roczen at every round. Ken, now, will have to have races like Eli had in Phoenix to shut Eli down a bit. If you are Roczen, you don't want Eli to?
?get on a winning streak and get momentum. In Phoenix, if Ken would've rode like he did in Anaheim, we would've had a different and more interesting race. But he rode thinking too much about staying in front of Tomac rather than focusing on his lines and riding. When you start riding defensive and thinking of the guy behind in this sport, you can't win and you make the task of the guy behind much easier. It's only the second race and I'm sure we'll see both of those guys riding at 100% for the win. I can't wait to witness it.?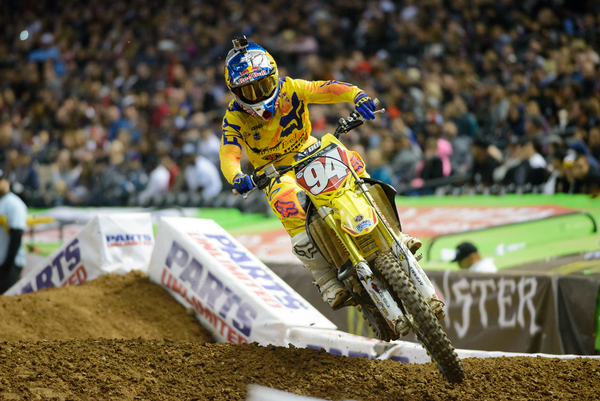 Roczen is still in the drivers seat.
We never saw a day where Weston Peick would make a podium and he almost did in Phoenix, impressive!
?Weston rode great and for 15 laps, I thought he was going to get his first SX podium. I read a tweet where Weston said he broke his foot. Not sure what to think about it though. Watching the race, I thought he ran out of juice a bit with 5 laps to go. You could see him sitting down more which is an indication of a rider being a little tired. He didn't really defend his 3rd place like you'd think Peick would?. But, there is no shame in finishing 4th at the second race of the season. I have to speak about Dungey getting passed by Weston early in the race and staying 17 laps behind him… Ryan stayed 10 bikes lengths behind Weston for so long. It's not really the best approach when you see Roczen and Tomac checking out at the front. Dungey rode better than in A1 but will have to step it up even more to get in the mix up front. You can't spend 15 minutes behind Peick if you want to win a championship. I don't think Tomac or Roczen woud've spent more than 2 laps behind Weston…
How much better can riders get from here, for example, is Barcia just not going to run the top three pace? Reed? How tough is it to improve week to week when you're in the thick of the SX season?
?Some riders will get better if they fix their problems right away. If not, they'll still be struggling 2 months from now. Those guys will have to forget about testing and get their bikes perfect. Perfect bikes don't exist in Supercross but perfect riding does. Those guys need to find a comfortable bike set-up, forget about testing and other useless things and get to work on the riding side of things. Most of the guys other than the big 3 (Tomac Roczen Canard) need to improve their riding and corner speed?. They need to stop riding and seat-bouncing every jump on the track and use their legs more. That demands more fitness but it's the way to be faster and more efficient on a SX track. Look back to RV and JS "A" days and you can see how they don't leave anything out. They were efficient on every inch of the track. When you start to ride a little "lazy", you lose tenth of second here and there and at the end of a lap, you're a second slower.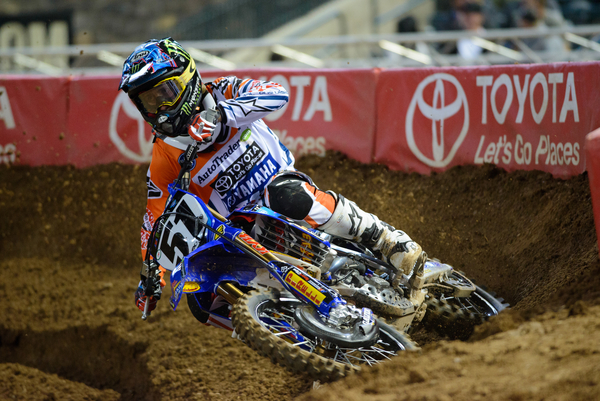 Barcia is struggling a bit.
Cooper Webb was on another level in Phoenix, could this be the start of a run?
?I actually thought Cooper looked great at A1. He was the fastest there in practice, like he was in Phoenix?
?but he kind of blew it in the main. ?He's the favorite for this championship but, since the 250 SX season is short, he will have to avoid nights like A1. His first SX win will be a confidence booster and he will be tough to beat if he stays out of trouble in the early laps of the mains. His bike looks good so does he. I think we haven't seen the best of Justin Hill yet. He should be up there soon too.
If you're Osborne and you're trying to race with a broken thumb, after Phoenix where he dropped back a bit- do you just get some surgery? How long do you tough it out?
?I am not sure about the extend of his injury so it's tough to say. I rode with a broken thumb before and it's not fun at all. It really depends how he feels. But if he can't ride close to 100% to get on the podium and if having this injury?
?makes riding SX dangerous, if he can't hang on, then he has to get it fixed. ?Thumb injuries take a long time to heal so it would mean, forget about SX and come back for the Nationals. If you miss races due to an injury in the 250's, since the season is short, you might as well get it fix and get ready for outdoors. If he rides the whole season like that, his thumb might not heal for a long time and it will jeopardize in Motocross season as well. Since I'm not sure about the gravity of his injury, it's tough for me to have an opinion.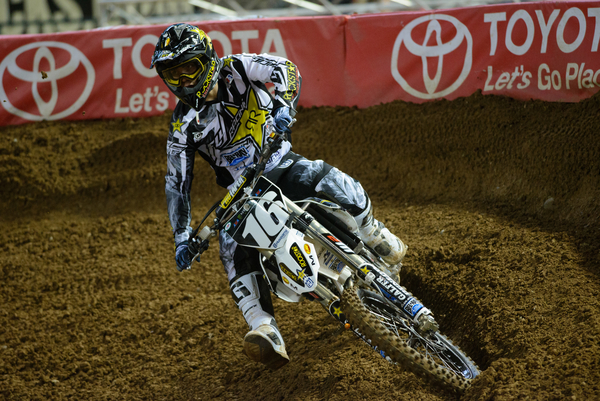 Osborne is toughing it out.
Tell us the story of you, MC and Phoenix!
?Man, that was 15 years ago. Most of the 250 riders today, were still in diapers, bro. It was a fun race for me and I'm sure you can find it on YouTube?… I didn't start very good and started passing guys one by one. Your boy, Ferry, was one of them. At one point of the race, I'm you were thinking he was going to win… hahaha. MC got in front after halfway. The track got rutted and I had different lines like I always had back in those days. I stayed out of the ruts and riding where no one was. I got by MC with just over one lap to go by squaring him off on a rutted dragon's back section. 100 yards later, the white flag was waving and it was my second 250 (now 450) SX win. Later, MC said he didn't see me coming because his mechanic, Randy Lawrence, didn't tell him on the pit board. I was like, "what?", I've never heard that one before. But no big deal, I went ahead to win 2 more races that year but MC won 10 and won the Championship pretty easily. It was an honor to race against MC. I started racing in the US on a KX125 when he won 14 races in 1996 so Jeremy was a monument for me. 4 years later, I was racing against him and beat him a few times. It was surreal if you think about it. It's like if a rookie and full on privateer this year in 250 would go ahead and beat Roczen and Tomac in 2019…