DV brings us his unique perspective on "Flag Day" and more.
DV brings us his unique perspective on "Flag Day" and more.
Black Flag gate–your thoughts on Trey's move, Chad's move and the black flag?
?First of all, I think Trey's jumping on Chad was an accident but it could've been avoided. I am not sure what he was thinking jumping so far if he wanted to go inside. Even if Chad was going to go outside, I doubt Trey would've made the inside clean. Chad had to wonder what the heck happened since he didn't see it coming. In my opinion, it was not a very smart move from Trey. Chad had his best ride and was running his best position of the season and got taken out. You can understand he was pissed about it. What followed, Reedy stuffing Trey on the starting line looked like a "wtf were you thinking" that turned out pretty bad. While Canard was pulling a tear off and with only one hand on the bars, they both collided and he went down. Both actions looked like accidents, Trey didn't want to jump on Chad and I don't think Chad wanted to make Canard crash but both crashes looked pretty bad. A couple minutes later, the officials (or only one) decided to black flagged Reed. That's what I don't agree on it. If you've been in the sport for a long time like me, the AMA and the FIM guy, don't like retaliation but how can they decide in 1 or 2 minutes to get the black flag out. It looked like an emotional judgement call. If Trey would've had both hands on the bars, he wouldn't have crashed and Chad's action would've looked like intimidation. Because he crashed, it became this huge retaliation take out in the eyes of the officials. Bottom line is that they should've let the race go the way it was and review the actions with both parties after the race and then take action. I wouldn't have objected with docking Chad with a few position and a fine even if his case would've been defendable. With what happened in the main in A2, then, you have to black flag Bowers in the heat race of A1 for taking out Osborne and also black flag Hansen for taking out McElrath in the A2 main. Once again, we are dealing the very well known AMA/FIM inconsistency… Sadly, it's not the first time they're inconsistent and it won't be the last time.
Cooper Webb rode a fantastic race–more of a great race by him or Bowers letting up a bit?
?Cooper rode great and never took his eyes off the win which was great. The way the main took place, he had only one chance/spot to pass Bowers for the win.?
?That's exactly what he did? and made the perfect pass. That was a 2014 Anderson-like win and it has to feel great! On the other hand, Bowers blew it in the last 5 laps. I think he got taken by surprise that Cooper was catching him so fast. He had to have seen him coming but it doesn't look like he did anything about it. I didn't see him pin it in the last couple laps to stay out of reach from Webb. It's not like he gave away the win but it doesn't look like he did what he had to do, in the last few laps, to win it.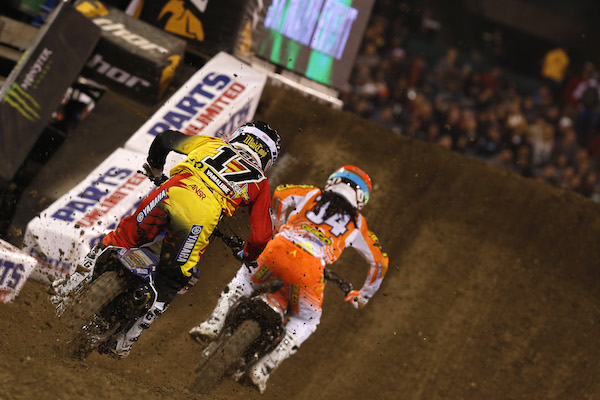 Webb was a Predator at Anaheim 2.
Kenny Roczen's in control of this thing through three races, what's his greatest strength?
?Kenny, like I said before the season started, is the man to beat. He has the best "package" of everyone there. The closest to him is obviously Tomac but he's going to need to start better and not make as many mistakes. Ken rides really well and he's very efficient on the 450. He uses the bike the way it should be used contrary to a guy like Barcia for exemple… His corner speed is good. He rails the turns a lot and never loses his momentum. Too many riders still square (and stop)?
?the turns too often when they don't have too. That will always be a couple tenths slower in any given turn. He uses his legs more than everyone. When you see most of the riders seat bounce the jumps out of the turns, Ken go out of the turns faster, stands up and soaks up every jump which makes him faster. To do that, you'll have to have a great fitness and strong legs because it's super demanding. Most of you (readers), might think, watching the races, that his bike is set up better than others, that could be the case? because I obviously didn't try any of those guys' bikes but what I can say, is that the way he rides, he would make any other riders' bike look better. Since he keeps his momentum in the turns, he doesn't have to gas it so hard out of the turns which makes him look smoother and have more traction than others. He never revs the crap of the bikes anywhere and looks like he short shifts a lot. By doing that, he never upsets his bike in the whoops for example. To do what he does in the turns, he has to get in them very early to make a nice arc to keep his momentum. At A2, some many riders were coming into the turn a couple feet too tight. By doing that, you can't prep yourself to rail the turns because you are making the angles of the corners tighter. Lastly, he always starts in front but if he doesn't, he's on his game right away and makes some very important early passes. He made a few of them in the first 2 laps this weekend. He was already leading the race on lap 2. If I was the "others" I would have the video guy of my team just film Roczen the whole time and see where he puts his wheels, where he shifts, where he sits down, where he stands up because that's the way you ride a 450 these days.
Dungey looked as good as he ever has, what did you see from him?
?The diesel seems to be back after a couple below average, for his standards, performances. He had Roczen's speed this weekend even if Tomac clocked the fastest time in the main. He improved drastically in his corner speed compare to A1, where he looked very uncomfortable, and it shows. They might have changed his fork setting since the first race. Looks like his front end is diving way more in the turns now which could be a plus for cornering. Obviously, I don't know what they're doing to his bike and I can only talk about what I see. It was his best ride yet but, now, he has to beat Roczen and stop bleeding a few points a race. He could easily be a race down after 6 races if Ken finishes in front of him every time. That wouldn't be a good spot to be in. He's already 12 points back and his goal has to be to cut to gap to single digit if he wants to have a chance. The championship is long but I don't see Roczen get worse than a fifth even if a crashed on the start…
Broc Tickle had a great finish and is showing he's back to his old form, as a guy that also broke his back, talk about his comeback
?Seriously, with Roczen running away with it and the black gate fiasco, we only saw Broc for a lap… It's great to get in the top 5 after his injury and the amount of riders that are better than him on paper. The RCH team has obviously their equipment dialed in and Broc can focus on the riding and getting better.?
?It's a great performance and ?he can built from that. He also has to bank on the fact he rides with Roczen during the week. He has to open his eyes and learn. I'm sure that already helped him and he has to keep going. Ken is the best rider to have at the track and learn from since he rides exactly how everyone should.
Any other thoughts on A2?
?I'm bummed for Anderson that he couldn't miss Short's bike when Andrew crashed. I think Jason could've had at least a top 5 or better. He's having a good start of the season for who he was in 2014, a wild and crazy 250 rider. He adjusted well to the big bike and I'm looking forward to see what he does in the next few weeks. Then, you have Barcia… Justin, Justin, Justin… What are we gonna do with him? Haha. He started riding good in the heat and lost "it", lost traction and became a bowling ball when Canard became a bowling pin… Justin got passed by Trey and, once again, didn't think, lost his temper and went too hot in a flat turn, taking out Trey in the process. In the Main, he cleaned out Seely in a kamikaze move that could have easily took out Tomac at the same time. Is he a lost cause or is he going to tame down, start shifting, stop clutching the crap of the bike in every turn and start using common sense? I am not too sure but he will still be entertaining at least… But this kind of entertainment, lately, might end up with a black square piece of cloth stapled to a stick…