Here are some key interviews from San Diego…
Here are some key interviews from San Diego…
Photos by Simon Cudby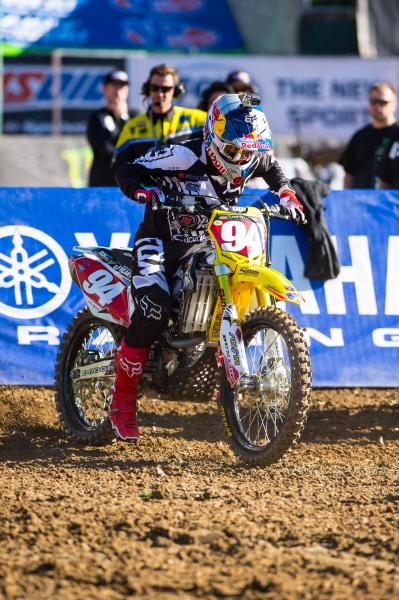 Kenny Roczen got back on the podium in San Diego
Ken Roczen
Nice race. You can't be stoked on getting passed for the lead but still you caught Trey and it was a good race.
Yeah, definitely. First off I'm very happy to get a holeshot. I haven't gotten a holeshot in so long. I got passed by Trey and I kind of needed to find myself on the track. I was kind of rushing things and doing mistakes. I almost crashed a couple times. Not necessarily crashed but I just kept clipping things. After about the 11th lap I started picking things up. I still clipped things a lot and just made some little mistakes, then Trey kind of always gapped me a little bit. I always caught him up right away but then I got screwed a couple of times with lappers.
We love Nick Wey, but…
I love Nick Wey, but I'm going to have a little talk with him. He screwed me up. But overall it was a good race, it was a fun race. I never looked at the pit board or anywhere so then I just saw the white flag, I'm like, dang it, I wish I would have known two laps earlier so I could have put another push in. But congrats to Trey. I think it was a great race. It's good just to be back on the podium. I think it was a solid race.
What'd you think of the move to PetCo and the trick track and all that kind of stuff? I thought it was pretty technical.
It was. At one part no, and one part yeah. The Anaheims have been really big lately and steep and this one was a little bit more normal. But you needed to be patient on that one, that was for sure. But overall I love the stadium. It's way cool. I threw the first pitch here last year actually so I kind of knew what to expect. But the part of the town and the stadium looks brand new and looks super sick. I can't wait to come back here.
How was the stuff after Oakland? I thought maybe last week after smashing your face and the wrist maybe that was a little bit of the reason why you got 4th, but how are you feeling now?
Ending the race day on a bad note is never good. Up until then I felt like I was crushing it. I was confident. Never made a mistake and then there was that dumb one brain fart. But it is what it is. I'm just trying to come back from that, really. Trying to get confidence back. Tonight was definitely a fun race to be able to get confidence back. I'm going to have another good week and just try to find myself again and do what I did in the first three races.
How about the qualifying lap? You literally taking on the very last lap the top spot. Is that something you planned to do?
Yeah. I did a few laps and they just weren't right I noticed. Then I looked up on the board and it was like 20 seconds to go and I was three-quarters of the track. So I kind of pinned it so I could do another lap, the last lap. I actually didn't think that that one was going to be the top one, but it was. So it's good.
****
Chad Reed
You're very good here, you've won a lot here. Maybe the change in venue was what we blame it on. I think it was the same dirt.
Honestly I felt good all day.
You were on the board, looking one of your better practices.
On the board, off the board. We had a good solid day. Honestly the night program wasn't terrible. I made a mistake in the heat and threw it away. Had to go to the semi which kind of sucked because I ruined my streak of not having to go to the semi. I think the last time I went to a semi was, I think you were on the team. Was that '03 or '04 when I broke a tranny in San Diego? I think that was the last time I went to a semi. So that was a bit of a bummer.
Can we talk about you hitting your teammate off the track?
That sucked.
There's some angry people on Twitter again. It wasn't dirty, it was a total accident and you barely touched him and it sucks, but you know how these things go.
Does it not seem like they react to things with me more than others?
Well you've been doing this for 15 years.
I just have people that are going to love me or hate me. It is what it is. I haven't been on Twitter yet, not that I care to be honest.
People want the black flag, they want this and that.
I think in any normal case you don't feel that bad about getting to the inside and making a little contact and coming out the better end, but when it's your teammate and you're both in position…
The best one I heard was that your nac-nac over the finish that you won was because you were celebrating that you knocked him off the track.
That fool wins I guess. Obviously Josh and I talked about it. He's bummed but he wasn't mad at me. From my side obviously I triple, triple, tripled and he missed the last triple, and I was committed. And he protected his line. He did everything he could or should do and unfortunately we just met. I had momentum on my side, so it was a bit of a bummer. He made some pretty big adjustments today bike-wise, so he was pretty positive about. He was like, hey, my bike's way better but I'm still getting used to it. So maybe going and doing more laps… But I can honestly say I've never watched a last chance and just wishing and hoping that JG got the holeshot and was clean. I was like, please JG get a holeshot and make this happen. All in all I was 4th and JG got his best position tonight. Did every lap, crashed in the first turn out here and came back to 12th, so that's good. We made progress today.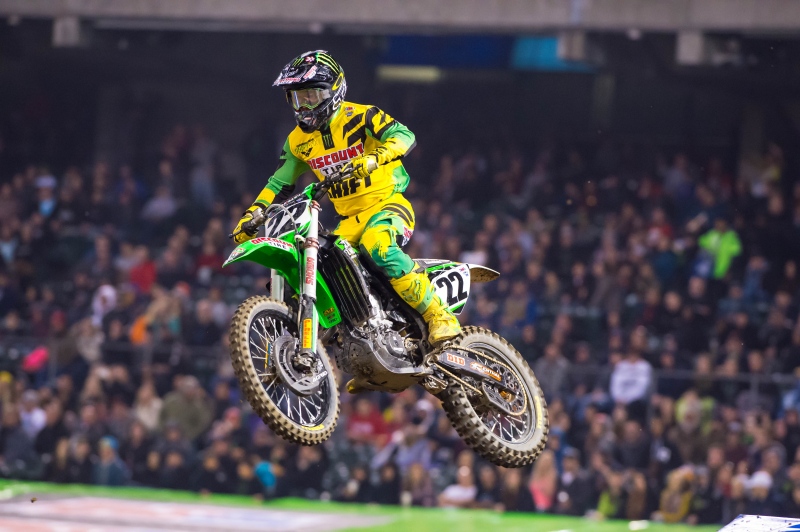 Reed was fourth in the main at Petco.
For your race in the main, it's hard. You lost the tail of Dungey and you had a big lead on the guy behind you. So for you it's probably tough to keep intensity up.
Yeah. The track started going away pretty good. It was getting rough. I felt like I didn't adjust to that. I kind of had a little bit of a, maybe 3 or 4 laps where I was kind of just banging off the laps, banging off the laps, and felt good. Dungey and I were actually starting to take a little bit of time out of Kenny. Then I just made a few little mistakes. When you make a mistake you try to make it back up. I just didn't adjust. Then Dungey kind of got to a point where I knew it was too big of a gap. So I just kind of looked and I saw Eli there and just kind of pretty much used up that time. It took 3 seconds out of me one lap when I got held up by Albertson pretty good. But other than that, it was funny. Eli tried to hook me up pretty good tonight. My $3,500 foot pegs, he broke one.
It was a little of a quick move on his part I thought.
He was mad I think just because I want to say that somebody in front of me got to his inside and kind of held him high on the berm and that allowed me to get in there and make a pass. So I turned on the inside and then obviously tried to make the pass happen. I think he didn't appreciate me trying to get in or whatever. But it's funny. We're getting to the fun part of the season when people that want to be in the championship hunt and they're not really in it, they're starting to show frustration. I think that you can see it. He's a long way up there and has a good shot at this thing and threw himself on the ground just trying to make a dumb ass pass. But for me it just proved once again that you've got to be there at the beginning no matter who these guys are. And as talented as they are you got to push them around. Probably Twitter guys might be that much happy with me when I start making passes that you've got to make. They're not scared to make passes like that on me. I don't care. I've been black flagged once so I can be black flagged more. Championship's over for me.
What about this new venue? Obviously you had a lot of success in the old one like we were talking about in the beginning, but what about the switch here?
The venue seemed fine. It's downtown which is nice, the airport's closer. Seemed like it took us five minutes to get there and listening to my crew complain all day. I think they're going to have to have the week off just because they did so much miles today. All in all we're in downtown San Diego. It's probably good for Supercross.
We had a pedometer. I walked 13 kilometers.
These guys probably worked more than you, especially when we were going heat race, semi, last chance. These guys were pretty beat. But for me it's nice. I think any time we can put Supercross in a downtown area like this it's cool. But in a perfect scenario I'd prefer to be at a football stadium.
*****
Trey Canard
That's a way to win a race – catch the leader, pass them, and then withstand a couple of advances too. He's all over and you pulled away at the end. Got to be a great feeling.
Yeah. I was really pumped, man. It was a tough race. I was really happy that he didn't get away right off the bat. He's been really good at that this year. I wanted to attack him right away. I tried to get a good flow and I did for probably about 10 laps, then 10-15 was not super pretty. Once he was right one me I had to step it up, and that was pretty much the end. I was really happy. I've been really happy with the bike and really no complaints.
You've been in this position. It's always easier to be the chaser than the chasee. He can see where you're going, you're by the lappers first. That's a pressure-filled spot for sure.
I'd much rather be there though than behind 2nd. Especially on a track like tonight, it was tough to make passes. I'm just really excited.
Track got broken down pretty good. I saw some lines that you were changing. You stopped going triple onto the table, and probably just ruts and things like that?
Actually that one was rutty and then it got so shiny I was getting wheel spin all the way up the face. I kept not getting a kick but I was wheel spinning so it was kind of wanting me to throw my front end down. I was going super slow in the turn and trying to set up too much, so I just started trying to double double.
Tricky track a little bit, right?
Yeah, it was technical. There were a lot of obstacles on it. Definitely tough.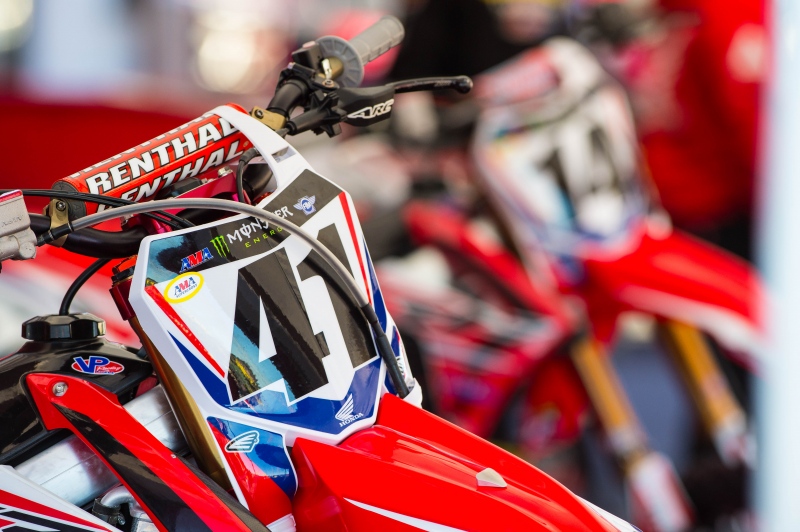 The #41 won his second race of the year in San Diego.
I think he might have maybe got by you quickly, briefly right on the start straight in the first turn. Did you see that? It looked like you could have saw his fender for sure but then you kind of regrouped and ran around him.
It's crazy what you can see in the race. For some reason I would see in the screen and I'd see him… It's weird that you can see that, but it was there.
As far as Dean, your trainer's here. Timmy's not. Maybe Timmy doesn't go anymore and Dean goes to all of them?
Yeah, Timmy had to take a break from all the M&M's. Dean definitely filled the position tonight.
We talked about how that one win in Oakland really gets your confidence going, now this other one beating Kenny who had won two races. Now you put yourself tied for the most wins in the series. You're going for this thing. It's now yours. You can see where this is going to go.
It's such a great group right now. There's five or six of us that are still in it. A lot of racing left. Just got to take your nights when you can get them. I think tonight was a night where I was feeling good and wanted to capitalize on that. And then the nights where you're not feeling good just try to do the best you can and just try to be smart.
Nice getup, Captain America, Fly. You've got to be stoked on that. It looks like your Des Nations stuff that you're probably supposed to wear.
No comment (laughs).
Military appreciation, I saw you go out there and thank all those guys. That's cool. You've got to be stoked a little extra.
I felt kind of goofy. I started out thinking there was five or ten of them and then I looked down and I was like, there's 100 of these guys.
I thought it was really classy.
How many times do you get a chance to look our service men and women in the eyes and say thank you? So that was a big privilege.
***
Shane Mcelrath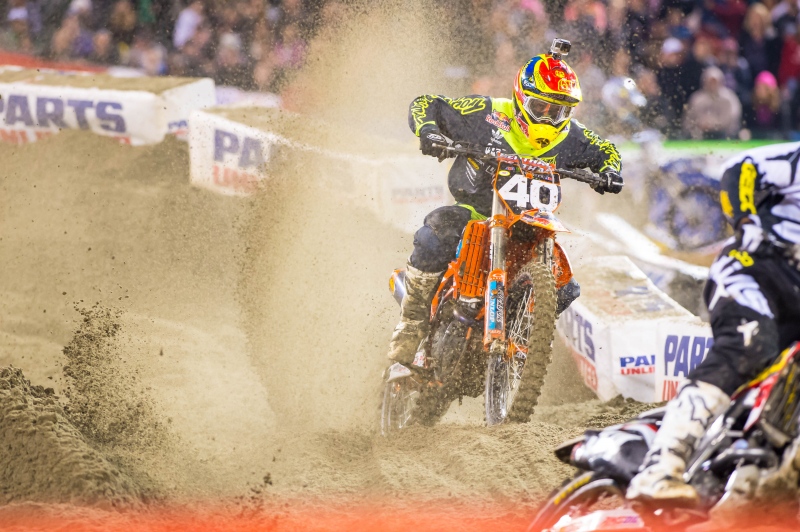 Three heat wins and now a podium for McElrath this year.
I've been trying to find you all year because you've stepped up your game this year, there's no doubt. Before we get to tonight's main event, you won your third heat race of the year today and you hadn't had a box yet, and you probably were getting pretty frustrated. If you could win a heat, why can't you get on the podium? Probably pretty frustrating until tonight.
Yeah. I won my first heat race at A2 and it felt so good and then to lead another heat race at Oakland it was like, man, I like that feeling. Tonight I felt good in practice. I was pretty consistent but my time wasn't really good, but the best I've rode in practice ever. I knew I just had to clean a few things up and I knew the track was going to be better in the main. I just came out for the heat race and just focused on getting a good start, and then after that just hitting my lines and charging. I ended up winning the heat race and then I just really focused on a start in the main. I knew that I needed a start. That's where I've been messing up is my starts in the main.
Once you get the heat race win, you're full of confidence but at the end of the main, you're 8th or whatever…
It was definitely frustrating. I got two 6th's was my best before tonight this year. My riding has been pretty good, I just have came from behind every time. I was pretty frustrated and just really wanted to get on the podium, and to do it right before the break feels good.
In the main event things got tight. You could have grabbed the win there. Bowers kind of gapped you guys; you guys caught him back up. At one point it was looking like you could even grab the win, but still a great ride.
Kind of I guess let it slip away a little bit just because I wasn't really sure what I was going to do. I've never been up there. I was like what can I do if I do this? After I got by Bowers I just tried to keep pushing to Cooper. I made a few mistakes and he pulled me a little bit, and then the white flag came out. Last lap I was just like all right, just hit everything and finish 2nd and we'll build off that.
Tricky track a little bit. I thought it was pretty technical for you guys.
It was definitely a good track for racing this weekend. There were quite a few different options that were kind of close in time. It made for some good racing but it was also pretty fast so everybody was going pretty good. But it was awesome.
There was a big Club MX battle going on behind you with Zach O and Alex Martin, but you were top Club guy tonight.
Nice, I like that. I know they work hard. I miss hanging out with them all the time and training with them but hopefully I'll be back there soon.
You're still in the club though.
I claim it.
Congratulations. You and Jessy have really been killing it, this team. Switching to KTM's it looks like you guys are even better than you ever were. So good vibes over here, right?
Yeah, the bike it's just set up so good this year. We really figured out my setting at straight rhythm and that's kind of what was holding me back last year too because I didn't know what the bike was supposed to be set up like. That was my fault. Then we worked on some stuff at straight rhythm and got it set in. We made maybe two or three little changes from now until Supercross. It's been so good since that we've just been building and building every day, and now it's like, finally!