Some thoughts on the speedway race and the second round of the GP's
Some thoughts on the speedway race and the second round of the GP's
Old Daytona or new Daytona? What do you think is better for yourself and then better for the sport? What did you think of the track in general, Reed called it the best Daytona track in years
I'm a fan of the old Daytona. I've raced both and for me, Daytona is a 30 minute main event (or longer!) with 90 second lap time and 30 guys in the main. I'm not sure what's better for the sport but at least it's on live television now. It wasn't back when it was a day race. The track became more supercross-ish in the last 10 years and with the change of track builder. There's also more maintenance on the track nowadays. Everyone started with a fresh track for the night program. In 2000, my first Daytona, the track was rougher in the heat race than this year in the main. I thought this year the track was very fast with a few high speed sections. The section before the finish almost scared me it was so fast.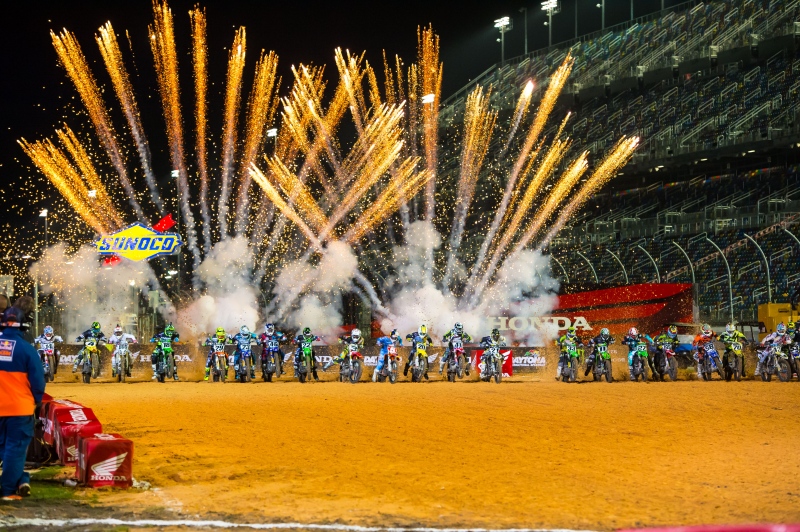 The 450SX main event takes off at Daytona.
By the time the main came back in the day, it looked more like an Enduro-X than a SX. Maybe it's better for the fans and TV today though instead of having the best riders in the business struggle to jump a 3 in a rhythm section. and ride at 10 mph around the track. It became technical in the main Saturday but there wasn't much to it if you look closer. There was a lot of flat sections where, back in the day, Gary Bailey would dig holes everywhere to mess with us. There was only section like that between the 2 big triples and it was short. The track gave us some good battles and, at the end of the day, that's what we (fans) need.
Andrew Short and Weston Peick both ran up front for a while before going backwards for different reasons–would you be ok with this from a team manager perspective or would you rather have them work up and finish where they did?
First off, I know Peick has a knee issue and Shorty got little sleep and coming off an illness. But they're out there racing and therefore, able to be judged. Andrew led 7 laps and then lost 46 seconds on the winner in 13 laps. When Peick got into 2nd on lap 9, he was 4 seconds behind Dungey. He stayed 2nd for 5 laps and lost 2 seconds a lap on Dungey in those 5 laps. From when he got to 2nd to the finish line, he lost 25 seconds in 11 laps on Dungey. What manager would be happy with the stats of those 2 guys? In Atlanta 2, Peick led 5 laps. He went ahead and lost 9 positions and 46 seconds in 15 laps on the winner. OK, he crashed and lost 13 seconds in the process. Take away 13 seconds from his time, he would have been 33 seconds back from Dungey in 15 laps and would've gotten 8th. That's not good. The MX forums and the social media sites are going off with Peick lately because he made a sick scrub to pass Reed in Atlanta but when you analyse the stats and watch the race, the media and the fans online might not watch the same race as me… Let's not take Daytona as an example because it's not a real SX and times fluctuate a lot due to the track.
Let's take Atlanta 2. Weston clocked 2 laps in the main in 55 seconds. It was on lap 2 and 3. In comparaison, Dungey who won and Tomac who got 2nd, clocked 12 laps in 55. In those 12 laps, Dungey even had two 54.9. When I break down all the stats and I hear/read everyone saying Peick is gonna win a race this year, I am shocked and think you guys really need to buy prescription glasses or surf the internet on the AMA SX results page instead of being delusional on the VitalMX message board. The bottom line is that he has glimpse of speed he needs to be in front but his fitness isn't there. With his fitness today, he can only win a 6 lap heat race…
Most people thought J Martin would win and he was fastest in practice but Musquin ran away with it even though you wouldn't think his style would fit the track. But in a way it did because Marvin made little jumps out of the bumps…what did you see?
I've called it on my french column on LebigUSA.com. I said if Marvin rides like the real Marvin, he will crush the competition. Yes, J-Mart is super fast outdoors and can pin it. This is not an outdoor track in Daytona though. It's different. Marvin has more riding technique and race IQ than the whole 250 field combined. Marvin was fast, smooth and evolved very well on the track when it became trickier. When he starts in front like than on a technical and sketchy track like Daytona, he's almost impossible to beat in this class. I think Martin and Bogle have more of a chance to beat him on a easy supercross track where technique doesn't play a huge factor.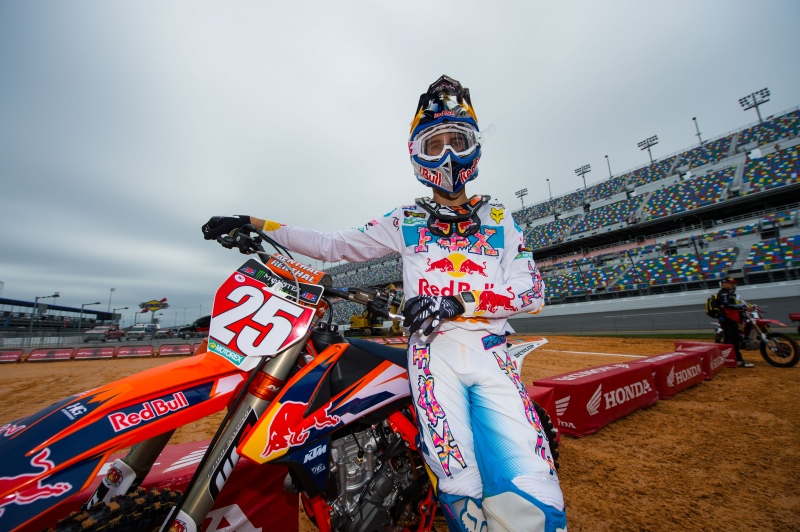 Musquin won Daytona going away and extended his points lead in the 250SX east series.
As far as Daytona goes, it was pretty cool to see Musquin ride and find technical solutions to be fast and smooth. Jumping through the whoops was great. Bogle did it pretty good too but Jeremy couldn't do it as nice as the other guys. When the whoops got sketchy, he kept skimming them when jumping in and out was faster, smoother and safer. Mark it down, if Indy isn't too rutted and everyone jumps the same things, Bogle and even moreso Martin, will give Marvin a run for his money
Two weeks in a row Reed's made a mistake when the race lead was right there, is it a left-hand turn thing?
A left turn thing? Seriously? Left turns are the easiest turns in dirt bike racing! I think in Atlanta, Chad had a brain fart and wasn't focused enough when he caught his front wheel on the inside of that rut. It happens to the best of us. In Daytona, he changed his line to pass Peick on the outside but he didn't know that there was no rut, just a small sand berm. He opened the throttle like it was a deep rut but the berm went away. Those are 2 mistakes that are understandable when you see the footage but cost him two podium finishes for sure. He obviously knows he can run up there. He will be there again this year with a little more concentration and patience. Dungy could have made those same mistake in the first 8 laps he spent behind Shorty. But, he was patient, got used to the track and put the hammer down when he felt comfortable. On a track like Daytona, when you transfer from the heat race when the track is decent, when you get to the main it's like riding a totally different track. Ruts are everywhere. What was good in the heat race might not be good in the main. It's why I really liked Dungey's approach in the main.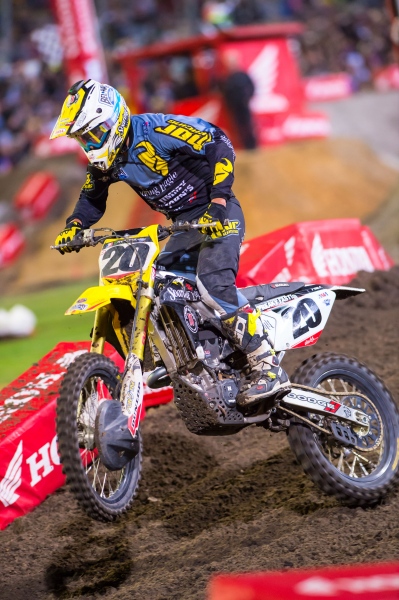 Tickle went down in the first turn with Canard and roared back to get into the top ten.
Broc Tickle, from 22nd to 10th and fastest lap of the night!
I was obviously pretty surprised when I saw Broc had the fastest time of the race. Pretty unexpected. Great for him though. He's having a good season despite poor starts but has had some good races/rides. I would love to see him start in the top 5 to see how he can match up directly against the big guns of the class. It was a good surprise to see someone different step up and clock the fastest time, especially in Daytona. Now, we'll just have to get the Goat to show him how to let the clutch lever go.
RV won Thailand, big change in a week…thoughts?
Big change for sure and impressive performance! He was fast from the get-go on Saturday. Obviously they've done their homework during the week in Belgium or Holland. Like I've said last week in this column, despite the 9-8 Qatar score, he wasn't as far off as everyone thought. Again, I analyse results sheets way too much. That's what happened when you have nothing to do during the day! In Qatar, his bike set-up was horrible. From what I saw on TV in Thailand, his forks were actually moving this weekend and he was cornering more like one of the greatest rider this sport has seen. Still, he's not quite there yet but he's on the right path. He will have to keep going and accept, even if in his mind he thinks it won't work, to ride with a bike that he would feel is a GNCC bike. The track in Thailand was once again horrible. It wasn't the same track as last year which I thought it was. It was sandy and US-like last year. Last weekend, it was once again a track like Lake Elsinore in SoCal. I feel bad for the riders riding that type of tracks. It can't be fun.
Obviously, I don't know the track they will race in 3 weeks in Argentina but after that, they go back to race in Europe. Italy will be the first Euro round of the season and it coud get hard and have rocks. Then, the tracks will become better for RV and he will be able to express his riding style even more. I really don't worry about Ryan after what I saw in Thailand. He showed us that he understood he had to make some changes and won the GP. It's very promising and cool from a champion like him to make changes and ride with something he doesn't really know nor even thought about trying. At that point of his career and racing another championship, it will be all about open-mindness and learn this new chapter just like he did when he turned pro in the US. He just has to do it in a few weeks but after this weekend, it might just do that and impress us once again