Some major players from Indy give me their thoughts
Some major players from Indy give me their thoughts
Chad Reed
What's up with crashing? Three weeks in a row.
I'm hoping in an hour I'll be more mature (it was Chad's birthday the next day) and I will no longer crash.
One of those things, you come around and that's it for your night, right?
It is what it is. For me I didn't anticipate Josh stopping. Josh was on the inside and from where I saw he was in perfect position to control Peick and Tomac and unfortunately chose to stop and I just didn't anticipate that. I had nowhere to go and ran right into him. That was a bummer. Had to come from last and got back to 9th. But my riding felt good. Felt like I kind of did a few different things on the track. It's too tough out here to go down and not give yourself a chance like that.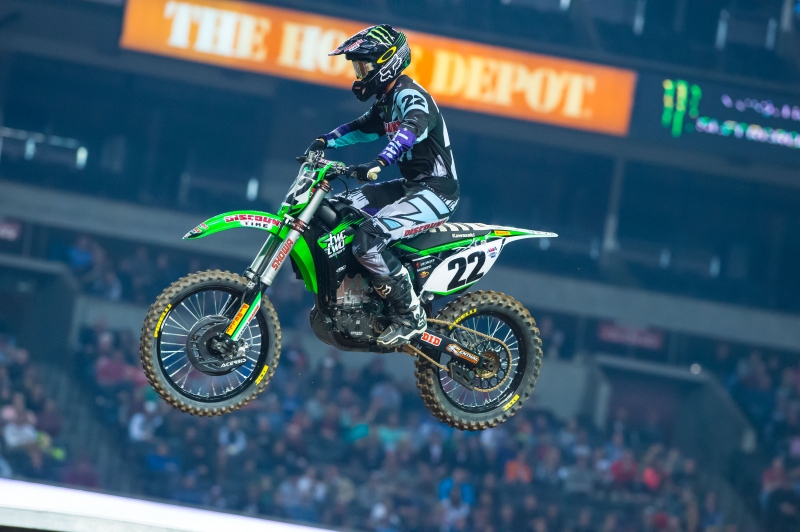 Reed came from last after a first lap crash to put it into the top ten. Cudby photo
The track got beat up.
It was tough. I liked that. It's nice to go east coast and actually ride some ruts. It was fun. Like always, they drop the gate again in 7 days and we'll see… I just need to give myself a shot at this thing. I think a good solid first lap I think I can have a shot at this thing.
I feel like you're throwing away some podiums. You're riding better than you beginning of the year you're just kind of tipping over.
I struggled a little bit today in practice and stuff but I think once the lights came on I felt more comfortable. The bike was fine, it was just me. I don't know why. I struggled with some of the sections and had to adapt to the lines and things like that. Once I did that I was fine. It was a bummer. Three crashes in a row. I felt like I had shots at the podium every time. I would try to turn it around for next week.
Did you think about that triple before the finish like we talked about?
I never, ever think about it. I think I had a better chance of quadding it than I did tripling it. I think that had it been a practice track and there's no bales and you could jump it off, I really believe that only in the main event you could have went around the outside comfortably. I bet you could on a practice track sit into it and actually quad it. But I would never triple it.
***
Roger Decoster
Three weeks in a row your team has won both classes, you and KTM are on a roll.
I feel like we are on cloud 9 right now. Like I told my guys already, we better enjoy this because runs like this don't last forever usually. I'm just thankful that everything is rolling our way. The riders are really happy with the bike and I'm really happy with the riders. Everything is going good for the moment. Need to keep our feet on the ground. We all know what can happen in Supercross. Injuries are part of this game and we just need to try to stay out of trouble.
I know from people that worked with Ryan before he changes a lot, he's always changing the bike. How is he on the new one? Is he happier because he's leaving it alone?
He is like a new person. It's a combination I feel of many factors of why he's like that. One is our bike is definitely a big step forward, but also working with Aldon (Baker) has given him confidence. Ryan always had fitness but now he is convinced. He's on the top of his game. Personal life, everything is in order. It cannot be any better.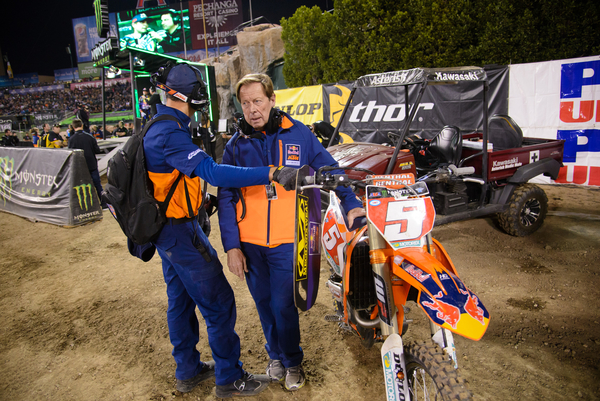 Roger DeCoster's Red Bull KTM team is on a roll right now. Lissimore photo
I think the new bikes look fantastic. Could you put a percentage on how much better they are?
It's tough. It varies, how much better they are probably varies depending on the condition also. But I feel it's a pretty big step. Engine is really good, chassis is good, suspension is good now. The riders have confidence. Clutch works good. There's no really weak point on our bike and it's pretty versatile. We basically have been running the same settings every race, maybe a clicker or two on the suspension one way or the other, but it's very, very close every week.
This is like your Factory Honda days when you were rolling out RJ and Bayle and Stanton.
Yeah, it's like the early to mid '80s. I feel fortunate to be able to be part of a run like this.
I don't know Marvin's contract situation but he gets moved to 450 next year. Will it be with you guys?
I hope so. We plan to offer him a deal for next year. It's really good to see also how well him and Ryan work together. They help each other, they talk. After practice they talk about the track and they spend a lot of time during the week now also because they both train at Aldon's. It's always good when you have teammates that get along good.
I had heard from other teammates with Ryan that he wasn't always open to watching film with them and things like that, back in the Suzuki days. So maybe he's coming around too that way.
It's like I said earlier, Ryan is a very much different person. He really grew up over this last winter big time. His confidence is there. Even like last week in Daytona we didn't look so good lap time-wise after the qualifying but when he came back… If that had been before it would have been very difficult. He came back and he said, don't worry, I feel good, my bike is good, my setting is good. I can do it. And he did. It's a good feeling when your rider has that confidence and you're not trying to figure out what could we do to help.
Last question about Villopoto and the GPs, what's your take after two races?
I don't think that round one was a reflection of his riding. I think it was a substantial issue with the bike. It's his first race over there and the bike stops before the gates drop. He's going to be in the championship, there's no doubt.
****
Trey Canard
All things considered, good night for you.
It definitely could have been a lot worse. Didn't start especially great but leaving with a podium is good. Just still bummed. It's hard to race in the back with a bad start.
You crashed pretty good in practice and then you came back to get the second fastest qualifying time, which is very impressive. But then in the heat race again it kind of didn't go your way and you didn't get a good gate pick.
I really wanted to get that gate pick out of the heat race.
Did you just blow the start?
I blew the start pretty good. I still had a decent start though but Seely kind of lost the rear and it went right into my front tire and just went down. It was hard tonight in the back. It was a pretty big difference in speed.
It was really a race about just trying to make the least amount of mistakes, with the track and everything.
It was a tough one, really tough. A lot of ruts and a lot of edges.
How about the triple out of the turn before the whoops? Nice job on that.
Yeah, I was kind of waiting for it all day and never really had the opportunity but they prepped it up real nice for the main, so it worked out.
One of those nights where you know if you had gotten a start you could have won and maybe a little more frustrating than that, but at least you know that.
I feel like I've had several of those nights this year. Everyone's told me their two cents and I've tried about everything I can try. I'm kind of at that point where it's like maybe I just don't even practice this week.
There's that, the more thoughts in your head, the more things you're thinking about, just the old adage about just forget about everything and just go start like you know you can.
The problem is you get so confused you don't know how you start. Did I start? Have I ever started?
Your practice crash, you got up pretty quick. It was scary though. I thought you might be down for a bit but you got a little lucky.
Yeah, I definitely thanked the Lord. I got ejected from the bike and went about 15-20 feet and landed straight on my shoulder and popped right back up. It's always good to get away from a big one.
For sure that's that qualifier a guy's ever done with no visor. That's got to be a record.
I had to take it off because it was just going to flap.
Your bike was super bent up so you pull in, Brent, who was sick by the way all day, good job by him today. Did he just straighten your front end out and then it was good?
He tried but it was pretty tweaked. So I rode kind of a couple laps and then got used to it a little bit and then just tried to throw down the hammer.
Last week was a great ride but again coming from the back and you were super fast again tonight. Let's not do that I guess next week.
No, I'm going to try not to. If there's anything that I can't be bummed at is the effort. We've done everything we can do. We'll get the right ingredients one of these weekends. I think I'm going to be a really great starter after all this happens. We've tried about everything there is to try.
Dan Betley team manager sick, Gothic Jay filling in. How was his performance?
Captain, man. He was on fire today. He just walked in and he knew… He just reeks of a lot of great qualities.
The guy's named Gothic.
He's officially Captain now.
***
Weston Peick
Ran 3rd for a long time, Canard was on it and got you, 4th place. A good night though.
Definitely. Canard's riding good. I was obviously running 3rd for about half the race, a little bit more. I'm just feeling comfortable. Every single weekend I'm feeling better and better on the bike and the whole JGR team and everybody's just been killing it and making the bike better every single time we're on the track. Like I said, I'm feeling better every single weekend. The fitness is getting better. More and more laps every weekend I'm finishing. I keep looking forward to next weekends and getting up front.
Are you on your regular practice program with your knee or foot?
Yeah, for the most part. We're missing one day right now so we're backing it down to two days just because the recovery's playing a point and stuff like that. We bumped it to two days a week on the bike and I think here in the next couple weeks we'll bump it back up to three and get a little more time on the bike.
Did you try to make a run at Canard back at him when he got you?
I did for a little bit. He kind of pulled me a little bit and then I made a little bit of a spurt back at him and then ended up cleaning out this whole rhythm section, probably moved every jump about 5 feet. The old Weston Peick for one lap definitely came in play and just blew everything and he ended up pulling back on me. I just kind of ended up running 4th and just finishing there. We're close every weekend and we're looking forward to the future.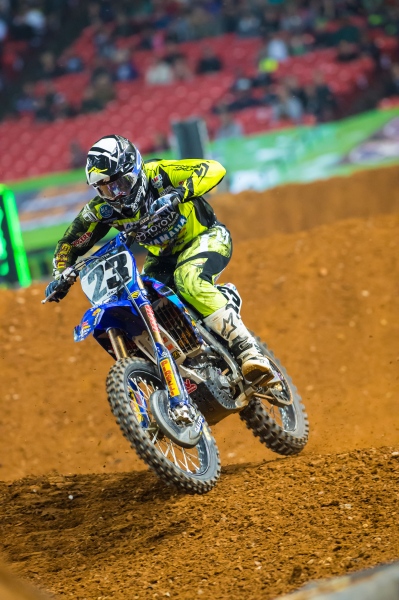 Peick tied a career best with a 4th in Indy. Cudby photo
When he got by you was there contact?
No, I OJ'd over the triple and shot right and he just tucked underneath the inside.
722 made the main.
He made the main and actually I went over there earlier today before and I was like, if you make the main I'll buy you a set of Timberland boots because he likes my boots I'm wearing. I was like, if you make the main I'll buy you a pair of Timberlands. And he makes the main and I got to buy him Timberlands. So I guess every weekend from here on out I'm going to have to just bribe him with buying him stuff and he might pull his head out of his ass and actually make it to the main.
Did you lap him in the main? I think you did. He said he had a clutch problem.
I lapped two or three times. The first time I lapped him he got in my way which pissed me off. We had a talk after that.
You won a heat race!
We won the heat race. Definitely got off to an awesome start. I had the holeshot and then spun out a little bit and ended up getting the lead in lap 1. Just ran my race, felt good and finished in the top position in the heat race.
You're super gnarly, you're Weston Peick, we know that, but did you get a little emotional about winning a 450 heat race or are you just one of those guys like whatever?
I'm not emotional. I can't cry.
I'm not saying cry, but dude, that's gnarly!
It's just a heat race, it's not like a main event. It's pretty gnarly to win a heat race but still, that's what I train for during the week and that's what the team busts their ass for to make sure that we're doing, is winning heat races and getting the bike out on the podium as much as possible for sponsors.