What's happened to Pro Circuit and how do they fix it?
What's happened to Pro Circuit and how do they fix it?
Hammerhead Designs was launched with the intent to provide new and better parts and innovative accessories for motocross bikes. One of our goals has been to design entirely new and unique products with improved ergonomics and the shift lever was the first part that we felt could be dramatically improved by providing a feature that would allow for the shifter to be repositioned to perfectly suit the riders size, shape, and preference.
Photos by Simon Cudby
It seems weird to think that Mitch Payton's Monster Energy Pro Circuit Kawasaki team is not THE powerhouse 250 team in the pits anymore. For basically all of the 90's and 00's, his riders were the favorite in every series they lined up for. He had built a reputation for having the best bikes and signing with Mitch meant that you were serious about winning. That reputation paid dividends for both Mitch and the team as he would get riders at a discount from what other teams were forced to spend. Riders just knew that their best chance for a championship was under Mitch's tutelage. There was no arguing that fact. Everyone just accepted that the PC bikes were the best, Mitch had the best program, and they won championships. Times have changed.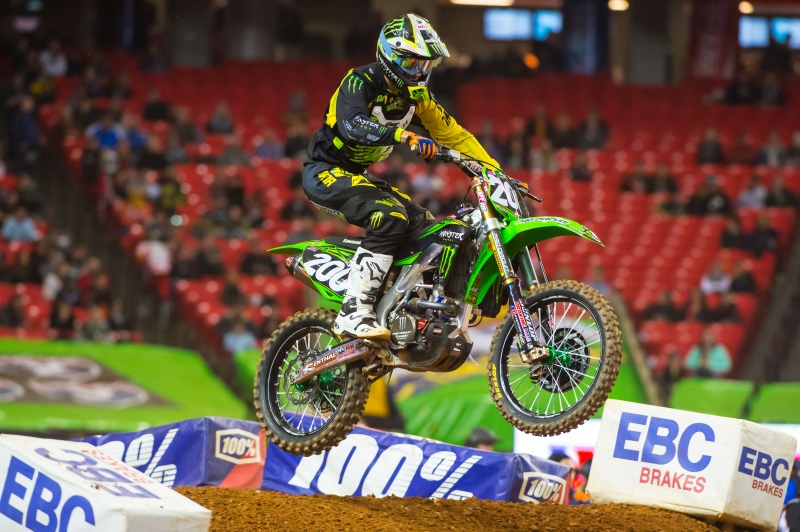 It's early but so far the Arnaud Tonus signing hasn't worked out like Payton and Kawasaki thought.
In my opinion, the catalyst for this change was when all of the major teams developed their own engine programs. Before this move, most would depend on Pro Circuit to build engines for them. The engines delivered would be very good, of course, but only a fool would think Mitch is shipping out equipment better than his own. Taking that fact into consideration, that meant that in every race, the Pro Circuit team riders would have the fastest bikes on the track. There were exceptions to this but for the most part, this was the case. GEICO Honda was one of the main customers in Pro Circuit's engine game and when they decided to go on their own, it marked a big change for the dynamic of the class. Whether or not it was coincidence is left to opinion but their results certainly improved. Riders like Justin Barcia, Trey Canard, and Eli Tomac all came to the forefront of the class at this same time. They won championships that would normally be reserved for the Pro Circuit boys in green. While the engine package change was significant, there was also another factor.
GEICO Honda not only changed their motorcycle modification arrangement, they upped the aggression level on their hires. For decades, Team Green has been the overwhelmingly most powerful amateur program. From Jeremy McGrath to Kevin Windham to Ricky Carmichael to James Stewart, they had every up and coming champion riding Kawasaki's. They would bring them right into the pro ranks and keep them riding green in almost every case. At Loretta Lynn's, Mitch would go take his pick from the young up and comers, signing them to a Pro deal. Everyone wanted to be on Mitch's team so he got who he wanted. That was just reality.
Geico Honda, seeing that they needed to make a change, decided to rewrite the script. They deduced that they could get to a phenom early in their development, sign them to a 3-4 year deal and that would carry them right into the Pro class. It was a big chance to take signing these kids to lucrative contracts before they hit puberty, but it was genius. Geico was willing to invest in kids early, knowing that it would return titles down the road. Mitch's desire to wait until they developed was leaving him late to the punch. Couple that with the other teams' willingness to spend more money and you can begin to see a shift. Riders began to see that you could win on another team besides Pro Circuit. Sure, Mitch still had a stellar program and was more than capable of winning, but it wasn't the only option. Taking an early deal for more money no longer meant that the results would suffer. More teams were up to par and able to win. The field had become more level than ever before.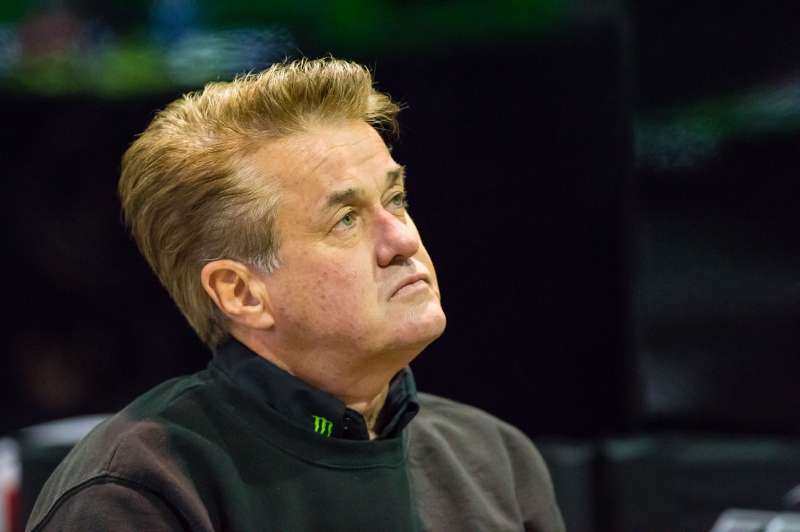 This man hasn't been able to put a number one plate on his wall for a while now and this doesn't make him happy.
In 2005, they lured away Trey Canard away from Kawasaki and that delivered both a 2008 250 East Coast Supercross championship and a 2010 Outdoor National Championship. They have since gone on to nab tomorrow's stars like RJ Hampshire and Jordon Smith in hopes of continued success. It's a fundamental difference in approach and a successful one thus far. Not only has Geico been upping the ante, Yamalube Star Racing won their first championship last summer with Jeremy Martin. The duo of Cooper Webb and Jeremy Martin constitute Yamaha's past and present investment. Both Geico Honda and Yamalube Star Yamaha are poised and ready to fight Mitch's riders at every turn.
The big question is: How will Mitch respond? He has his great white hope in Adam Cianciarulo who has been a Pro Circuit Kawasaki rider since practically birth. He is the remedy that can restore calm to the ranks. If healthy, AC is capable of winning every race he enters. Unfortunately for both team and rider, that hasn't happened as of yet. Behind Adam, there are indeed Kawasaki riders on the horizon, waiting for their turn. Riders like Mitchell Harrison, Darien Sanayei, Austin Forkner, Garrett Marchbanks, and Jett Reynolds are in their own developmental stages. Kawasaki has them and they are winning on green. The real conundrum here though is, will they stay on green? I have no doubt that there are sharks circling. Teams are wooing riders daily, promising big paydays and long term deals. Mitch has voiced a reluctance to jump into that high stakes game but rightfully pointing out that the amateur end of things is Kawasaki and Team Green's deal and not Pro Circuit's.
If he wants to win, however, he may not have a choice. The times are changing and to succeed, everyone must change with them. Strategies evolve, approaches improve and success follows. Who will land the next crop of superstars? Will Geico Honda continue to be the aggressor? Will Yamaha's support system breed more winners like Webb and Martin? Will KTM's recent Orange Brigade development be just what they needed to lure in the talent? These are all questions that Mitch Payton faces as he works towards championships. He hasn't won a title since 2012. That can't sit well with the most successful 250 team in history. The next chapter is waiting to be written. Who will write it?