From factory amateur rides to being on a TV show, we cover it all.
From factory amateur rides to being on a TV show, we cover it all.
Photos: Simon Cudby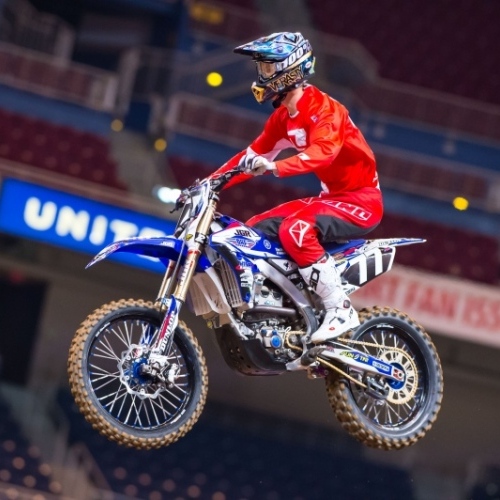 Starling's best finish of the season was 12th in Detroit.
Justin Starling is one of those riders that won early and won a lot in his time as an amateur prospect. After his first ride on a dirt bike at age four, which ended head on with a tree, Starling's love for motocross had started. He was picked up by Cobra in 2000 and would go on a run the next two years and would accumulate 22 titles for the brand. He would end his run with Cobra by winning the 51cc 7-8 championship at Loretta's in 2002.
Thus begun the rollercoaster of support rides for the Deland, Florida rider. He would immediately sign with Kawasaki's Team Green program, then switch to Suzuki and Honda support programs. In the midst of all of this racing, the Starling's single handedly brought motocross to the top of the reality TV charts. His family was featured on Wife Swap, and it's something that he will never be able to live down.
"Sometimes people will come up to me and ask if that was me and I will be like no dude, wrong Starling." Starling said. "I might even come up with a butt patch that says 'Wife Swap Kid' one day, just to bring it back."
When it was all said and done he had won amateur 42 titles. Two of those had been from Loretta Lynn's.
"I think the best one was at Mini O's in 2010. I won three titles that week, one in the pro class and two in Four Stroke. My worst finish of the week was a third and I won the Ironman award," Starling said.
Starling was then again signed by Team Green to contest his final season in the pro class. He would win a few more titles and head into Loretta Lynn's as one of the favorites to win the pro class championships. His week didn't go as he had planned, as a bike issue in the final moto would ruin his chance at a title. Justin still had two podium finishes that week.
After his final showing at the Ranch in 2011, Suzuki City approached him about riding for their team in 2012. Starling signed a two-year deal and he was one of the lucky few to make it out of the amateurs with a team ride. Or so he thought.
"Two weeks before Dallas they pulled the plug and left me with no bikes or anything. That was kind of a disaster," Starling said.
Starling was forced to sit out of the Arlington round, but would find some luck a few days later. That season the AG Motorsports KTM team consisted of Gannon Audette and Tyler Sjoberg. Both riders had gotten hurt in Arlington and Starling was given a call to fill in the next round in Atlanta. He took the ride and he was able to finish out the year with them. The downside of the deal was that Starling spent a lot of the season on the sidelines. He crashed in Indianapolis, hurt his knee, and put him out until the last four outdoor rounds.
For the 2013 season Justin put his own deal together and he would switch to Honda.
"I had one bike and we basically went out and had fun with it. I went to the last supercross in Las Vegas and made the main there. Then in the outdoors I scored a few points here and there, but it wasn't that great. I was able to score number 99 for the next season," Starling said.
Last season Starling said that the program became more organized and was better than it was in 2013. He had the good sponsors backing him as well as his old amateur rig to pit out of. It was his best season of his professional career thus far (although 2015 is looking to top it).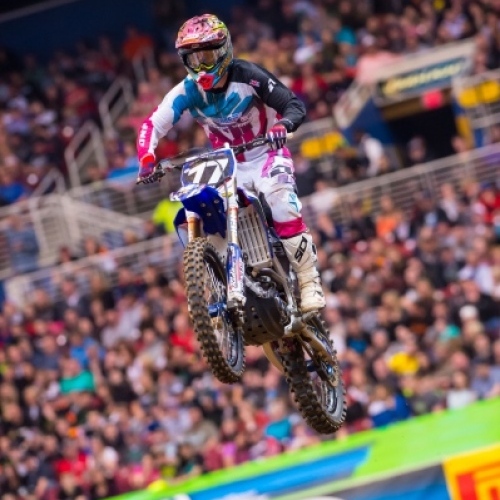 Starling sits 19th in the East Region standings with one round to go.
The results he was able to string together last season enabled a bigger program for Starling's 2015 season. He was able to track down a lot more help and now Justin is more of a team manager/rider.
Right now in the pro ranks there are a lot of riders who came up in the amateur ranks with factory supported rides. Of course some of those guys ride for teams, but there are a bunch that have to do it on their own. Starling is one of those guys. Why is it that these riders are being overlooked when they have proved time and time again that they can win with the right equipment? Starling seems to think it has to do with the limited rides available.
"It's a lot different. Even in amateurs you deal with different people when it comes to getting product. There is a pro guy and an amateur guy, and the amateur guy could love you, while the pro guy has no idea who you are. There are a lot of great guys who don't have rides and it's always going to be that way." Starling said.
Having the support from teams as an amateur has really helped Starling put his own deal together for this season. Putting together his own deal has been something that Justin has enjoyed doing and managing his own team is something that has interested him for a while.
"When you don't have a ride and you really want to go racing you start up your own team. I am pretty good with business and that aspect of things, so it works out good for me," Starling said. " I have been around failing teams and teams that are still around today, and that has helped in my knowledge of how to run a team."
Starling has big goals for his team in the future. His ultimate goal for next season is to get a ride on a factory supported team. He is in talks with some teams at the moment, but if nothing pans out he has a solid backup plan. He wants to grow team Starling into a huge effort with a semi and multiple riders. It's something that can happen and has happened multiple times in this sport
Next on the schedule for Starling will be the East Region finale in East Rutherford and that will be the final round of supercross for him. The haul is a bit too far to Las Vegas for the shootout. He will be able to make the east rounds of the Lucas Oil Pro Motocross Championship and his first round will be at Muddy Creek. Whether or not a team signs him, he will have a solid ride for the 2016 season. Big things are on the rise for the 'Wife Swap Kid'.
Thank you for reading. If you want to design Starling's 'Wife Swap Kid' butt patch email your design to troy@pulpmx.com. Let's get Justin dialed in! Seriously this is not a joke. This is a call to all of the designers and creative people out there. Send your design and we can work on getting it made.