For this week's GP's Classic Steel we are going to take a look back at Jeff Ward's last Factory Kawasaki works bike, the 1992 KX250-SR.
For this week's GP's Classic Steel we are going to take a look back at Jeff Ward's last Factory Kawasaki works bike, the 1992 KX250-SR.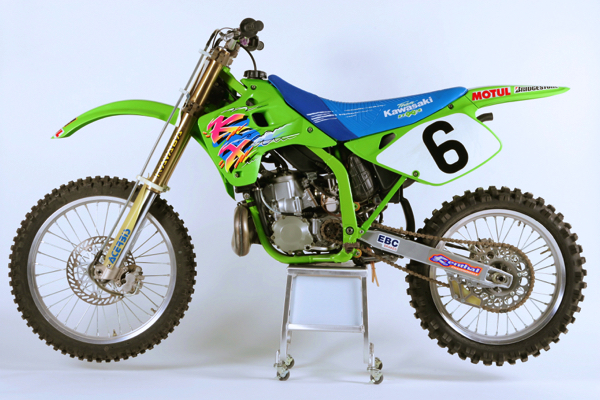 The 1992 season would be Jeff Ward's last as a professional motocross racer. After 14 years in the pros and 13 years with Kawasaki, the only man to win titles in every major MX/SX class was calling it quits. This Kawasaki KX250 was in the PrimmMX collection and was reportedly restored from one of Jeff's practice bikes. The motor appears to be a 1993 KX motor, so this might acctually have started as one of Kiedrowski or Larocco's 1993 practice bikes. Either way, the finished bike has many special parts, it is pretty close to the bike Jeff would have ridden in 1992.
The 1992 season signaled the end of the line for one of the greatest careers in the history of motocross. Jeff Ward, winner of seven major AMA titles and the only man to win a Supercross, 125, 250 and 500 Motocross title was calling it quits after 15 years in the pro ranks. At the time of his retirement, Jeff ranked at third on the all-time motocross/Supercross win list with 56 victories. He was also undefeated as a member of Team USA and remarkably, the winner of seven Chamberlain trophies.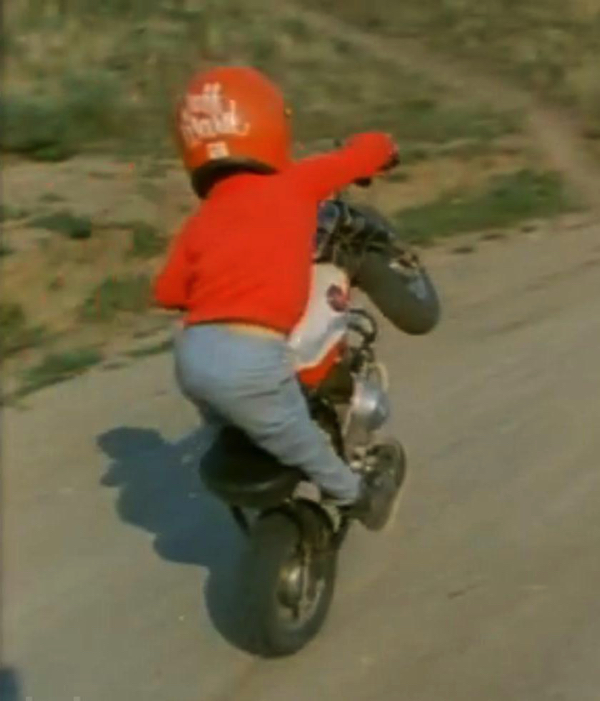 Most people's earliest introduction to Jeff Ward was his memorable scene in the ground-braking 1971 movie ON ANY SUNDAY. Even at this early age, Jeff's prodigious natural talent on a motorcycle was readily apparent.
The story of Jeff Ward's career in motocross in an interesting one. Born in Glasgow, Scotland on June 22, 1961, Jeff moved to America when he was only four years old. A mini-cycle prodigy from the start, Jeff was quick to make a name for himself with a small role in the seminal motorcycle film ON ANY SUNDAY. In the film, Jeff was shown effortlessly wheeling his little Honda 50 across the screen to the amazement of filmgoers across the country.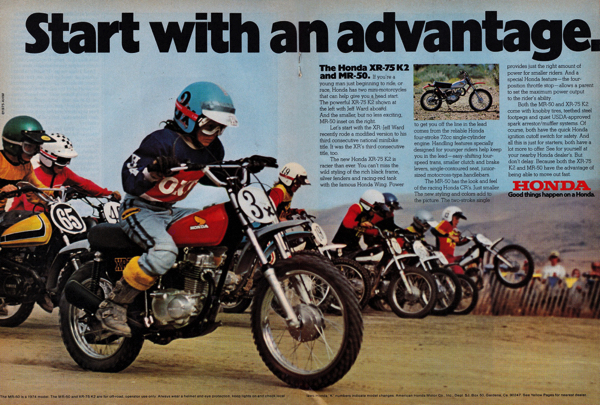 In the early-seventies, Jeff Ward was Honda's Factory pilot in the mini divisions. At the time, their XR75 mini-thumper was actually being marketed as a race bike and Jeff was the star of Honda's ads for the bike. Unquestionably the best mini pilot of his era, Jeff was able to take a highly modified version mild-mannered play bike to several national titles against the full race two-strokes of the competition.
Jeff's talent on a motorcycle was immediately apparent and he was tapped by Honda to race their new XR75 mini thumper. In the early seventies, Ward became one of the sport's youngest stars, racing the likes of Brian Myerscough, A.J. Whiting, Jim Holley and "Flying" Mike Brown on the hotly contested SoCal racing circuit. Dubbed the "Flying Freckle" for his freckle-speckled complexion and blazing speed, Ward proved his Factory XR thumper was more than a match for the two-stroke minis of the day.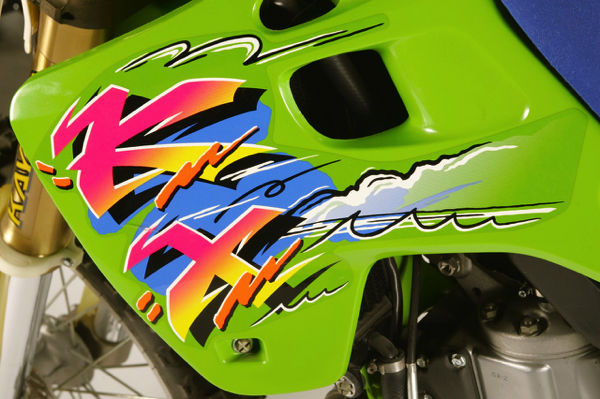 While this bike is close to what Jeff could have ran in 1992, the shroud graphics are incorrect. This is actually a 1993 KX graphic, not a '92. The original '92 style was less cartoony and had a graphic that ran back into the seat.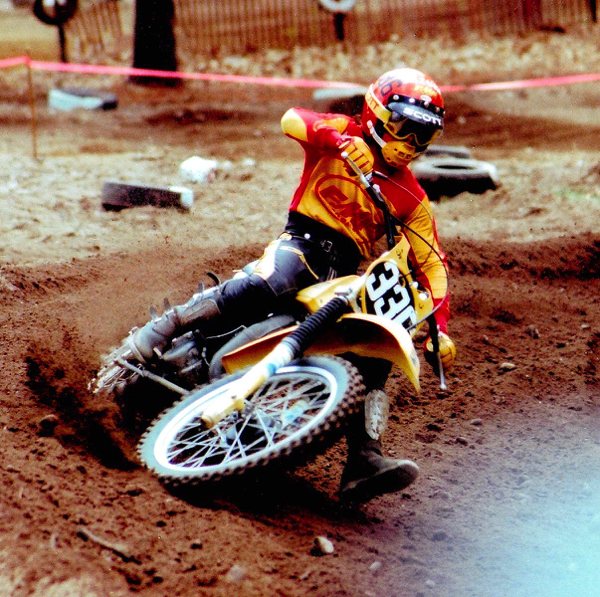 While Jeff Ward is thought of as a life-long Kawasaki pilot, he actually made his pro debut on a FMF-backed Suzuki. After finishing the '78 season in seventh overall, he entertained offers from Honda and Kawasaki, but ended up going green for 1979.
In 1978, Jeff made the jump to the pros, but he did not move right into a big bucks Factory ride. Perhaps because of concerns about his diminutive size, Ward was forced to make his professional debut aboard a FMF-backed privateer Suzuki. Jeff's first ride would be at the Hangtown National in April and he would race his RM125 to a 16th overall. He would back that up several with top-ten finishes during the '78 season, with his best results being a fourth at Omaha Moto Park, followed up by a sixth at Trabuco Canyon. At the end of the series, Jeff would sit in a very respectable seventh overall in the 125 class.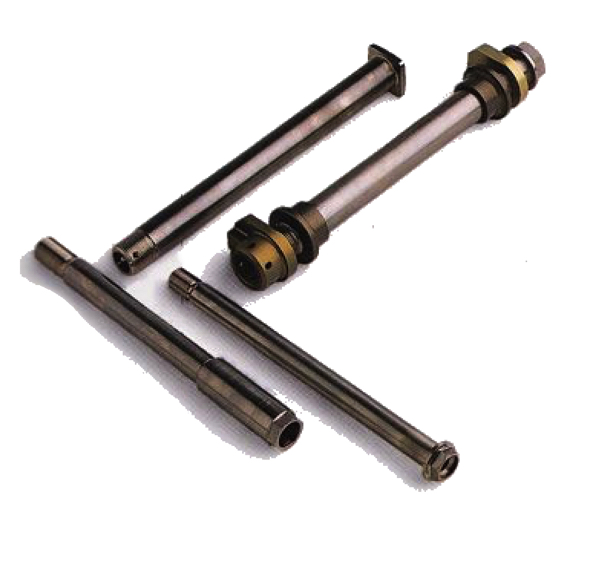 On the 1992 Factory Kawasaki works bikes, bolts six millimeters and smaller were machined of aluminum, while hardware eight millimeters and larger were fabricated out of titanium to save precious ounces and add strength.
After his support ride in 1978, Ward would finally move to the big time in 1979. He would be teamed with Jimmy Weinert on the Factory Kawasaki team and campaign a works KX125-SR (Special Racer) in the 125 Nationals. Because there was no 125 Supercross support class in '79, Jeff would be forced to jump right into the 250 class in Supercross.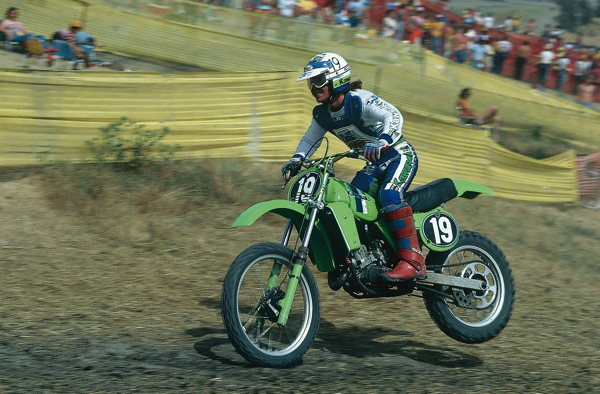 Jeff's first few years on the 125 circuit were solid, but not spectacular. Third place series finishes in 1980 and 1981 pointed to his potential, but wins continued to elude him.
While the Kawasaki ride was a big step up for Jeff, his results would be slow to improve. His best 125 result in '79 would be a third at Rio Bravo and he would finish the series in sixth overall, one position better than the year before. His Supercross experience would be limited to a few select events, but he would lead several laps and finish a solid fifth at the season finale in Los Angeles.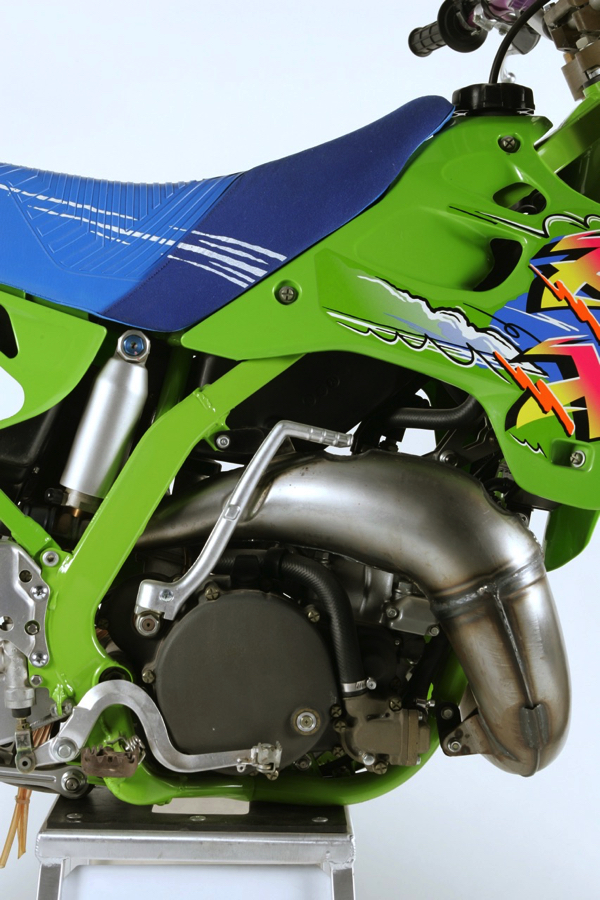 With the advent of the production rule in 1986, Factory race bikes had to start out as off-the shelf machines. Things like the internal engine cases and frame geometry could not be altered, but additions could be made to the chassis for strength and reliability. All of the Factory Kawasaki's started out as production machines in Japan, but each was carefully selected by race personnel and labeled as a "Special Racer" before shipment to the US. Once in the US, team personnel disassembled each bike, inspected it and added modifications as necessary.
The 1980 season would see more steady progress and an improvement to third overall in the 125 class. His first 125 win would continue to elude the mini prodigy, but his results were on the upswing. In Supercross, Ward would tally his first podium with a third at Seattle and round out the series in 14th.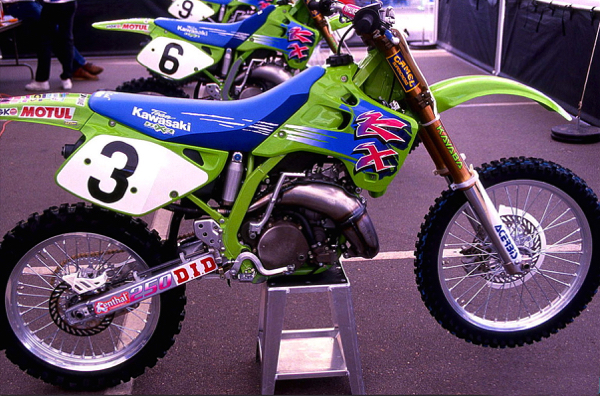 Mike Kiedrowski (3), Jeff Ward (6), Mike LaRocco (not pictured) and Jeff Matiasevich (9) were Kawasaki's big guns in 1992. Both of the Mike's and Jeff would take home victories during the season, with Kiedrowski bringing home the 1992 500 National Motocross title. Riccardo Somenzi Photo
The 1981 season would see another 3rd place finish outdoors, but Ward would slip to 20th place in the final Supercross standings. Today, this would probably get you written off as a mini-star bust like the Izzi's, Buckelew's and the Bobby Bonds of the world, but to Kawasaki's credit, they stuck by the diminutive star. In 1982, Ward would reward them with his first win at Lake Whitney, Texas and back that up with another victory at Washougal, Washington. His '82 Supercross season would also be much improved, with a second at Anaheim and a third at Houston. His eighth overall in the Supercross standings would be his best finish to this point and provide some optimism going into 1983.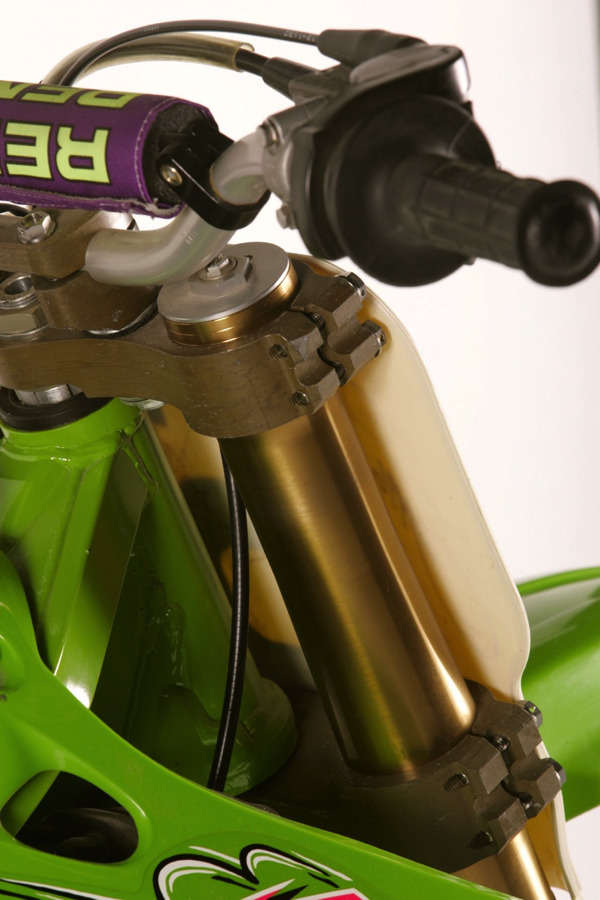 Both the upper and lower clamps on Jeff's Factory Kawasaki were machined from magnesium and mated with an aluminum stem. Several offsets were offered that could be used to tune the handling to suit track conditions.
While Ward would only end up winning one 125 National in 1983, his consistent finishes would make it by far his most competitive season thus far. Eight podium finishes would find him in second at series end, only nine points behind eventual champion Johnny O'Mara. In Supercross, he would once again make steps forward, taking three podiums and finishing fifth overall.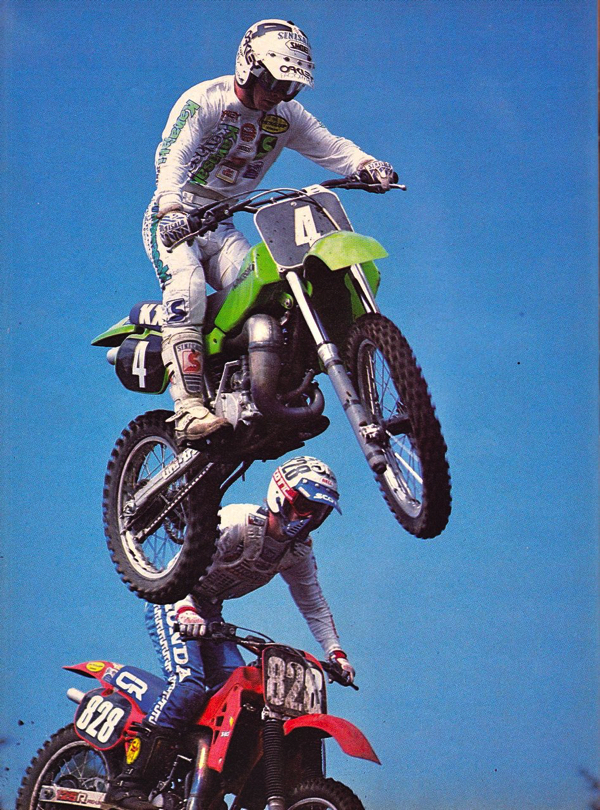 Jeff's breakthrough season would be 1984. He would capture four Supercross wins and dominate the 125 Nationals on the way to the first of his seven National Motocross titles. Dirt Bike Magazine Photo
For Ward, 1984 would end up being his breakout season. After six years on the Kawasaki team, the one-time mini star would dominate the 125 season, taking eight of ten Nationals and roosting to his first National title. Indoors he would score four main event victories and come home in fourth overall.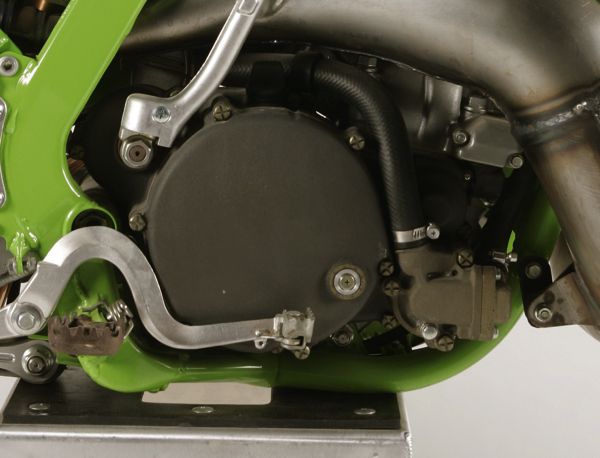 KHI (Kawasaki Heavy Industries) magnesium cases saved weight and added additional oil capacity over the stock units. Because the small oil sight glass on the clutch cover could be easily damaged and had been known to come loose, the factory bikes removed it altogether. All the transmission gears were stock, but machined and blueprinted to insure smooth engagement. Jeff's bike retained the stock clutch as well, but the basket was specially heat treated for additional strength and KX500 springs were used to prevent fading.
After winning his 125 National title in '84, Jeff would move up to the big bikes full time in 1985. He would make this transition smoothly and back up his 125 title (the first for Kawasaki) with a pair of 250 titles in 1985. Ward would take home both the 250 Motocross and 250 Supercross titles, cementing his reputation as one of the sport's premier riders and bringing Kawasaki their first ever Supercross title.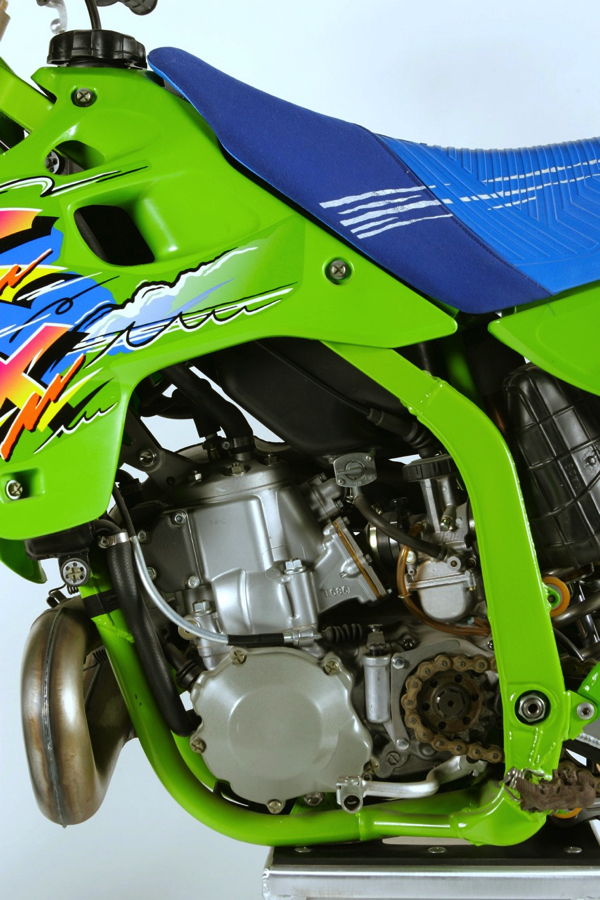 All the motors on the 1992 Factory bikes were assembled from specially selected off-the shelf components in Japan and modified by KHI, before being shipped to the US. Once here, further tuning was handled by team technicians Rick Ash and Tom Morgan, with input from Mitch Payton of Pro Circuit.
The 1986 season would see a switch to production bikes for the first time and Kawasaki would suffer against the excellent '86 Hondas. The CR's of Johnson, Bailey and O'Mara were nearly unstoppable on the track and Ward was shut out of all three major titles (1986 was the first year riders could race both the 500 and 250 class outdoors).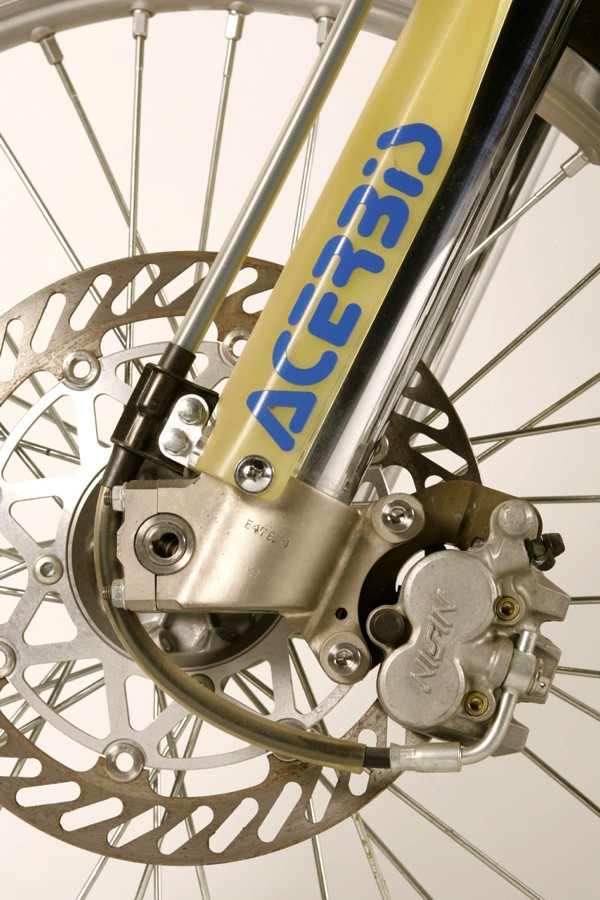 While the stock brakes on the '92 KX250 were lackluster at best, the factory versions suffered no such issues. Additional bite was provided by a works Nissin caliper, mounted to larger magnesium carrier and oversized works rotor. Special hand-pressed carbon and Kevlar EBC pads were employed and mated to high-temp Motul brake fluid.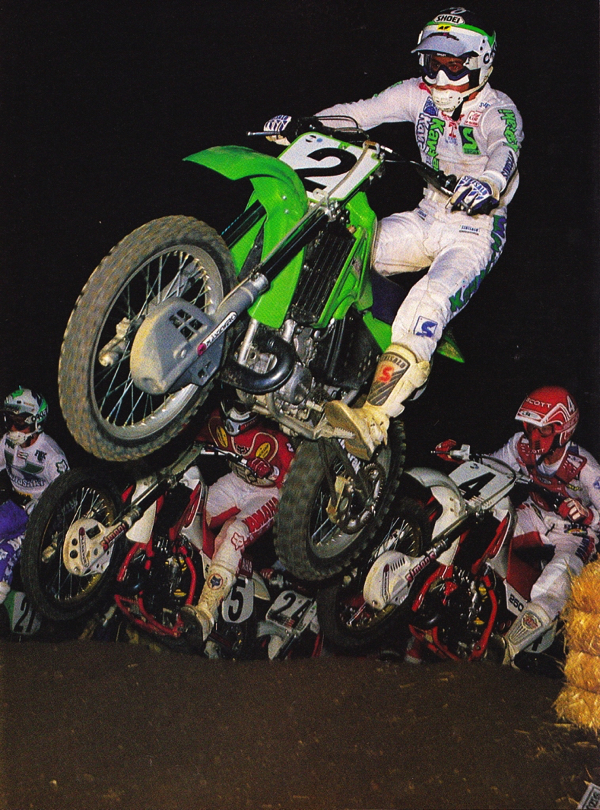 The 1985 season would prove to be Jeff's most successful as a professional, scoring both the 250 Supercross and 250 Outdoor National Motocross titles. MXA Photo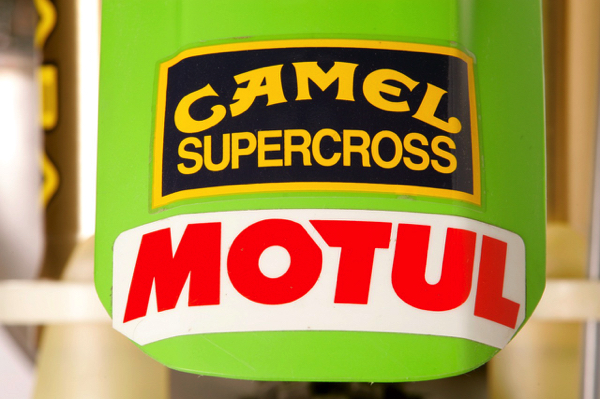 Cheap Smokes: No Monster, Rockstar or Red Bull here, just Joe Camel a smooth pack of North Carolina's finest.
In 1987, Wardy would bounce back with improved Factory bikes and renewed speed. A crash at the opener would take out the defending champ Rick Johnson and open the door for Ward. Jeff would take advantage of this setback and pull out five victories on the way to his second Supercross title. In the outdoors, Jeff would finish second behind Johnson in the 250's and a slightly off-the-pace sixth in the 500's.
In 1988, the two biggest stars in motocross would once again duke it out for motocross supremacy. In Supercross, Johnson would avenge his '87 title defeat with a second SX crown, while Ward would exact revenge in the 250 outdoor chase. The 500 class continued to be Ward's Achilles heel and the Kawasaki ace would finish the series in a disappointing fifth.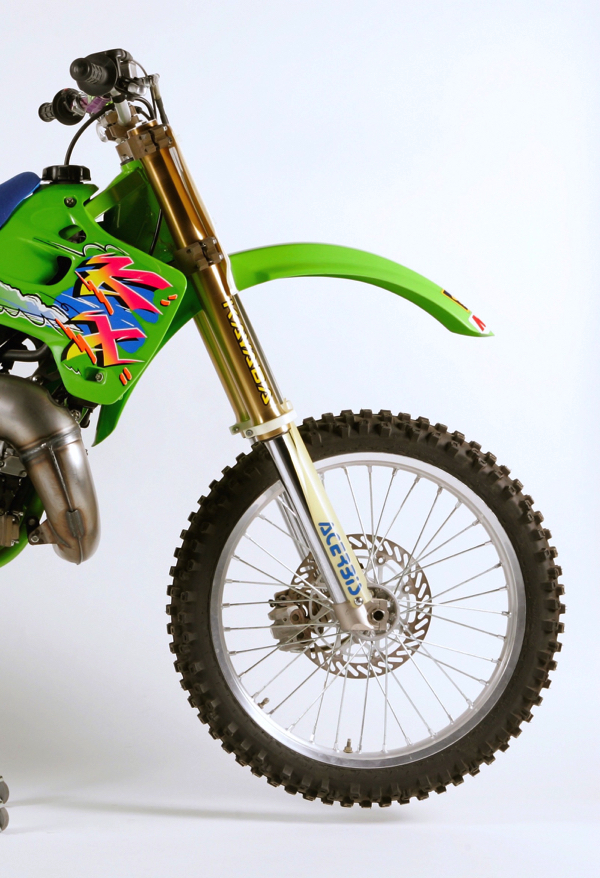 Ward's Factory Kawasaki used a set of 46mm works KYB's to tame the track. Three millimeters larger than the stock sliders, these units offered finer tolerances and far greater tunability than the stock components. Damper rods were aluminum instead of steel to save weight and one version actually inverted the normal layout by placing the spring at the bottom and the damper assembly at the top in an effort to change the bike's weight distribution.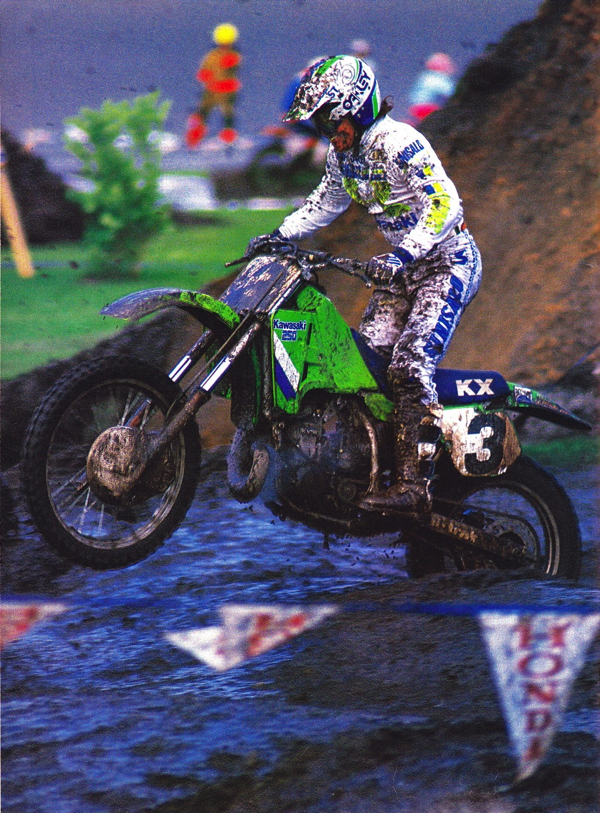 In 1987, Ward would avenge his '86 title shut out by reclaiming the 250 Supercross number one plate over Honda's Rick Johnson. Dirt Bike Photo
The 1989 season would see a major power shift in the sport with the emergence of Michigan's Jeff Stanton to the spotlight. A new signee to Team Honda, Stanton had been championed by team captain Rick Johnson and spent the offseason shadowing the seven-time champ. At the start of the season, Johnson had been unstoppable, reeling off five victories and a commanding Supercross points lead. A practice accident at the first outdoor National, however, would leave Johnson with a badly broken wrist and open the door for a new superstar. Stanton would take up where Johnson left off and capture five victories on the way to his first Supercross title.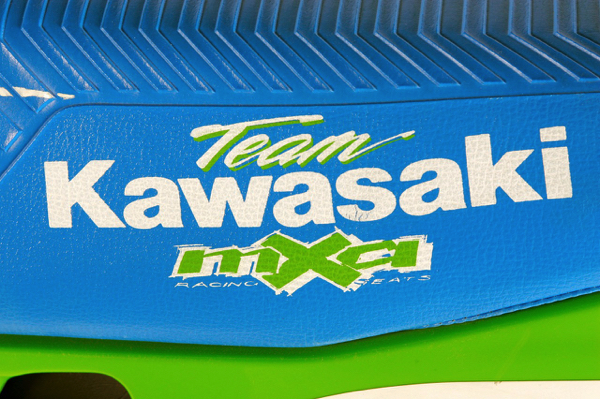 TUFSTUFF: For a time in the mid-nineties, MXA Racing products were some of the coolest accessories in motocross. Imported from England by Wide Open Racing (run by current Team TwoTwo Motorsports manager Dave Osterman), their trick seats and covers were used by Team Kawasaki from 1992, until the switch to Factory Effex in 1998.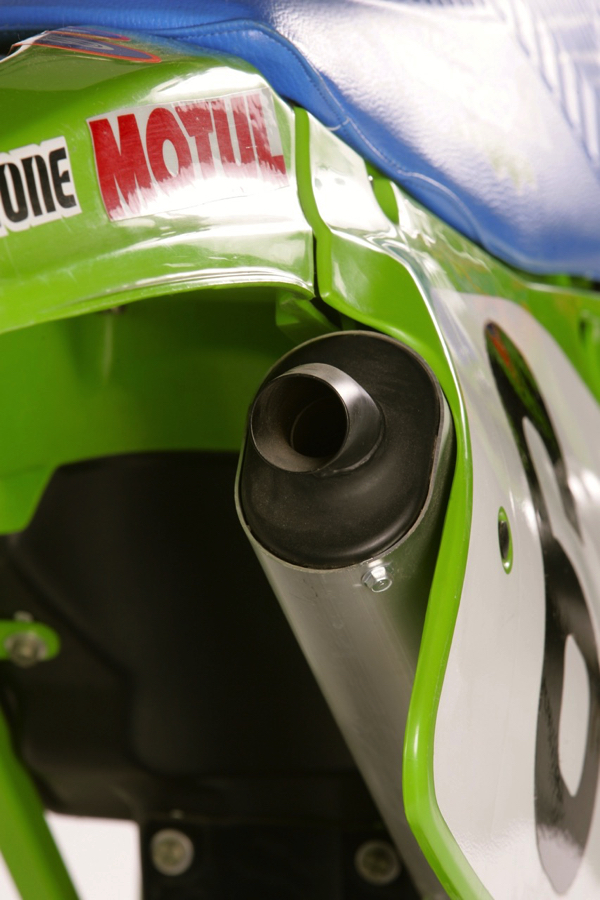 Today, no race team would be caught dead running a stock silencer, but in the eighties and early nineties it was common. In 1992, the team alternated between running the stock KX muffler and an Acerbis 035.
While Ward was no threat for the '89 Supercross title due to an injury, he would prove Stanton's greatest challenger in the later rounds. After returning to the series at Daytona, Wardy would capture four victories and salvage fifth in the final standings. In the 250 outdoor series, Ward would once again prove Stanton's greatest competitor, shadowing him to second in the series standings.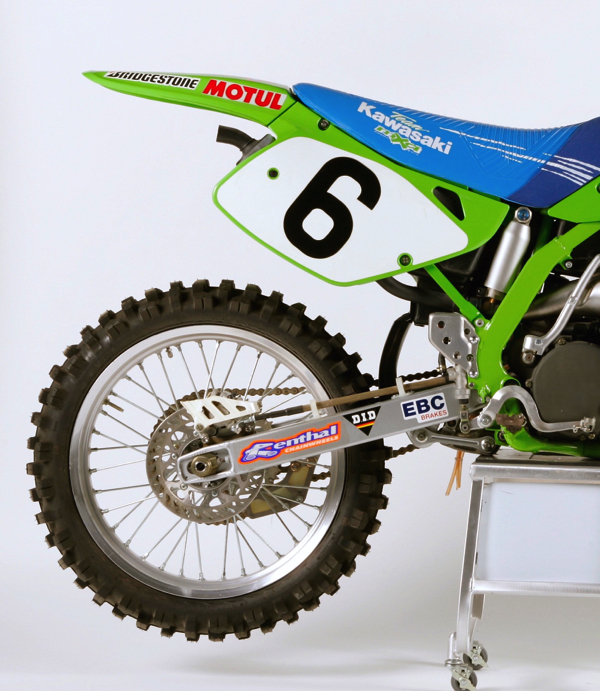 The works KYB shock on Ward's SR featured a titanium spring as well as an enlarged shock body and reservoir to fight fading. High and low speed compression could be adjusted separately (a trick feature in 1992). Stock hubs were retained, but a wider 2.50 rim allowed a wider footprint for better traction.
In the 1989 500's, the tables would be turned and this time it would be Ward with the upper hand. He would dominate the short series, wining four of six races in route to capturing his first 500 National Motocross title. This 500 title would give Ward championships in all four major AMA Motocross classes, a feat never to be duplicated (the 500 class was retired after the '93 season).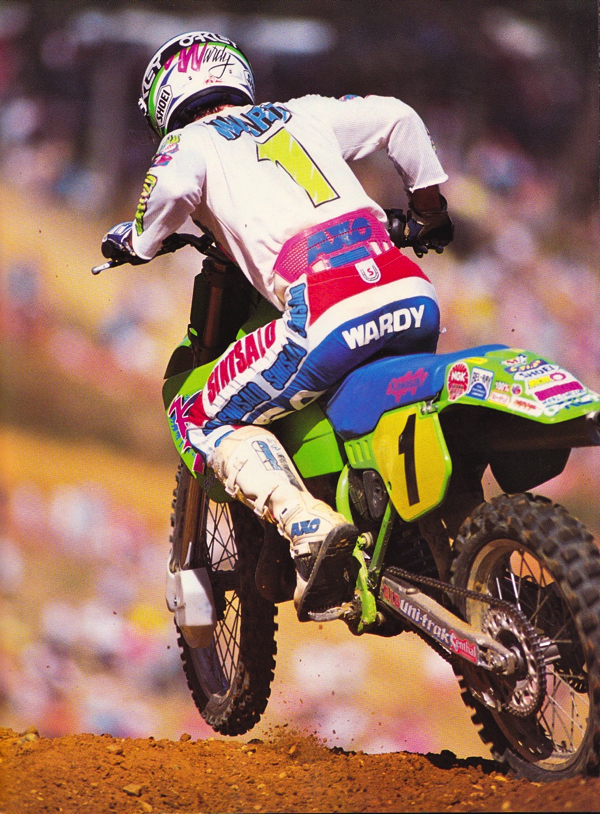 After being thought of as a 125 specialist early on in his career due to his diminutive size, Ward actually became quite an accomplished 500 pilot in his later years. His impeccable technique and impressive throttle control were perfect for the brawny open class beasts and in 1989 he would capture the last title that had eluded him. In 1990, he would successfully defend this 500 championship with the last of his seven AMA motocross titles. Mike Sweeney Photo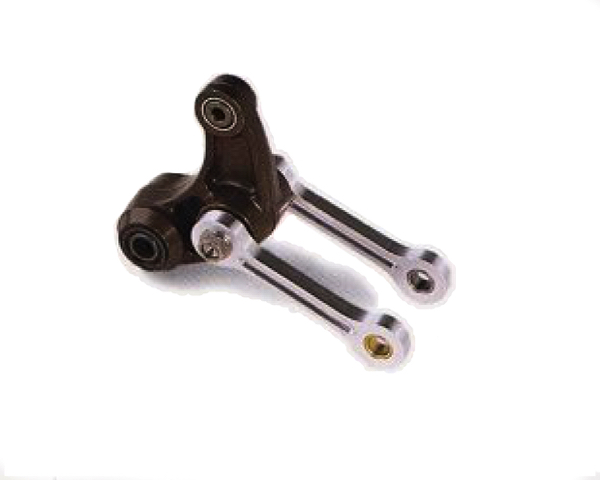 The works magnesium rocker arms employed on Jeff's Factory SR's were lighter than stock and carried more needle bearings for durability. The works pull rods were fashioned out of billet aluminum and came in different lengths to adjust performance and ride height.
The 1990 season would see Ward once more at the front, winning the most exciting race in Supercross history at Atlanta's Fulton County Stadium and continuing his streak of seven consecutive years with a Supercross victory. In the 250 outdoors, Jeff would prove the fastest man in the series, winning four out of six events, but lose the title due to a 13th at round one. In the 500's, he would again prove to be the man to beat and blast his Factory Kawasaki SR500 to the last of his seven major AMA Motocross/Supercross titles.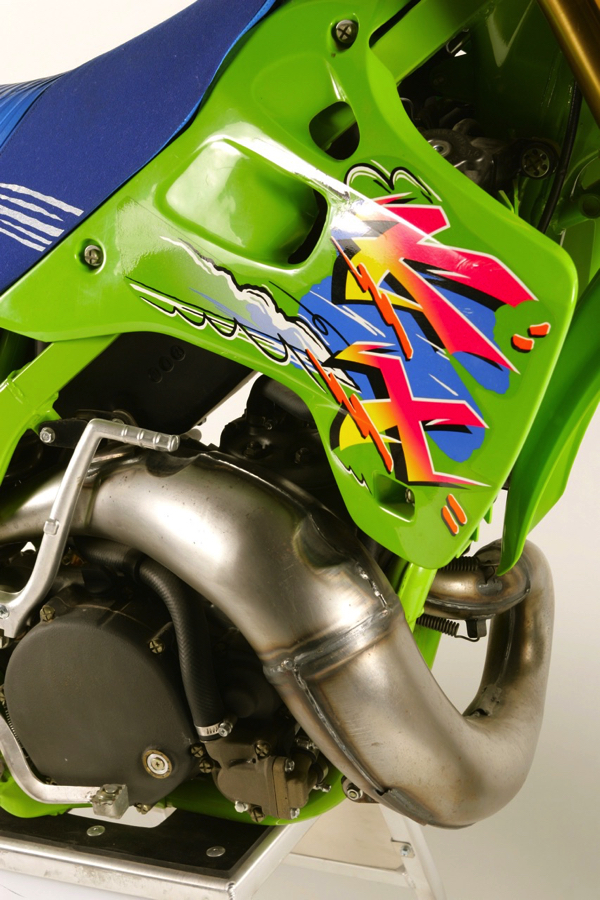 In 1992, the Factory team ran a variety of exhaust pipes to suit track conditions. At events where smooth power was desired, the team actually ran stock '92 pipes with the paint removed to give it that "Factory" look. At tracks where a more explosive delivery was needed, the team ran special KHI works pipes that mimicked the dimensions of the stock 1990 KX250 exhaust.
In 1991, Jeff would be slightly off the pace, but still manage to keep his Supercross win streak alive with a victory in the Oklahoma round in June. This win would be the 20th and last Supercross victory of Jeff's long and storied career. Three more victories would round out his 500 National series, but Jeff would miss out on his third consecutive Open class title by nine points to Jean-Michel Bayle.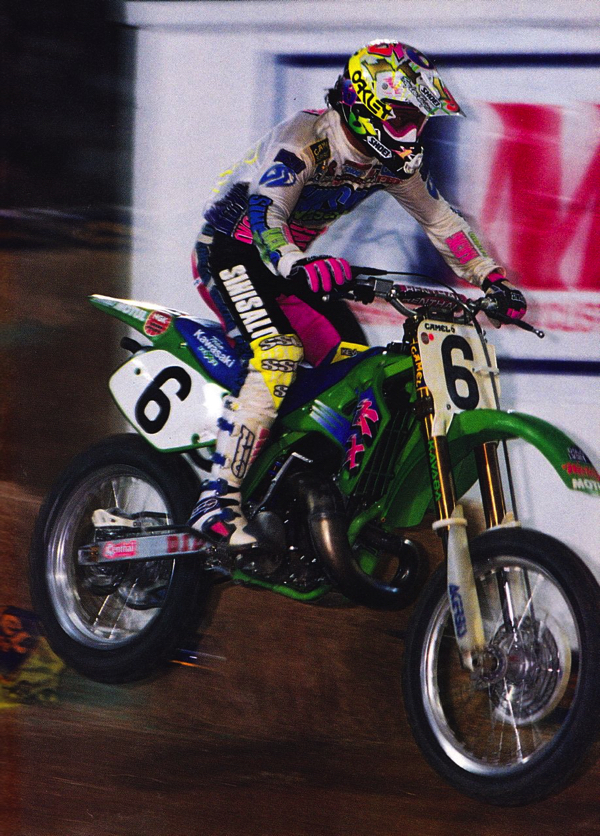 Farewell Tour: The highlight of Jeff's 1992 Supercross season would come at the opener in Orlando, where he would score a second behind his teammate Mike LaRocco. MXA Pic
After the 1991 season, Jeff announced that 1992 would be his last season as motocross professional. At 31 years of age, he had accomplished all his goals and was eager to move on to car racing and new challenges. At the Orlando opener, Ward would score an impressive second place, but recurring shoulder injuries would hold him back for the remainder of the series. Although his Supercross win streak would be halted at eight consecutive years, he would go out with a victory in the final LCQ of the 1992 series. Once again, Jeff was at his most competitive in the 500 series, where his excellent technique and throttle control paid the most dividends. The final victory of his career would come at the penultimate round of the 1992 500 National Motocross series. There, the long-time Kawasaki ace would beat out his teammate and eventual champion Mike Kiedrowski for the Steel City victory.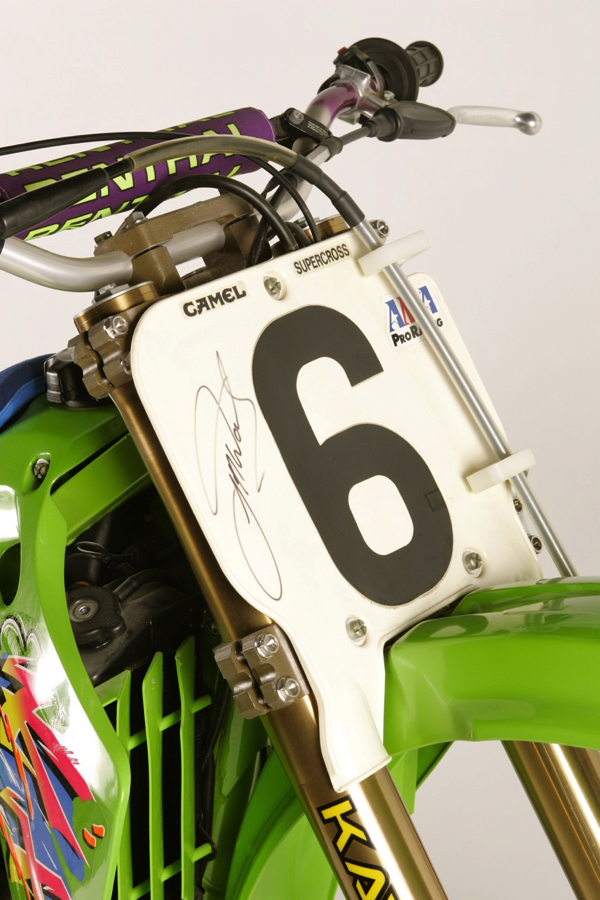 In Supercross, the stock radiators were employed, but outdoors special works radiators with triple cores were used to prevent overheating.
At the end of the 1992 season, Jeff Ward hung up his professional motocross boots for good. After retirement, Jeff moved into auto racing, a discipline he proved nearly as adept at as motocross. In 1997, He came a few seconds from winning the Indianapolis 500 and was named the prestigious Indianapolis 500 Rookie of the Year.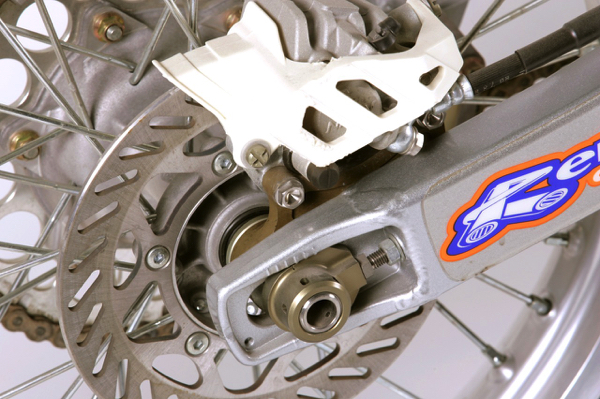 Out back, magnesium carriers and titanium axles were mated to a stock hub and stock rear brake assembly. Spokes front and rear were 1mm larger than stock for durability.
After the end of his car-racing career, Ward would return to his roots and become involved in the rebirth of the "Superbikers" discipline he had competed in nearly twenty years before. Repackaged as "Supermoto", the sport combined road racing and motocross and once again the man they called the Flying Freckle proved adept at pinning the throttle on two wheels. In 2004, Ward would win the AMA Supermoto title against kids literally half his age and capture his eighth AMA professional title.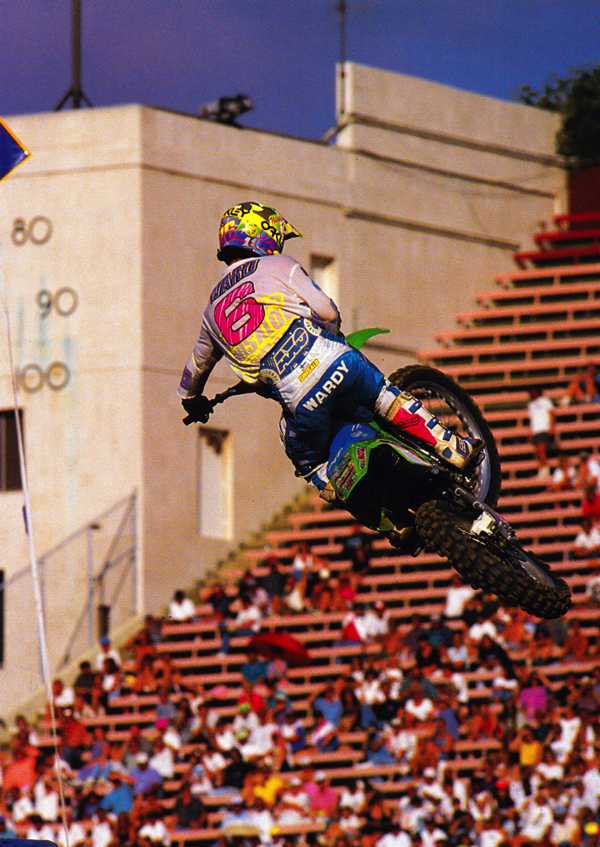 While a shoulder injury put a damper on much of Jeff Ward's farewell season, he did get to enjoy one last checkered flag by winning the LCQ at the Supercross finale in Los Angeles.
Today, Jeff remains involved in the sport and helps to train and advise tomorrow's champions. Riders like Jason Anderson continue to make use of Ward's incredible wealth of racing and fitness knowledge. To this day a relentless trainer, the man who once boasted that he rode his MX bike for 98 days straight can still be found grinding out the miles on his mountain bike in the California hills. After all, you never know when RJ might want to have a rematch.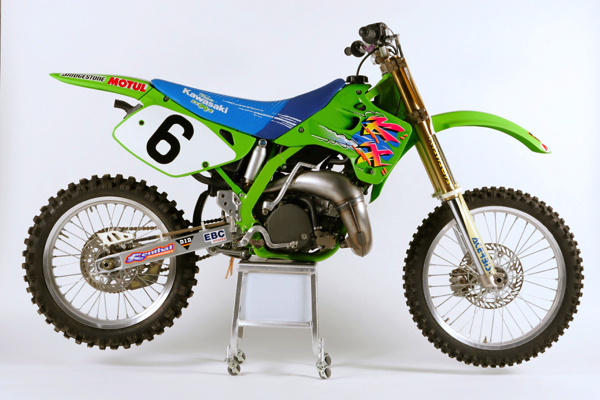 Jeff's 1992 works bike was a carefully crafted combination of Tom Morgan's attention to detail, Factory unobtanium, and aftermarket ingenuity. While not as exotic as the machines from a decade before, it was actually superior in every measurable way.
For your daily dose of old-school moto goodness, make sure to follow me on Twitter and Instagram -@TonyBlazier