The winner and a couple of guys that had a great battle
The winner and a couple of guys that had a great battle
Photos by Mike Sweeney
Eli Tomac
First of all, day race format. What'd you think? It was too early for me.
Of course I'm going to say it was cool because I won and whatever, but it's a little bit early the beginning of it. I would say only first practice feels early. Second practice was fine, you're woken up by then.
You don't even need a third practice in the normal format.
I honestly don't think we need that free practice. I say actually maybe go two qualifiers like we had and then shorten up the gap in-between the night show itself because there's a lot of sitting around. I actually just had a guy tell me, the fan, he's like, "yeah, this was better because there wasn't such a big gap between practice and the show itself." So maybe they could do that. I think for a couple the day race is cool. I think I would do three, four, five of them, but when I think of Supercross I still think of it under the lights. If it's that big of a deal for TV, go for it. If it's not, then we need it under the lights too.
The race itself, you're good at this stuff. You've done the ruts and the tacky dirt and the soft stuff. I actually tweeted, "Seely's checking out." I thought he was gone. You rode tremendous. Reeled him in. You don't even need a start, dude, just do that.
I did put myself in a better position, made it out of the heat race. The past two weekends I didn't make it out of the heats, just riding like a dork. For this start you had to be inside if you wanted to play it safe like I did. It wouldn't have cut it on a 90 degree start. I would have gotten smoked. But crept the inside, came out top five.
But Seely put the hammer down.
Seely hammered it the second and third lap. I was like, holy crap, he's way out there. Made my way into 2nd and then just slowly reeled him.
You had to get Barcia, you had to get Peick… Did you get Dungey?
He was almost in front of me going down the second straightaway and then I got him in the 90 or something. Anyway, going back to the Seely thing, got him around, I don't know what it was, 12th or 13th lap. He jacked up on the little triple after the finish. Snuck by him there.
Tough track, huh?
It was tough. It was almost like Seattle level for foot peg draggers ruts. But you could still do stuff.
You could do stuff but other guys couldn't. Guys were struggling.
It was a struggle. I don't know. For me I was just riding it. The only sketchball area for me was the dragon to off to three. That was the one where I couldn't three all the time and that was the spot you had to be careful.
After the start, were you going three and three over the table the whole time or did you have to quit doing it?
I did it more than not. I cased it really good once but I think I was catching Cole a little bit in there. I think he was going too.
What is it about this kind of stuff that you're good at it? We've talked about it before. Your podiums before have come on this kind of stuff. You've won races before on this stuff. Now that you're maybe riding better than ever, you caught Seely from a long way, what is it? Traction? Able to hang off the back of the bike? I don't picture you like a technical kind of guy. You're more pinning it but maybe you're really technical.
That's the thing. I want to say I'm a pinner but at the same time when I get a big track like this where you can do the big threes and the combos, got to be a technical rider to do that stuff. I don't know. When it's rutty I seem to have decent balance. It's tough to brag. It seems like I have good balance and I just like the ruts.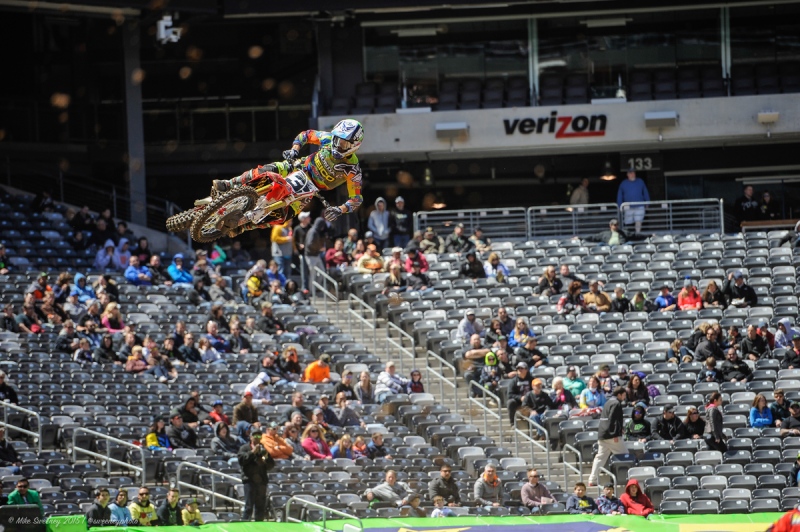 Tomac rode great in the dirty Jersey to take the win.
Whoops were big?
Whoops were big. The hardest thing is just when they get sticky. You don't really know once it starts dancing around.
How's the outdoor stuff coming?You want to say it's good but I can't say anything until the first round. I think I'm in a good spot, a good little base right now. Did a couple motos at home already, felt okay physically. I'm going to California again Thursday. It'll probably look like the national itself there.
So you'll be out west for a little bit and you'll be hating it of course.
I'm only out there for one day though and then going to Vegas from there.
But then you're in Cali.
In and out. And then I'm gone to Colorado before Hangtown.
Betley's letting you do this? You must have been fighting and screaming the whole way.
I just avoid California at all costs.
Do you ride Supercross at all this week or no?
I will. I'll do one day. Do like a Tuesday or something. I've been just doing rotating, moto/SX.
****
Jeremy Martin
Iwasn't really watching the battle up front because your and Savatgy's battle in that main for 3rd was pretty exciting. Talk about it a little bit. You made some runs at him. He knocked you off the track, you caught him back and then you finally went down.
Yeah. Like you said, Marvin and Bogle definitely had good starts and they got away. I got out probably a couple behind Joey. I was able to get up on him really fast. It was unfortunate; he bumped me off the track and then it just became a game to what he could do to hold me off tonight. He rode good. He did what he had to do. I was a little heated afterwards because I want to win, he wants to win. He wants to do good. It's racing and we're just going to move on. We'll come back next weekend and get a good start and just go from there.
You say it's racing, you said you were heated too. It was a little more, probably outside the lines of "normal" racing would you say?
I don't know. He wants to do good. I want to do good. He's always been a little more of an aggressive rider, even when I raced him back in the amateur ranks. That's kind of what he does. I respect that. It's a good challenge. He did what he had to do to keep me behind him tonight, keep the 6 machine behind him. He did it.
Should be interesting at the farm this week.
Yeah, I haven't been there at the farm for a little bit yet. I'm out in California right now getting ready for the outdoor season. He's back at the farm training with Meanie Jeanie and them.
The track was gnarly. It broke down. I don't know if you watched that 450 main event, tons of mistakes. I imagine it wasn't much better for you guys.
The 450s always get our second fiddles. Those guys, you got to hand it to them. They're on bigger bikes, faster machine, and then they got to go out there when the ruts are… when the track's at its worst, that's when it's the best for them. But I didn't watch the 450 main. I was kind of back here just thinking about the race.
It got treacherous.
I'm sure. It was a fun track. I enjoy those type of conditions. I love it. It reminded me of riding up at Millville on a Spring day.
You picked up O'Show. Talk about that and how that's going.
That's probably one of the best decisions I've ever made in my career is picking up Johnny O'Mara. Really enjoy working with him. I feel like we both kind of have the same mentality and stuff like that. I've enjoyed every minute of it and trying to just be a sponge and learn from one of the best, if not the best.
Brother got another podium. That's awesome, huh?
Yeah, I'm proud of big Al. He's doing good this year. He's being solid. I can't describe how proud of him I am. He's been working hard. I can't let his head get too big, so I'm there during the week to give him that little ego reducer.
He actually told me he gives you credit because just practicing with you, you're faster than him and you've taught him things. He gives you some credit. So that's good.
We both want to see the best out of each other. We'll see outdoors. He's going to be solid. He gives it every lap.
He's in great shape too.
He's in okay shape (laughs)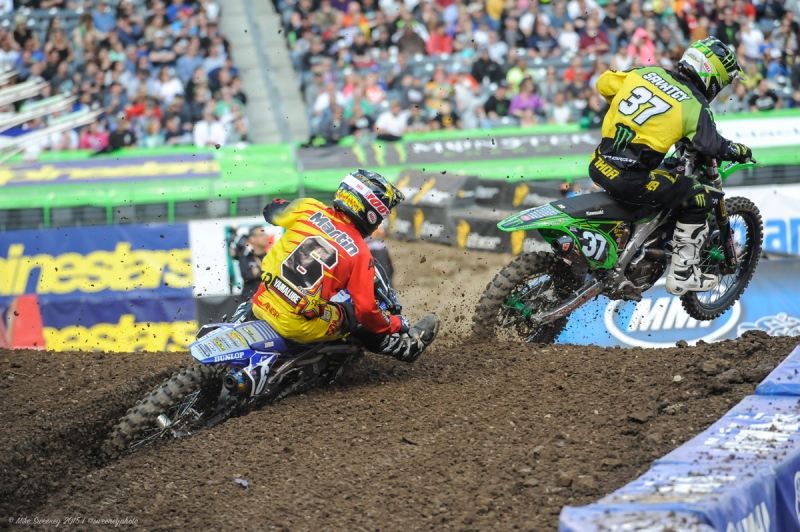 These two put on quite a show battling for third
How's the outdoor testing going? How's everything going? You've got the number one going in. Talk about the preparation a little bit.
The preparation's been really good, the best it's ever been. A lot better than last year. More fit, bike handles better, got O'Show, got a good crew here, and got a good crew cheering me on back in Minnesota. Things are good. Looking forward to it and ready to click fourth gear.
Besides Millville, I used to spend a lot of time in D23 racing. What was your favorite track besides Millville?
Mora.
I never went to that one.
It was pretty good. It was about four hours north of me. It was good. It had some sand. You ever been to Little Falls?
No, I did in my era Grantsburg, Elko, Kellogg, Cambridge, Millville.
Elko's fun. Isn't it crazy? Alco was like in the middle of the town. That place was rocky too. I think I did Cambridge. I never did Grantsburg. I want to go there though.
That was fun. I remember that through the woods. It was pretty cool.
That's on the bucket list.
****
Joey Savatgy
It was an interesting race up front between Bogle and Musquin but I got to admit I didn't watch much because yours and Jeremy Martin's battle was the most interesting and exciting thing going on. It was intense.
I heard that a lot. One of those deals where it turned into a cat-and-mouse game. We actually probably ended up slowing both of us down. There's always two sides to every story. I look at it from my situation and my shoes, like hey, he wants to get around me for a podium position and I'm going to make him work for it. If he was that much faster and he could have made the pass stick, props to him. But I look at it also like let's change shoes.
Let's put Martin in my position. You're going to tell me that Martin wouldn't have done the same thing? He wouldn't have ran it in on me to stop me from passing him? I'm going to go ahead and say no. He would have absolutely done the same thing, and I would have expected him to.
Well it was the difference between 4th and 3rd. The 3rd's the last spot there. It's bonus money for everybody, for the team and everything.
Exactly. Podium spot is TV time, sponsor time, sponsor plugs, a lot of perks from being on the podium. Like I said, it's one of those deals where I'm already over it. It is what it is. It's racing. If he wants to carry it on and be upset about it, it is what it is. I'm going to talk to him regardless and let him know, hey man, it's racing and I would have expected him to do the same thing. I'm sure there's a few fans that are like, you were cross-jumping being dirty. Hey man, I was holding my line and I was making sure he wasn't coming in my line.
I'm sure there's a few fans that are like, that's what racing's about, a little bit of bumping here and there is all good. And like I said, it's for a podium position. We're not battling for 6th place. Points are points. The dude's an outdoor champion. He knows that the difference between 4th and 3rd is a lot. That's two points. It may not seem like a lot but in the long run two points might be the difference.
In my experience you'll have 50% of the people thinking you were awesome and 50% of people wanting to light you on fire.
Exactly. There's always going to be the people that are like, that was dirty. And then there's people who are, hey it's racing. At the end of the day, nothing against him.
You guys train together though, right?
We ride at the same place. It's one of those deals where I don't plan to drag it on. It's racing. Like I said earlier and I'll say it again, I would have expected him to do the same thing. Hoping to drop it at this point. Like I said, if I see him I'll let him know, hey man, I wasn't going out of my way to do it on purpose but I was definitely making it hard to get around.
What'd you think of the day race?
Different. Definitely a little bit different vibe I'd say overall. I struggled from the first lap of practice to the last lap of the race. Once I crossed the checkered I was like, yes, we're out of here! The track was challenging.
So you didn't really like it, track and day race or just track?
No, not necessarily anything. I think it was more just me off a click. Rode outdoors the last two weeks. Just off a click, man. The bike was amazing and we worked hard all day to get it better. The track was technical, man. It was one of those deals where you had to hit your marks. I was struggling. To come out of here on the box, it's positive. Keep working. It'd be nice to be a little bit farther up than 3rd but it's better than being in 4th.
Season as a whole, a couple heat race wins, some podiums, probably a tick off where you'd want to be, first year Monster Pro Circuit Kawi guy.
A lot of people don't know I started the season off actually got hurt the week before A1. Had two weeks of riding underneath my belt before the first round. Then I got landed on at the second round. Started the season off with a podium, got landed on and actually bruised some stuff in my hand. So it was fighting a lot of little things. But overall as a whole we were on the box. We should have been on the box five out of eight. We had one mechanical. Half the season we were on the box and we were never outside of 5th. It's good. We're working hard and I honestly feel bad for these guys. I know Mitch and Bones and all these guys work really hard. I'm trying my best. I'm trying to get them a win. I know how bad they want it and I want to win too. So just got to keep our head up and keep moving forward.