Want the answers to some tough questions about the race and other stuff? Here you go…
Want the answers to some tough questions about the race and other stuff? Here you go…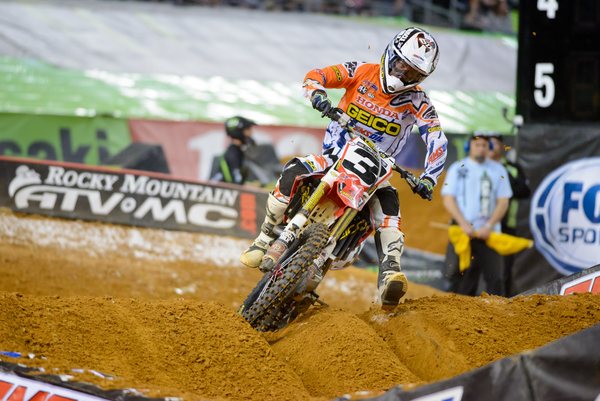 Tomac won again.
Photos by James Lissimore
1- Eli Tomac showed again that he is great with ruts and tacky dirt- this track reminded us on old Seattle. What makes Tomac so great on this stuff and how did he win this race in your eyes?
It's surprising that Eli "only" won 3 races out of 16 this season. Eli struggled with starts and made too many little mistakes to be able to win more. He was my pick to win this season but instead, Dungey stepped up his game. The New Jersey track definitely looked like Seattle. That's exactly what I said when I saw the first few laps of racing. I like to watch races with challenging tracks and riders making mistakes and looking human. Too many tracks were boring and easy this season. Why does Eli do well on those? You have to be aggressive and attack those tracks. Eli is known to be aggressive and super fast. His style of riding doesn't suit the hard packed west coast track because he's not a "throttle control" type of rider. His throttle tube has only 2 positions, on and off.
On a track like last Saturday where there is traction and you have to be aggressive on the throttle, it works well. While the other riders might be a little scared and cautious about the ruts, Tomac doesn't care about them and race the track like it was "flat". He still jumps the tricky triples in the rhythm section in the ruts every lap. His strong points on a rutty track is what hurt him sometimes on a slick track.
2- We were surprised to not see Marvin check up as it were to just cruise it on for a title. He rode great to win and wrap up a dream season. Afterwards he announced he was with KTM for 2 more years on the 450- what did you think of his race and his decision to stay orange?
Marvin had a great season. He was six points short of the maximum number of points a rider could score because of his 2 2nd place finishes. That's his fifth 250 season in the US and it was time for a rider with a huge amount of experience like him (he's a two-time World Champion too) to win a SX title. He had to deal with a few major injuries since he got here and it's nice to end his 250 career with a SX title. I had a different view and different goals when I raced. I didn't care about a 125cc title back then and all I wanted to do is to race with the big boys as soon as I could. I was 21 when I raced my first 250, now 450, SX race and won my first race at 22. I'm pretty confident I would have won a couple 125 west coast titles if I didn't race GPs and if I stayed in that class as long as I could. I just didn't care about the then-125 class. I respect riders that stay in the class to race in the small class to get a title but it makes their prime years in the 450 class shorter. Marvin is Dungey's age and was racing with Roczen in GP's. Roczen stayed in GP's one season longer than Marvin but already has 4 wins in the 450 class and a MX 450 major title.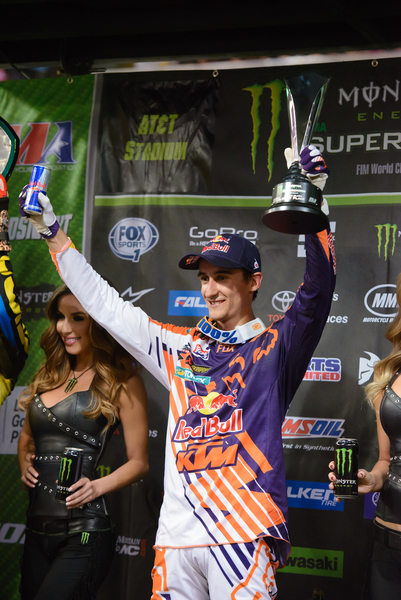 So did Musquin!
Dungey has two 450 SX titles, around 20 wins, two 450 MX titles and he's a few weeks older than Marvin. Musquin will be 26 at Anaheim 1 2016 but when will he peak? We can assume he will have two good contracts/rides of two years in the 450 class until is 30. Can he win the first season? The second? The third? Adding to the fact that Roczen, Tomac and Dungey are still very young. What about Stewart, can he be a threat again for a championship? Marvin will have to learn the class and have to get results right away. I am confident he can but it would've been nice to have already had a couple 450 seasons under his belt to compete in what will be a very competitive 2016 season. As far as signing with KTM again, it's understandable and normal to see him back in the orange squad. The team will be full with Wilson and Dungey next year. Dungey and Marvin will share the same truck, the same bikes, the same technicians, the same trainer and race against each other on the track. History tells us that it could be challenging with the tensions with two top guys under the same tent or even with top guys sharing the same high profile trainer.
I also thought he signed really early- what was the rush? Back in 2010, he did the same. He signed his contract with KTM the weekend on the first GP in Bulgaria for the 2011-2012 seasons in the US. I thought it was early then too. What if he wins the first 5 motos in MX this year like Martin did last year? Would his value improve? Do they (I'm including his wife Mathilde) not like money? Did they sign a contract with the value of an outdoor champion before the season even started? There are a lot of things we don't know but it's obviously easier to stay in a team where you know everyone and where you know their 450 is capable of winning. I am pretty confident that the transition to the 450 class will be smooth for Marvin. He has the kind of style that would be very efficient on a big bike. Time will tell and I hope he'll win a lot in the 450 class and fill up his BoA account with Benjamin bills.
3- Daytime SX on Fox network–thoughts?
I really thought it was great! It didn't affect my Saturday plans… I watched the race in pj's with coffee and I had the afternoon to do stuff with my kids. It would be great to have this kind of schedule for the West Coast rounds too actually. The show starts at 10pm East Coast time and for those fans, they have to stay up until 1am if they want to see the 450 main! I wouldn't mind having this kind of schedule for all the rounds. It would be easier for all the team crews and journalists. Mechanics/riders wouldn't have to have a short night before going home on Sunday. Teams wouldn't have to pack all the stuff at midnight. Journalists wouldn't have to stay up super late to post news on websites and you to post your post-race podcasts at 2am since fans on the internet are so demanding these days. Plus, it's easier to be on network television mid-day on a Saturday than live on a Saturday night I would assume. The sport needs eyeballs and what other than a local channel that everyone gets to do that. The sport would become more mainstream, we need that. Sponsorship money will rise if more eyeballs watch races. I think this kind of TV is a win-win for all of the industry.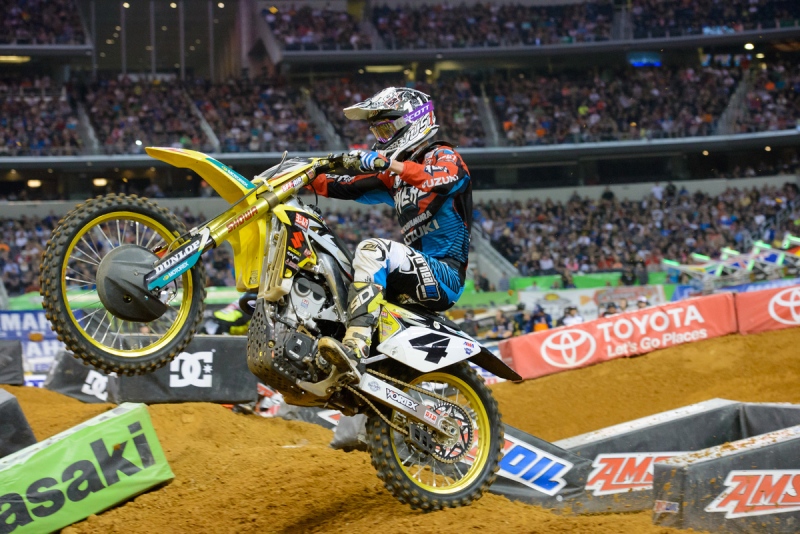 Baggett's got a chance at fourth in the points in his rookie year in the 450SX class.
4- Blake Baggett has a chance at 4th in the points…Blake Baggett!!
I guess I am not as excited as you about this. I didn't even know where he was in the championship. It's cool to be in 5th after 16 races for your rookie season for a rider that isn't known to be an exceptional SX rider. I went to check the standing online. Blake scored 208 points in 16 races. That's an average of 13 points a race which is like getting 8th 16 times… Add Canard, Roczen, Stewart, Barcia (without missing 8 races) and you get a top 8-10 guy in SX. So I guess that's pretty much where he should be and where, I am sure, you and a lot of people put him before A1.
5- Right now who is your favorite in both the 250 and 450 MX series?
For the 450, I am sticking with my 2014 pick because it worked out for me and none of the Pulp crew picked him before the season last year, Roczen. Ken will start the outdoor season fresh with more time on a MX track than anyone else. I also think the Suzuki will suit him better than last year's KTM. He will be even better on the RMZ. Tomac will win races but I don't think he has the consistency to win a 24-moto championship. Dungey will be there obviously but will have 17 SX races under his belt, a SX title and it might be difficult to get motivated after an exhausting SX season.
My only worry with Roczen is the fitness side of things. How will he do without Aldon Baker? Can he keep the same work ethic without Aldon? That's the unknown but I'm still picking him for the title. In the 250 class, I gotta go with the Frenchy Musquin. I think he's got what it takes to win this season and he's boosted by his SX season which wasn't too exhausting for him. He will be even better physically being with Aldon which I think iwas kind of a weakness before. I didn't think he was strong enough muscularly to compete for a title in a very demanding outdoor season. He's the most technical rider in the 250 class, has the best riding IQ of the class and he can ride any type of motocross conditions. Add to that an athlete-like preparation and Marvin can be very lethal this summer. Sorry American fans, but I am picking 2 Euros for this summer…
6- Pourcel to the Rockstar Husky team for 450MX–what do you think about this move?
Is that a move? Or one of the last branch left on the tree? I've talked a million times about Christophe Pourcel and I don't want to repeat myself. He's a great rider, one of the best riders I've ever seen since I have been in this sport. If you told me he was training with Aldon Baker or any other good trainer/coach in our industry and following their training program for the last 3-4 months, I would pick him to win the title. He's that good. Look at him last year. He was the fastest guy in terms of qualifying 10 out of 12 times with no preparation and fitness not good enough to race at Loretta Lynn's. If CP doesn't become an athlete he will not be a title contender anymore. If he becomes one, whatever bike he's racing, he will. It's as easy as that, people.