Here are some key players talking about Glen Helen
Here are some key players talking about Glen Helen
Photos by Simon Cudby
Kenny Roczen
I guess you'll take it after last week's struggle. The second moto wasn't, but you'll take this position. Of course the way things have started for you, you go down on the first turn.
Yeah, it seems like the luck was just not there today. I didn't grab a really good start. Got tangled up with someone. I think it was Anderson or something. His bike was in the back of mine. I was standing there like, okay, you can take your bike out now. But we were stuck for a while there. We were way back. I just tried to get as far up as I can. I made it up to 8th and then I think it was a few laps to go and it said Baggett was 20 seconds ahead so I just kind of stayed there. Second moto got a better start and moved up to 3rd. Tried to battle up front. It was a good feeling because it's been a while, let me tell you that. But I tipped over before the finish there and that's what made Dungey get away from me. But it was all good. It's good to get back into race mode. It has been over two weeks now of not really riding and taking it easy and stuff so it's time to get back into a routine and get back to the top.
It's kind of like one those things where your arms got to come back, your endurance has got to come back. Even two weeks or whatever…
Even a week. It's not that you're less fit but you're out of the routine. It takes a huge hit on your body.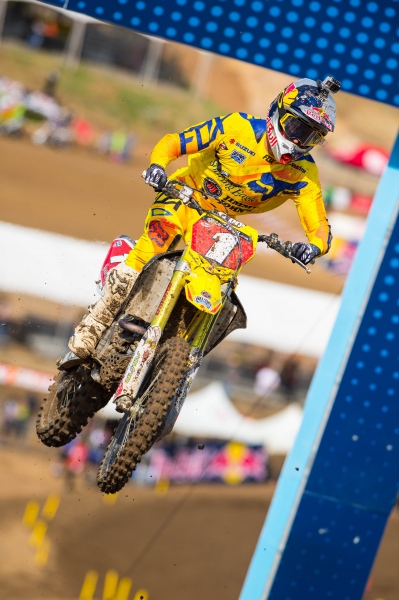 Roczen fell in both motos but had a much better day than he had at Hangtown.
And back I understand from talking to guys, it's good?
The injury is still there but I'm pain free right now, which is good. It is kind of difficult because even with training there's a lot of things that I can't do, certain movements and stuff. I can't row, all that. The best for me right now is swimming because there's no hit. That's a little bit on the tougher side.
Is this something that could flare up again if you move another box spring?
It could, I think. He said it could last two weeks, it could last six months. Some people don't come back for a year. But fact is at the end of the season or whenever it does get bad, in the end of the season, I hope it lasts that long. I'm going to have to get it burnt. So they go in with a hot needle and it basically kind of melts the fracture or something.
Tough start to your season. It's starting to turn around. Thanks for doing this.
Thank you.
***
Phil Nicoletti
Filthy Phil, do we talk about your first ever podium and a terrific ride or do we talk about the pressures of the podium getting to you, cracking in the second moto and crashing? But seriously it was a good day. Any time you can do that in the 450 class, that's a nice day.
Seriously it's hard because just like any athlete… I wish it would have happened in the second moto just because at least I could have that high throughout the week. Now it kind of feels like it didn't happen because my second moto I cart-wheeled then I crashed again. It's not like I was in a bad position second moto. I was right up there in FIFTH again. Got to follow Barcia again for a little while and I was feeling good. Then I cart-wheeled and I couldn't breathe for a while.
And then how about you getting up way back and getting 21st?
Well, I went down again or else I would have scored some points. I basically rode 3FIVE minutes for nothing. So that sucked. Actually the whole time I was just thinking, man, I'm not even going to get in the top ten with a podium. That'd be the first time ever.
What did you get overall?
9th, which just sucks. I was bummed. I wish at least I could went 3-6 or 3-7 or geez even 3-9 for God's sake. But it is what it is. Definitely some highs and some lows but I think the highs today outweigh the lows, for the first time in my life.
First moto you were catching Justin there late in the moto. Had to feel pretty good. You were feeling pretty frisky.
Yeah, it's hard for him because he didn't have anybody in front of him to pace and I had him. So I could see where he was gaining me and where I was even gaining him. I could pick up his lines and use my lines to catch him. I found out some ways to hop some bumps and make up some time but he's solid. He's a fit dude and he knows how to handle that type of situation. He just kind of pulled me in which was good. I've been riding with him at Club and he's an awesome training partner. We're going to continue that for a few more weeks and hopefully we can continue that here on Saturday. Like I said, our bikes are fast off the start though. Holy crap. I don't think there was anybody else around us.
Barcia 3rd overall, you 3rd in the moto, Peick had a solid day. Good day for the JGR guys.
I think we were 3, 5, 9, which might have been a 3, 5, 6 if I hadn't blown it, which leave it to me… Even J-Bone said that. He goes, I had three podium hats but I didn't need it that time. So I was just like, dang it. But we'll get back to work. I got to give it up to the team. They stayed out here this week. Even Johnny Olner did some suspension testing. It's hard for them to stay out here and do that. It's not easy for any team. Go home and relax a little bit and get ready for Colorado.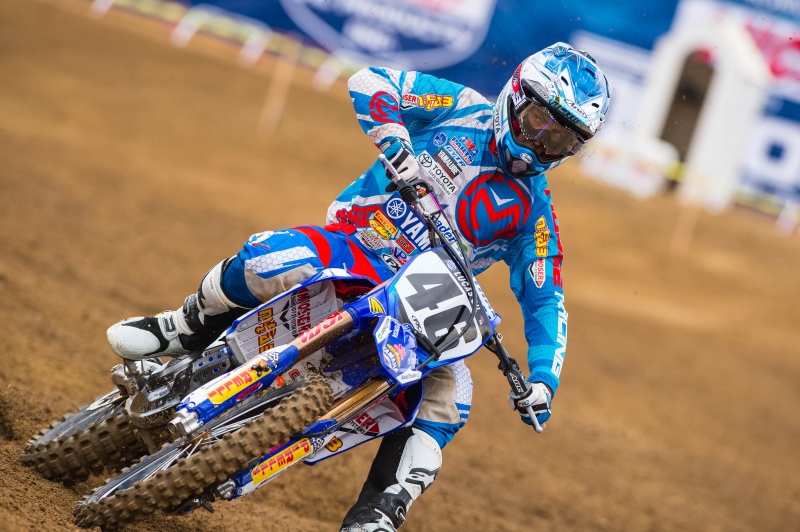 Filthy Phil scored his first ever 450MX podium at Glen Helen
What about Troll (Alex Martin)?
Awesome. I was stoked. I seen him out there, pulled the holeshot, led for a little bit. And then I got dressed and I come out and he's still in 2nd. Then he had a pretty big gap. I'm just like, holy shit he's going to do it. And then he did it.
He's on fire this year.
He's riding good.
I was telling Johnny O he should bill him. Jeremy's paying him and he's just tagging along, and O'Show sort of agreed.
O'Show's getting the short end of the stick there. Jeremy's getting a two for one deal and O'Show's getting slammed. O'Show's a good dude. I've got to know him quite a bit now. He's just a stirring guy. Puts in his time. There's a lot of talk about what they do and how much time they put in. It is a lot of time but those kids have a big workload they can take and it's good. But hopefully I can redeem myself this week compared to last week. So maybe the two pricks won't bag me this week.
We were pretty hard on you when you weren't around earlier in the Rock River truck.
About what? Not my bad mood. Yesterday doesn't count.
No, the bad mood was earlier today but then it was the crash in the second moto.
Of course. Bringing up bad memories. What a bunch of pricks. But it was good. So we'll see what happens.
Great job. Happy to see you get that podium. That's really cool, even Dungey did kind of have a problem on the last lap. We'll still count it.
Gifts happen all the time. Whatever. It's racing. I'll take it. I've gotten the shaft so many times so I don't even care anymore.
How many times have you got a top ten and your bike broke five minutes left?
Exactly, or running fifth and I run out of gas or something. At least the good Lord was looking out for me that time, and even the second time when I augured myself. It was good. Next weekend.
***
Blake Baggett
The whole time I saw you today I was like, if only he could get a start. Your starts did you in. Many times you were third or forth fastest guy on the track, couldn't get the starts though.
Yeah, not the greatest starts for the day but just keep working on it basically. We've been doing a lot of testing and not many motos. Just kind of riding into this thing and figuring it out. Trying to keep it on two wheels.
Were you happy with your motos other than starts?
Yeah, just of course want to be up there closer. You want to be towards the podium. But I learned a lot. I learned a lot last weekend. I learned a lot more this weekend. I'm just going to keep learning and keep plugging away at it.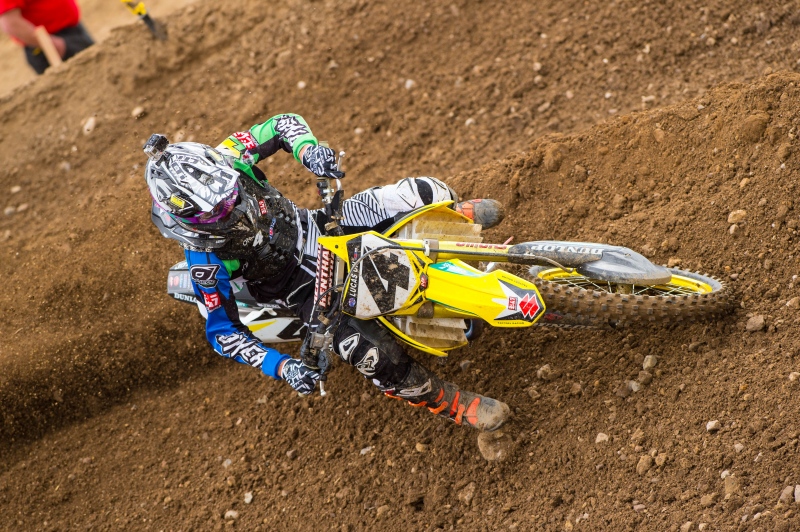 Baggett didn't get great starts but he rode well at the Helen.
You like this place, huh?
It's pretty good. I like this place. I like Colorado next weekend. I like Tennessee after that. I like High Point. I think we got a few good rounds. I think the key to this thing is just stay steady, just keep it on two wheels, and keep learning and just keep improving each weekend. It's the first year so still figuring things out.
What's the biggest difference four motos in from 250 to 450 outdoors-wise? What do you notice? Is the pace higher?
Just the bike. You can't man-handle it around. That's the thing. You got to kind of let it take you where it wants to in some areas and other areas where you're forcing it, it's just a lot of effort exerted to force it. Not just physically tired, but it'll just beat you up. It'll just swap and talk. Everybody's doing it. The pace is going fast enough that everybody's pushing the limits but it's just a bigger bike. It's 230 pounds.
Did you fall in the first moto at some point? I think you lost some spots or something. You were on the move, you were charging hard, and then at some point you lost some ground or maybe even lost a position.
I might have. I don't even remember. I started like 16th I think going up the hill.
It looked like you were all over some dudes at some point and you lost a little bit of ground but maybe you just made a lapper or something. Lakewood, you like it? Looking ahead at that?
Yeah, definitely looking forward to Monday. We're going to keep working on things on Monday and then we'll go to Colorado and see what we got again.
Thank you very much and too bad you didn't get any starts.