"I'm not who I used to be, but I believe that I can be that again."
"I'm not who I used to be, but I believe that I can be that again."
Photos: James Lissimore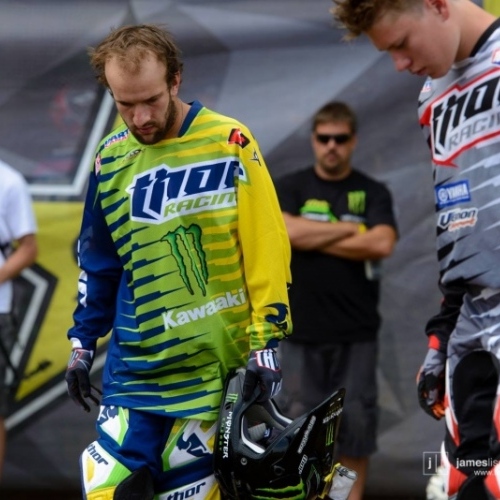 Rife on the gate this past Sunday at Gopher Dunes.
Ohio native Shawn Rife was one of those feared names in the amateur motocross scene back in the day. When the #700 Cernics/Honda backed rider showed up to the track everyone lined the fences to watch him rip. It was honestly as though Ricky Carmichael had shown up to race. As Rife climbed the ranks he won two titles at Loretta Lynn's and was always in contention for moto wins and podiums.
In 2008 Rife raced the Schoolboy classes at Loretta's and then moved onto the B classes for Florida's Mini Olympics that winter. Then things got a bit rough. Rife found himself injured and then was moved up to the A class for the Texas Spring nationals in 2009. Shawn said that he could have petitioned to move back down to finish his season in the B class, but didn't. He kind of flew under the radar that season and when it came time to make his pro debut he was without a ride.
"I believe it's because I have such a strong resume as a kid that everybody expects me to be right there again. Things have changed. I got hurt several years in a row right after my sensational-whatever you want to call it-career. I'm not who I used to be, but I believe I can be that again."
That's when Canada came into play and a ride with Leading Edge Kawasaki. Leading Edge is the Pro Circuit outfit up in Canada and one of the top teams in the Canadian series. Rife took the ride and ended up having a great season in the summer of 2010. He was always in contention for wins and was the overall winner at two events. He would finish seventh in the final series standings. Then he came home to race supercross in 2011.
In the winter of 2011 Rife parked his motorhome in Kevin Windham's driveway and the two became training partners. Rife had set up his own deal again with his old friend Jeff Cernic and he was back on a Honda and wearing Fox gear, just like the old days. The season was a struggle for Shawn. He would have problems with injury and didn't get to show what he had to offer. He would move onto 2012 and have the best season of his career so far.
Outfitted on Honda's again, Shawn found a good place with Utter Racing. He would put in the best ride of his career so far with a tenth at the second round in Indianapolis and a week later he found himself in fourth place for the majority of the Toronto main event. That was when Darryn Durham made an aggressive move coming through the pack and Rife found himself out of the race. Shawn had redemption at New Orleans and scored an eleventh. That summer was hit or miss and then we wouldn't really see Rife until supercross in 2015.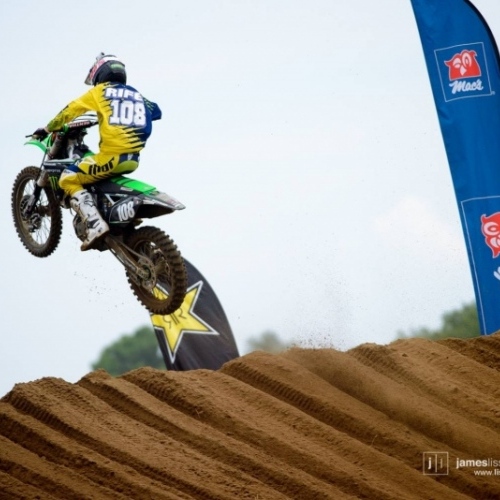 Shawn's return to Canada went pretty well, but he expects more.
This season Shawn kept his options open, continued to train, and be ready to race whenever he could. He was set to rebuild, which meant racing Amsoil Arenacross to gain some confidence before jumping into Monster Energy Supercross. Shawn had received help from PR MX and was set for a fresh start on KTMs. At the first round in Cincinnati he ended up breaking his wrist and that took him out for the series. A few months later, he was able to grab a fill-in ride for the Ti-Lube Honda boys for some of the East Coast 250 rounds. During his stint with the team he won the LCQ at St. Louis and had some trouble in the main event.
"Going into Arenacross I got some KTMs and I was putting in a lot of work. I figured because I haven't raced supercross in a couple of years that I would do Arenacross. I thought it was going to help my confidence quite a bit. I had to be off of the bike for six weeks and I didn't ride until I went to the St. Louis Supercross with Ti-Lube."
This brings us to the present day. Rife was given the call to fill-in for Cole Martinez and the Leading Edge Kawasaki team once again early last week. Shawn went to Canada to ride the bike and then raced one of the roughest rounds of the series at Gopher Dunes over the weekend.
"I actually got in touch with the Leading Edge team at the beginning of the year. I wanted to get back up to Canada because it's a really good deal. They were obviously all booked up and then Cole Martinez got hurt a couple rounds ago. The team called me up on the Fourth of July weekend. They wanted me to do this past weekend (Gopher Dunes) and this weekend coming up (Sand Del Lee). They don't know if Cole is coming back. If I do well at Sand Del Lee then they are going to have me finish out the rest of the series."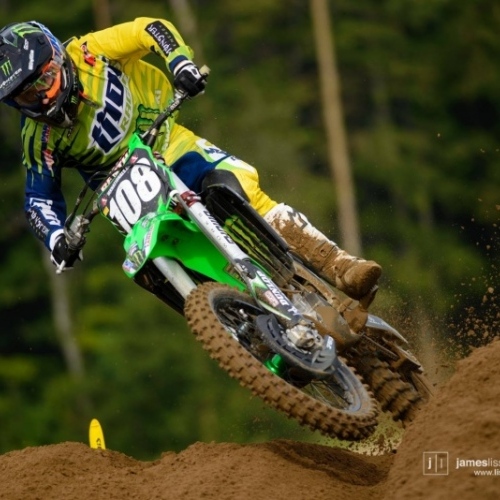 This weekend will be the true test at Sand Del Lee. Can Rife find the podium?
The first round at Gopher Dunes didn't go as well as Rife planned, however with limited seat time on the bike it was a decent showing. Shawn finished the day in seventeenth overall with 9-22 moto scores.
"I think overall it was an okay weekend. I haven't raced a thirty minute moto in probably three years. I haven't even ridden with anyone to know what my pace is. In the first moto I came out and was about three spots away from last off of the start. By the end of the race I had worked my way up to ninth. I finished the moto pretty strong and my times were on pace to finish in the top five. In the second moto I crashed in the first turn and I came back from last to eighth in about four laps. I came together with someone and my wheel was kind of broken so I salvaged what I could. I tried to fix the wheel by myself, but I couldn't get it. I pulled into the mechanics area mid moto. I think by this time I was back to 33rd. I salvaged what I could. I appreciate the opportunity that they have given me and I'm not going to let it slip away."
Shawn looks forward to getting back to his winning ways soon. If he can finish out the Canadian nationals with a successful run, Rife will set his career back on the right path and prove to everyone that he still has the talent and speed to run with the top riders in the sport.
"I was honestly just going to ride all summer and try to stay healthy. A few months from now I was going to start training for supercross early. That was my long term goal. I obviously can't hate what I'm doing right now though, that's for sure."