11 minutes 29 seconds with… Shaun Simpson
11 minutes 29 seconds with… Shaun Simpson
Interview: Jonathan McCready
Pic: MXGP & Nigel McKinstry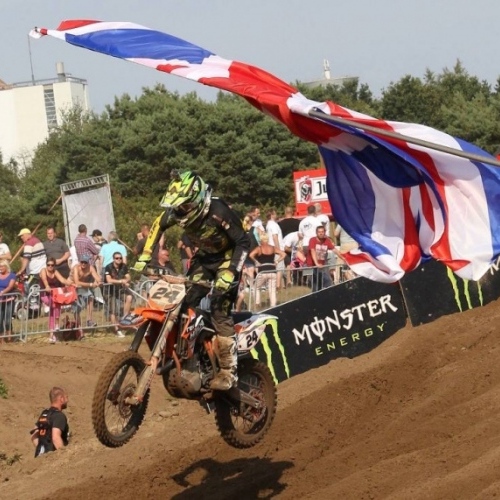 Simpson dominated the day at Lommel going 1-1 on the day.
For Shaun Simpson a lifetime's work was given the ultimate reward at Lommel when he went 1-1 for the first time in his career to win his second ever GP.
And in many ways this was even more impressive than the first, because put simply, Simpson dominated. Whatever Febvre and Paulin threw at him he handled it, and even a late crash in the second moto couldn't prevent the popular Scot from taking the win.
Simpson's popularity was evident when the press room gave him a round of applause for his win because they and a lot of people recognise the hard road Simpson has been on and is still on in GP racing.
A privateer, working on his own bikes with his father, backed up by the small but effective Hitachi Construction machinery KTM team run by Roger Magee, who gave Shaun his start at GP racing, means both team and rider have come full circle from where they began all those years ago.
The defending British champion is having the season of his life but Lommel was maybe the pinnacle of Shaun's long career.
Simpson graduated from the relative obscurity of Irish Championship racing through to the British championship and then World championship racing. Now, eleven years later since his GP debut, Simpson stood on the top of the podium as the man of the weekend on the toughest track in the world.
It was a long, winding road, but Shaun's humility and work ethic has gained him fans throughout every level he has raced. Nothing has been handed to him and that makes this win all the sweeter and rewarding for Shaun, his family, girlfriend, team and his many fans and supporters.
We caught up with a happy but emotional and reflective Simpson as he sat at his motor home to talk about his victory. We also discussed his American adventure coming up at Unadilla this weekend.
Pulp MX: That was total domination! How do you put that into words?
Simpson: It's difficult to put into words. It's been a long time coming because I felt like I should have had a 1-1 victory for a while now, I've been racing GPs for eleven years and it's something that every rider wants to do. It's the perfect weekend, it's the perfect day, it's the perfect end to a big build-up for me.
There are so many fans, Belgian Shaun Simpson fans, Simpson supporters, the Simpson Army (Shaun's supporter group) and it's so nice to see so many people hanging over the fence with Scottish flags, guys in union jack under pants coming unto the track, it feel special, it really does.
Pulp MX: It's almost like it isn't just you winning because everyone appreciates what you have achieved.
Simpson: Yeah everyone can get a slice of my win, I feel that everyone is feeling enthusiastic about it. This ranks up there with my Lierop win (2013) it was special because it was my first win but today going 1-1 is really special too.
We have worked hard for it, the team has put a lot of effort in to me, my dad has really stepped up the game, we have worked really hard with the bike, I am spannering a lot too and we have dedicated everything to it.
Pulp MX: Does that make it more special the fact you are a privateer team, and not just that but you are working on the bike yourself, your dad was up to 1am working last night to fix a problem, then you go out and do that today – it's pretty amazing.
Simpson: Yea it does make it more special because you see the factory teams with five, six seven maybe ten guys working in there and we were still able to get a win. A GP win at Lommel goes next to my name for the rest of my career, and that's no mean feat, I had to work bloody hard for that.
There are 300 other guys here this weekend that would like to be standing where I was today and I'm the guy. I'm not one for blowing myself up on social media or speaking my mind that often, I just keep my head down and keep the hard work up, and I reaped the rewards today.
Pulp MX: I have seen you racing Ulster and Irish Championships at 15/16 and now you have reached the pinnacle with a double moto victory in a GP. All those motos, all those years of work, it is a pretty big achievement to get to where you are today.
Simpson: Yeah, I have some great motocross memories. I have dedicated my life to it. It's quite insane really. This is an everyday thing for me, it really takes it's toll. I can't thank everyone enough, my parents for getting me to a level that I could do GPs, then Roger Magee stepping up to bring me into GPs with his team. I left for a few years and Roger took me back, it really has been hard work. Then Rachel, she is now by my side, it's not easy for her either with it being a long distance relationship, it takes it's toll. But when everyone is here and we get results like this, it's a victory for everyone,not just me. There has been a few tears today, it makes me smile inside.
Pulp MX: When you were 15/16 racing Irish and British championships, how realistic was the goal of being a GP winner or was it more of a dream? You didn't go in to a factory team like Searle, Herlings, Roczen, you were on the bottom rung of that pro ladder working your way up.
Simpson: I think it was more of a dream, for many guys it still is. I know I am a grafter and I know I have to work hard for what I achieve but no-one can take this away from me. I know I put the work in to get it done, it's something special. I have worked for every single result I have had and there has been some great times and been some terrible times. Did I think it was possible? Maybe not, even sometimes this year I have questioned if I had it anymore. But you have to get through those bad times, this is such a mental game.
Pulp MX: What makes this track where you believe you can win and then say Loket going for a top five, is that a mental thing or more to do with the different track and bikes.
Simpson: I think the factory teams have more of an edge on the hard pack tracks. There's factory tyres, better suspension, traction control with the ECU. So many things, it's getting a bit like formula one, it's so technical. But we are riding with a mostly stock bike, with modifications done to it.
On a track like this it really comes down to hard work , graft, a scooped tyre, fuel in your tank, two wheels and give it everything you have got. And that's what makes it so different to everything else.
Pulp MX: The first lap of the qualifying race you were mid-pack, a lap later you were fifth, two laps leader you were leading! How did you do that?!
Simpson: Yeah, you can never write anyone off in the sand. It's not unknown for a guy to be going 3-4 seconds faster a lap for three laps. That's a lot of track time, where else in the world can you do that? In the Czech Republic if you're making half a second a lap and you are closing down quick. Here you can fall off and still win a moto, that's what's so special about it.
Pulp MX: The first moto today, you couldn't dream of a better way to get into the lead than jumping the quad over Febvre's head!
Simpson: Yeah that was pretty special, jumping to quad to get the lead on the first lap was nice. I was surprised he didn't jump it all weekend, I thought he could've or should've. I got a lot of time there this weekend, but I was comfortable doing it so I just kept getting it done.
Pulp MX: In the second moto, Paulin went quite early to the front and was pulling away, did you always think you would get him by the end?
Simpson: I saw three or four fast laps and I did think he was going to burn out but he went longer than I expected but overall I wasn't surprised he burnt out. It looked like that was going to be his tactic (sprint early) but I felt I had enough in the tank. But it was hard work.
Pulp MX: Then you had that crash with two laps to go, but you got straight back into your rhythm was that difficult to do?
Simpson: No, quite honestly when you crash when your practicing you pretend it's a race and get up and get the lap times back on track. I was ready for it, I was strong enough mentally and physically, it meant a lot to me to go 1-1. I wasn't going to let it slip, let me tell you that!
Pulp MX: You are racing Unadilla next weekend what are your thoughts on that? It's one day event like the British championship, have you any goals or do you just want to have fun?
Simpson: It's just a fun event, something I have wanted to do for a long time. I want to go over, have fun and come back with a big smile on my face. I am not setting any big goals. I have been supplied with a factory bike and that's great news but I still want to go and make sure we come back in one piece and just take it all in.
Pulp MX: Some of the American riders probably haven't heard of you, maybe until this win today!
Simpson: Yeah, I wouldn't be surprised but I'm not bothered!
Pulp MX: The track can get rough there, if you get the bike set-up it might suit you…
Simpson: Yeah like I said I just want to have a good time, but the British championship is one day so I know how to deal with that. I am just excited to see how it works. If we have a great weekend then great, if it's hard work then at least I have went and experienced it. It's just about experiencing new things and expanding my fan base and it's another thing to tick off the list, so why not get it done when we can.