Nelson and Febvre best the field.
Nelson and Febvre best the field.
Article: Jonathan McCready
Pic: MXGP/ KTM images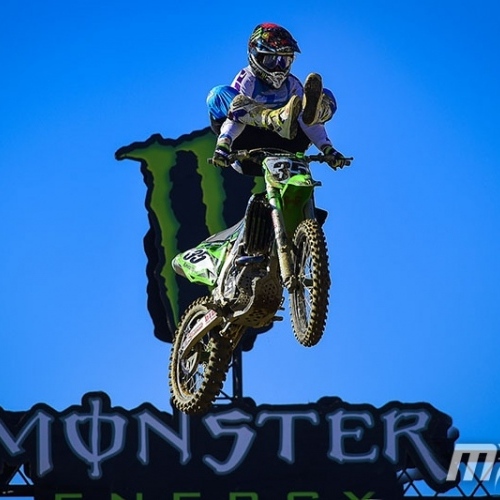 Grant was on fire at his home track and went 3-1 on the afternoon.
It was the final round of a long and arduous season but the final GP at Glen Helen supplied some blistering racing to go with the blistering heat.
Romain Febvre confirmed why he is currently the best rider in the world by running down the Americans in race one to take a superb victory after an epic outside pass on Cooper Webb on a big downhill. Febvre had to run down the Americans again in race two, this time it was local boy Josh Grant in the lead but Febvre dropped it with three laps to go just as he was about to make a move.
It left Grant to take a hard-earned and impressive moto victory on his home track, and after the race he admitted he would love to race MXGP next season. If a team can get this performance out of him every week then he wouldn't be a bad signing! Grant has so much talent but just can't put it together for a title, maybe a change of scenery will help the Californian to achieve his full potential week in, week out.
Cooper Webb also rode strong in his first race on a 450 and took a fine third overall. The aggressive young American tried to take Febvre out on the last lap of race one and the two Yamaha men didn't even look at each other at the end of the first moto. It could get nasty at the MX of Nations this weekend in France in the open class!
Tony Cairoli showed why he is one of the all-time greats at Glen Helen. Despite not finishing either moto due to a lack of race fitness and some issues with his elbow, Cairoli ran up front in both motos. He set the fastest lap in race one and was leading race two until fatigue set in. Cairoli didn't like losing his title and admitted at Glen Helen he is out for revenge in 2016.
In MX2 it was an American runaway as the TLD KTM team went 1-2 overall. Jessy Nelson won both motos in impressive style and McElrath backed him up superbly in second.
But the real battle was between Gajser and Jonass for the world title, Jonass caught Gajser in race one after the Honda man crashed in the opening laps but when Jonass made the pass, Gajser fought straight back and re-passed the KTM man. It was the moment that broke Jonass who slipped back to tenth as Gajser cruised finished fourth.
In race two Gajser took it steady for fourth place again to clinch his first ever world title, and Honda's first for 15 years! Gajser was mobbed by his team as the magnitude of achievement from the recently turned 19 year old sunk in. Gajser admitted he didn't push too much during the races which perhaps robbed us of a battle with the Americans but securing his first world title was much more important, Gajser used his head and didn't let his ego get in the way. The kid is fast and smart and could do some serious damage at the Nations on the 450 at Ernee, back on his favoured hard pack terrain.
Pauls Jonass apologized on Twitter for his bad riding at Glen Helen but it was great experience for the 18 year old to feel what it's like to be involved in a championship battle. Jonass, like Gajser, will want to show his real speed at the Nations.
It was a good end to his mx2 career for Valentin Guillod who took a podium (and fourth in the championship) after a tough few weeks with crashes and injuries. But Guillod ended his year on a high and will begin his 450 career at the Nations for Switzerland this weekend.
Max Anstie was very fast but very unlucky, the Brit suffered a mechanical on Saturday which left him coming from the back of the pack on Sunday. Anstie came from way back to fourth in race one and eighth in race two after a crash but secured fifth overall. His speed is there and the British fans will have high hopes for him in France.
So another season of World championship racing is over and what a season it was! There may not have been a year of more unpredictable racing and championship winners in history, the only downside was far too many injuries in both classes.
Next season will see the return of Cairoli and Herlings who will want their titles back, but Febvre and Gajser won't be giving them up without a fight. Just five months to wait!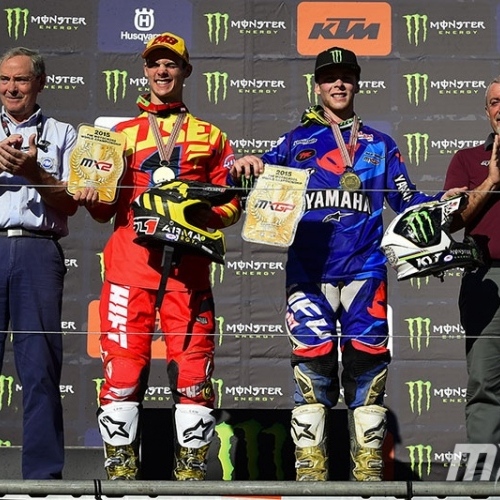 Gajser and Febvre claimed their first ever professional world titles in 2015.
MXGP Overall Top Ten: 1. Romain Febvre (FRA, YAM), 47 points; 2. Josh Grant (USA, KAW), 45 p.; 3. Cooper Webb (USA, YAM), 42 p.; 4. Dean Wilson (GBR, KTM), 32 p.; 5. Glenn Coldenhoff (NED, SUZ), 30 p.; 6. Evgeny Bobryshev (RUS, HON), 28 p.; 7. Gautier Paulin (FRA, HON), 26 p.; 8. Jeremy Van Horebeek (BEL, YAM), 23 p.; 9. Tommy Searle (GBR, KTM), 20 p.; 10. Jason Anderson (USA, HUS), 18 p.
MXGP Championship Top Ten: 1. Romain Febvre (FRA, YAM), 735 points; 2. Gautier Paulin (FRA, HON), 592 p.; 3. Evgeny Bobryshev (RUS, HON), 567 p.; 4. Shaun Simpson (GBR, KTM), 481 p.; 5. Jeremy Van Horebeek (BEL, YAM), 449 p.; 6. Maximilian Nagl (GER, HUS), 442 p.; 7. Antonio Cairoli (ITA, KTM), 432 p.; 8. Glenn Coldenhoff (NED, SUZ), 423 p.; 9. Todd Waters (AUS, HUS), 354 p.; 10. Clement Desalle (BEL, SUZ), 331 p.
MX2 Overall Top Ten: 1. Jessy Nelson (USA, KTM), 50 points; 2. Shane McElrath (USA, KTM), 42 p.; 3. Valentin Guillod (SUI, YAM), 36 p.; 4. Tim Gajser (SLO, HON), 33 p.; 5. Max Anstie (GBR, KAW), 31 pe.; 6. Chris Alldredge (USA, KAW), 30 p.; 7. Jeremy Seewer (SUI, SUZ), 29 p.; 8. Harri Kullas (FIN, HUS), 28 p.; 9. Pauls Jonass (LAT, KTM), 26 p.; 10. Benoit Paturel (FRA, YAM), 20 p.
MX2 Championship Top Ten: 1. Tim Gajser (SLO, HON), 589 points; 2. Pauls Jonass (LAT, KTM), 564 p.; 3. Max Anstie (GBR, KAW), 537 p.; 4. Valentin Guillod (SUI, YAM), 511 p.; 5. Jeremy Seewer (SUI, SUZ), 496 p.; 6. Julien Lieber (BEL, YAM), 430 p.; 7. Jeffrey Herlings (NED, KTM), 423 p.; 8. Jordi Tixier (FRA, KAW), 393 p.; 9. Benoit Paturel (FRA, YAM), 376 p.; 10. Petar Petrov (BUL, KAW), 324 p