There was just something in the air leading into the 2016 Supercross series.
There was just something in the air leading into the 2016 Supercross series.
I'm not trying to be poetic, not in the least. There literally was something gyrating in the ether of… dare I say it? The Universes. (Thanks Tony). Something had me more amped than I have been in any year in recent memory for this SX opener. It wasn't simply the "deep field" or "parity" which have been buzz words relating to the 450 class for the last handful of years. It was something else.
Shit, it's still here. It's that feeling when a collective consciousness is anticipating something happening. Something big.
Regardless of the buzz in the air, nobody could have predicted what we witnessed in Anaheim. There were so many events to write about but only two which have captivated our full attention, one even seeped into the arteries of multiple main stream reporting channels.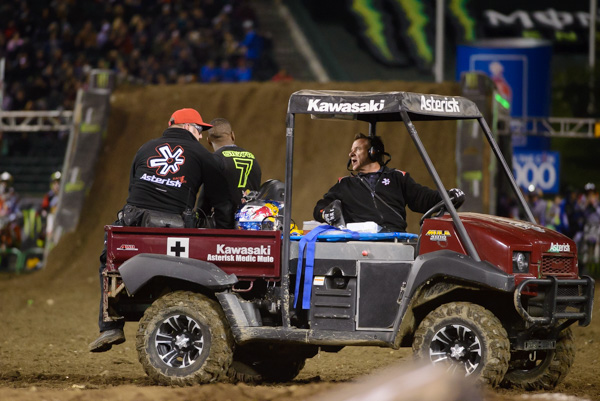 James will hopefully be back next weekend in San Diego.
James Lissimore photo
Before I dive into the meat of my directive I want to touch on the unfortunate contact resulting in the red flag and exit of James Stewart. This contact and event in itself has polarized fans and I feel like the majority of this divide teeters on a line drawn by fans of racers, not fans of racing. I understand the tendency for people to pick an individual to root for as this is how it works in stick and ball sports where we root for our home team and back them to the death. Side-stepping objectivity in lieu of interpretation, skewed by subjection. Step back and realize, unless you have a personal relationship with a racer, you have no vested interest in them or their results. They are not your Alma-mater and in the grand scheme of things, they really don't care how dedicated you are to carrying a torch for them. They care about winning races, cashing checks and the legacy they leave behind when they call it a career. Racers come and go, respect them, highly even; but never lose sight of the fact that the race is what we love. It takes more than your favorite jockey to make this sport as great as it is.
The Dungey backers are emphatic that it was an unfortunate result of racing, while the supporters of JS7 are enraged, claiming Dungey is dirty and it was on purpose. First of all, you don't get to rip Dungey for years on end for being too restrained and not aggressive enough when it counts, then flip the script after this happens and claim he's dirty and intended to take out Stewart. It's nonsense. Jeff Emig made a statement on Denny Stephenson's Instagram post today conveying a simple and accurate reasoning for how this event unfolded:
"You gotta be careful with the angles in which you enter and exit a turn like that. (Obviously) both riders were at fault. After a few races of being around other riders they may think twice, but this is a product of practicing by yourself with no one on the track, and instinctually thinking you can go wherever you want. Bad line by both riders."
This is absolutely correct and by definition, it is a racing incident. There is no intent or dangerous choice here. It's two converging lines amidst opening-lap chaos. Don't be blinded by your rider-preference glasses. It absolutely sucks that JS7 was knocked out, both literally and statistically, from the nights action. We already had a full Supercross series in 2015 with no James and all of us who love the race, not a racer, were hoping to see he and the rest of the title contenders get through the opening round healthy, and chase this cup to the end.
Just because you make a conscious choice to root for racing and not an individual doesn't mean you are unsympathetic to a racers plight or tragedy. Human beings are not binary so quit acting like you can only be for one and not another.
Best wishes to James for a speedy recovery and to make another run like he did in 2009 after not finishing the opening round.
Now.
I've gone here before, last year as a matter of fact when Chad Reed was black flagged in an ill-advised incident with Trey Canard. The AMA.
I can appreciate the effort they put forth to make a swift and just ruling when incidents occur such as that between Weston Peick and Vince Friese in Anaheim but the inconsistency in the execution of these instances, are atrocious.
Let's not mince words here, I can't think of another rider in the history of this sport at a professional level who has been globally hated more than Vince Friese. All you need to look at is the list of social media posts from current and former pro's not only voicing an opinion on the incident but whole-heartedly backing Weston Peick for his response and execution doled out on Vince Friese. He's a cross-jumper, a brake-checker, a block-passer and danger to everyone around him. Every pro knows it and exercises caution when dealing with him. There is no muddy water here, Vince Friese has perfected the role of passive-aggressive pro racer who is always ready to play the "I don't know man, I just try to race" card. We've heard it on the PulpMX Show multiple times, it is a reputation both earned and deserved.
All that being said, do I think it was "right" for Weston Peick to throw haymakers at the time of the incident? No. But that's what it has come to. I'm not here to judge Weston's decision in the heat of the moment, God knows we've all let our emotions get the best of us in life.
Vince's actions, reputation and lack of accountability by those who hand down the rulings have forced a rider to drastic measures and fend for himself. Vince can always retreat to his corner and defend himself by claiming there was no intent but his track record is long and not to be confused with mere coincidence or wrong place/wrong time.
It's a very slippery slope with regard to making rulings against racers for "race moves". Until you have a track record such as Vince's which is so obvious, one could argue that a ruling is overkill but then if you wait until a track record is established, people could be seriously injured while that track record is accruing. A ruling will always favor the rider in the event of an appeal too because they can always point toward contact being part of racing and the inability of the AMA or whatever sanctioning body being able to actually prove intent. Weston Peick on the other hand left absolutely no wiggle room in terms of "intent".
1 Race Suspension $5000 Fine
Here is where my big problem is with the AMA and their rulings in these cases. You've no doubt seen Weston's haymaker's plenty of times and the penalty the AMA handed down was suspension from the following race and a $5,000 fine. This in and of itself feels a little light to me. Vince's reputation set aside and whether it was deserving of retaliation or not (yes, we hear all your voices "people who have raced him"), those were some BLOWS.
Now lets look back at the altercation involving James Stewart and Chad Reed at Round 2 of Phoenix in 2010. Chad made a move underneath James just before the finish line, James came down, contact was made, they hit the ground with James landing on top of Chad's broken (in the contact) hand. Chad shoved James off his hand, remounted and rode off before pulling out. James was also unable to finish. This altercation resulted in exactly the same ruling by the AMA on Chad Reed for this "shove". Even on this night in question when the determination came out, we all thought this was an utter failure by the AMA. A race suspension and a $5000 fine for that! Take a refresher look below.
1 Race Suspension $5000 Fine
Again, we are not binary but just as Vince Friese has a reputation which has led him here, to riders taking matter into their own fists; the AMA has a reputation of it's own and they had better start focusing on bringing order and consistency to their rulings before it is taken away from them.