RD talks Oakland SX.
RD talks Oakland SX.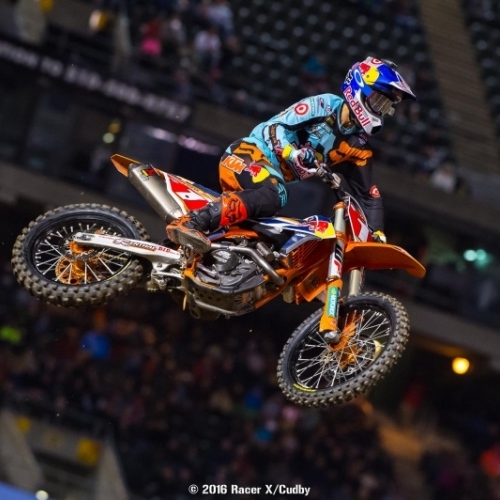 Dungey is on a hot streak of 2-1-1-1 in four races.
Photos: Simon Cudby
You're too modest to say this, but are you riding better than ever?
That's the goal. You try to each and every year, try to get a little better. I think another year with Aldon has been very beneficial, another year with the team, another year with this new bike. There's a lot of things that were new last year, coming into the year going into 2015. So now a whole year under our belts and a little bit more knowledge and experience and more time. That's the goal for all of us. Those little bits, keep building. They're small gains but as you know those little tenths there, little tenths here, and then trying to get a little better each week with the bike, trying this, that. Not testing a lot but just enough. We pick an area and we try to get that a little better and if we don't then, hey, we got a good setting.
It's a nice start for you this year. Did you notice Ken was in second early on?
I did. I actually thought it was Eli for a while. I don't know why. I kept thinking I was seeing a green fender. I'm like, I see a hint of green, and it's Eli. Well then about lap fifteen I realized it wasn't Eli and it was Ken. But Ken was putting the pressure on. The track was challenging just for the fact that it was deteriorating and getting rougher and deeper and choppier. Having to switch the lines and try to keep the lap times where you want them. Having Ken behind me, I couldn't really afford to make too much mistake. He was right there.
It was kind of like a little bit of San Diego. Maybe Reed was closer than Kenny was. Any kind of mistake and he would have been on you. But at the same time I felt like probably you had another little bit in you if you needed.
Yeah. I was giving it my all. A track like that, the intensity I felt like it was there but you couldn't over-ride the track with the throttle. It looked really tacky and it was deceiving. It was tacky but if you gave it a little too much throttle you'd spin. So it was one of those tracks you kind of had to let the tires kind of get the traction and good throttle control.
Last week we saw Eli do that quad in the rhythm. I don't know if it was any faster, but it looked pretty good. This week he was tripling into that table top section. I know you have video and all that. Is that stuff to even worry about or think about? You're like, I'm winning, it's working for me, I'm fastest qualifier, but does that stuff kind of go through your mind? Is it a little bit like, hey, maybe I should do it?
It does, for sure. But I try to weigh out what's going to be the fastest… If it's for sure, hands down, quad is like a second then yeah, we need to pull it. But if it's something that doesn't really look like it's making much time… I try to look for the fastest but yet the consistent. You kind of have to weigh it out. Yes, I see him doing that but I also felt like hugging that inside double, jumping on a table table was really setting you up nice too, you could stay low. You try not to make too much work for you. But he's always been a guy who likes to do different rhythm lanes. It can be good. It points stuff out that we can be a little bit better too. A track like today was important. You needed to get a good start just for the fact that there wasn't anywhere to really make any time. Either a guy needed to make a mistake to get away or just lap by lap you were going to have to tenth by tenth.