No, that is not implicating James… I can't take some of you seriously.
No, that is not implicating James… I can't take some of you seriously.
Photos By: Jani Hovi
A couple weeks back when we saw James unable to line up for round-two of the series, I waxed on about how I hoped we'd see him back healthy this series. I was genuinely concerned that all the head trauma from years of pushing the speed(and helmet capabilities) to the limit and beyond was going to become a debilitating roadblock for James.
When he couldn't make it past practice at Anaheim 2, I was actually a bit encouraged. He knew he wasn't feeling 100% yet and made a tough, though mature, choice to forgo the night program.
This week though, that ill feeling in the pit of my stomach returned during James' heat race. James' intensity is always a little unsettling(maybe just invigorating) to watch but it was clear to me that everything was coming to James a little faster than his body was preparing for. He was shorting landings and twitchy in response to contact with obstacles he appeared to be expecting seconds and fractions of seconds later.
In the Main Event, this appearance of late reaction and bewilderment only amplified. It was obvious that something was wrong and James heeded his bodies insistence that he park it.
Here's where my confusion with a vocal sect of the sport comes in. Even some former elite riders chiming in with completely ignorant takes on James thus far into 2016 and even specifically regarding his pulling out of the action in Oakland.
Raise your hand if you saw James go to sleep at Anaheim 1… Ok, that's all of you. Keep your hand up if you've ever dealt with head trauma which resulted in you going to sleep… ok, a good number of hands down. All of you with your hands still up who believe James "quit" in Oakland because he was getting passed; you're a hater and stupid. Not ignorant. Stupid.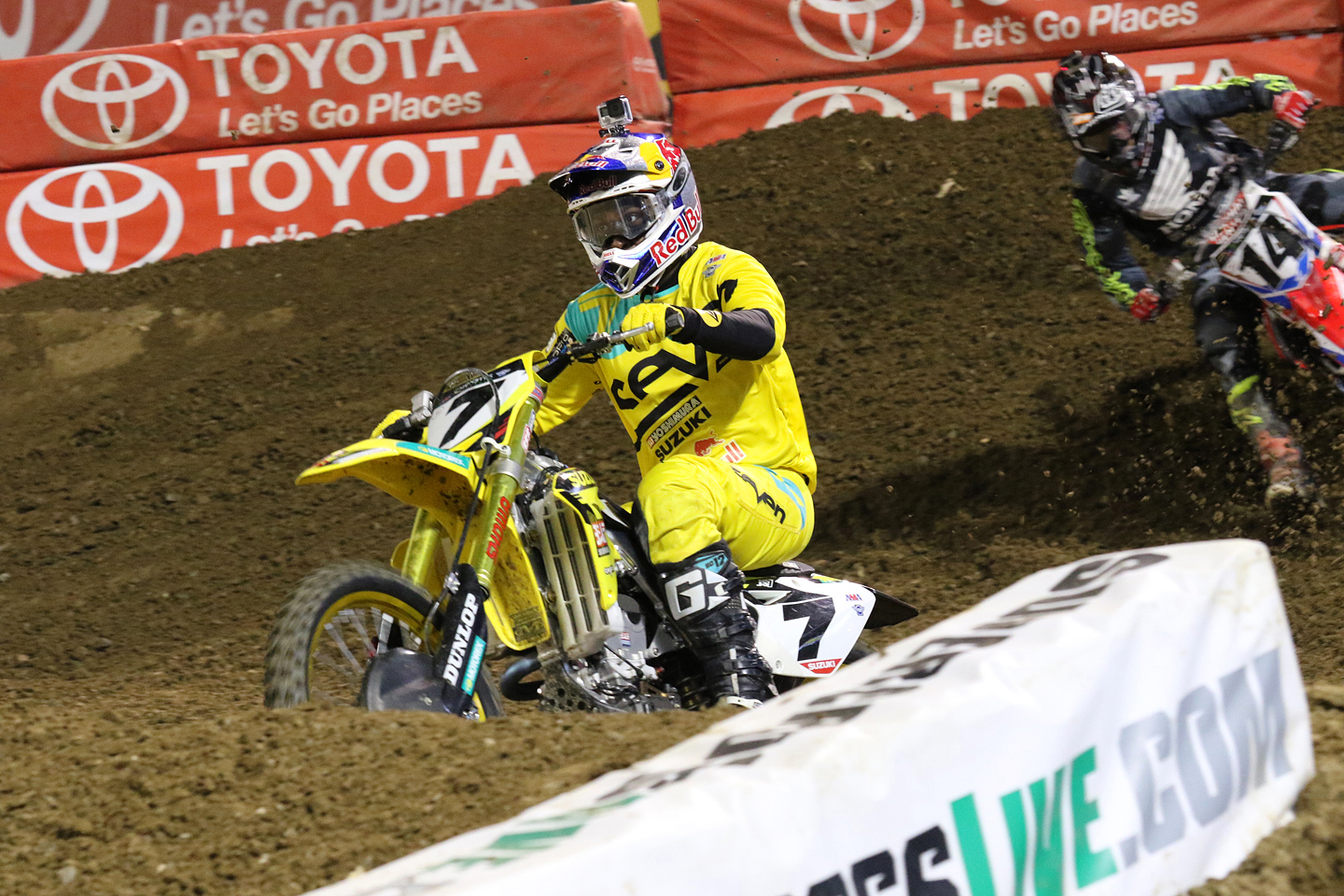 I could be wrong but those eyes spell "surprised" in my mind.
Put yourself back in those shoes from when you were counting sheep after hitting your head, now imagine that being a recurring deal over your career and press fast-forward on your speed. Here we are, 3 weeks out from your most recent on-track slumber, which was no quick-blink from consciousness and trying to maintain pace with the #1 guys on the earth on SX. Even if you haven't dealt with repeated concussions, everyone has dealt with over-exerting their body and the light-headedness that comes with maxed out heart rate when they are at less than 100%.
Those of you who haven't been concussed but still believe James quit out of hurt pride or embarrassment, well you fall into the ignorant crowd. Until you have been concussed, you cannot begin to imagine the level of decline your body goes into when attempting to recuperate from such impacts. There is no more dynamic and complex system on the planet than the human brain and as much as the medical field has learned about it's function and responses to medicine and trauma, it's merely a grain of sand in relation to complete understanding.
Many of the negative affects of such trauma are immediate and unrecoverable, while others take longer to reveal themselves but similarly can be unrecoverable. One thing they have in common is, they are all forms of brain damage and to bring pride and entitlement into a far more serious discussion of health is disgusting. It's not as simple as aligning your disdain for a rider with the basic visual of them just "quitting".
Unfortunately, brain-injury is nowhere near as simple as much of the opinion-formulation expressed in this matter since Saturday.
Again, here's to hoping James makes it back, healthy, in 2016.