A really nice story brewing here
A really nice story brewing here
Congratulations. We thought it would be coming out for you soon. You've been on fire. You did it at Glendale. First off, what's with the hand guards?
Man, I wanted to be like Pastrana. First of all, what'd you have me picked on your fantasy? You asked me last night what to put me. What'd you put me?
I think I put you third. I think I put Zach second and you third.
But yeah, good race. I got a good start again. Starts have been dialed all the past three weeks.
Even your teammates too, Jimmy D was right with you. Jordan got a good start in the heat. The long straight and the GEICO horsepower was working.
These bikes are on fire. Jimmy ended up getting the holeshot by like a bike length but I got him in the whoops. I knew Cooper was coming. Number one has chased me down every time. But I focused on myself and that was the biggest thing. Ride mistake-free and I didn't do that the past two rounds. He still caught me, and I wasn't going to let him pass me so easy. I said, I'm putting up a fight. I want this win just as bad as him. I saw his front end tuck right next to me and right there there was five laps left and I'm like, I got this, finally! So it sucks to kind of win that way, someone falling, but I'll take it. It's a win and I'm pumped.
Well It happened to you, you fell when you were up front. It happens. But seriously, what is up with the hand guards?
So practice I was going down the start straight, it was the long start straight and I got a rock, and from then on out my hand's been swollen. Then I got one in the heat race with Cooper when he passed me and I'm like, all right, put hand guards on. And then we made actually a couple other changes. We put a different tire on and that made a big change in the corners. The changes we made were good and I'm glad.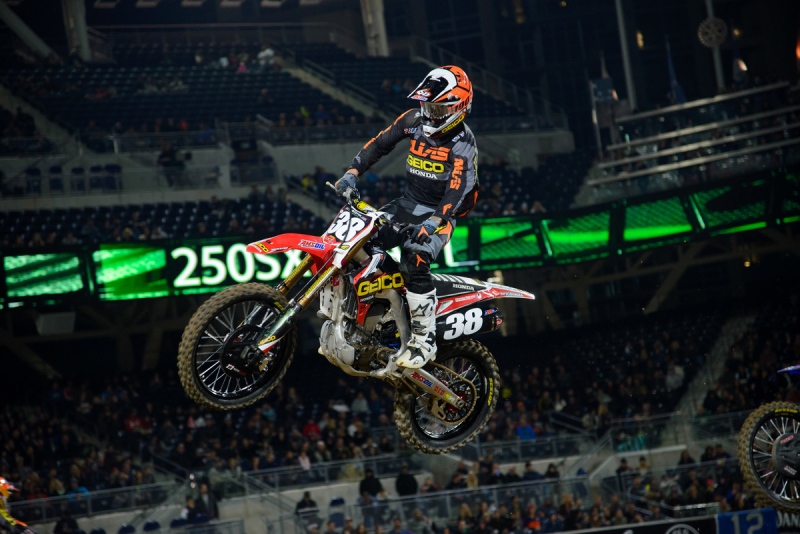 Craig has gone 3-3-1 in the last three races and is trending upward. Lissimore photo
I think you made a line switch too in the whoops. I believe you were on the left side for most of the day, maybe even the heat. The main event you guys even hit, you and Webb, trying to get to the right side. You were loving the right side, huh?
Yeah, and he knew that was my line and he was trying to take it from me. I had to get over there. The middle and the left side were so chewed up. I had a little secret line on the far right on the hay bales and it was working. That's where I made my pass for the lead and that's where I felt like I pulled Cooper, and he'd get me in some other spots. So I stayed over there and we hit. I'm like, oh crap! Good feeling to win. I don't want this night to end. We got next weekend, though.
Yeah, you've been a surprise. Most of us thought you'd be pretty good but to win this early I think is a little bit of a surprise. I'm like, let's not get all emotional here but you quit the sport not that long ago and you were in the hospital a lot. You basically had a real job, and now you're back and you just re-signed with GEICO I heard. So things are great.
Yeah. A year ago, like I said on the podium, I was working construction right now. So to be here winning a supercross is amazing. I didn't see this in my cards I'd say a year ago, but I put my head down and put in my work. I earned this ride I feel like. Hopefully I stay with this team for a couple more years. We're still chasing that championship though. I think I'm 11 points down, third in points. You never know what could happen.
Great job. Congratulations. That was awesome. This thing's getting more interesting. You didn't even use my line about jumping off the dragon back.
I saw Cooper do it in the race though and that thing was sketchy all day. I was just like, get me through it.
It's easy for me in the press box. I wouldn't do it.
That thing was big. I saw Davi do it and I'm like, I'm all right.