Worth is back riding and gearing up for outdoors
Worth is back riding and gearing up for outdoors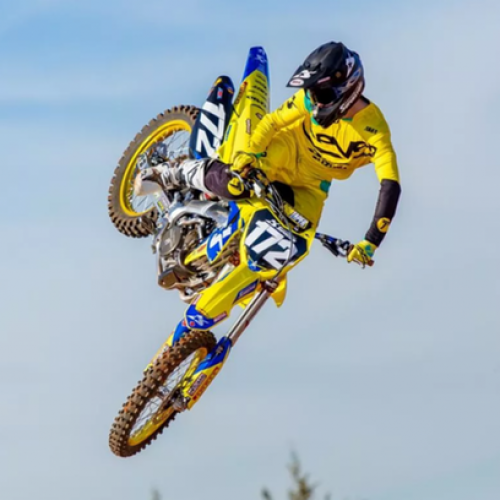 Worth is ready to turn some heads in the upcoming Lucas Oil Pro Motocross Championship.
Photos: Simon Cudby, Motorcycle Superstore Suzuki, and Worth
This past Wednesday was a huge day for Motorcycle Superstore Suzuki's Marky Worth. After being injured and off of the bike since January 9, at Anaheim 1, Worth was finally able to ride his dirt bike again.
"It's been a long three months for sure, but it could have been worse," Worth said.
The initial report from the doctor was that Worth would have to originally wait until April 1 to ride again, however Christmas has come early for the Arizona rider. He's gearing up to make sure that people notice him in the Lucas Oil Pro Motocross Championship.
"Outdoors is my forte, I don't think it will take much time to get up to pace, Worth said. "I'm not going to settle, I'm setting my goals high and I know what I can do. I'm better than top twenty."
The seventeen-year-old has had a long journey in amateur racing to get to this point in his racing career today. Worth won his first title at Loretta Lynn's in the 50cc (4-6) class in 2005. The next year he backed that championship up with another one, this time in the (7-8) age group. After that Worth was signed on to race for Kawasaki and Team Green, it was a relationship that he would keep until his final year in the A class.
"Coming up in the amateurs I always went to the gate to win and if I didn't win I didn't achieve my goal," Worth said.
Worth would get podiums and moto wins throughout the rest of his years at Loretta's Ranch, however other championships eluded him. It wasn't exactly his favorite amateur national of the year. Everything has to go right for three motos and with the heat of Tennessee it of course gets brutal. He finished out his amateur career with a fourth overall in the Open Pro Sport class last August.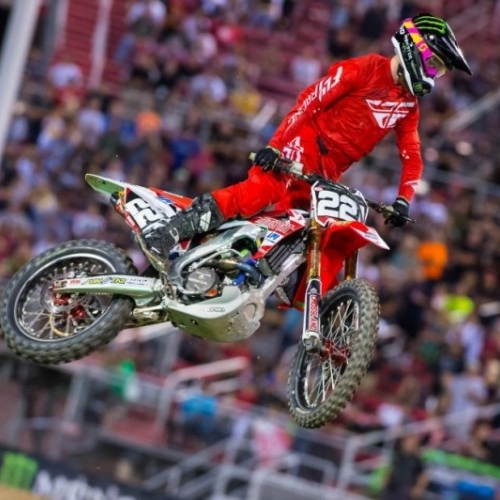 A rare picture of Worth on a Honda. The Crossland team helped him out at the Monster Energy Cup.
"When you get to the A class you're racing guys that are four years older than you," Worth said. "There are no excuses, you're going out there to win. "When you turn pro all of that changes. You've got to learn that it's not the same thing and it's tougher."
Times were a little scary heading into the 2016 season for the soon to be rookie. His Team Green deal was for amateur racing only and the Monster Energy Pro Circuit Kawasaki team roster was full. Worth was unsure of how he was going to the races in the first season.
Around a month before the Monster Energy Supercross season was set to get underway Worth received a phone call from Jimmy Albertson. Albertson asked if Worth would be interested in racing supercross for him. Needless to say that is all she wrote. The two parties wrote up a deal and Worth was officially a Motorcycle Superstore Suzuki team athlete.
Although the team came together last minute Worth said that he feels very blessed to be surrounded by such a great group of people. His veteran teammates Kyle Cunningham and Albertson have had a lasting impression on the young rider.
"I used to watch Kyle when I was an amateur and now he's my teammate. It's really cool," Worth explained. "Jimmy is really well known too and we all get to learn from one another."
Worth knows that life is a precious thing and he doesn't want to look back with any regrets whether it comes to his family or racing. His entire family is involved in his racing career. He went on to explain that his grandpa calls him just about everyday to call and ask him about supercross.
"I love hanging out with my family," Worth said. " A lot of kids go to training facilities and I could never do that."
Although Anaheim 1 and the start of the 2016 didn't go as planned, Worth said he knows that things happen and that he's going to do everything he can to make sure his career is long and his dreams are fulfilled.
"I want to make sure I don't have any regrets with my racing and I want to be smart about things," Worth said.
It's been a long road to get to this point but Worth is ready to show what he's worth. (Editor's Note: we've been waiting to use that one for a while!) He knows what he is capable of, so now we just need to sit back, watch, and see if he delivers on his word.
"I'm in a position to where I've achieved a dream of mine because I get to go race outdoors, " Worth said. "I'm just ready to take it to the next level, get some results, and one day a championship."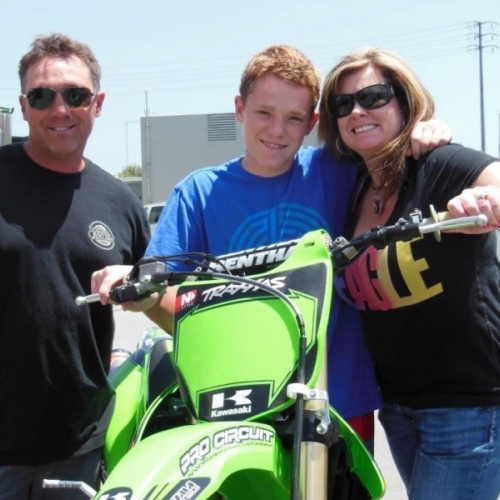 Forever a family man. Here is a young Marky Worth when he was on Team Green.
Thanks for reading everybody. If you have comments, questions, or suggestions you can email me at Troy@pulpmx.com.
Instagram/Twitter:@troybendgen