The 1990 125 East Coast SX Champ has something to propose…now listen up!
The 1990 125 East Coast SX Champ has something to propose…now listen up!
By Denny Stephenson
The rumor on the street is the 2017 Monster Energy Supercross Series is heading to a Chase format. Whether the powers that be are tired of champions locking up the series a round or two before the Vegas finale or simply just want to melt down the internet, either way it looks like its happening. Like it or not. Personally, I'm for it. Hell with it, let's give it a whirl and run it up the flag pole and see who salutes. And preferably, without the middle finger.
Arenacross has been doing it for a few years now and I have to admit, I'm paying more attention to the end of the series now than in the past. Although this season, the top 4 or 5 were already really tight when they hit the reset button for their upcoming final 5 round West coast swing. Trust me, I probably would've killed for a reset in AX back in the day. Budman up by 50 points? Not anymore ya lil bugger!
Seemingly the biggest complaint for supercross fans is that if NASCAR is doing it, we don't want to do it. Screw NASCAR. Boo NASCAR. We don't like NASCAR. NASCAR is the devil. You see where I'm going with this? And I say, tough terds, its happening. But now I say, why wait til 2017? Let's do it now!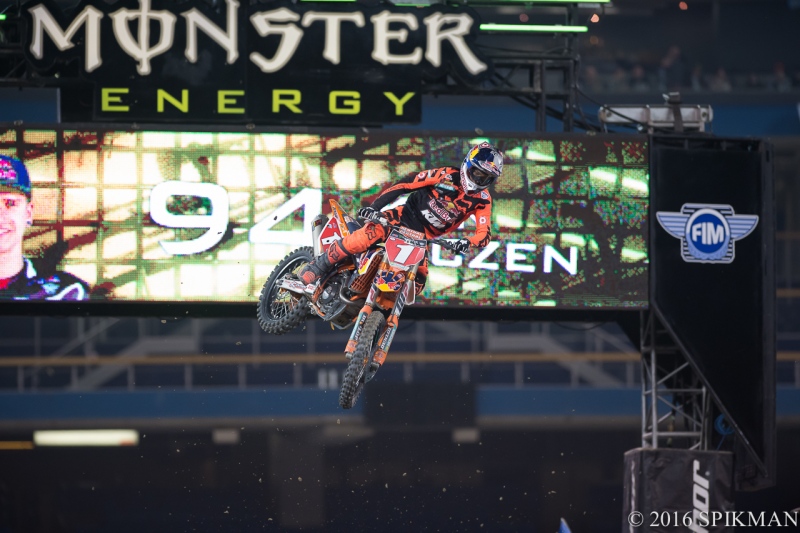 We don't think Ryan Dungey will like the DBO360 Cup but too bad… Spikman photo
I give you my personal 2016 Quest for Greatness. Ok maybe not that title. How about the 2016 Monster Energy Supercross Escape to Vegas presented by The PulpMX Show. Look I've already got a title sponsor for the thing. No pressure Steve. Albeit you might be paying for the faux Championship trophy when this thing is all said and done.
The format isn't like the current Arenacross one, Ive set it up more similar to NASCAR's. (I can hear it now, "You suck Stephenson!") The riders and teams have had their Easter break and are now set and ready for the final 6 races of Santa Clara, Indianapolis, St Louis, Foxboro, East Rutherford & Las Vegas, which will make up The Escape. With two on the West, two in the Midwest and two on the East, it couldn't be more perfect for the fans. Like this wasn't already planned?
The top 10 riders following round 11 in Detroit and heading into the break will be reset and reseeded. Each rider will be reset at 1,000 points and given a one point bonus for each of their wins.
1 Ryan Dungy, KTM – 1,005
2 Ken Roczen, SUZ – 1,003
3 Jason Anderson, HUS – 1,002
4 Elii Tomac, KAW – 1,001
5 Marvin Musquin, KTM – 1,000
6 Cole Seely, HON – 1,000
7 Chad Reed, YAM – 1,000
8 Justin Brayton, KTM – 1,000
9(X) Davi Milsaps, KTM – 1,000
10 Trey Canard, HON – 1,000
11 Jake Weimer, SUZ – 1,000
Milsaps is hurt, so screw it, 11th place Jake Weimer gets the wild card and takes the 10th and final spot. The final 6 races will be broken into 3 separate series as follows. The Hunger Games. The Reservoir Dogs. And Mad Max: Beyond Thunderdome. Also, Escape riders will continue to receive the standard AMA main event points. 25, 22, 20, 18, 16, 15, etc.
The Hunger Games portion will consist of Santa Clara, Indy and StL. The bottom three riders after these three rounds, will be eliminated. 8th, 9th and 10th are no longer eligible for the title, but will continue to receive points for each of the remaining rounds. Oh yea, did I mention that a win locks you into the next round? Just win baby.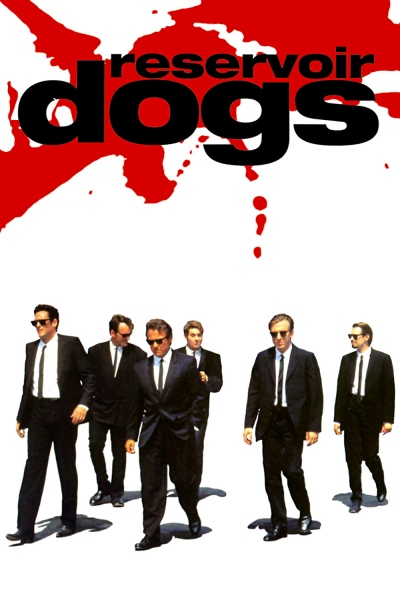 The Res Dogs round take up two races
The East coast rounds of Foxboro and E Rutherford make up The Reservoir Dogs two round portion of The Escape. The remaining 7 riders will again be reset but at 2,000 points with each win from the past three rounds worth a 1 point bonus. This is basically a two race shoot out for the Vegas finale.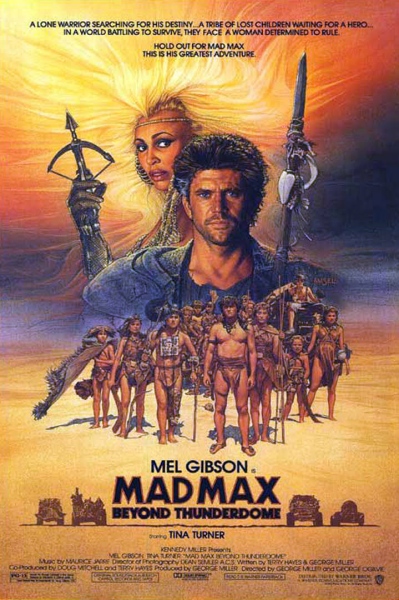 Welcome to the Thunderdome AKA the Las Vegas SX!
The top four riders leaving The Meadowlands will move on to the Mad Max: Beyond Thunderdome Las Vegas Finale round! An exclamation point added for emphasis. While 5th, 6th & 7th are dunzo.
Trust me. Turning a 17 round series into a one race winner take all battle royale with cheese does seem a little ridiculous. But for the sake of argument, shut up. This is my series and my rules.
Speaking of which, when I had a chance to discuss my new format with the riders, there were clearly some mixed emotions.
Dungey, "Wait, what are we doing?" And added, "Dang it, oh well, I'm super pumped."
Weimer, "Soooo you're saying I've got a shot?"
Canard, "Ive been asking for this for years!"
Musquin, "Ce que l'enfer Stewart, vous m'a coute' un point de bonus!"
Reed, "This is stupid, I blame Matthes."
Anderson, "I will knock every rider down until this title is mine… bahahaha!"
Roczen, "Will Pink be there?"
Brayton, "I don't get it, I have to race Arenacross again?"
Seely, "Screw Anderson."
Tomac, "Soooo Daytona isn't one of the races? What about Hangtown?"
Milsaps, "Havasu can wait… I'm racing!" Too late. Heal up buddy. Maybe next year.
So there you have it. Part one of my six part mini series. Believe it people. The 2016 Monster Energy Supercross Escape to Vegas presented by The PulpMX Show is now a reality. The battle for the DBO360 Cup is happening. Take that RC.