Bendgen gives us a glimpse of what's to come this weekend.
Bendgen gives us a glimpse of what's to come this weekend.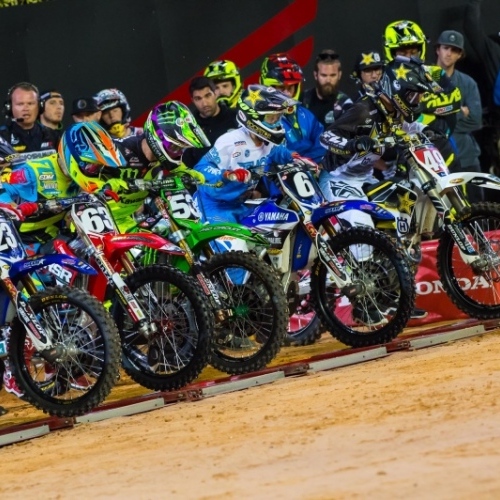 The East Region is so unpredictable this season.
Photos: Simon Cudby
If you follow me and read my columns on a weekly basis you'll know that I don't get out much. I used to be like old Jimmy Stewart in the classic movie The Rear Window, but I have since been busier than Santa around Christmas time (my metaphor game is on point today). However, once every supercross season I get to spread my wings and enjoy the greatest sport in the world in person at the Indianapolis Supercross. That's right gang Pulpmx's Rookie of the Year is ready to get into the action.
The point of this column is to not speak about myself, rather get you pumped up for this weekend's race. For me this is like Christmas morning and instead of waking up to the smell of bacon and eggs I'm waking up to the smell of race gas…and stadium nachos. The weather is going to be rather cold this weekend. Last year we were treated to a rare March day with the high in the 70s, but this year it's going to be windy and a high of 40. It's going to be fun trying to find riders to talk to. It's also going to be fun trying to stay warm. What is global warming?
The pit party will still be pretty large. The Midwesterners are used to this type of weather and the tour doesn't stop here very often. People will be amped up.
As far as the racing goes I went ahead and put together a top ten prediction of each class to see how well I do. I talk about these races as part of my living and my job is to analyze what goes down. It will be interesting to see if I'm even close to being right after the race is over. As we all know anything can happen, but here are my picks.
Top 10 250SX:
1. Aaron Plessinger
2. Malcolm Stewart
3. Jeremy Martin
4. Martin Davalos
5. Gannon Audette
6. Jesse Wentland
7. Shane McElrath
8. Matt Bisceglia
9. Tyler Bowers
10. RJ Hampshire
Top 10 450SX:
1. Ryan Dungey
2. Marvin Musquin
3. Ken Roczen
4. Jason Anderson
5. Eli Tomac
6. Chad Reed
7. Trey Canard
8. Justin Barcia
9. Justin Bogle
10. Weston Peick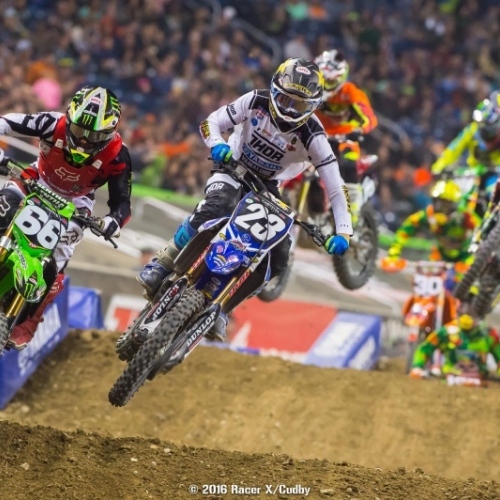 This could be a career weekend for Plessinger…if I guessed correctly…
I really think that this is Aaron Plessinger' weekend to win and if he does that will make him the fifth winner in five rounds of the series. I feel that Plessinger's "homecoming" to Indianapolis will give him the extra motivation he needs to make it happen. Look at it this way; Plessinger is coming in to a race that is only an hour and a half away from the home he grew up in. Also, the last time he raced in Indiana he won at the Ironman National. I think this weekend will be like Ryan Sipes' weekend from 2011 when he won his first supercross race in Lucas Oil Stadium.
Behind him I feel that Malcolm Stewart will stay consistent and retain the red plate. Jeremy Martin will want redemption from his unfortunate Indy race from last year where he didn't even qualify for the main event. At the time he was in championship contention and that took him out of it. I see him rounding out the podium this weekend. I see the Minnesota "rivals" Gannon Audette and Jesse Wentland getting back inside of the top ten. Audette is debuting this weekend with Mitch Payton and Monster Energy Pro Circuit Kawasaki. I feel he gets his best career finish as a thank you to the team for picking him up.
From spots 7-10 those positions are still up for debate. It's so hard to pick these guys when literally all of them could have the speed to make the top ten in any order. I went with McElrath, Bisceglia, Bowers, and Hampshire, but you never know these guys could land on the podium in Indianapolis. Weird things always seem to happen in Lucas Oil Stadium.
In the 450 class I have Dungey winning once again. No surprise there.
I know that Musquin had a huge crash in practice at Santa Clara and according to Matthes that seemed to shake him for the rest of the night. He didn't have a good finish, so I think he bounces back strong this week if he's not beat up. That's still up for debate and this pick may be rolling the dice. No surprise behind Musquin with Roczen, Anderson, and Tomac right behind him. All of these riders are interchangeable and always battling it out.
I say that Reedy backs up his fourth from Santa Clara with a sixth this week, but the fans are still hoping for a win before the season runs out. You just can never count the guy out. I'm looking forward to seeing his new opening ceremonies introduction with the sevendeucedeuce spiting that fire.
Canard is struggling with his starts so I see him working his way up to seventh and then right behind him will be his ex-teammate Barcia. Barcia returned last weekend and the result wasn't what I expected of him. I say he gets redemption and comes back strong with a top ten finish. Bogle and Peick are turning their results around in the second half of the season and should be good for another top ten.
Whether I'm right or wrong I'm really amped to be at the races this weekend. I'm looking forward to seeing some old friends, getting some scoops, and watching some of the best supercross riders in the world do what they do best. Indianapolis I'm coming for you. It's like Christmas in April and the weather is going to feel just like it!
Thanks for reading! If you want to chat about anything you can hit me up at troy@pulpmx.com or on Instagram and Twitter @troybendgen.