You want the truth? You can't handle the truth!
You want the truth? You can't handle the truth!
Photos by James Lissimore
1- Great race between 94 and 1, what did you see? It seemed like Roczen could reel in Dungey when he needed to?
David Vuillemin: It was indeed a great race. We've seen Ken get way more aggressive towards Dungey. I've talked about it on the PulpMX radio show a week ago. To beat Dungey, you will have to push him around. I'm not saying you have to take him out. I'm saying you have to race him close and show him you're right there. In Santa Clara, Ken was close to Ryan but not enough. Dungey will never make a mistake if you let him have a few bike links lead unlike other riders that aren't as consistant. Dungey is the definition of consistency. In Indy, we saw Ryan make more mistakes than usual and not being in his comfort zone. The rutted track helped but the fact Roczen was pressuring him closely was also a factor too. It seems like Ken was maybe a bit faster Saturday but couldn't close the deal. I think he's on the right path and the way he rode in Indy will help him beat Dungey straight up. He sometimes was trying to pass too often. You gotta find a balance between behind being aggressive, putting pressure on the leader without trying too many useless moves that make you lose time and energy. You have to pick a spot to pass and put yourself in a position to make it stick. It only takes one right move to make a pass. I thought Ken was a bit all over the place in his attacks and a bit impatient. But I'd rather see that than seing him a second behind Dungey, like in Santa Clara, and being too far to make a move.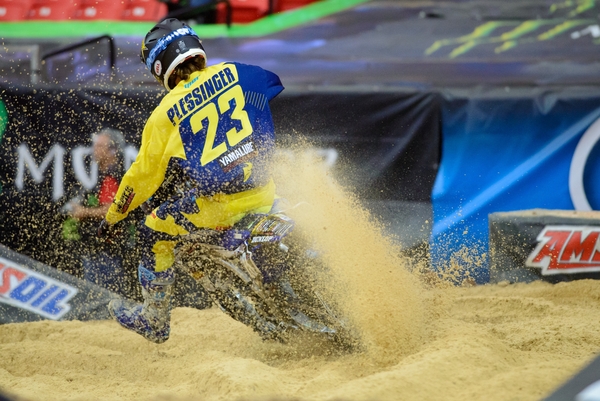 Plessinger took his first career 250SX win with a great ride in Indy.
2- On a rutty GNCC track, former off-roader Aaron Plessinger showed he could ride the ruts better than anyone else and moved into second in the points. What did you see from 23?
I thought Aaron rode great in those conditions. He was flowing very well on the track. On a track without ruts, you have to pick the fastest line and stick to it for 15 laps. On a track like Saturday, you have to go with wherever the track takes you and pretty much deal with it on the spot because you won't be able to hit your ideal line every lap. You have to be able to "wing" it when a rut send you away from your line. Aaron did a great job doing that. His lines evolved during the main too and he was able to keep his rhythm and speed. You can't be scared to try different things/lines during the main of a soft track. A good line on lap one won't necessarily be good on lap 10. I thought Plessinger was smart doing that and played well with the track while some other guys were stuck in their lines the whole race
3- That was an old school Track with the ruts that challenged the riders, why were guys having so many problems?
I've talked about this subject a few times. to me, it seems like everyone rides on prime conditions tracks during the week. All the top guys have personal tracks with good dirt, a bobcat, a water truck and a man friend that would fix the track as soon as it gets rough/rutted. Back in the day, a track like Indy was every weekend for us. I remember Atlanta, Pontiac, St Louis, Minneapolis, Seattle, even San Francisco and Houston being very rutted. The track builders were only fixing the faces of the triples and the start before the night show. Now, the riders start the night program with a brand new track everytime. The fact the riders ride on nice tracks during the week and Dirt Wurx doing too good of a job on Saturdays give us riders that look out of sync when the dirt is soft on race day.
Again, back in the day, on the factory tracks in California, the track builders showed up 2 or 3 times a years to fix the tracks. Teams didn't have bobcats on the tracks at all times. Tracks didn't have automatic sprinkler systems. I had to go the night before I was practicing to water the Yamaha track by hand with engine pumps and fire hoses. You always had to have an oil bottle because those suckers wouldn't start if the oil level was too low. I also always had a gas can in my truck for the pumps. No one was ever buying gas for those things and every time I showed up, the pump gas tanks were dry! Nowadays, the track builders fix the tracks on weekends while the riders are at the races and the track is new on Mondays. The track is watered automatically at night and no one has to deal with a fire hose anymore. It's great on paper but it doesn't help the riders' technique and creativity.
4- Is Jeremy Martin going to ever figure out SX?
It doesn't look like it, does it? That again, Iv'e talked about it many times. Jeremy is a beast in motocross and physically. I keep hearing how bad ass he is at the gym and on a bicycle. It's great, the kid is dedicated and put in the work we asking him to do. But, the Supercross races are not Millville, Red Bud or Budds Creek. Jeremy looks stiff in SX. He doesn't look comfortable. He doesn't ever play with the track. And, I still feel like he lacks a lot of SX technique. I've said it many times in this column about Jeremy, leave the bicycle in the garage along with the stop watch and the pit board and go ride SX, play on a SX track and learn/get a better SX technique. That's the key for him if he wants to improve in Supercross. If he doesn't, the move to the 450 class will be very difficult . We've seen it and we're seeing it with 250 guys that were great MX riders but lacking SX technique and skills, they weren't/aren't doing great in SX in 450…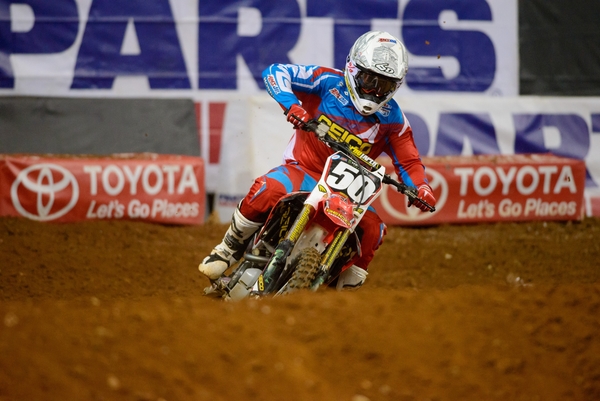 Mookie has a ten point lead over Plessinger for the 250SX east crown
5- Do you like Mookie to hold onto this lead?
I guess now it's between Mookie and Plessinger for the championship. A 10 point lead with 4 races to go isn't much. Davalos is 25 points behind and JMart 28. They aren't out of the picture either but it might be a long shot. At one point we thought Justin Hill was gonna run away with it. Look where he is now. A lot can happen in no time in this sport. It's gonna be interesting to see what this win will do to Plessinger. He knows he can win races now but also the championship since he's only trailing Mookie by 10 points. We'll see if he can be consistant up front now. I've bet Mookie for the championship before the season started so I can't change my mind now. He's riding well and he might be the best SX rider on paper of that series. Mookie has the speed, the technique, the experience, the bike to win this thing. It's his time. He's got to seal the deal
6- What else did you see out there?
Just a few words about Gannon Audette and his first podium and the first PC podium of this East Coast series. We gotta congratulate him. He goes from privateer to "factory" rider in a week and get on the box while the 2 other PC guys have been riding/testing/training with the bike for months and didn't make it on the podium yet. I just wanted to say good job to him.