You want the truth? You can't handle the truth?
You want the truth? You can't handle the truth?
Photos by Mike Sweeney
Kenny Roczen was great, heat race was amazing, main event was amazing—what did you see?
David Vuillemin: Ken has been more aggressive in the last few weeks. It showed again on Saturday. He passed Dungey very early in the race. I also think his style and background as an Euro/GP rider suits these kind of tracks very well. He's used to those rutted conditions even if he has been on US soil for a while now. He's also very alert when he rides and can react very quickly when the track evolves or when he makes a mistake. In the last few few weeks, I also noticed he's improved his corner speed and technique. You could see him Saturday railing those ruts in the turn and keeping his flow. It's the key on a rutted track. Riding the tight inside ruts is often not the best way to do it. We saw him take the second or even third rut in the turns. By doing so, since the ruts are automatically not as tight, it's easier to keep your momentum through them. Lastly, I also think he realized he has nothing to lose anymore and can "hang it out" more while Dungey might start thinking not blowing the championship because it's not mathematically done yet. Subconsciously, it could also be a factor. But more on Dungey later…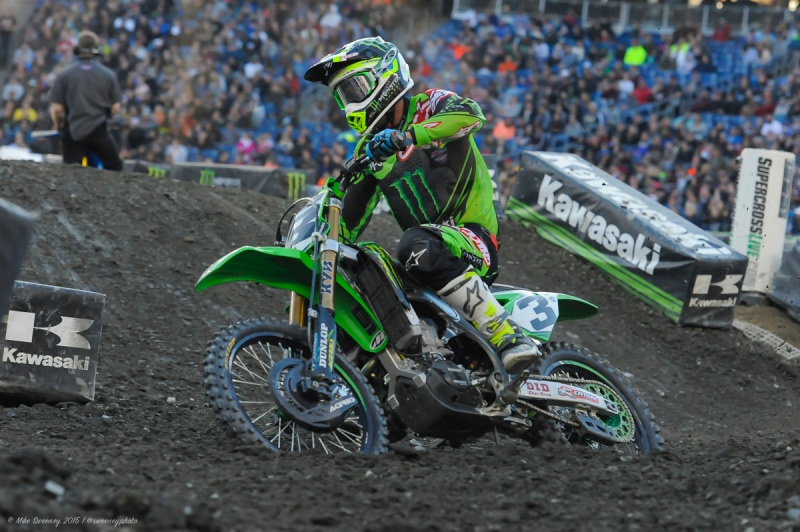 Tomac was great in taking his third podium of the year after some bike changes.
Eli Tomac's team made some bike changes that allowed him to be faster on his practice track than he's been all year. Whatever it is, he rode awesome also to get second.
What did they do? They finally removed his rear brake pedal so he could go thru the turns like a race winner contender? Obviously, I have no idea what they changed and how it affects him on the track for the better. But, after watching the race, just like Roczen, his corner speed and technique looks much better. He's finally railing the outside ruts without locking his rear wheel in every single turns. Maybe his bike set-up allows him to do so now but that's what I've noticed the most after watching the race in Foxboro. I understand riders always want the best bike set-up and want to feel the most comfortable on the bike but, at the end of the day, the proper riding technique will always be more important and efficient. We're starting to see the Tomac we've waited to see on the Kawi this season. It was probably his best riding performance of the season even if he won Daytona and not Foxboro. Keeping riding in that direction might help him winning a "regular" SX race by the end of the season.
What's wrong with Ryan Dungey? LOL— but seriously, what did you see?
Like I've started to talk about in the Roczen subject, he might be thinking about clinching the championship and points without doing it on purpose. On a track like Foxboro, it was very easy to make some mistakes and lose a bunch of points. That's something you don't want to do when the 2nd place guy is riding the best he's been all season and you have almost a 2 race point lead. As far as the riding performance, Ryan never looked Dungey-comfortable on that track. It looks like he was searching himself on the track and he was trying different lines all the time without knowing which ones were the best. He got a little better towards the end with allowed him to score yet another podium finish. Unlike Tomac and Roczen, Ryan seemed to take a lot of insides on that track. Most of the time it's good because you obviously travel less distance. Saturday, it was a disadvantage to ride short. The inside ruts were tight and tough to negotiate properly.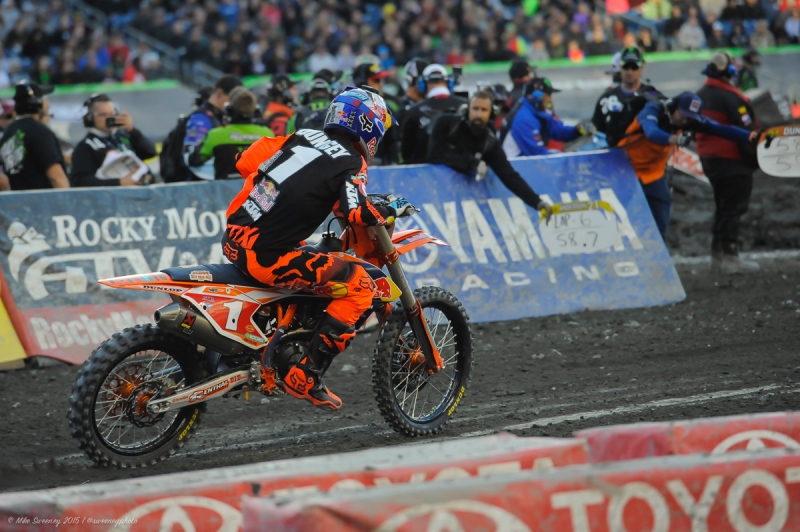 Dungey's podium streak continued but barely.
After the first turn, he looked slower rolling that inside line because he was doing it sitting down. To roll a 3 footer without lose too much time, you have to do it standing up to soak it up with your legs and actually sit down in the downside. Another exemple was the turn before the big whoops section. He kept going in that very tight inside line with the shiny slick part at the exit of the turn. It was tough to go fast thru it and it was tough to get the drive at the exit because it was riding on ice. He didn't have the best drive in the whoops because of that. The guys taking the 2nd or 3rd rut in that turn had way more entrance speed in the whoops. As most of you should know, the entrance speed in the whoops is pretty much the first key to go thru them fast.
Mookie fell apart in the second half of the race—what did you see?
Mookie's ride reminds me a bit of Dungey's. He looked good in the beginning of the race but looked worse when the track got rutted. He made too many mistakes and never found his flow around the rutted track. I also thought he was riding sitting down a lot which is very difficult to keep your balance in the ruts like that. Too many times he ended his rhythm sections singling out. It might be ok to do that when it's not too rutted but when ruts appear it's very difficult to prepare yourself to be smooth through a rut when you keep singling the last jump of every rhythm sections. Also, when you don't find the proper flow and you get passed by a couple guys, it very difficult figuring out what you're doing wrong and actually fixing it while riding. You get frustrated mentally and it affects your focus to improve your riding. But, mathematically, it was't a bad operation for Malcolm. His points lead went from 1 to 5 on the second place guy, Plessinger, and only lost 2 on the third place guy, Martin. It could've been better for him but it could've been way worse.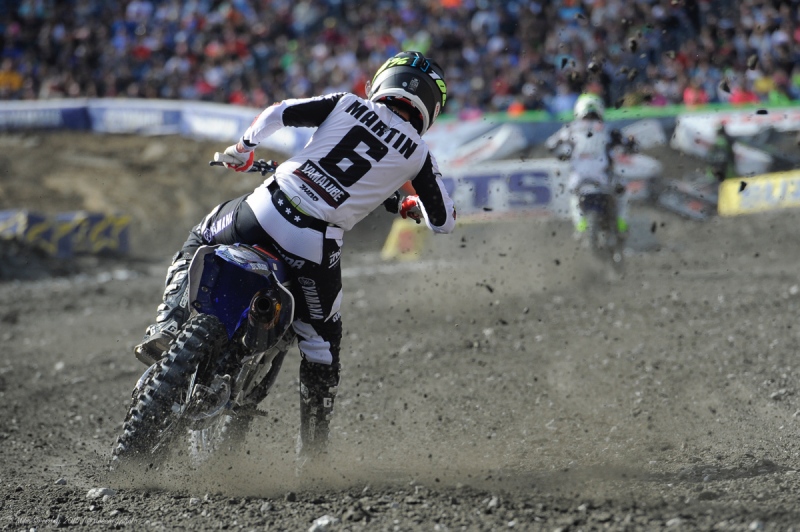 It looked like Martin was going to win as he rode great to get up to Davalos but he came up just short.
J Mart rode great to almost catch Davalos but couldn't do it. What happened to him?
Jeremy rode great indeed. His first 10 laps were maybe his best of the season even compared to the races he's won. Especially on a pretty tricky track. As soon as he got close to Davalos, he started to be impatient. Kinda like Roczen with Dungey a few weeks ago when he was trying too hard to pass him everywhere. When you get that close to the lead with 5 laps to go, you have time to study your opponent and think of a place to pass while trying to ride smooth. Sometimes on a track like that, you don't have to try to make a move. You can often capitalize on the leaders mistake who is the one having the most pressure. Davalos is known for making some mistakes on rutted tracks and he actually made some Saturday. But JMart was a bit too far at times because he was making mistakes himself. It always comes to being smooth and mistake free.
Davalos was starting to go inside after the small rhythm section on the width of the stadium. J-mart just had to be close to him before that rhythm section and was doing it the fastest way on the outside, double and triple on the table top, go outside in the turn where Davalos was going inside, roll 2-2. Automatically, Jeremy would've went outside, over the table top, double, single which would've put him inside before the second set of whoops. Doing it that way, it was possible to blockpass MD in that turn before the whoops. I thought that was the strategy to use and the best spot to pass. But, we have to give props to Davalos, he earned that win by passing Bowers, McElrath and the red plate holder Stew…
Highlights of Cochella bro?
Coachella kicked my butt. I'm too out of shape for a 3-day 10 hour a day concerts… My ankles, feet, legs and back still hurt but it was a great weekend. I took my 12 year old daughter with me and we went with some friends, a french couple. It was such a fun dad-daughter experience and it was great to see her have such a good time. I had to settle to watch some artists she wanted to see like G-Eazy and Alessia Cara but it was cool. I got to see some hipster bands and one of my favorite, Edward Sharpe and the Magnetic Zeros. They were great. Ice Cube showed up with Dr Dre and The Game. Guns'N'Roses were surprisingly good too. i didn't think it would've been that good but they sounded like 20 years ago. We saw some great performances by Of Monsters and Men, Gary Clark Jr, Cold War Kids, The Kills, Joey BadA$$, Underworld, Disclosure, Rancid, The Vandals. If you think about it, $375 a piece for those kind of shows isn't that expensive. But, I still haven't figure out what Sia wanted to accomplish, we left after 20 minutes it was so weird…
A few awkward moments happened though. My daughter saw a couple topless chicks and one with duct tape crosses on her nipples. She also got offered a joint by a completely stoned dude while we were waiting for a show sitting on the lawn. I looked at him and asked him if he was serious because she was my 12 year old daughter… Awkward but pretty funny at the same time. While we were walking to the car after day 3, Charlotte already asked me to bring her again next year. She's gonna talk about her experience for a while to her friends. Mission accomplished because I've never experienced anything like that with my dad ever. My idea of being a dad is making memories and we just did that.