15 rounds in, it's all about small victories.
15 rounds in, it's all about small victories.
Photos By: Mike Sweeney
It's that time of year folks. The time of year when the Supercross title-fights are winding down and all but a handful of riders are shifting focus from this series to the next. Ryan Dungey has the 450 title all but wrapped up and for the #5(#1) there has to be a modicum of relief with the way Ken Roczen has been making strides in the last few weeks.
Kenny took a lot longer to figure out his Suzuki than anyone in his camp would have preferred, especially considering he's poised to make yet another manufacturer change for 2017. With as good as he's looked the last 3 weeks, it seems absolutely crazy to think he would yet again jump to a new bike where he'll have to get comfortable, up to speed and fine tune all in the hopes to get back to where he seems to have just arrived at round 13 of this series.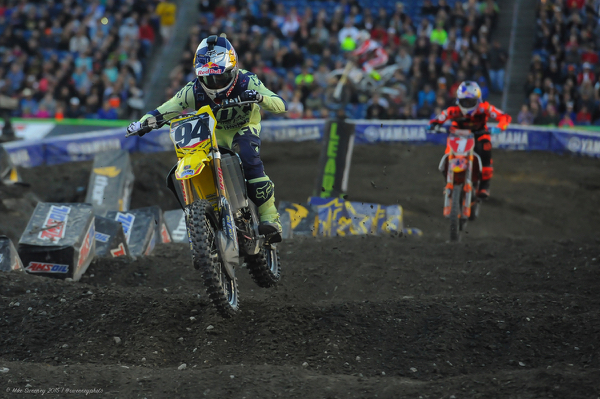 Can Kenny keep it interesting all the way to Vegas?
There's one thing about Kenny switching to Honda that he won't have to worry about like he did when he switched from KTM to RCH Suzuki. Remember, Kenny won the 450 MX title, switched to RCH and KTM introduced a completely new and incredible 450. Kenny was impressive on the RCH 450, securing multiple 450 SX wins but the season went sideways and the talks were all about Ryan Dungey and that incredibly new KTM 450.
Suzuki is certainly not going to be introducing a stellar new model for 2017 that would make Ken long for the yellow bike again. 2018 is supposed to bring a vastly improved Suzuki 450 but hey, it's all about what have you done for me lately?
Eli Tomac who has spent much of his first series on his new green steed playing catch up and enjoying a series of small victories scattered throughout the series has also appeared to hit on some bike setup solutions that are making a big improvements in his comfort and more importantly, results. There was a point early in the main this weekend in Foxboro were I thought Eli may actually make a run at Roczen in a battle for the lead. Eli is great on these types of rutted tracks, so there's a chance it was a bit of that but heading into East Rutherford this weekend, in my mind, there is no more intriguing story in the 450 class than how Eli Tomac looks and finishes.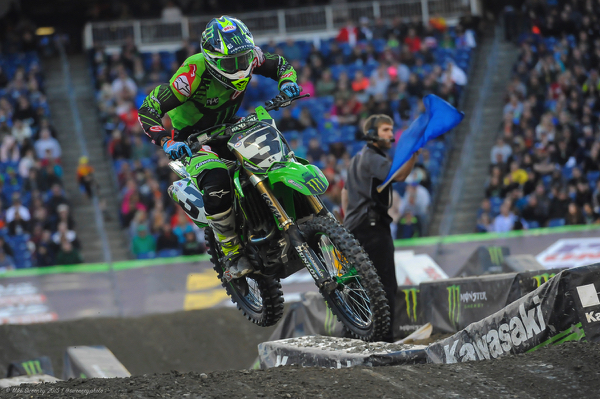 Eli is at a tangent point heading into East Rutherford.
Yes, Dungey clinching the title should be atop the storyline list but that has seemed a foregone conclusion for half the series it seems.
I'll be really interested to see if Chad Reed can figure out what the hell happened to his starting ability during this series. He began the series strong but the vast majority of his starts have been just inconsistent garbage; especially as of late. Here are his starting positions on the year:
9, 5, 3, 7, 7, 18, 3, 16, (DNS on Start), 5, 5, 12, 13, 9. The one good stat for Chad on the year regarding starts is he has never finished worse than his starting position. Now if he can just figure out how to get a good consistent start again, he'll be champ again in no time. Windham always said there's no one harder to pass that the 22, so there ya go.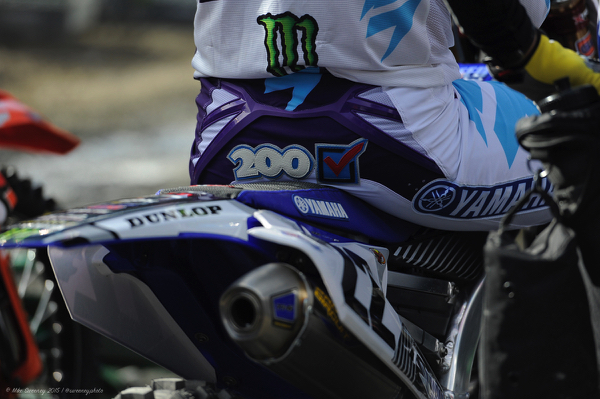 Chad has to get the starts figured out.
I'm still waiting to see if somebody tunes up Jason Anderson. Last week I was harsh on his move regarding Justin Brayton on the triple face and I stand by it. Having watched the most recent episode of Behind the Dream and seeing Jason's antics with Cole Seely, especially the part where he's in the pits after the race and tells his guy how he hit Cole so hard; it came off even more trivial and douchey. At this point I'm quite sure that Cole owes him at least 2 or 3 good ones before it's even close to even. That's fine with me. I love watching Jason make move forward but when he's clearly initiating contact, I just find it unnecessary. He's got the speed and putting dudes on the ground as you go by is typically done so you don't have to deal with them charging on you again. That tells me he's scared.
Without question if Cole Seely were to put Hombre down before the series ends, that would be looked upon as a small victory for Cole.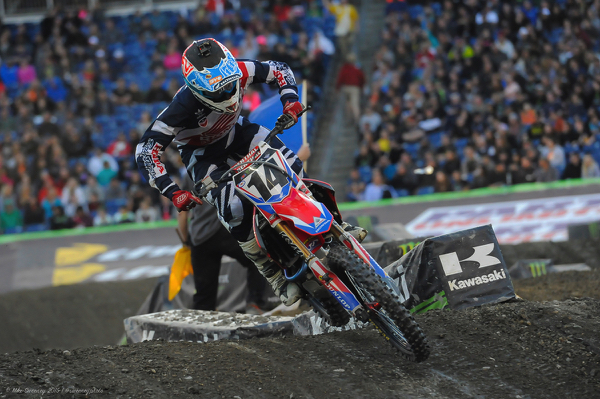 Will Cole get his El Hombre redemption?
I also can't wait to see what comes next with this grudge match between Justin Barcia and Jake Weimer. Jake seems annoyed with Justin's antics and Justin is just reeling from how bad of a year he's had. He's been terrible and he's frustrated as hell. Honestly, the very fact that Justin is getting into it with Jake is a check in the loss column for Justin. That sounds bad but I don't mean it as a slight to Jake, I'm just saying that Justin is paid as an elite rider and expected to contend for wins, meanwhile Jake was brought on for RCH as a fill-in rider.
Those are the storylines I'll be watching to see who comes away with the small victories over the last two rounds of the series. As we know all too well, many of these small victories can mutate into momentum as the MX Nationals tee off in June… maybe there are no small victories?