The PC Pulpcasts transcribed for your pleasure
The PC Pulpcasts transcribed for your pleasure
Photos by Mike Sweeney
Trey Canard
I thought we were in for a mudder, and it turned out they actually ended up watering the start straight.
That was wild. They did a great job. That was pretty awesome to see the work that they put in and how good it actually turned out.
That was tough though, like beat up tough.
It was gnarly. I think the hard part was the dirt was really hard and slick underneath. Just trying to figure out when to do what when. There was a lot of ruts. They weren't forgiving, either.
Does it jack you up a little bit because you ride practice, it's muddy, slippery, sloppy, then you come out and… bike setup-wise and everything else, does it jack you up at all? It's the same for everybody.
I definitely had to make a lot of changes in-between the heat race and main. But they did the right thing and the bike actually felt really good for the main.
Got an all right start. For you that's all right, we'll take it.
I made some progress this week. My track position was just terrible. One, I'm not used to being up close enough to actually… I shut off really early which I should have maybe drove it in a little bit. I think maybe I got some stuff figured out and we'll just keep moving forward with it.
We were set up for a pretty good main there with the top five of you guys all bunched up. I was like, this is going to be good. They broke away from you a little bit, but then you had a pretty big lead on Bogle and those guys in the back.
Yeah, I had a really bad middle of my race and missed a couple rhythms, really bad too. The one after the start, I missed that and it was like, roll, roll. You do that and you're toast. Then I missed a little double before the finish line.
The whoops were tough.
The whoops were gnarly. It was like just survival. I was kind of in a weird place because I wanted to push but at the same time I don't want to crash.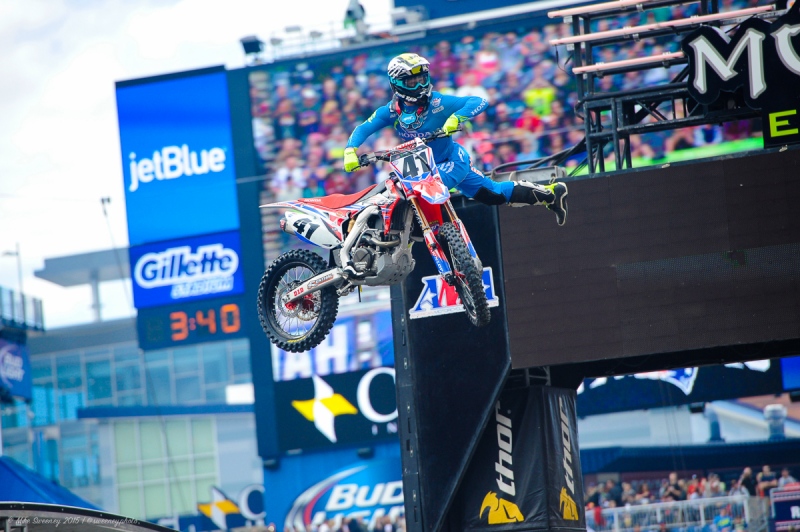 Trey's having some fun in opening ceremonies.
Take another top five, right?
Yeah, for sure. I feel bad saying that. I would really like to do a lot better. I expect to do better, and I think I should expect to do better. Hopefully I can get on the box these last two rounds.
You've been all over the place and traveled all over. Does it really matter that you come to a new city for you? For me, I flew in late last night. I'm leaving first thing in the morning. But for a guy like you, do you care? Do you get excited?
The only bummer is we don't really have time to experience it. It'd be cool to go into Boston and see everything. It makes a little more stressful just because you don't know where anything is, as far as the signings, dinner.
How to get into the pits. I struggled this morning how to get in the pits.
We drove around the stadium a couple times. Just stuff like that. You go to other cities and stadiums and it's a lot easier.
I think this is four top fives in a row, maybe more, so you're much better than you were and things are going better.
Yeah, things are moving the right direction. But I'll be content. Fifth's better than last, better than what I was doing. There's a lot of shines of things that are good as far as the riding. So I just got to pull from that and keep moving forward.
****
Cole Seely
You're back. When you come back you want to have a stress-free day, just chill, grab a result. Instead you got to go to the LCQ. You crashed in the first turn. That sucks.
It was tough for sure. It was one of my worst comebacks ever. I had a pretty good day during practice. I was feeling like I was flowing pretty good. I'm still pretty stiff but at the same time it almost makes me be a little more smooth. Just horrible heat race. Got passed by Eli there and then went down. Semi somebody's spoke went in my front wheel. Snapped three of my spokes. There was no real point in rushing after that.
You were far outside for the LCQ.
Far outside for the LCQ. I was able to win that. Get a super extra lot of track time before the main.
Were you stressing about sitting on the line though?
I was actually stressing before. When I fell in the first turn in the semi I landed right on my shoulder that I had hurt and my neck. Everything was firing back up so I was like, do I even want to race tonight? But my body was saying, no, don't. But I just wanted to kind of show some heart and get out there and finish out the LCQ at least. And then came back, was right back in the same amount of pain. Just kind of had to let the adrenaline take over. The laps went by so slow. I was really fighting for every lap and every position.
You've got to be stoked on your finish. I think it was good. You don't have a lot of time back on the bike from what I understand, so your endurance was still great.
Yeah, I've only been cycling for a week now. My first time back on the bike was Monday, which was really, really light. And I rode Tuesday and Wednesday and felt good enough to race, so we showed up. But seventh, especially coming from 20th or whatever I started. I had to make a ton of passes. Like you said, my fitness was pretty good. It was one of the tougher weekends, for sure.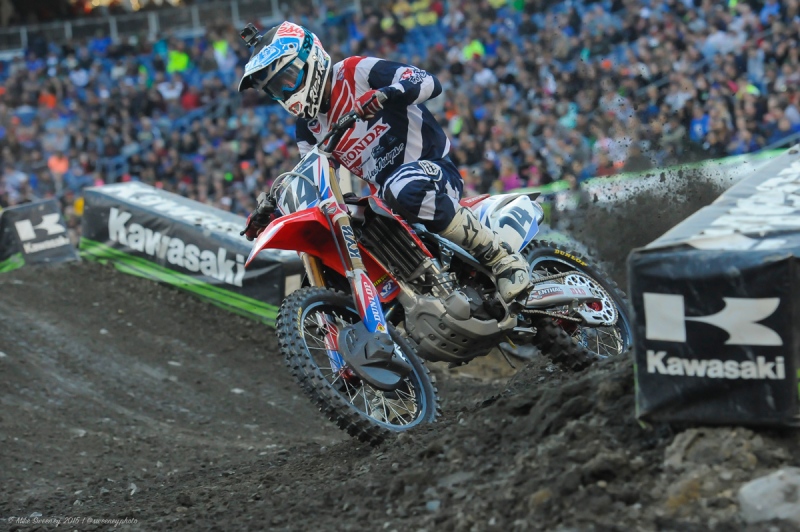 Cole Seely returned to racing and did pretty well after just riding this past week.
One mistake, Peick is there, Reed was there. It wouldn't have been much before you would have found yourself in 10th or 11th.
My shoulder, I'm working with it, but going through the whoops, that's what kills me. Every lap I would pull a little gap, the whoops would come, they'd get me right back. And then I found a good line at the end where I was safe enough from those guys.
Did you have any idea the track would be that good when you came out for the heat? It was almost like a different deal.
It was, but it was so hard packed that it would catch you completely off-guard. You were so used to going from wet slick, but it was just kind of like a dry slick. It was insane. It was tough. Definitely kept you on your toes the whole time.
***
Eli Tomac
Great, incredible ride today by you. We've been waiting for it, and it happened. You've got to be relieved. Obviously there's Daytona, but this was a quote unquote real supercross.
This was your typical nasty east coast supercross track. We got a podium and at least we were fighting for the lead a little bit. I didn't feel like I was off the back in weeks past where I actually didn't really think I had anything for the front guys. So this was big for us, for sure.
We always talk about how you've been good on tracks like this – Indy, St. Louis. You haven't been but now you are. Do you think the track had something to do with it? Do you feel just at home with this kind of dirt?
Yes with the dirt. At Indy I went over the bars in the ruts. I felt like that should have been a podium. I feel like St. Louis I was good all day and then crashed in the first turn. So I felt like the last three weeks have been huge improvements. Finally today we kind of solidified that. We're just improving and at least we're going up instead down at this point in the season.
Bruce said you guys made some bike changes. You were much happier. You were faster at home?
Yup, faster at home. I'm just more consistent on all surfaces with what we've got now.
Track was gnarly. Did it bug you at all from practice to the heat how much it changed? I couldn't believe it. It was almost like a new race track.
It was different. I missed literally 90% of the second practice.
Was that you or the bike's fault?
It was actually the motorcycle. I basically stalled it in the whoops and we couldn't get it re-fired. So I missed basically the whole second practice. The first lap of that practice I crashed here and my throttle stuck. I had to pull in the pits and it was whatever.
The start of another maybe shitty day.
I'm like, are you serious? Because the practice was way faster and I was seventh gate pick, but I was like, man, am I really going through this again?
Who stalls an EFI bike and can't get it going?
Yeah. So big improvements and see if we can get on the podium the last two.
Early on I looked at you and you caught Roczen pretty good. I was like, the battle is on. I literally looked up from there and the gap had kind of grown. Did you make a big mistake at some point or a lapper?
Not any big mistakes. Yes, there was a lapper that was really bad. I'm not going to name the name.
Roczen just exploded on him over there. He said they were terrible, like all of them.
It was really bad. He jacked up Kenny too but I think he jacked me a little bit more. And then right after that I came off the pace just a little bit. I was really bad in the whoops towards the end. I think everyone was, but I was extra bad. But if you go look at them they're absolutely terrible.
The triple in, how was that?
The triple in was good early.
I noticed you were trying to square up to get to the right.
It was too much give and take because I would have to go outside. I think early on it was a little bit faster, but for 20 laps just inside was better.
***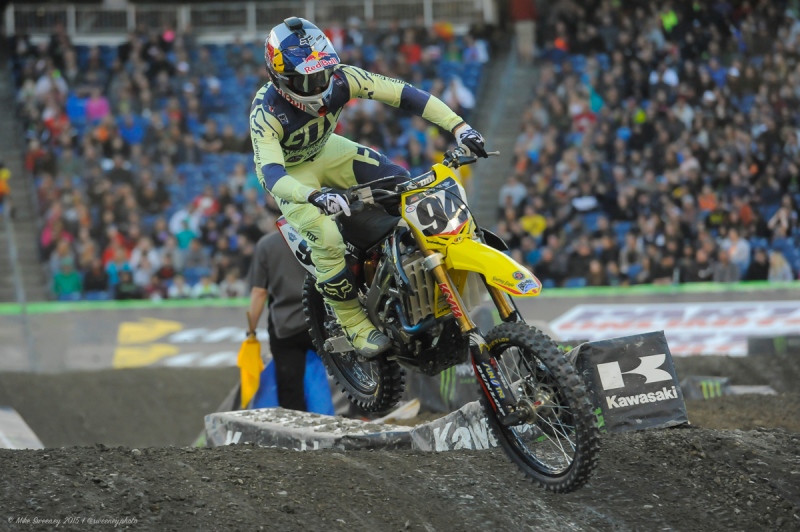 Kenny Roczen rode a great race in Boston to take the win
Ken Roczen
Killing it right now. You were great all day long. Something with this dirt and this track? You've been riding great anyway, but really well here.
Yeah, we just stayed calm. This is the original Roczen in my eyes. We made some changes and that is just now I'm one with the bike. That is just what makes the biggest difference. But I'm really just looking forward and not looking back. I wish I could have had what I have now in the beginning of the year, but we figured it out. Me, the team and everybody are working great together. That's what makes it fun. We're still in it. We delayed it for hopefully another week or two. You never know what's going to happen. I'm really, really glad we came away with the win tonight because we've been pretty consistent. I've been showing the last three or four races that I have the speed and stuff, but I finally made it happen. The track was really tricky. You can see, it's really hard packed. You have some good ruts. The whoops got really rough. The lappers were there. We had a bit of everything tonight. It's quite rocky actually here too, so it made it challenging but that's what we train for. We have maximum focus and that's what got me the win tonight.
When you came out for the heat race were you surprised at how different the track was? It was like night and day. I couldn't believe it myself.
It was. I feel like I actually struggled a little bit in the heat race, believe it or not. It was very, very different, but still got away with the win. Tonight again in the main event we had a solid start. That first turn was really slippery so I almost lost it there, actually. But we made some quick passes happen and then I just rode my own race. Didn't want to do any mistakes. In some spots I feel like I was going really slow, but I just stuck to what I had because it was consistent and kept it going.
You weren't the only guy effected but lappers were really bad tonight. Why was that?
Freaking Grant especially. I was getting so pissed behind him. It really, really bugged me. I was yelling at him actually. In some of the slow turns you hear the guy behind. Didn't move out of the way.
They were bad. I don't know if it was because the track was tricky and rutty so everyone was kind of squirrelly, but it was not good.
It's not that hard to do. Blue flag means get out of the fast line. Not stick to your lane – get out of the fast lane, bottom line. You can be in the fast lane and just stay right there and we have nowhere to get around, especially when the track gets that rutty and rough. You can't really choose any different line. If you're in a battle especially that's what could make the difference. Luckily we had a little bit of a gap.