Reality is a cruel animal at times. When you think you have it figured out, THAT'S when you need to be on high alert.
Reality is a cruel animal at times. When you think you have it figured out, THAT'S when you need to be on high alert.
Ryan Dungey's reality the last two years has been that of the alpha dog. Ever since joining Aldon Baker he has not only been more confident, he's been faster and dominant. Conversely, Ken Roczen, since leaving Aldon Baker, has really reached his stride within the last month of competition.
Ryan Dungey is without question the king of consistency and ultra-fast speed. His downfall, if you can call it a downfall, has been that his consistency has always created a consideration in his thought process and racecraft of lessening risk and the likelihood of error. After joining Aldon, it was apparent early on that Aldon had pinpointed this "weakness" and decided to make it a focal point of reparation. It worked and we saw a new Ryan Dungey who struck quickly and aggressively in races. No longer was "The Diesel" following his prey and post-poning his attack until said competitor faltered. He was pressing the issue and making something happen. Proactive as opposed to reactive.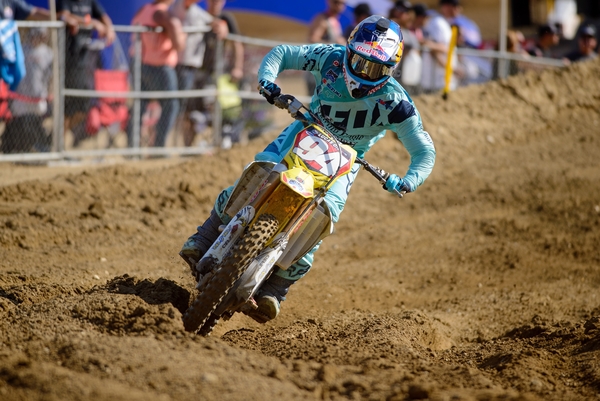 Ken is clearly more confident than he's ever been. Will that translate into a title or will unnecessarily wide win-margins cost him?
Ken Roczen on the other hand appeared to struggle when first leaving Aldon, though as we've seen as the season has evolved, Ken's program may be peaking or just finally cashing in the positives of the work put in earlier. It seemed silly when Ken left KTM after winning the 2014 450 MX title but he just felt compelled to get back to the yellow brand where he saw so much success in his young prodigious career. KTM was preparing to unveil an all new bike, based primarily on the guidance of Dungey and DeCoster but apparently Ken wasn't lured by that. The fact that Dungey's contract dictates that he is the premiere rider on the Factory KTM squad probably didn't sit well at all with Ken either. Roczen has been dominant his whole career and it just couldn't make sense for him to agree to a situation where he was signing his name on the dotted line of demotion. Why agree to that when you're battling said premiere-rider for wins and titles?
In Ryan's first season with Aldon and Ken's first year aboard yellow, Ken looked to be the one who made the wrong choice. Struggles in Supercross mid-season which lead to injury and a subpar series despite a couple wins early and when the outdoors back troubles early and drama late around the RCH team and Ken stemming from an interview with Ken's father lambasting the RCH teams inner-workings. That instance actually brought the team and Ken closer though and the 2015 season, though lacking titles, looked to be shaping up for a very promising 2016 follow up.
2016 Supercross kicked off with growing pains for Roczen and the RCH crew and the finger of blame was often pointed at Ken for his choice to leave Aldon Baker. I know I was one of those fully believing that train of thought. Late in the series though, when it was a longshot for Ken to capitalize in the form of a title, he hit his stride and has since extended that confidence and speed into the outdoors.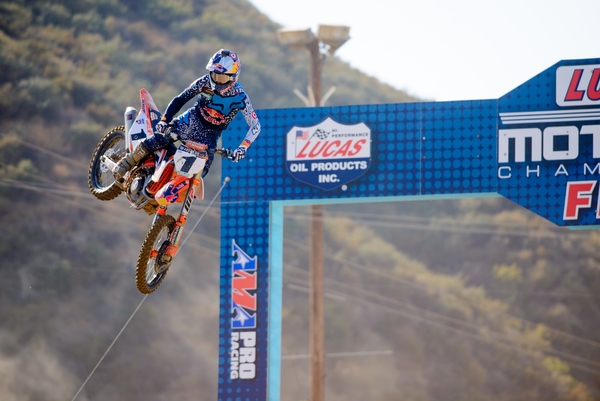 Is the Dungey of 2016 any more concerned by the Roczen threat than the Eli-train of early 2015?
Last year it was Eli Tomac laying the smack down on Dungey. For many years before that, it was Ryan Villopoto who was often spoiling Ryan Dungey's idea of a successful Saturday. Now, through two rounds of the 2016 MX Series, it is Ken Roczen who has begun obliterating his competition including Ryan Dungey. Were it not for a failed air fork component int the waning laps of moto-one at Glen Helen, Ken Roczen would be running perfect through four moto's.
Watching Ken's anger boil over as he lost his lead and ultimately three positions, it was more apparent than ever how confident he is and it was also clear as day that he was going to check out RC-style when the gate dropped in moto two. And that's exactly what he did. On a beat down, dangerous and sketchy as hell track, no less.
Ryan Dungey has certainly earned the benefit of the doubt in situations like this. Until you actually beat out Ryan Dungey in a full series and steal that number-one plate from him, you are still just a part-timer in his world of full-time. All that passion and urgency we saw from Ken Roczen through 4 moto's thus far, is impressive, though it's exactly what Ryan Dungey often turns into number-one plates for himself. To finish first by 2 seconds pays the same point dividends at lower risk than beating the Dunge by 30 seconds. Sure those big leads will be talked about but it's the record books where legends are made.