Read what your favorite riders had to say after High Point.
Read what your favorite riders had to say after High Point.
Photos: Simon Cudby
Adam Cianciarulo
Pulpmx: Tweet of the year so far: "Please return my parachute to the Pro Circuit truck" after that second moto. Holeshot and lead to I think about 10th or 12th.
No, let's go with ten. I like ten. It sounds better.
At one point I saw you look over at McElrath and just be like, yeah, go on.
No, I totally did, even when I was leading for a few laps. For one I thought it was because I saw a blue fender off the start so I thought it was Martin, but obviously Joey was able to get around him before he got around me. And then when Joey passed me I was like, okay, that's cool. Even when I was leading I was trying to ride at like 80% or so because I only got to do two motos in these two weeks from that crash I had in Lakewood. I wasn't feeling too hot. Especially since I had a little crash in the first moto too, that just kind of zapped some energy, but that's obviously on me.
So maybe the worst thing to do is the getting a holeshot and lead because you kind of blow yourself up. But then again, it feels good to lead.
Oh absolutely. It's a good confidence booster for me. Coming into the season it's like, okay, you've been pro since 2013. Well yes, I have, but if you were to take experience-wise I have the experience of a sophomore, pretty much. That's hard for me because I want to win. I've won professional races before, obviously not a lot, but I've won them before. That's always kind of my mentality is to try to win. Especially these first few races when I have guys that pass that don't normally pass me and I'm going backwards. I want to just pin it and I end up pinning it and crashing right away. But today I said to myself, especially with my back that I'm dealing with right now, I said, okay, I'm just going to ride my race basically, not to sound like an A hole or anything, but I was like F what everybody thinks. Even that first moto after I was leading some laps, Joey passed me. I knew it. I knew I wasn't going fast enough. I knew I was going to get freight-trained by some guys but I wasn't going to pin it and crash or blow myself up and get 18th.
You held eighth place for a long time.
Mentally it was good for me but I think people kind of have that confused with me. I think they think I go home and stare at a wall and I'm like, oh man, am I never going to be what I once was? I'm not like that at all. I believe in myself not matter what. Even if I'm not the next Ricky Carmichael or whatever people said at one point, I do my best every time I'm on the track and in any situation I'm dealt with, I do the best that I can. That's all that I can ask for. I can sleep pretty well at night.
That's just it. So you kind of hit a wall with this injury at Lakewood and you did two motos in two weeks. Now you've got to build again and get back up and stay injury-free. Even though you're not really injured but you banged yourself up. And then you get on a roll and kind of one of those things once it starts you'll be all right, but it's hard to get it started.
Absolutely. This off-season I had some things go on that kind of affected me and then I had the wrist injury. When I got the wrist injury I wasn't in shape. Then I was obviously off for that, then I had five weeks on the bike before the race. I was even more kind of under the gun than I was even last year coming off of a shoulder injury. No excuses. These guys, we've got our rookies, we've got Austin coming in and we've got a few other guys. Everybody's fast. I'm not going to take anything away from that, but I believe I'm one of those guys. With the way I felt in Lakewood actually, in that first moto, obviously kind of coming from far back and passing some guys, I was really, really looking forward to getting back to Florida and kind of putting in some time. But, unfortunately that's not the hand we were dealt, but I've certainly been through worse.
Not a bad day. When you can holeshot and lead laps it's always a fun day.
Especially when you were an asshole and you said that I was never going to get holeshots again because I was too big. I'm 165 pounds, bro.
After the Lakewood holeshot I wrote and said, okay, we're done with the starts. He can do it. We're good.
I was pissed actually because that first moto here today my gate, everybody's was kind of like that, but my gate in particular, I watched it fall when they dropped it for the sight lap and I was like, that's not right. It like notched on me. So I've been getting a lot of crap from Mitch and my dad for not getting starts. I think they think I'm trying to use my size as an excuse. They're like, you're a good starter. Get the start. You're fine. So that second moto I was pretty pissed off and I just wanted to do a good start. I swear, one of these days I'm going to stop crashing, man. I crashed again in that first moto and I was like, you've got to be shitting me.
It might be about every moto, just about.
Pretty much. It's nothing crazy. Obviously the Colorado one was pretty big, but other than that… I told my dad, I'm not focused on something else. I'm not really focused on other people. It's just one of those things to where I think I've been groomed to win races and when I'm not, my head is not in 8th place where I am. I just need to train my brain to do that. But I'm going to keep getting up until it stops happening.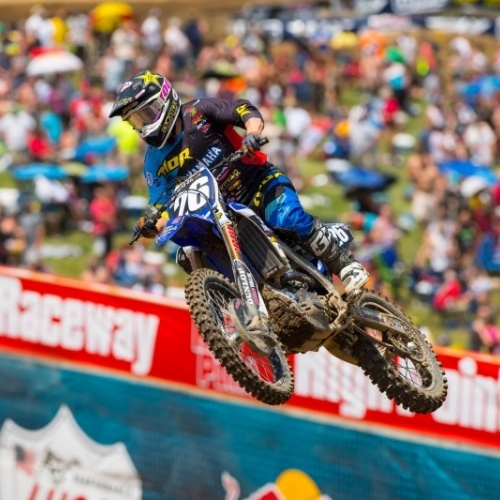 A-Mart had his troubles at High Point.
Alex Martin
The tragedy. You could very well be a 1-1 guy here today with a little bit of different outcome. But as it was, barely got second the second moto. First moto you also were second. Until your bike blew up, how do you look at today? Is it just all anger?
No. Phil's the angry guy. I was just devastated, like super bummed. I put my heart and soul into that first moto and led most of it then Zach got around me when I bobbled there.
You almost crashed and your feet came off.
Right. That section was pretty brutal, but I had second in the bag for sure. I just tried to coast it in. The bike started locking up. I can't believe I made it that long.
I was going to ask you. So you knew? You felt it early?
Yeah, I was on Zach and then at one point he just gapped me like five seconds in one lap and that's basically when it happened. It just started locking up and I couldn't do the jumps. Then I was just trying to save it, so it's a bummer, but that stuff happens. Someone was asking me earlier, what'd you do? I have a lot of experience with the privateer bikes locking up.
I didn't want to bring that up, but I did think about the Eleven10 years.
Those years played a factor in how I rode the bike and trying to save it.
Unlike your brother who I think I made it just past halfway.
Right, so it is what it is. The second moto I just tried to put my head down.
The last three you put a sprint on.
Yeah. I was behind Savatgy and I'm like, man, I've been behind this guy way too freaking long, way too many times in this series. Second, second, second so many times now. A 2-2 would have given me the overall today, I'm sure, so that was a bummer. I was really trying to pass him. I wasn't being complacent or just sitting back there. Literally we were just going so fast. We had a serious pace going. I was taking different lines here and there trying to get up alongside of him. He was going good today.
That first moto you passed Jeremy and it was like, see ya. That was impressive. You were in a zone there.
Yeah, for sure.
Is it lines? What do you think was happening?
No, I just was manhandling it. I was just taking my anger out on the track.
It's one those things again, your DNF too, but it was still somehow a good day for you. You rode great. It was a really impressive day. I guess that's what you think about when you sleep tonight.
Yeah, for sure. It's a long series and things are going to happen. I just keep my head down and keep plugging away. Keep doing what I'm doing now. If I'm on the podium every race for sure I'm going to be there in the end in points. I'd like to get that win. It seems like it's kind of eluding me right now so I don't know what the deal is.
If you would have went 2-2 today you would have had like six second places and two eights.
Would I maybe have been pretty close to the points lead, too?
Maybe.
It is what it is. I'll go home and put the work in and show up next weekend ready to go.
If you were Phil right now you'd probably go and smash something, but you're not.
No, no. Phil's already left. He's out of here. He didn't even say bye.
Was it the same problem for both of you guys? I don't know if you can tell us or if you know?
I would say the same thing, but I don't know with Jeremy's motor. I don't know what happened there. But with mine I think just lost coolant. The track was pretty brutal today so it could have been a rock or who knows. I just know that I didn't finish.
Well, tough day but still a good day.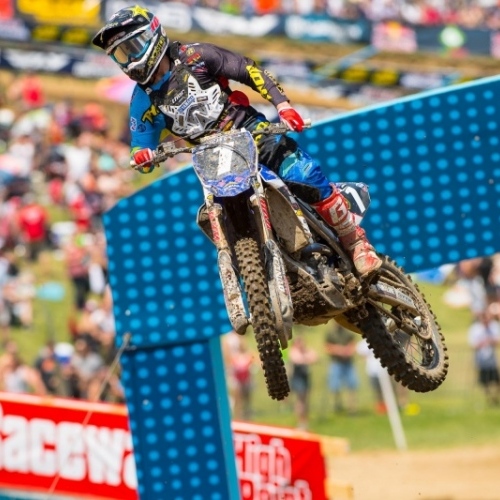 J-Mart also had his troubles at High Point…
Jeremy Martin
I guess it was still a good day in the end of things. Your bikes broke and that sucks balls. But you both kind of rode all right, and in Alex's case he might have went 2-2, and you could have been right up there too.
Yeah, I got the holeshot in moto one and I went inside over this thing when I was like, that was a mistake. Sure enough big Al sweeps me. Then he was going so fast the first couple laps he gave me arm pump until 25 minutes in.
He was on it.
Yeah. I was rock solid. I went in the wrong direction with the suspension. Needless to say, you've still got to be able to ride through it. The track was good. It was rough this weekend and it slowed it down. I thought personally even though the bumps look big, it was safer, which is awesome in my eyes. Then moto two I got another good start, and then unfortunately…
Something happened. You lost a lot of spots. What happened?
I made a mistake behind Cianciarulo and then Savatgy got me and I was like, dang it. Then I got going again. Right where Savatgy got me Alex got me. I was like, that's the line right there and then right when I got up on Cianciarulo I felt my bike starting to go. I got them, and right after that I had to slow it down. I knew that something was wrong. The bike was starting to lock up. I've been really fortunate the last two years and never really had any issues, and I had one today. I've been lucky.
It's a 24-moto series. You have some time to make it up. Like you said, shit happens in racing, right?
Yeah, for sure. It's positive. I'm starting to feel better now and things are slowly getting better. Like you said, lots of racing left.
How's it being back home? Alex has joined you up in Rochester. You're motoin' down at Millville. You got another sand track I guess to ride, How's that being back there?
It's nice. You're out of the California dust and grind. There's no traffic. I guess you could say it's my happy place. It's been really hot there lately.
Creek running through there.
It's been in the 90s lately there so things are good. My dad's been really helpful with getting the tracks ready. Alex actually posted a photo of the track and it was like six or seven ruts, so the track's been really good. I think a happy rider is a good rider.
You know what would suck about that though? You got to drive to Minneapolis for every fight.
I was telling someone today, I got to get up at 3:00 in the morning to drive John Wayne to fly out at eight because of the traffic. I was like, it might be a longer drive for sure but at least I'm going 80. I'm going 80 and there are no cars, so I'd rather drive further than sit in traffic.
…And there's no Starbucks in Rochester, which I would immediately move.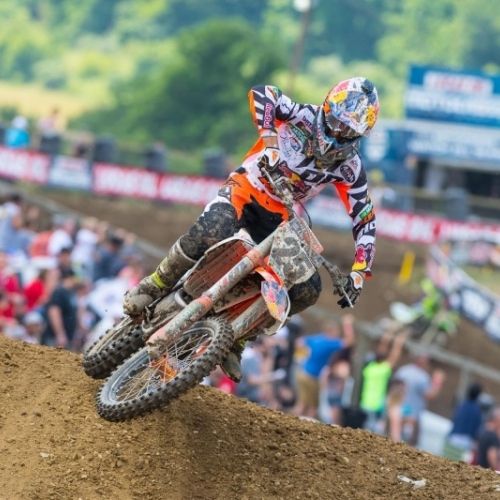 Musquin put in his first ever 450 podium finish at Mt. Morris.
Man, you're good here. This is a good track for you. I think you won it two years in a row in 250s. Today it's your best 450 ride. It's a great track for you.
Yeah, exactly. I thought it was going to get a little drier because it was warm and sunny but that track was awesome. A little bit too soft in some spots, but it made it very, very technical and deep ruts. Beginning of the first moto I was really tight. I was going to the wrong lines, I felt like. Then I started to loosen up and get better lines and better flow. I'm really happy about my second half of the first moto, and got second. I know Tomac and Jason Anderson went down, but still, I was able to hold that second place. It was awesome.
Is it a ruttier High Point than normal because it was softer or not? It seemed gnarlier than usual.
Yeah, I think they worked on the track. They had some different dirt, a little bit sandy. It was awesome. It was very soft in some spots. But like I said, this is motocross and it made it very technical and fun at the same time.
We're eight motos into your 450 motocross career, some good, today, some not so good, a crash at Lakewood. Overall how's it been?
I feel a little bit like supercross. The beginning was tough. Try to adapt. Once again, there are some tracks where people will feel better. So hopefully I will be consistent and do the same thing next weekend and the next weekend after. But a little bit like supercross. Just getting better and more confident. My wrist, I was wearing a brace, now I don't. Sometimes I do wear it again. It's a lot to do with confidence.
Slower speed track, more technical here. Line selection, all stuff that you're really good at.
Yeah, exactly. You got to be smooth and not make mistakes and a good flow. That's where you do well on that track. If you fight with those ruts and slow down too much in those turns you're not going fast, but I loved it today.
Gared Steinke
You did it. Mission accomplished. You finished 20th and got a point. We were just talking before I hit record. Like a two-stroke here you're not getting out pulled, you're not getting out-gunned too badly. You can maybe get in and out of the ruts pretty quick.
Yeah, it's a perfect 125 track here at High Point. The bike's running great. Hascar's got her motor running good, and my mechanic Eric he's got her tuned up real good. Like you said, the track's good for a 125. They don't pull me too hard. It's not too deep of a track. The ruts actually flow really good, and it's a good rough. It's not rough where you can't ride it. It's rough where it's basically a man's track rough, and it just takes good skill and good bike control to ride it.
Like we said also before we started hitting record, you'd been here and that helped.
Yeah, like I said, two previous races, Glen Helen and Colorado, those were all new tracks to me. I've never raced them before. High Point, I picked this up last year here. It's my second time here. Like you said, being on the track helps a lot and just getting the lines down. A lot of the lines are what I was taking last year. So it helps a lot.
What was worse for you – Lakewood at elevation or Glen Helen with the hills? What made you more upset out there?
I'd say mentally got me more mad was Glen Helen because they'd just motor up me right by the hills. Colorado everything was kind of even. Just get the bike good.
Your bike was slow, but so was the 250F.
Exactly. I feel like I had a little bit better of an advantage there being carbureted. I could get it more running better, instead of just mapping or whatever they do.