Want to know what some VIP's thought after Redbud?
Want to know what some VIP's thought after Redbud?
Mitch Payton
Tough day for you guys. You lost the red plate. Savatgy rode a great first moto, I thought. Him and Cooper were much better than everybody. But second moto he goes down. I guess you've been in this game long enough. These things happen.
Yeah, he got a good start that moto. I thought everything was going to go right then he tipped over. He went from first to fifth and then he got up. He was trying to get by, I think it was McElrath and he sent it down the hill and kind of just went for it and landed in a hole. It bottomed the front out and kicked the rear end and he wound up going down. He was a little bit shook up or whatever and he got back up, came in. We straightened the bars and went back out and I think he got 16th.
Those five points could help him at the end of this year, right?
Yup. I'm happy with how he's riding. I think there's enough motos if he can do the way he's been doing, besides the mistakes, I think he can still win.
I think that was Tonus's best ride of the year, so starting to see a little bit of improvement.
Yup. He started the season behind because he popped his shoulder in supercross. When we got ready for outdoors I even maybe thought about not letting him ride the first few rounds and he really wanted to ride. We knew he wasn't 100% so our goal was, okay, you do as good as you can do and every week it's got to get better. Every week he's truthfully got better. So I'm hoping he can turn it around and maybe we can see what we thought we'd see from him.
Congrats to you and Adam Cianciarulo. First race of the year I think he didn't crash.
Nope, he stayed up both motos. That was good. He was fastest qualifier again, so I'm pumped on that. I think his starts were off a little bit this week, so hopefully next week if he can get starts and run the speed that he's got right now, I'm thinking within a race or so you're going to see a moto win out of that.
So far for twelve motos are you happy with where he's at? Are you yelling at him after the races? How are you feeling.
Nope. He started behind the eight ball. He didn't ride supercross. I felt like he had some issues that he had to work out, obviously with the thumb and other stuff. He started same thing, kind of behind. I would love to just… our goal right now is I want him to go to every race. I want him to finish every moto and do as good as he can do, and then I kind of want to focus on supercross for next year. And then with the base he can build this year, if we can win supercross he'll carry that to outdoors.
***
Ken Roczen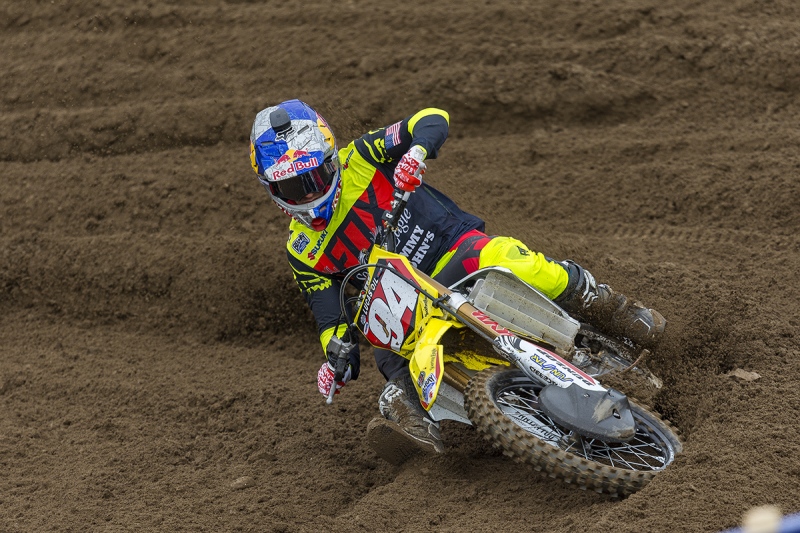 Another day, another 1-1 for Kenny. Roogs photo
Another 1-1. These are getting old. I think today I was most impressed with your sprint speed early on. Eli got the start second moto. You were probably fourth or fifth and blew by everybody. First moto same thing. I imagine that is your move. You're just like, I got to go as hard as I can right now.
Yeah, I've said it before where to me it seems normal. That's what my dad taught me. The gate drops and you go. You can't really teach that to anybody, I don't think. You either feel good or not. So as soon as the gate drops I'm going my speed. It just seems normal for me, which is kind of crazy because I've heard people say it over and over that my speed in the beginning is so insane. But that's just me. I guess that's my style.
Last week I wasn't there but I watched the video. Tomac had a good race. He even got by you a couple times. You ended up with the win. You made a comment on the podium that it wasn't your greatest track or whatever. So I guess today it feels good to be like, good ride, Eli, but I'm back.
Yeah, I feel like it was important to because I feel like he got a little bit of hope last week. But I struggled from the first lap I did on that track. I freaking hated it, honestly. I struggled really bad.
Do you always hate it?
No, I thought actually in '14 and '15 it was actually pretty good. This year was by far the worst the track's been in my eyes. But I was talking to Oscar and he's like, hey, if you can win on your bad days then that's not a bad thing. So for me it was important. Not that I thought about it; I didn't really care. I'm just doing my thing and I'm having fun. So I just came out here and feels good afterwards now to go a dominant 1-1 and come back and do the thing and kind of take the hope from the other people away.
The Leap I guess got kind of gnarly in the second moto? I noticed you jumped it to pass Eli and then I don't think you ever jumped it again. You were just like, all right.
No, I did actually jump it a few times, it was just super gnarly. I kind of experimented a little bit. Obviously we went to the inside and if you took the main line out there were some gnarly-ass kickers. So I went over to the right and jumped it maybe once, but that kind of didn't work anymore so then I actually had to shift where before I would just hit it in like third. Now I had to shift. I went slow in the turn and it kind of cut out and I tried to get a good drive and had to shift on the takeoff and then jump it. I jumped it a few times and sometimes I didn't jump it.
Rough track today. Eli told me it was the roughest one of the series, which I thought was a little surprising. I thought Glen Helen would have, or Hangtown, but he said this one.
Glen Helen was shit. I can tell you that much. It was definitely gnarly. The bumps, they form because it goes straight and then it just kind of drops so the bumps on the very edge get big, and then your front just drops. So it was definitely gnarly but I didn't really think about it that way. There were other tracks where I struggled a lot more, honestly. But obviously it was one of the gnarlier ones.
How about this teammate of yours? That's two in a row.
Yeah, it's awesome. So happy for him. He's a good dude and he deserves it. I'm stoked to see him having some momentum and keep it up. I want him to be in second.
Do you guys talk much about lines or anything else? I know some teams don't but do you?
No, we totally do. We're good friends off the track so we talk about stuff all the time.
***
Eli Tomac
Two-two today, probably not as close as last week. Are you angry? Are you taking some positives from today? How are we doing mentally?
It was a bummer because last week we were in the fight for the win and this week I was just kind of in my own little world in second place, where Ken was definitely on a little bit of another level here. It was just kind of a struggle for getting a good feel and getting a good balance and me being comfortable. Tried some different things between the motos and kind of got some of the same feedback. This was a rough track, really rough. Lots of big bumps. Lots of bumps after one another. For sure the roughest track we've ridden on of the year.
Which is weird. I would think Glen Helen would be it but I've heard it from other guys.
Yeah, this one was rougher. Just multiple bumps in a row. There were points were there were like fifteen bumps in a row.
Coming down the hills did not look fun.
Crazy, rutty and soft and sandy and bumpy. So I'm sure guys were feeling jacked up too, but I was struggling.
A couple times first moto didn't jump the Leap. The second time we saw him jump it over you. Then he kind of stopped. I think the lap after he passed you he stopped jumping it a little bit. Just bumpy up the face and bumpy in the corner below, is that kind of the deal?
Yeah, just acceleration chop. The outside was gone at that point. The Lites guys made the inside the main line. That's where he passed me. But there was way too much risk involved to be trying that thing at that point.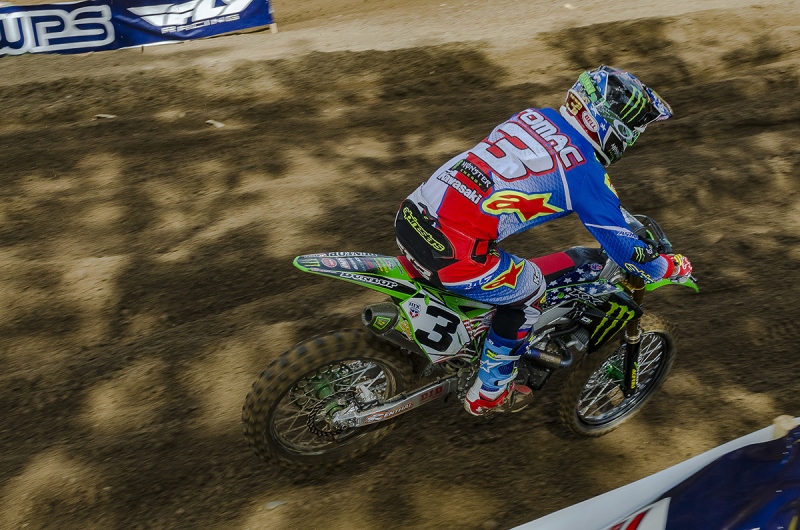 2-2 on the day for Tomac who wasn't very happy after the race. Roogs photo
I saw you maybe halfway through, he had about maybe seven or eight on you and you got kind of a swapper. I think you sort of recovered. The next corner you blew that too. It was probably a matter where you were like, I got to keep pushing, huh?
Yeah, and then honestly I had to start watching Broc too because he was coming a little bit. And then I had to turn it on a little bit. It was tough. It was a tough one to swallow for sure.
I even tweeted, "Tickle's catching Tomac. WTF?" because he was on it.
Yeah, he was obviously riding good and he's getting better. I don't know. I was just stuck where I was at today. It was weird.
Southwick next week. You got to be looking forward to that. If I remember correctly, you hauled ass there pretty good.
Yeah, I love the sand so just look for some good starts there and have some fun there and let her float in the sand.