A standout year and a new gig for 2017!
A standout year and a new gig for 2017!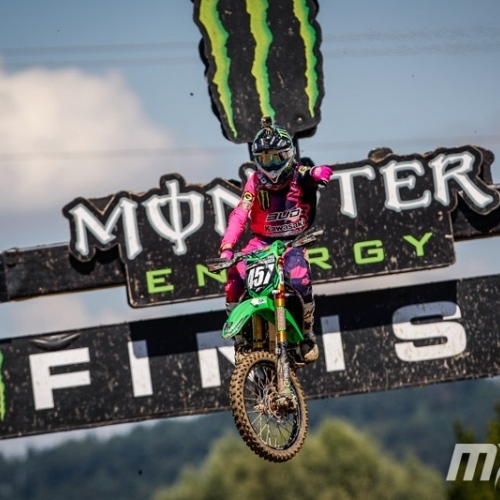 Sanayei had six wins in the EMX250 class this season.
Photos: MXGP and Courtesy of Sanayei
It's been one crazy year for Darian Sanayei. After finishing up his amateur motocross career at Loretta Lynn's Sanayei still didn't have a ride lined up for the 2016 season.
Then Monster Energy approached the longtime Kawasaki Team Green rider with the idea to race in Europe. He signed a deal to race the 250SX West Region and the EMX250 class in the MXGPs with the Bud Racing Kawasaki team soon after the season finale of Lucas Oil Pro Motocross last season.
"It just seemed like the best bet for my career and my future," Sanayei said.
Training was going well for Sanayei, who was preparing for the supercross season with help from David Vuillemin (for all of our DV12 fans on here, Sanayei had nothing but great things to say about his time training with him).
"Training with Vuillemin was good, he helped me out quite a bit, and I feel like everything was going smoothly coming into the season, Sanayei said. "Everything he told us to do was to make us better and I enjoyed it."
Sanayei raced the Lille Supercross and got his feet wet, however three weeks before Anaheim 1 he received a setback.
"I got knocked out and I broke a few vertebra in my back," Sanayei said. "That was a bummer for sure because I always looked forward to racing supercross and going pro."
With the supercross season out of the picture Sanayei turned his motivation to doing well in Europe. His injury from before Anaheim 1 meant that he would be rushing to get ready for the season opener. Sanayei moved to France and only had three weeks to get ready.
Sanayei said that once he got back on the bike that he felt rusty, uncomfortable, and nervous for the first few races.
"At the beginning of the year I was nervous because I didn't think that my performances were enough secure a future (in Europe)," Sanayei said.
Yet, as the rounds went on he felt more comfortable with each race. He gained confidence and speed. He started to get better results as the series wore on.
"Everything started to come together, I started focusing, and kept getting better," Sanayei said. "Hopefully I can make that much progress next season."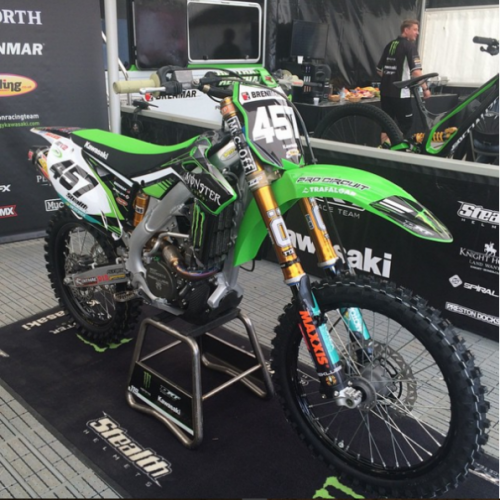 A closer look at Sanayei's Bud Racing Kawasaki.
You would think that living on a French beach alone as a young male professional motocross rider would be the best thing ever, but Sanayei sid it was tough. At first he didn't have any friends or family to talk to and if he wanted to call home the time difference made it difficult to communicate. He had to get used to everything on his own in a new country including food, travel, and the language barrier.
Sanayei got through the difficult times and was able to secure his first overall win of the season with a 1-1 at the sixth round in Saint Jean D'Angely.
"I took my first overall win in France," Sanayei said. "That was the home race for the team and from there on out I felt like I was one of the top guys in the class."
That confidence helped Sanayei deliver great results in the second half of the season. He went on to win six out of the last ten motos of the season and finished second overall in the final EMX250 standings.
"The top three riders in the our class all race MX2 now and finish in the top ten," Sanayei said during the American MXGP run. "The MX2 class is faster, but our top three in the EMX class is good as well."
Sanayei said that it was a mix of everything that made him have better results. He had more experience each gate drop and learned the tracks, got used to his team, competition, and the different riding styles.
From where he was standing one year ago, to the present day, Sanayei's stock has risen significantly. He's one of the promising young riders in the sport today judging by his performances in the EMX250 class this year. Monster Energy DRT Kawasaki felt the same way and have signed Sanayei to race the MX2 class for them in 2017.
This deal is strictly for the GPs and Sanayei will not be dabbling in any supercross races, nor will we see him race in any American races until the expected GPs return to the schedule.
"I enjoy it, Sanayei said of his new opportunity across the pond. "Right now I feel like I like racing in Europe more than I do in America, but I'm still open minded and want to come back after racing in Europe for a few years."
Sanayei said that he is confident in his abilities and that it doesn't matter where he races. He knows that he has the speed to run with the MX2 class and he's excited to see how his first season will go.
For the rest of the year Sanayei plans on hanging out with his family, whom he hasn't seen much since his stay in France started. He's going to be training at Club MX preparing for next season and he said that he's going to enjoy his time doing it.
Sanayei took advantage of an opportunity that presented itself when he didn't have much going for him at the end of his amateur career. He put in the work and showed what he is worth to a team. His stock has continued to rise. It's crazy how much difference one year can make.
Thank you for reading! If you'd like to request a story on someone, bench race, or anything else you can email me at Troy@pulpmx.com.